This Week's Client Success Story
Posted by Daniel Beer on Monday, November 28, 2016 at 2:52 PM
By Daniel Beer / November 28, 2016
Comment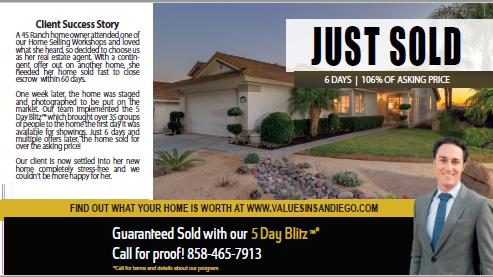 This homeowner attended one of our Home Selling Workshops and loved what she heard, so decided to choose Dan Beer as her real estate agent. With a contingent offers out on another home, she needed this home sold fast to close escrow within 60 days.
One week later, the home was staged and photographed to be put on the market. Our team implemented our 5 Day Blitz™ program, which brought over 35 groups of people to the first day of showings.
Just 6 days and multiple offers later, the home sold for OVER the asking price!
Your home could be next! Just call us at 858-755-1999 today!