Things to Do With Kids in San Diego
Posted by Daniel Beer on Monday, December 26, 2022 at 9:22 AM
By Daniel Beer / December 26, 2022
Comment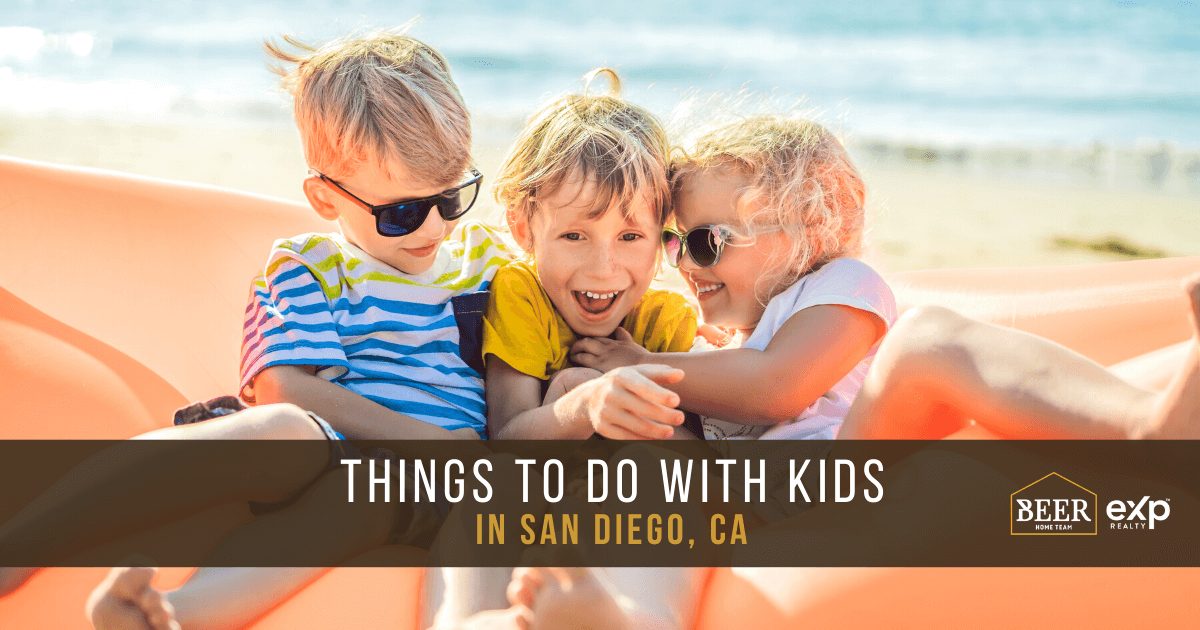 The Pacific Coast city of San Diego is known for near-endless sunshine, awesome beaches, stunning waterfront homes, and amazing attractions. With opportunities for entertainment around every corner, fun things to do in San Diego are never hard to find. Looking for something fun to do with kids? No problem. San Diego is home to hands-on museums, epic amusement parks, a world-famous zoo, an aquarium, and pristine beaches.
Learn all about San Diego's many exciting activities in the list below.
Explore the New Children's Museum
New Children's Museum Amenities
Paint a car
Climb on art
Painting and sculpting
Mattress room
San Diego's New Children's Museum in the Gaslamp Quarter neighborhood provides space for kids to be curious and let their imaginations run freely. Here, kids can engage their creative side and employ their critical-thinking skills through art-driven experiences.
A trip to this museum involves more than just seeing art; it offers children an opportunity to be involved. There are numerous spaces throughout the three-story facility filled to the brim with activities. Kids can get in a group and paint a car or climb upon the colorful art installations.
Another zone offers painting and sculpting with mold and plaster. There is a mattress room for bouncing on platforms, swinging, and playing in a safe environment. Children tend to play hard and learn a lot when they come to the New Children's Museum.
New Children's Museum Additional Information
Phone: 619-233-8792
Hours: Thursday – Monday 9 a.m. – 12 p.m. | 1 – 4 p.m.
Admission: Members: Free | Non-members: $10
Get a Glimpse Under the Sea at Birch Aquarium
Birch Aquarium Amenities
3,000 species
Hall of Fishes
Giant Kelp Forest
Tide Pool Plaza
Sea cucumber, stingray, and small shark interactions
Opened in 1903, the Sea Birch Aquarium in the La Jolla neighborhood is dedicated to the care and conservation of aquatic life. The staff and scientists here also aspire to educate the 440,000 annual visitors. With 3,000 species housed here, there's a special connection to be made for everyone.
The Hall of Fishes features eels, octopi, jellyfish, turtles, and other fish and invertebrates. Another area focuses on sea dragons and seahorses specifically, and the Birch Aquarium is one of the few aquariums in the world where these creatures are bred.
Head to the Giant Kelp Forest, where the largest tank in the aquarium spans the entire wall. Inside are giant fish and smaller ones of all kinds. The leopard sharks are a favorite. Outdoors, Tide Pool Plaza lets visitors gently interact with sea cucumbers, stingrays, and small sharks.
Birch Aquarium Additional Information
Get Up Close and Personal With the Animals at Safari Park
Safari Park Amenities
Multiple safari and tour options
Tour through habitats
Learn about conservation
See park before opening
Custom safaris
Zipline
Cabanas
Just 35 miles from the superb San Diego Zoo is Safari Park, the San Diego Zoo's sister site in the Escondido community. Hundreds of rare and amazing animals are cared for at Safari Park. There are more than a half dozen distinctive ways for visitors to tour the park.
Of these options, The Wildlife Safari is the most common option, as it offers a traditional tour through the habitats with an experienced guide in an open-air truck. Behind-the-Scenes Safari packages let guests get closer to the animals and learn more about conservation.
The most affordable package is a Cart Safari, a one-hour tour in a small transport device. Guests can come in early and see what happens before opening with the Sun Up Cheetah tour and have the opportunity to see cheetahs running at full speed. The park offers custom safaris, zipline adventures, and cabanas for those spending the day at the park.
Safari Park Additional Information
Phone: 619-231-1515
Hours: 9 a.m. – 6 p.m.
Rates: $55 – $149
Splash Around LEGOLAND Water Park
LEGOLAND Water Park Amenities
60 rides
Five water slides
SeaLife Aquarium
Build-A-Raft River
Some of San Diego's best water recreation activities await at LEGOLAND Water Park in San Diego. Located near the homes in Carlsbad, this location is the first of only six LEGOLAND attractions in the world. Highlights include 60 fun rides, five extra-large water slides, the SeaLife Aquarium, and more.
As a hands-on interactive theme park, LEGOLAND allows families to gather in the Build-A-Raft River experience. Visitors hop into the water to meander around the river that features playful jets, squirting cannons, and dumping buckets along the way. While in the water, foam LEGO bricks are up for grabs, allowing visitors to create a custom raft.
Those who have dreamed of spending the night at LEGOLAND Hotel or the Castle Hotel at the resort can make it a reality. These two LEGO-themed hotels have fascinating, colorful rooms filled with memorabilia and toys. Packages can include special children's entertainment experiences.
LEGOLAND Water Park Additional Information
Phone: 888-690-5346
Hours: 10 a.m. - 6 p.m
Admission: $94.99
Spend a Day Playing on the Beach
There are dozens of striking beaches in San Diego, and a few are ideal for families with kids of all ages. Here are three of the best beaches for children in the community.
Moonlight Beach
Moonlight Beach Amenities
Restrooms
Snack shack
Play structures
A local favorite of groups looking for a great way to spend a sunny afternoon is Moonlight Beach. This gem near the homes in Encinitas has restrooms, sandy beaches, and lifeguards on duty from 8 a.m. to 5 p.m. A snack shack and massive play structures offer a break from the ocean water when a rest is needed.
Moonlight Beach Additional Information
Hours: Daily 24 hours
Cost: Free parking & beach access
Powerhouse Park & Beach
Powerhouse Park & Beach Amenities
Restrooms
Grassy park
Playground
Longtime Del Mar community residents hold Powerhouse Park & Beach near and dear. Lifeguards are on duty during the day, restrooms are on-site, and there is a grassy park and playground alongside the calm waters at this location.
Powerhouse Park & Beach Additional Information
Hours: Daily 24 hours
Cost: Free beach access & free parking in designated lots
La Jolla Shores Beach Park
La Jolla Shores Beach Park Amenities
Coves
Low and calm waters available
Ice cream shops
Playgrounds
La Jolla Shores presents a mile of sandy beaches and is a hub for those looking to swim, boogie board, or have an afternoon picnic. There are several coves between rocky zones, which might not be best for small kids or weak swimmers. However, the area in front of Kellogg Park offers lower and calmer waters, and it just happens to front the ice cream shops, playgrounds, and bathrooms.
La Jolla Shores Beach Park Additional Information
Hours: 24/7 Daily
Cost: Free parking & beach access
San Diego, CA is the Kid-Friendly Place to Be
When people are moving to San Diego, they're delighted to know that the city boasts an array of fun activities for kids. From the vibrant streets below Downtown San Diego condos to the lush walkways of Balboa Park, every area of the city is filled with fun. Locals and tourists alike agree that San Diego promises hours of amusement for people of any age.
Looking for the perfect home in San Diego? Contact Beer Home Team of eXp Realty with San Diego Home Finder at (858) 465-7899 to get in touch with San Diego real estate agents who can help you find your San Diego dream home today.