San Diego Walkable Neighborhoods: Stroll to Beaches, Restaurants & Shops
Posted by Daniel Beer on Wednesday, December 1, 2021 at 6:16 AM
By Daniel Beer / December 1, 2021
Comment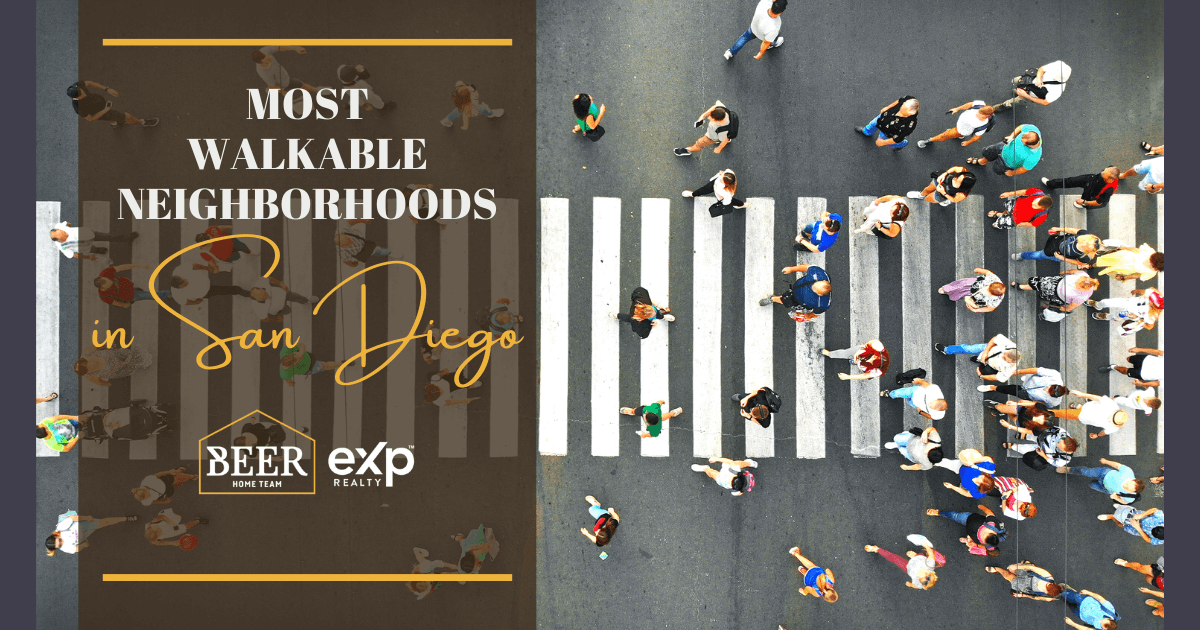 San Diego is known for its near-perfect weather and pristine beaches along the Pacific Coast. It's home to the majesty of Balboa Park, where visitors wander through storybook gardens, first-rate museums, and the world-famous San Diego Zoo.
But this city of approximately 1.5 million residents also boasts some of the most walkable neighborhoods in Southern California, which is exciting news for those looking for an alternative to driving in San Diego.
Walkability is a way of life. The neighborhoods on this list feature homes for sale in San Diego that are mere steps from the ocean, trendy shops, and outdoor activities. Keep reading to learn all about the most walkable neighborhoods in San Diego.
Cortez Hill
Cortez Hill Amenities
Some of the best views of Downtown San Diego and San Diego Bay
Picturesque residential neighborhood
Access to sidewalk cafes and other eateries on Fifth and Sixth Avenues
As one of the best neighborhoods in San Diego takes its name from the historic Cortez Hotel, built-in 1927. Today, the hotel remains a touchstone of the community, reimagined into luxury Cortez Hill condos for sale.
Cortez Hill's higher elevation provides sweeping cityscapes of the downtown area and breathtaking sunsets on the Pacific Ocean. Factor in some pedestrian-friendly streets, and the Cortez Hill real estate market offers homes in a highly walkable neighborhood.
One place worthy of a stroll is Tweet Street Park, with its green pathways, playful birdhouses, and stunning views of the city. Another is on Third Avenue, where St. Joseph Cathedral, founded in 1874, awes with its impressive Mission Revival architecture.
Besides offering hassle-free parking, Cortez Hill's tree-lined streets are dotted with cafes and restaurants. Local favorites include Cocina 35 serving Mexican fare, SoleLuna with its Italian dishes, and Darband Fifth Avenue Grill, where locals enjoy some of the best shish kabobs in town.
The Civic District
The Civic District Amenities
Walkable access to San Diego public transit
Home to federal landmarks, including City Hall and the San Diego Courthouse
Proximity to live music venues, including House of Blues and Music Box
Short walking distance to the San Diego Bay waterfront
The Civic District is surrounded by Downtown San Diego condos for sale, making it ideal for people who want to live in the heart of the action. A short walk in any direction leads to other walkable neighborhoods, including Gaslamp Quarter, East Village, and Columbia District.
The San Diego Civic Theatre on the west end is home to multicultural events and Broadway musicals, while the Copley Symphony Hall on the east side is lauded as one of the finest classical music venues on the West Coast.
Civic Center Plaza on Third Avenue is the verdant center of the district, where visitors can enjoy a bit of shade under mature trees. Steps away from the plaza, the San Diego Trolley System's Blue and Orange lines transport riders to and from other communities in the San Diego metro area.
Local hotspots in the Civic/Core include House of Blues, The Local Eatery and Drinking Hole, and the top-rated Hodad's hamburgers, where an outdoor patio is fenced in with surfboards.
Gaslamp Quarter
Gaslamp Quarter Amenities
The historic beating heart of Downtown San Diego with a vibrant nightlife
Home to Gaslamp Shopping Mall and Theatre Box cinemas
Walking distance to restaurants, pubs, nightclubs, and comedy venues
Special annual events include Gaslamp Mardi Gras and ShamROCK
In the late 1800s, the Gaslamp Quarter was a stomping ground for sailors who went bar-hopping among the gas lamps that lit San Diego's city streets. Today, this lively neighborhood is a walker's paradise, where Gaslamp Quarter condos for sale occupy Victorian-era buildings that have been restored into hip venues within a 16-block radius.
One local mainstay is Horton Plaza Park, an amphitheater for concerts, 13,000 square feet of lush landscaping, and an iconic centerpiece fountain cherished by the community.
Near the southern end of the quarter, the San Diego Convention Center hosts more than 100 events each year, including San Diego Comic-Con International and the Rock 'n' Roll Marathon Expo.
A cluster of attractions above Market Street cater to theatre-goers and comedy enthusiasts, with the San Diego Repertory Theatre putting on plays and musicals throughout the year, and comedy venues, such as The Laugh Factory and Mad House Comedy Club, offering locals an opportunity to laugh the night away.
Little Italy
Little Italy Amenities
Home to highly rated restaurants such as Juniper & Ivy and Mona Lisa Foods
Home to Top Chef Alley, featuring more of the best eateries in town
Proximity to Waterfront Park, one of San Diego's largest green spaces
Charming tree-lined streets with colorful townhomes, perfect for a stroll
Originally a predominately Italian fishing community, Little Italy has become a delicious mix of Italian restaurants, retail shops, art galleries and residential communities. The condos for sale in Little Italy are nestled amid San Diego's culinary capital, where passionate foodies come together for the annual Taste of Little Italy festival and the Mission Fed Art Walk. Both events offer locals the chance to stroll down India Street, where the wafting aromas of fresh pasta, imported cheeses, and exceptional wine hint at what la dolce vita is all about.
On Saturdays between 8 AM and 2 PM, the Little Italy Mercato Farmer's Market occupies five city blocks with more than 80 local farmers and vendors selling fresh produce, artisan bread, fresh-cut flowers, and handmade pastries. In addition, Little Italy also hosts the annual Little Italy Carnevale, a Venetian community open house offering vignettes of entertainment by the retail shops and restaurants.
With market grub in hand, locals head over to nearby Waterfront Park to picnic on the lawn. The park offers views of historic ships docked at the Maritime Museum of San Diego, including the Star of India: a three-masted schooner decorated in Christmas lights over the holidays.
Amici Park has a theater and a bocce ball court (also known as Italian lawn bowling), and the Piazza Della Famiglia transports visitors to a charming Italian square adorned with string lights and a tranquil fountain. ArtWalk takes place in April and boasts over 120,000 visitors congregating to purchase the locally-produced arts. The sports-inclined are invited to watch the annual bicycle race with over 3,000 international competitors or have fun playing at September's Labor Day Stickball Tournament!
Back to basics, residents are served by numerous educational opportunities from public and private primary education facilities to preparatory academies, San Diego City College, and numerous specialized schools offering programs from business to medial, visual and performing arts.
Columbia District
Columbia District Amenities
Proximity to the water is perfect for seafood lovers and waterfront activities
Walking distance to Seaport Village Shopping Mall and Rooftop Cinema Club
Steps away from Santa Fe Depot and the Coaster train's scenic route
Surrounded by fine dining establishments, including Top of the Market
Columbia is San Diego's waterfront wonderland. Here, Columbia District condos for sale offer panoramas of San Diego Bay and the Pacific Ocean. Down below, outstanding restaurants like Animae and Del Frisco's Double Eagle Steakhouse serve up five-star dishes in luxurious settings.
On Pacific Highway, satellite hotels from the Wyndham, Intercontinental, and Marriott groups offer day passes starting at $15, granting visitors access to rooftop swimming pools, state-of-the-art fitness centers, and therapeutic spas at a bargain.
Columbia is home to the Museum of Contemporary Art and the historic Santa Fe Depot, where visitors can ride the Coaster train and enjoy a scenic route north to Oceanside or stop at Old Town to taste Mexico.
Columbia District is also home to Broadway Pier, where residents can catch a ferry to the Coronado Island community. Steps from the pier, Tuna Harbor Park features a landscaped promenade offering bay views, and the nearby Fish Market serves up top-grade lobster, crab, and oyster dishes inches away from the water.
East Village
East Village Amenities
Highly walkable neighborhood with lots of sports bars and brunch spots
Home to Quartyard, a trendy shopping, dining, and entertainment center
Proximity to Petco Park, home of the San Diego Padres baseball team
Home to Fault Line Park, which offers a hiking path and manicured lawn
The East Village was once an active industrial area. But over the past few decades, it's been transformed into a hipster haven with walkable bars, trendy cafes, and gourmet eateries beneath stylish East Village condos for sale. It's especially popular among sports enthusiasts who love to spend an afternoon at an active bar while watching the latest high-stakes game.
Some of the best gastropubs are Bub's At The Ballpark, Bootlegger, and Tavern+Bowl East Village, featuring a neon-lit bowling alley. The Invigatorium on Ninth Avenue is a one-of-a-kind place for coffee, wine, and tapas, with its dragon-themed mural and dinosaur sculptures.
Petco Park is home to the San Diego Padres baseball team at the southwestern edge of the neighborhood. This world-class stadium also hosts concerts, monster truck rallies, and Beer Alley, where more than 80 varieties of beers are on tap.
The Park at the Park, a 2.7-acre green lawn next to Petco Stadium, is an excellent spot for a game of frisbee, a picnic, or a stroll with pets. It's home to a statue honoring Tony Gwynn, San Diego's beloved Hall of Fame outfielder who played for the Padres.
Normal Heights
Normal Heights Amenities
Distinct neighborhood character offers both a residential and city feel
Great shopping and dining opportunities along Adams Avenue strip
Nature trails, playgrounds, and dog run at nearby Ward Canyon Park
Nestled in San Diego's mid-city region, Normal Heights enjoys high walkability primarily due to a one-mile strip along Adams Avenue teeming with hip cafes, craft beer bars, and unique boutiques.
Established in 1906, Normal Heights was named after the Normal School, which became San Diego State University.
Some of the quaint shops on Adams Avenue include La Loupe Vintage, Black Anvil Tattoo Shop, and Maven, which stocks indie jewelry and clothing brands. Other local favorites are Blind Lady Ale House, The Rabbit Hole, and Little Miss Brewing. The award-winning Mariposa Handmade Ice Cream parlor offers flavors like horchata and Mexican chocolate in the middle of this beer craze.
The Normal Heights real estate market is also known for its summer concert series in grassy Trolley Barn Park and outdoor movie screenings at Ward Canyon Park. Locals head to popular dives like Triple Crown Pub and The Ould Sod for a bit of nightlife to play ping-pong, shuffleboard, and foosball games.
North Park
North Park Amenities
North Park is a living art gallery with the most incredible murals in San Diego
Unique stores in a large shopping district on University Ave and 30th Street
Near Balboa Park, home to the San Diego Zoo and San Diego Museum of Art
North Park was born from a master plan for a lemon grove after 40 acres of land north of Balboa Park were sold to the prominent Hartley family. Irrigation problems, however, ultimately sealed the failed grove's fate. Nowadays, the colorful neighborhood of North Park is home to a thriving arts scene, with murals painting the walls of local businesses and art galleries lining 30th Street. Your artistic tastes will further be fed by the Ray Street Arts District, the cultural epicenter home to many art galleries and studios often compared to New York City's SoHo community.
On the second Saturday of each month, artists and art enthusiasts gather for the Ray at Night Art Walk to browse numerous galleries with live music playing in the background and string lights hanging overhead.
At The Observatory North Park, locals can catch a concert, movie, play, or mingle with musicians at an album release party. This historic venue was restored from a 1930s theater, with its original red-decked cathedral hall remaining largely intact.
The homes for sale in North Park are also close to cool bars and restaurants. Popular watering holes include Seven Grand, North Park Beer Company, and The Office, which serve a wide array of craft beers. For excellent vegan dishes, locals dine at Sipz, Loving Hut, and Tribute Pizza.
Primarily a mix of architectural styles, North Park also boasts the Dryden Historical District comprised of turn-of-the century bungalows. In addition to convenience to I-805, North Park boasts substantial public bus service making access to University Avenue an easy ride.
Kensington
Kensington Amenities
The whole neighborhood is its own cul-de-sac.
Kensington's five-block downtown district has a number of small stores and restaurants.
The home of the San Diego Historic Class 1Streetcars, Kensington is a unique and narrow peninsula protected by steep slopes on three sides with significant dedicated open space. Primarily owner-occupied single-family homes dot the winding, tree-lined streets and support a small five-block business district on Adams Avenue composed of repurposed original 1910 houses. Kensington is a close-knit pedestrian-oriented community where everyone knows everyone.
Say hello to your neighbors during your after-dinner strolls or head to one of the historic homes tours hosted by the Neighborhood Preservation Advocacy. The Edward C. Mann House, Saint John Residence, and the Wonder House of Stone are but a taste of the history Kensington offers. A community group for most every interest, residents will be engaged through involvement in their community and through the San Diego Unified School District. Convenient to Escondido Freeway, Kensington real estate forms a yester-year neighborhood.
Encinitas
Encinitas Amenities
Home to numerous beaches including Moonlight State Beach
Within walking distance of the San Diego Botanic Garden
Encinitas real estate is calling you! The city's largest single industry, ornamental flowers will catch your heart as you inhale the essences while basking in the warmth and sea-side breeze of Encinitas. The five districts satisfy every fancy from the small beachside mix of business and residences to the golf courses and havens for the shopping-obsessed. Browse the art galleries and eclectic shops and restaurants or become involved in Olivenhain's 4-H club. Celebrate Oktoberfest and the Poinsettia Festivals with your neighbors or teach engineering to little ones at the world's largest rally of wooden bodied vehicles.
The opportunities abound and await you and your loved ones. Encinitas boasts numerous public and private schools from the elementary level through to higher education. Focused on preserving their community's way of life, the city maintains an Urban Forest Management Program, services for the elderly, and dedication to parks and recreation. Encinitas is home to many notable scientists, business people, artists, writers, performers, and actors.
La Jolla
La Jolla Amenities
Home of the Torrey Pines Golf Course, which has hosted professional tournaments
La Jolla Cove offers snorkeling, kayaking, and scuba diving opportunities
Ah . . . Prospect Street: an upscale people-watcher's dream-come-true, except for the distractions of the numerous one-of-a-kind boutiques and art galleries lining the streets. Spoil yourself while basking in "The Jewel City's" Mediterranean weather as you ponder the eclectic mix of dining choices: smell the ocean while seated on the Ocean Terrace at Zagat's rated George's at the Cove; allow your tastebuds to travel with authentic (and delicious) Korean and Japanese fare at Shabu Shabu Jinsang; or simply relax and take it all in at the extensive other cafes and restaurants you'll meet during your sunny stroll through our charming Spanish-style architecture neighborhood. Just off the north end of Prospect, Sunny Jim's Cave provides great views of sea lions basking in the sun, nesting native birds, gray whale watching, and picnic opportunities and swimming at La Jolla Cove.
Designated areas provide elegant high-rise office buildings, high-density housing, and high-end shopping malls. La Jolla's seven miles of curving coastline also provides myriad other educational opportunities including the University of California San Diego, National University, Scripps Institution of Oceanography, and the Salk Institute. La Jolla real estate has been home to many notable scientists, business people, artists, writers, performers.
Step to It in San Diego's Most Walkable Neighborhoods
The most walkable neighborhoods in San Diego are steeped in history, rich with local amenities, and anchored by a strong sense of community. The local real estate markets offer everything from swanky condos to San Diego waterfront homes for sale. Residents enjoy access to green spaces, one-of-a-kind experiences, and some of the city's best restaurants and bars, so locals can eat, drink, and play every day of the week while leaving their vehicles parked at home.
Looking for the perfect home in San Diego? Contact Beer Home Team of eXp Realty with San Diego Home Finder at (858) 465-7899 to get in touch with San Diego real estate agents who can help you find your San Diego dream home today.