Luxury Beach House Landscaping: Best Oceanfront Furniture & Plants
Posted by Daniel Beer on Thursday, June 30, 2022 at 7:49 AM
By Daniel Beer / June 30, 2022
Comment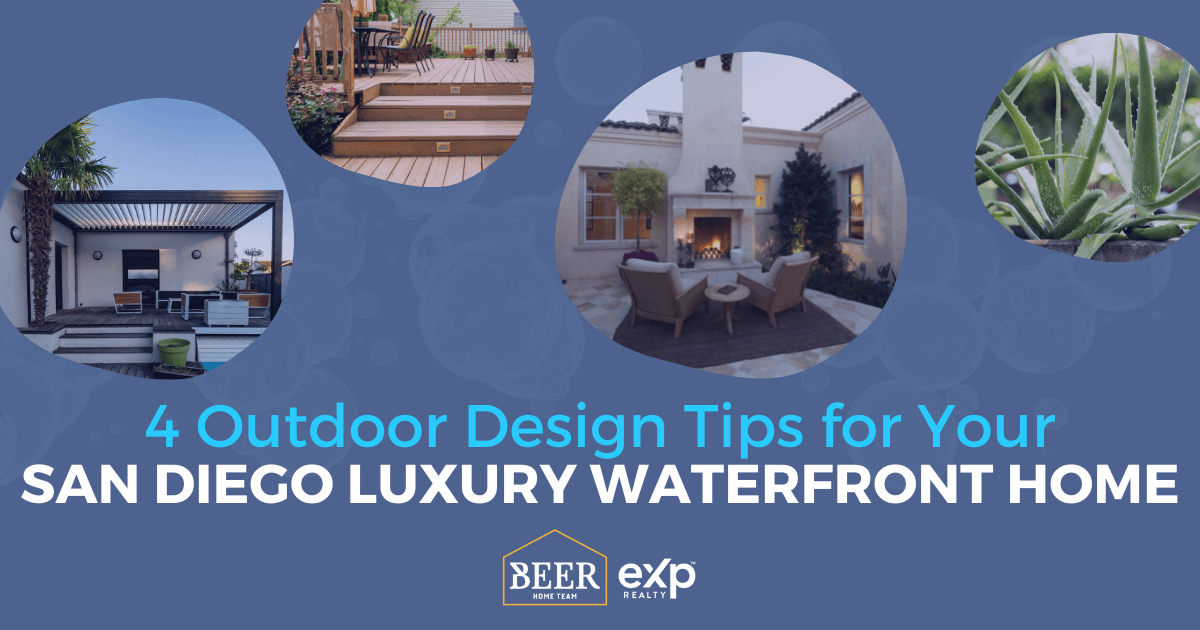 Who doesn't dream of having a beautiful luxury home on the ocean coastline? Luxury living on the waterfront is ideal for bringing plenty of sun, sand, and entertainment to home life. A big part of a waterfront home is the outdoor space where family and friends will spend time and enjoy all the natural beauty that the coast can offer.
Creating the best coastal landscaping strategy for your luxurious beach house means evaluating the best hardscaping and softscaping elements. Softscaping elements include plants, shrubs, and grass. Hardscaping elements refer to non-organic fixtures like furniture, patios, and outdoor kitchen supplies.
Are you ready to give your oceanfront estate the outdoor living space it deserves? Keep reading to learn beach style landscape tips that beautifully blend softscaping and hardscaping techniques.
Landscape Your Beach House with Native Species
The landscaping homeowners choose to use in their oceanfront homes also needs to be resilient and resistant to damage from water and salt. At the same time, they need to uphold the elegant resort-style vibe you'd want at a beach house.
While some landscaping choices might look great, if they can't be sustained in the natural environment, owners will end up spending more money than they should trying to replace and repair natural damage.
Landscaping a home with native plants and trees is a great way to ensure that the beauty will last, as the region's natural flora is adapted to thrive in its home environment. Local plants and xeriscaping are also eco-friendly techniques that require lower yearly maintenance costs for upkeep.
It would be wise to stay away from exotic plants that aren't native to the area. Gardeners may also want to pass up annuals that require a lot of non-salt water to maintain. Research the local plants in the particular section of the coastline the home is on to avoid selecting any invasive species that can damage the local environment.
Anything you plant near the ocean needs to be resistant the natural dehydrating effects of ocean air. Here are a few plants that will look great and thrive beautifully in your coastal landscaping plan:
Seaside daisies. Originally found on windblown cliffs and arid dunes, these drought-resistant colorful flowers don't lose their purple hue by the beach.
California fuchsia. While this Cali shrub blossoms bright red in the summer, it's resilient enough to take root in sandy soil.
Tropical hibiscus. These tropical plants love tons of sun exposure and bring a island luxury to any beach style landscape.
Beach grass and palm varieties are other salt-resistant plants that are a staple for beach-style landscaping.
Choose The Best Furniture For Oceanfront Properties
Choosing the right furnishings is an essential step in any coastal landscaping project.
One of the greatest luxuries of living on the ocean is kicking back and watching the waves roll in. Unfortunately, nothing eliminates upscale relaxation faster than uncomfortable furniture that wasn't designed to withstand salt spray and coastal conditions.
Invest in the best luxurious beach house furniture to make the most out of your coveted locale.
One of the biggest challenges to outdoor design while living on the coast is the salt spray. Salt spray refers to the salt particles that can be carried in the air and can cause corrosion and damage to the materials that make up the outdoor entertainment and living areas.
Plastic chairs and furnishings are probably the most popular choice for oceanfront homeowners. They hold up decently to salt spray and they're typically inexpensive. Unfortunately, they're lacking the high-end aesthetic many people want at their beach house.
If you want the best of the best, spring for cast aluminum. Forged by extremely high temperatures, this luxe furniture material can withstand years and years of sun exposure without damage. It stays cool to the touch, weighs enough to avoid being blown away, and looks like something you'd see at a five-star restaurant by the beach.
Select Durable Hardscaping Elements
To combat salt spray, homeowners need to learn what hardscape is and choose hardscaping elements that can withstand strong and abrasive winds that carry salt, sand, and other erosive particles. Sandstone is a great choice that not only holds up to salt spray but blends in and harmonizes with the natural surroundings of the home. The strength of sandstone can outlast many other stone styles.
Designers also want to pick wood that is resistant to water and salt damage but still looks beautiful as it weathers. Sustainable ipe wood is a fantastic choice that stays strong and resists warping, rotting, and breaking. It also weathers to a distinctive and beautiful silvery-grey color as it ages, helping wood platforms and decks keep their luxury appeal as they weather.
These materials might be more expensive but known to last among coastal landscaping experts.
Create a Gazebo or Pergola for Shade
Once you've established a solid foundation of durable hardscaping elements, you can start customizing your outdoor space to suit your lifestyle.
Rather than depending on the indoor space to provide shade, consider building a gazebo, pergola, or other outdoor structure to give shade without needing to retreat indoors. The roof of an outdoor structure also gives additional footage to stay outside during rainy days and enjoy waterfront views for longer. There are many different styles and design options for gazebos and pergolas, so homeowners are certain to find a version that fits into their personal aesthetic. Can you imagine anything more delightful than lounging in the shade while surrounded by tropical plants?
Build an Outdoor Kitchen and Fireplace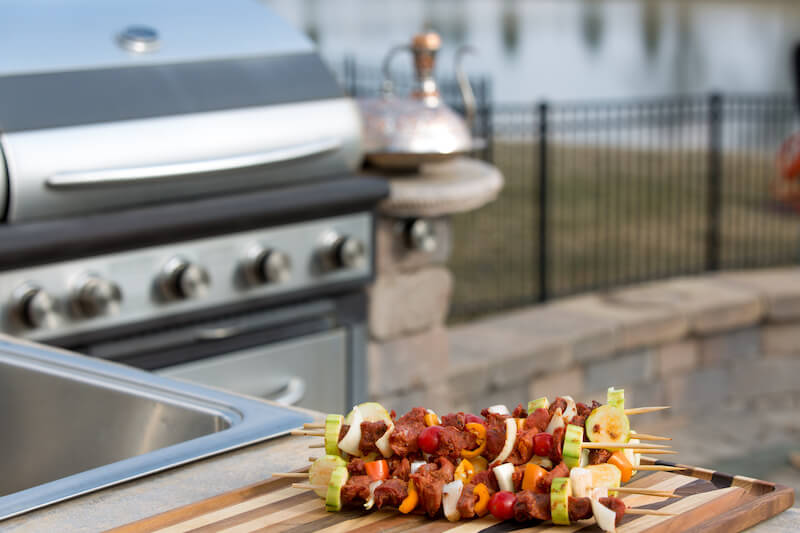 The outdoor lifestyle is essential to every luxurious beach house. After all, homeowners want to get the most value for money in a waterfront property, and staying indoors all the time would be a waste of the gorgeous weather and scenery.
Hardscape amenities like a kitchen can not only provide homeowners with barbecuing opportunities but also the ability to stay outside for snacks and drinks. Hosts can easily entertain friends and family without having to leave the exterior area.
An outdoor fireplace is another example of an outside amenity that can bring many nights of enjoyment. A fireplace is a great gathering place once the sun sets, and people can sit outside and take in the majestic night ocean. Just ensure that there's adequate lighting to avoid trips and falls. Solar path lighting provides that needed light and doesn't add to electrical costs.
Treat Your Beach House to Luxury Living That Lasts
Buying or building a home to maximize the water views makes every day a dreamy beach vacation. There is nowhere in the world that can compare to a luxury beachfront property. The amazing views, beautiful native plants, and outdoor living that accompanies a waterfront home can't be beaten, and the spectacular waterfront lifestyle provides endless amusements and entertainment all year long. Keeping these coastal landscaping tips in mind and designing outdoor areas to create value and last for a long time ensures that homeowners get the most out of their new lifestyle for years to come.