San Diego Staycation Guide: Make Your Life a Vacation
Posted by Daniel Beer on Wednesday, October 5, 2022 at 7:49 AM
By Daniel Beer / October 5, 2022
Comment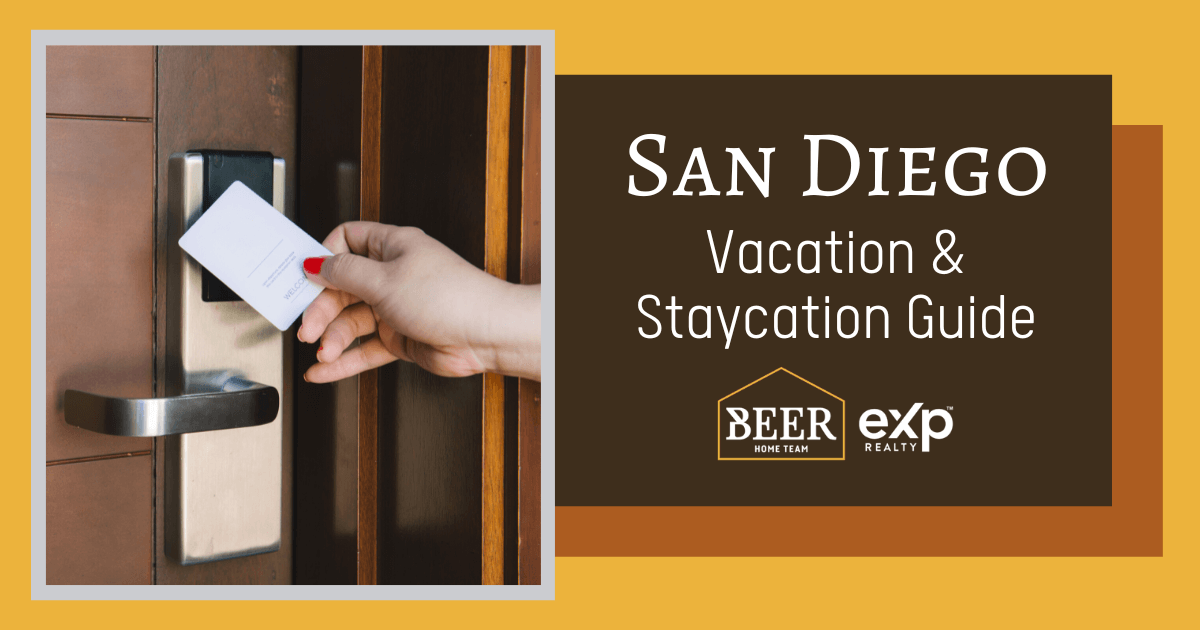 Vacationing in the city of San Diego can be a great help in deciding whether or not to live here year-round. Or maybe you already do and want to go on a staycation to discover some new favorite places. Staying at one of San Diego's impressive resorts, hotels, or B&Bs while exploring its cuisine, beaches, and attractions will give you a feel for the area. Whatever the case, this guide covers some must-see destinations while enjoying this California beach city.
San Diego Resorts
Staying in one of San Diego's resorts can be a truly luxurious experience due to stellar amenities like championship golf courses, world-class spas, and highly acclaimed restaurants.
Rancho Bernardo Inn
Spanning 265 beautiful acres, Rancho Bernardo Inn is an elegant golf resort offering luxurious rooms and plenty of on-site activities to keep guests entertained. First built in 1963, the resort expanded from its original 30 rooms to 287 after several renovations. Guest rooms and suites start at $360 per night.
William Francis Bell designed the resort's golf course in 1963, which gained national attention when it hosted the PGA San Diego Open the following year. In 1986, Ted Robinson added water features to the 9th and 18th holes for new challenges. The championship course took on its current form in 1998 when Schmidt & Curley added a fourth set of tees and reshaped its bunkers.
After a day on the course, guests can relax at the spa, dine at one of several restaurants, or enjoy live music at Veranda.
Rancho Bernardo Inn Amenities
18-hole championship golf course
Spa with private pool, hot tubs, and steam room
Fitness center
On-site restaurants, cafes, and bars
Ballrooms and event spaces
Fairmont Grand Del Mar
The Mediterranean-style Fairmont Grand Del Mar boasts 249 unique rooms and suites, stretches across 400 gorgeous acres, and offers some of the most impressive amenities in San Diego.
Fairmont Grand Del Mar offers spacious rooms starting at $799 a night, equipped with balconies and terraces overlooking the resort gardens, Grand Golf Club, or Los Peñasquitos Canyon Preserve. Want even more space? The villas at Fairmont Grand Del Mar feature more than 5,000 square feet and give the feel of a home away from home.
Unlike other resorts and hotels in the San Diego area, this private resort features San Diego's only Tom Fazio-designed golf course, one of only 60 Forbes five-star spas worldwide, and the only Michelin-two-star restaurant in San Diego.
Fairmont Grand Del Mar Amenities
18-hole golf course
Four heated pools
Tennis and pickleball courts
Indoor and outdoor fitness centers
Hiking and horseback riding trails
Hotels & B&Bs in San Diego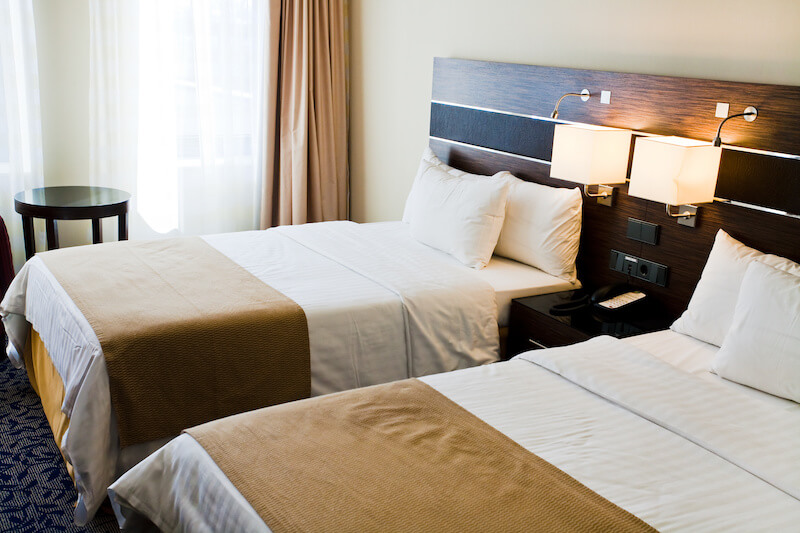 San Diego's diverse lodging options can create a distinctive vacation experience, with luxurious hotels, cozy bed and breakfasts, and friendly hostels throughout the city.
Intercontinental San Diego
Next to the historic Broadway Pier, Intercontinental San Diego provides gorgeous views from every room, superb amenities, and quick access to some of the best attractions in San Diego.
Each guest room at Intercontinental San Diego features contemporary coastal decor and expansive floor-to-ceiling windows showcasing the North San Diego Bay and downtown San Diego. Starting at $264 per night, guests can wake up to coffee brewed in their in-room Keurig, relax in the marble bathroom's walk-in shower, or watch on-demand movies on the flat-screen TV. They can enjoy the hotel's 3,300-square-foot fitness center, rooftop pool, or several on-site bars and restaurants outside their rooms.
Intercontinental San Diego puts guests in the city's heart, with downtown San Diego, Little Italy, the Gaslamp District, and Seaport Village mere minutes from the hotel.
Intercontinental San Diego Amenities
Health and wellness center
Rooftop pool with cabanas
On-site bars and restaurants
Concierge and room service
Club lounge
Beach Hut Bed & Breakfast
Nestled along Sail Bay in the 4,200-acre Mission Bay Park, Beach Hut Bed & Breakfast is less than 20 minutes from downtown San Diego. With two luxurious guest rooms, lush gardens, and a convenient location in the country's largest artificial aquatic park, Beach Hut Bed & Breakfast is a top-rated bed and breakfast in San Diego.
Guests can choose from the secluded Garden Room or the premium Tuscan Room for $169 to $239 per night. Both feature comfortable dining spaces for the custom breakfast. Choose from options like muffins, bagels, yogurt, fresh fruit, and eggs.
Step out onto Beach Hut's beautifully landscaped patio, where guests can relax in the saline pool or at the marble fire table while experiencing fabulous greenery. Or explore Mission Bay Park's 27 miles of shoreline, perfect for sailing, kite-flying, and enjoying the beach.
Beach Hut Bed & Breakfast Amenities
In-room breakfast
Landscaped patio
Saline pool
On-site reserved parking
In-room faux fireplace
Samesun - Ocean Beach
Claiming the title of the world's most colorful hostel, Samesun Ocean Beach is a laidback venue emphasizing social travel and offering unique amenities like expansive outdoor lounges, daily activities, and surfboard rentals.
Samesun Ocean Beach promotes socializing with a large outdoor common area decorated in a beachy, colorful style. Guests can grill up mouthwatering dishes, gather at the bar, or relax among lush greenery in cozy chairs or a hammock.
Staying in one of Samesun Ocean Beach's dorms provides more opportunities to meet other guests. Prices start at an affordable $48 per night and can host six to eight people. The hostel also offers private rooms with shared or private washrooms, starting at $165 per night.
With daily activities like salsa dancing lessons, beach bonfires, and yoga, Samesun Ocean Beach offers plenty to do. It's also a quick five-minute walk from the Ocean Beach Pier and surrounded by numerous local businesses, including restaurants, breweries, and Ocean Beach Farmers Market on Wednesdays.
Samesun - Ocean Beach Amenities
Outdoor lounge
Guest kitchen
Free breakfast
Bike storage
Surfboard and boogie board rentals
Food & Dining in San Diego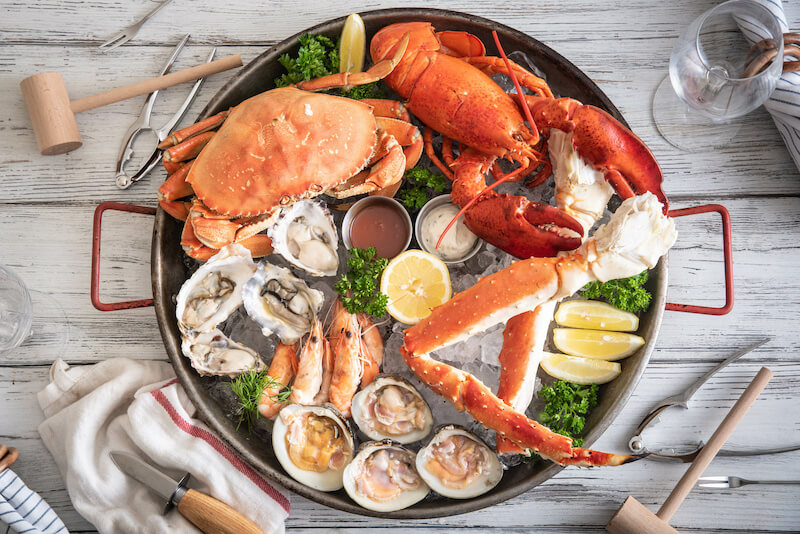 San Diego has a vibrant and thriving food culture due to its position on the Pacific coast, proximity to Mexico, and warm, dry climate. Visitors to San Diego can explore uniquely Californian twists on Mexican cuisine, enjoy fresh seafood on the bayfront, or sample numerous local wines.
The Fish Market
The Fish Market is a lively seafood restaurant boasting some of California's freshest seafood in an upscale venue overlooking North San Diego Bay. Diners can enjoy delicious seafood, gather at the classic oyster bar, or find fresh fish from the retail market to cook at home.
Opening its first location in Palo Alto, California, in 1976, The Fish Market quickly rose to prominence and began expanding throughout the state. The Solana Beach community became the brand's first restaurant in Southern California in 1981, followed by the flagship San Diego location in 1989.
In 1982, founder Fred Duckett launched two fishing boats to help ensure The Fish Market offered the freshest seafood available. Today, the restaurant sources its catches from local fishermen and processes and distributes seafood in its facility, Farallon Fisheries.
For an exceptionally luxurious dining experience, try the Top of the Market, located on The Fish Market's roof. In this elegant space, guests can indulge in an expanded wine list and enjoy exhibition-style cooking while overlooking the bay.
Popular Dishes at the Fish Market
Fresh wild pacific swordfish
Crab cioppino
Nashville hot halibut sandwich
Fresh wild pacific sea bass
California Burritos
The bustling California Burritos restaurant features some of the best burritos San Diego offers in a casual counter-serve style. Founded by Gustavo in 2006, California Burritos quickly became a popular spot to stop for burritos, tacos, and other Mexican dishes. Calling ahead with an order can help to avoid a wait. The casual burrito shop also provides delivery and catering. Most customers get their food to go, but California Burritos has some indoor and outdoor seating for dining on-site.
Every order at California Burritos comes with unlimited complimentary chips and salsa, and guests can choose from three delightful salsa flavors. Many items on California Burritos' menu are vegetarian or vegan or can be made so upon request.
Popular Dishes at California Burritos
Breakfast burrito
Habanero salsa
Surf and turf burrito
Pollo asado burrito
Tom Ham's Lighthouse
The iconic Tom Ham's Lighthouse offers seafood, sandwiches, and salads alongside stunning sights of North San Diego Bay. The upscale restaurant has an inspired design centered on a functioning lighthouse beacon, providing customers with an unforgettable dining experience.
Amateur historian Tom Ham created Tom Ham's Lighthouse in 1971, building the restaurant around USCG Beacon #9. After visiting East Coast lighthouses for inspiration and drawing on his love of Californian history, he chose a design shaped like the state of California. The seafood restaurant saw quick success after opening its doors.
Architect Graham Downes led a total renovation of Tom Ham's Lighthouse in 2014. Expanding on Tom's vision, the restaurant added a seaside dining patio and converted the first floor into an event space for corporate events, social gatherings, and weddings.
Popular Dishes at Tom Ham's Lighthouse
Pan-seared Maine diver scallops
Roasted beets salad
House ceviche
Fish & chips
Attractions in San Diego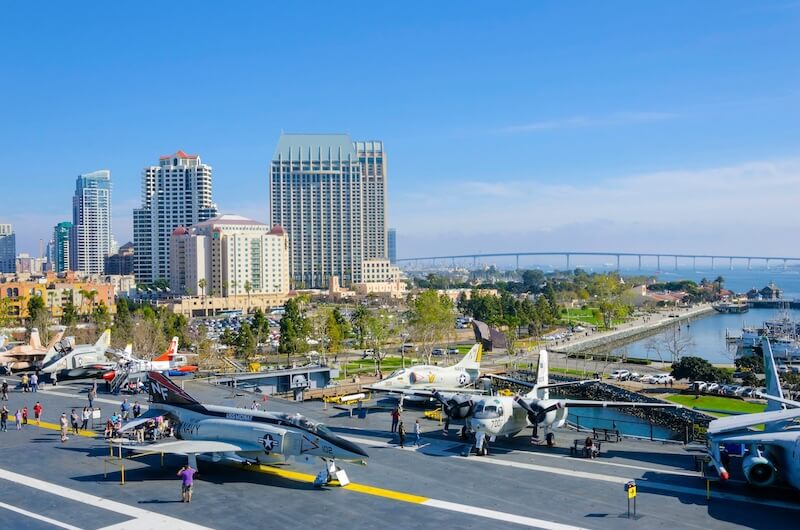 With informative museums, iconic theaters, and exciting music festivals, San Diego provides countless hours of entertainment.
USS Midway Museum
Hosted by a decommissioned aircraft carrier, the USS Midway Museum is one of the nation's most frequented Navy ship museums, equipped with more than 30 restored aircraft and nearly 10 acres of exhibits and displays showcasing life at sea. Commissioned on September 10, 1945, the USS Midway was just one week too late to participate in World War II.
As the longest-serving aircraft carrier of the 20th century, the USS Midway saw many firsts, including extended sub-Arctic operations in 1946, the only successful German V-2 rocket launch from a ship in 1947, and a successful auto-pilot landing in 1963. In 1992, the ship was decommissioned in San Diego, but it reopened as the USS Midway Museum in 2004.
Today, the USS Midway Museum offers an exciting look at carrier aviation history, with aircraft from WWII, the Korean War, the Vietnam War, and present day. Visitors can explore dozens of exhibits on the hangar deck, flight deck, and below-deck areas like the galley, chapel, and sickbay. Climb into real cockpits, experience thrilling aerial combat in a flight simulator, or watch the immersive 15-minute Battle of Midway film detailing the conflict that inspired the USS Midway's name.
Balboa Theatre
The historic Balboa Theatre hosts various performances, including plays, concerts, and stand-up comedy shows. Designed by architect William Wheeler, the Balboa Theatre first opened in March 1924 as a vaudeville and cinema theatre. Throughout the years, Balboa changed its focus many times. It began showing sound pictures in 1930, reopened as a Spanish-language theater after its remodeling in 1934, and became an action movie house after its acquisition by the Russo family in 1959.
Although the Balboa Theatre became a City of San Diego Historic Site in 1972, the city eventually condemned the property and began planning to gut it for commercial space. However, local activists successfully lobbied for the theatre's restoration, adding it to the National Register of Historic Places in 1996.
The Balboa Theatre finally reopened in January 2008 and now features various live events. Visitors can enjoy the show while sampling a menu focused on local brands, businesses, and foods.
Wonderfront Music & Arts Festival
Held in waterfront parks, piers, Seaport Village, and on boats off the coast of downtown San Diego, the Wonderfront Music & Arts Festival is a unique event featuring more than 100 artists across genres like rock, hip hop, and country.
Guests travel between venues via water taxis, ferries, and trolleys. They can even enjoy music on the water during one of the festival's yacht party concerts or sunset cruises. Sip on local craft brews and cocktails or dine on tasty tray-passed hors d'oeuvres like Caprese bites, mini empanadas, and brownies while enjoying incredible panoramic views of San Diego's bayfront, the Coronado Bridge, and stately military vessels.
When Wonderfront started in 2019, its creators envisioned it would meld downtown San Diego's numerous restaurants, bars, and breweries into the festival. Guests can leave and return to the festival to sample local fare, art installations, and the beach between acts.
Old Town
Old Town is a historic and beautiful district home to many great attractions to discover. Just a few of its premier landmarks and destinations include the historic Heritage Park, Mission San Diego de Alcala, and Old Town San Diego State Historic Park, home to a wealth of museums and historical sites and some of the best examples of 18th-century architecture in California.
Downtown San Diego
Downtown San Diego itself is a fantastic place for a staycation in San Diego. Downtown San Diego boasts renowned museums and cultural attractions, such as the fascinating Maritime Museum of San Diego, the Museum of Contemporary Art San Diego, and the USS Midway Aircraft Carrier Museum.
Downtown San Diego also plays host to the historic and lively Gaslamp Quarter, home to many of the city's finest shops and restaurants, as well as other attractions like Seaport Village, Embarcadero Park, and Petco Park, home of the San Diego Padres.
Other Nearby Attractions
Elsewhere in San Diego, local residents can enjoy the beautiful beaches of La Jolla community and the Point Loma community as well as attractions like Sea World and the San Diego Zoo Safari Park. Even outside the city, the San Diego region offers much to see and do. San Diego County boasts a wealth of beaches, shops, theaters, restaurants and historic sites like the Cabrillo National Monument and the Hotel Del Coronado.
Adventures in San Diego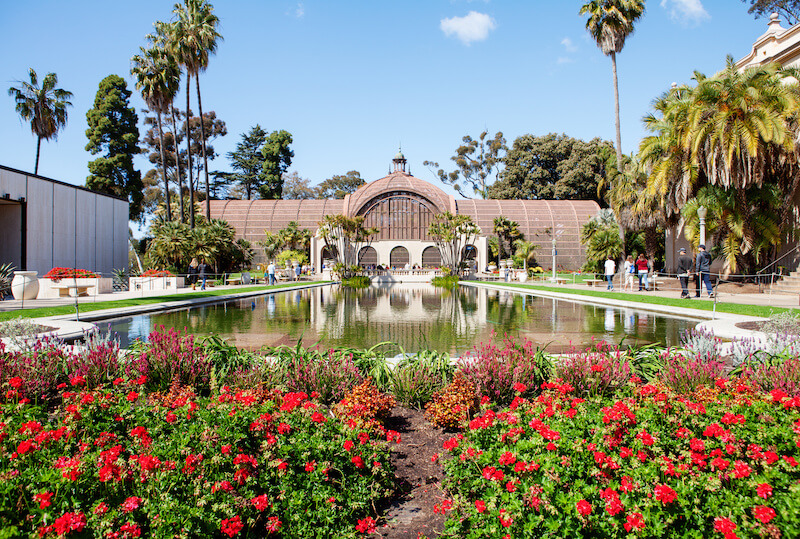 San Diego has numerous fun places to explore, including parks, beaches, and the famous San Diego Zoo.
Balboa Park
Spanning an impressive 1,200 acres, Balboa Park features dozens of cultural, scientific, and natural attractions like museums, theaters, and gardens. The park holds the renowned San Diego Zoo, beautiful botanical gardens, and great museums to explore such as the Museum of San Diego History, the San Diego Museum of Art, the San Diego Air and Space Museum, and the San Diego Natural History Museum. Learn about natural history, transportation, photography, and more at these interactive venues.
Balboa Park hosts unforgettable events like plays, live music, and dances at more than 10 performing arts centers. Additionally, several groups offer dance lessons here.
Balboa Park's numerous lush gardens and about 65 miles of trails provide visitors with excellent opportunities to connect with nature. The park also has facilities for various outdoor activities, including golf, archery, and tennis.
A free tram provides convenient access to the entire park, typically appearing every eight to 10 minutes. Various tours allow guests to learn more about the park. Book a custom private tour or join one of the public tours exploring the park's history, gardens, and Southern California's architecture.
San Diego Zoo
Located conveniently in Balboa Park, the San Diego Zoo contains over 12,000 animals in cageless exhibits while offering educational activities like tours, presentations, and youth programs. The most-visited zoo in the country, the San Diego Zoo has over 650 species and subspecies of animals, including the only two platypuses outside of Australia and rare and endangered species like elephants, tigers, and komodo dragons.
Guests can explore the zoo on foot, by bus, or on the Skyfari aerial tram. Self-guided botanical tours and a 35-minute guided bus tour are available for free. Guests can also purchase longer, more intimate tours for a more in-depth look at life in the zoo. Learn about the zoo's various animals during one of the wildlife presentations or care specialist talks, or consider splurging on one of the unique experiences to get up-close and personal with big cats and other animals.
Coronado Island
Take a trip across the San Diego Bay to the Coronado community, a gorgeous island with sandy beaches, numerous parks, and plenty of fun things to do.
Climb aboard the Coronado Island Ferry or drive across the two-mile Coronado Bridge to get here. It's easy to get around the island on foot, by bicycle, or by golf cart at a relaxed pace due to the island's 25 mph speed limit and walkable streets.
Coronado Island has one of the best beaches in the United States, spanning nearly two miles. Enjoy seaside activities like swimming, beach volleyball, and surfing, or check out one of the island's 12 parks for more outdoor fun.
Tours and cruises are one of the best ways to explore the island. Glide along the water in a gondola or kayak, explore the island on a bicycle, or take to the sky in a seaplane for unparalleled views. Coronado Island's various tours allow visitors to experience the area's unique public art, food, and history.
When to Visit San Diego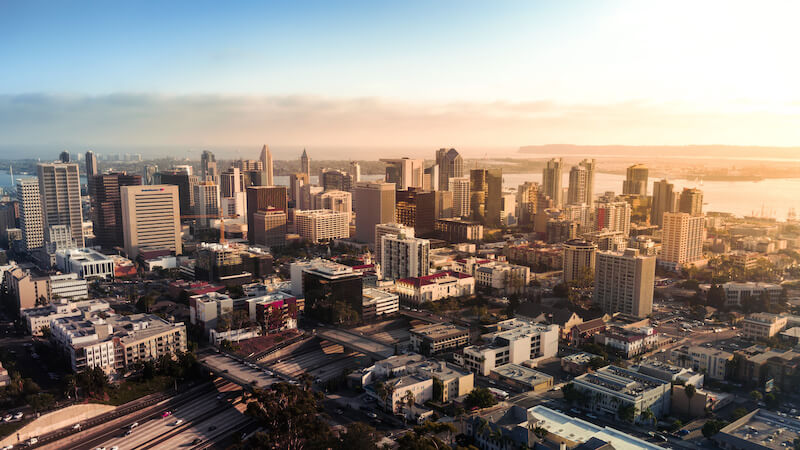 The best times to visit San Diego are from March through May and September through November, but the city offers plenty to do throughout the year due to its warm weather.
Spring is one of the best times to visit San Diego because there are fewer tourists than in the summer. Temperatures average in the mid-60s, providing comfortable weather for exploring the city. Spring is also the ideal time to view flowers in San Diego, with April hosting the Coronado Flower Show, the nation's largest tented flower show.
San Diego's peak travel season is summer due to the city's warm and dry weather. June is not very sunny, so it may be better to travel later in the season if sunny skies are a priority. However, July is San Diego's busiest month.
Autumn tends to be less busy than summer, while warm temperatures stretch well into September. November is historically the sunniest month in San Diego. Visiting San Diego in autumn is a great time to sample the city's cuisine during the San Diego Bay Wine & Food Festival and San Diego Beer Week.
San Diego's winters are mild, with temperatures averaging in the 60s. While the city doesn't experience a true winter, the ocean is generally too cold to enjoy this time of year. However, it's still an ideal time to go whale watching or catch the visually stunning San Diego Bay Parade of Lights.
Plan Your Visit to San Diego
After visiting this incredible city, it's easy to see why so many people move to San Diego. Living here allows residents to enjoy the city's warm weather and great attractions year-round. From world-class museums to spectacular beaches, the San Diego area is perfect for a staycation. Local residents seeking fun without the hassle of traveling long distances certainly have plenty to choose from here.
Looking for the perfect home in San Diego? Contact Beer Home Team of eXp Realty with San Diego Home Finder at (858) 465-7899 to get in touch with San Diego real estate agents who can help you find your San Diego dream home today.