Fun Things to Do in San Diego [2023 Guide]
Posted by Daniel Beer on Wednesday, December 28, 2022 at 7:30 AM
By Daniel Beer / December 28, 2022
Comment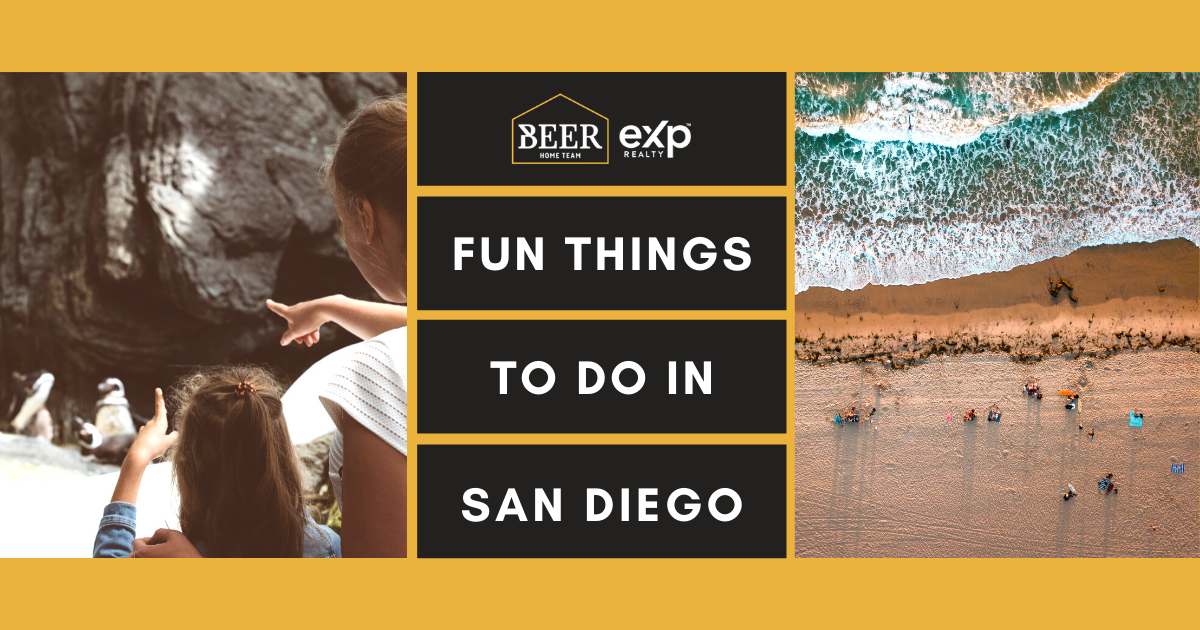 Whether one is visiting the San Diego community for the first time or exploring the area to find the gated community that fits their needs for moving to San Diego, one's bound to wonder, "What is there to do here?" This city always has events, shows, and festivals occurring. However, even outside of the special events, there are still numerous activities to partake in throughout the year. Combined with the temperate year-round weather, visitors and residents can bookmark this list of things to do in San Diego and pick something new to try every weekend. Keep reading to explore things to do in San Diego, California.
San Diego Outdoor Adventures
With over 260 days of sunshine and less than 15 inches of rain annually, it's effortless to plan a day or weekend outdoors in San Diego. Whether one's looking for a relaxing day in the sunshine or an invigorating outdoor workout, this city will have the perfect place for any activity.
Parks
Popular San Diego Parks
Balboa Park
Mission Bay Park
Balboa Park was renamed from City Park in 1915 to honor Spanish explorer Vasco Núñez de Balboa. This park is the central hub for many of the cultural events in San Diego each year. However, it's also a general public park free for everyone to enjoy.
The park boasts dog parks, fountains, gardens, statues, and a playground. Only during certain events may a fee or dress code be enforced. The park's website keeps all visitors up-to-date on what to expect in the park that day.
Mission Bay Park is the largest aquatic park in the country, located right in the heart of San Diego. Over 4,235 acres of land and water are available for over 15 million annual guests to enjoy. The park offers boat launches, water vessel rentals, sports activities, and playgrounds. Entrance to the park is always free. Additionally, public restrooms are available, and lifeguards are on duty during scheduled times.
Water Recreation
San Diego Water Recreation Destinations
South Mission Beach
Aquatica
South Mission Beach is a popular beach because it's one of the widest in the city. Beach volleyball and basketball games occur at any given time of day. The beach is located at the south end of the Golden Strand. Visitors can enjoy the boardwalk during the visit, or they can lay their blanket out on the sand and enjoy their day in the sun.
Aquatica is a Sea World brand dedicated to animal rescue efforts. Over 38,000 animals have been rescued and supported with the help of the admission fees paid by visitors. Tickets currently start at $35 per person.
At Aquatica, guests can enjoy water rides, slides, pools, and lazy rivers. There's event dining available on-site, allowing guests to plan a full day of fun. Those who love always being near the water can even consider living in a San Diego waterfront property.
Hiking & Biking Trails
Popular San Diego Hiking & Biking Trails
Mission Bay Bike Path
San Diego River Trail
The Mission Bay Bike Path is an 11.4-mile bike path in Mission Bay Park. The paved trail almost completely loops around Mission Bay. Guests can easily access other attractions, like wildlife preserves and SeaWorld San Diego.
The San Diego River Trail is officially only six miles long, but it provides visitors access to over 55 miles of corridor trails along the San Diego River. The trail is perfect for walkers, birdwatchers, and hikers alike. Bikes are not permitted on any area of the river trail.
As one can see, there are plenty of outdoor activities in San Diego. This list barely scratches the surface of what's available in the great outdoors for locals and tourists to enjoy.
San Diego Sports
San Diego has many sports options available. Surfing, racing, San Diego golfing communities, baseball, soccer, ice hockey, and more can easily be found in San Diego. One can catch a game or find a completely immersive experience that's appropriate for all ages.
Sports Teams
San Diego Sports Teams
San Diego Padres
San Diego Sockers
San Diego Gulls
Many sports teams call San Diego home. One is the San Diego Padres, playing major league baseball at the Petco Park baseball field. Additionally, visitors can enjoy viewing the San Diego Sockers, an indoor soccer team, or the San Diego Gulls, an ice hockey team, if they prefer to get out of the sun for a while. Aside from teams, a variety of individual sports exist in the area. San Diego regularly hosts marathons, surfing championships, and PGA golf tournaments.
Stadiums
San Diego Stadiums
Petco Park
Del Mar Racetrack
Petco Park is designed with the fan experience in mind. Visitors can enjoy views of the San Diego Bay and the San Diego skyline. Whether one's attending a Padres game or looking to host a private event, they will find dining and beverage options at every corner. With venues, clubhouses, concourses, terraces, rooftop lounges, and restaurants available, guests will be dazzled from the moment they arrive until they leave Petco Park.
Del Mar Racetrack is home to thoroughbred racing. With six floors of seating options, from clubhouse boxes and restaurants to sky rooms, guests will find numerous viewing options to fit their tastes and budget. The summer racing season typically runs from July to early September, with between 7–11 races most Thursdays through Sundays.
The sports culture in San Diego is a sports lover's dream. The fact that many stadiums can be rented out allows residents and visitors to plan an event that will be remembered for a lifetime. Better still, the centralized location makes it easy for sports fans to take everything in.
San Diego Restaurants
Popular San Diego Restaurants
Island Prime
C Level
Ironside Fish & Oyster
Island Prime and C Level are owned by the Cohn Restaurant Group, a local institution in the city. They operate over two dozen restaurants in Southern California and Maui. The Island Prime Diner and C Level restaurants are two restaurants accessible to one another and share fantastic San Diego Skyline and Coronado Bay views.
Some of the awards these restaurants have won include the San Diego Gold Medallion Awards, Gaslamp Quarter Association Lamplighter Awards, and others from local publications. Diners can expect to find delectable seafood and California classics. Fine wine is available by bottle or glass, and signature cocktails are made with local San Diego spirits. A lot of people don't realize the fact that the California burrito was originally created in San Diego, so it's a local favorite.
Ironside Fish & Oyster proudly offers the freshest oysters one can find in San Diego. Shark, crab, halibut, scallops, ceviche, shrimp, and other local fresh seafood is also available. A small selection of side vegetables is available for those who follow a vegetarian diet. Additionally, guests can purchase local bottled beer.
San Diego Shopping
San Diego Shopping Destinations
Westfield Mission Valley
Seaport Village
Westfield Mission Valley is one of the largest malls in the area. As a Westfield Mall, visitors can expect the same great amenities they find in Westfield malls across the country. Some of the stores one can expect when visiting include Bed Bath & Beyond, Golf Galaxy, Jared, Target, and other national and local brands. Of course, dining includes local and national options like Buffalo Wild Wings, Lazy Dog, Panda Express, Broken Yolk Cafe, and The Habit Burger Grill. There's also an AMC Theaters for visitors to enjoy.
Seaport Village is a unique 14-acre waterfront shopping complex recreating the harborside setting. Guests will find 54 boutique stores, 13 casual restaurants, and four fine dining options. There's also live music every weekend.
Arts & Culture in San Diego
Arts and culture are a large aspect of what makes San Diego an exceptional city. The history, languages, and visual entertainment are present at every street corner.
Museums
Popular San Diego Museums
San Diego Society of Natural History
San Diego Museum of Art
The San Diego Society of Natural History opened its doors in 1874 to bring together the unique culture of the region. Lovingly referred to as The Nat, the museum welcomes nearly 400,000 visitors annually.
The Nat hosts education programs and history programs for visitors of all ages to enjoy. With a rotating line of exhibitions, even locals will find a reason to visit The Nat more than once a year.
The San Diego Museum of Art officially began construction in 1924, two full years after the planning began. The museum now offers virtual tours in addition to free in-person visits. Over 15 hours of content can be found on the app, but visitors may find it can't replace the special ambiance one feels when viewing the exhibitions themselves. Some ticketed events occur throughout the year, but the museum provides plenty of advance notice on its website and app.
Dance & Theatre
San Diego Dance & Theatre Destinations
Balboa Theatre
Civic Theatre
San Diego Theatres comprises two theaters: Balboa Theatre and Civic Theatre. The two theaters are within walking distance of each other, making it easy to plan to attend the world-class acts occurring within their walls. Notable performances include Lindsey Stirling, Joe Bonamassa, City and Colour, and more.
The Balboa Theatre is the area's most historic theatre. It was closed for nearly 20 years before it underwent a $26.5 million restoration in 2008. The Civic Theatre is the region's largest theatre. Now, the two theatres draw thousands of attendees each year to enjoy international and local performances.
As one can see, culture is deeply rooted in San Diego. Anyone who appreciates history or culture will find themselves learning something new throughout the city.
San Diego Nightlife
San Diego Nightlife Destinations
ALTITUDE Sky Lounge
U31 Bar
ALTITUDE Sky Lounge offers what may be the best happy hour in San Diego. Situated on the 22nd story above the Gaslamp Quarter, guests can enjoy stunning city views and a fire pit. There are small plates, cocktails, and beer available. One can even catch a view of the Padres game.
U31 Bar offers dining and a night of memories for those 21 years and older. The outdoor dining area features a delicious range of burgers, tacos, hotdogs, fries, and fried pickles. There are also craft cocktails and ice-cold beers available.
Discover All This & More in San Diego Today
When it comes to finding a city with culture, year-round agreeable weather, exciting sports, shopping, and many outdoor activities, one will be hard-pressed to find a city better than San Diego. The multitude of items one can add to their to-do list is unmatched by other California cities. The ability to easily go to the beach or the mountains within a short drive adds to the benefits of living in the area.
Looking for the perfect home in San Diego? Contact Beer Home Team of eXp Realty with San Diego Home Finder at (858) 465-7899 to get in touch with San Diego real estate agents who can help you find your San Diego dream home today.