San Diego, CA Public Transportation: How to Get Around
Posted by Daniel Beer on Wednesday, December 7, 2022 at 9:17 AM
By Daniel Beer / December 7, 2022
Comment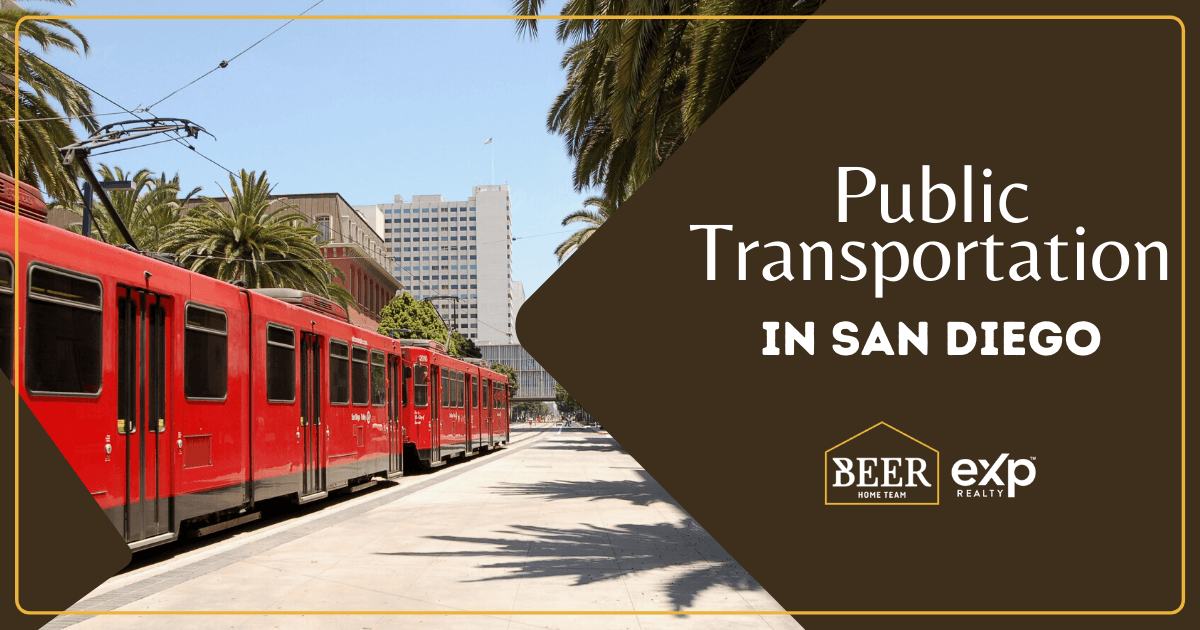 San Diego is a vibrant, modern city. As such, it offers a vast number of options for getting around the city. There is a range of public transportation options to commute throughout the suburbs and in the city, offering an alternative to driving in San Diego. Most public transportation options are also easy to use with apps that allow users to hail a ride whenever they need it. Keep reading to learn all about the transit options in the city of San Diego.
San Diego's MTS Bus
The Metropolitan Transit System (MTS) provides full bus service throughout the city. It offers 570 square miles of coverage all of San Diego County. It also travels into some of the rural areas nearby, including East County. The MTS serves about 3 million people by providing a low-cost way of getting around the city and region as a whole.
The bus system includes 100 fixed bus routes. These travel throughout the area along express, urban, local, and premium routes. There are options available for those who need support under the Americans with Disabilities Act and free paratransit service (MTS Access). Knowing when a bus is available or the proper route to take through the city can be somewhat complex, but the real-time bus tool makes it easier. The app uses GPS data to give riders the most accurate bus arrival estimates.
Bus routes include options such as:
The buses run along these routes every 15 minutes.
MTS Bus Ticket Costs
One Way: $2.50 for adults / $1.25 for seniors, people with disabilities, Medicare, and some youth
Monthly Pass: $72 for adults / $23 for seniors, people with disabilities, Medicare, and some youth
San Diego Trolley
For those that need to travel inside the city, the San Diego Trolley is an excellent choice. It is ideal for downtown navigation. The San Diego Metropolitan Transit System manages the trolley. Three lines run through the city:
Also, during the summer months, the Big Bay Shuttle is in place. This runs throughout the interior of the city, with stops at the Embarcadero waterfront. The rates for service for the trolley are $2.50 for adults and youth. For seniors, people with disabilities, or Medicare users, the fare is $1.25.
To make managing the process easy, there are trolley maps available. They provide real-time estimates of when the trolleys will be at any destination. For those coming into the city, especially for the first time, using the MTS's planning tool is very helpful for using the trolley system. It enables users to pinpoint where they are and where they want to go in an interactive map, saving time and frustration later.
San Diego Trolley Ticket Costs
One Way: $2.50 for adults / $1.25 for seniors, people with disabilities, Medicare, and some youth
Monthly Pass: $72 for adults / $23 for seniors, people with disabilities, Medicare, and some youth
Bikeshare Programs in San Diego
A simple bike ride can be one of the most enjoyable outdoor activities in San Diego. Bikes are also used in the city as a way to get around town. Many buildings have places to lock up a bike. There are also bike lanes through much of the city, including some of the busier areas. This provides a cost-effective and eco-friendly way to get around the city and helps commuters avoid traffic.
There are bike rental companies in the area. One of the biggest options is Discover Bike Share. These are bikes people can rent at one location for a set number of hours and return at any other location within the network. The cost is $5 for 30 minutes of use.
A second option is Jump Electric Bike Share. This is done through an app, which is used to locate available bikes to rent. It costs $1 to unlock the bike and then 10 cents for each minute of use.
Another option is to rent a bike through Holland Bicycles or Moment Bicycles. These companies provide bikes typically used along the waterfront. The Bike Revolution offers mountain, tandem, and kid's bikes as well.
Vanpool, Carshare, and Taxis in San Diego
The SANAG Vanpool program is another option. It is a cost-effective way for groups of up to five people to easily get into the San Diego region. Groups of people generally spend less than $100 a month to use the service. A vehicle is provided to the group to use to get around the city, and there's a variety of vehicles to choose from.
Taxi services are available throughout the city as well. Some of the options available include San Diego Airport Taxi, RideYellow, and the Coastal Cab Company. Keep in mind that each cab sets its own rates. These rates are generally a base fee and then a per-mile fee for use.
Public Transit Makes it a Breeze to Explore San Diego
Reliable public transportation options are always within reach in San Diego. It is always a good idea to gather insight into all options before moving to the city. Residents currently living in San Diego can find a wide range of options for improving their commute or traveling with ease to all of the fun things to do in San Diego.
Looking for the perfect home in San Diego? Contact Beer Home Team of eXp Realty with San Diego Home Finder at (858) 465-7899 to get in touch with San Diego real estate agents who can help you find your San Diego dream home today.