4 High-Rise Condo Buildings with Amazing San Diego Skyline Views
Posted by Daniel Beer on Wednesday, May 4, 2022 at 9:07 AM
By Daniel Beer / May 4, 2022
Comment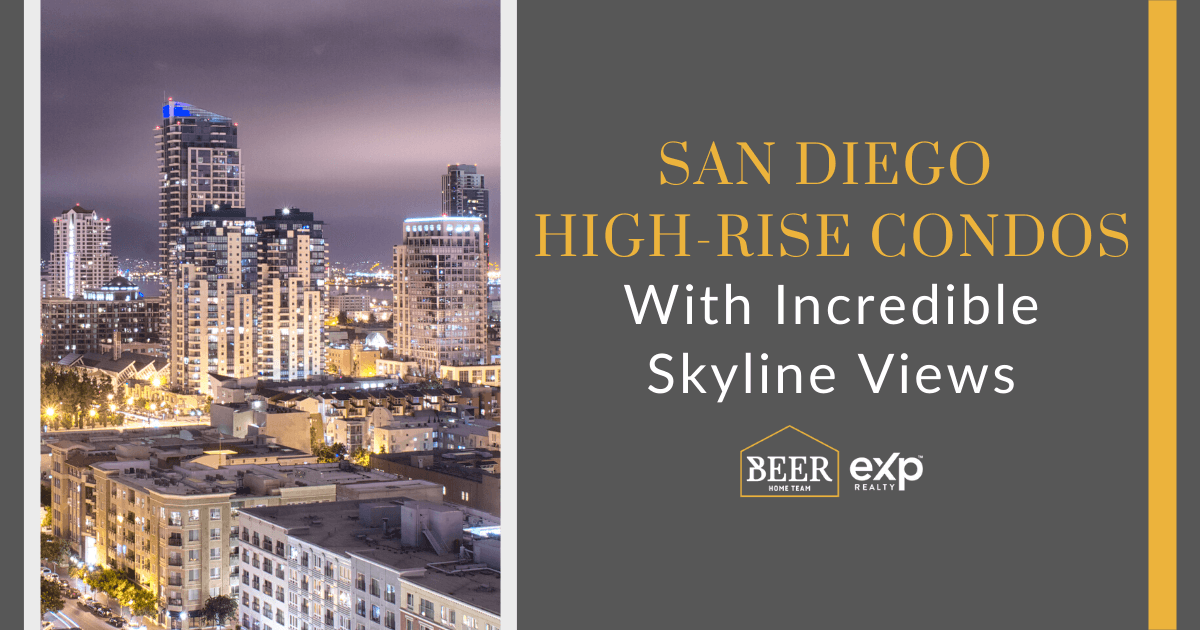 There is no shortage of incredible views to be had in the city of San Diego, California, with San Diego Bay, Mission Bay, and the Pacific Ocean all on the city's western edge. To get the best possible views, residents have to move upward. High-rise condos in downtown San Diego offer the most stunning views of the city skyline, the water, and nearby hills' greenery. Read on to discover four high-rise condos offering the best skyline views in San Diego, California.
Pacific Gate
The Pacific Gate condos on Tenth Avenue are an architectural wonder. The building was constructed with no exterior drywall and has a 41-story glass wall offering completely unobstructed views from every unit. Pacific Gate is the only condo building in San Diego to boast this feature.
Views to the west and south of Pacific Gate can see San Diego Bay and Coronado Island. Exceptional city views are available from north- and east-facing units. Pacific Gate is so close to the water that residents can smell the ocean's saltwater from their balconies.
Pacific Gate has a 45-foot private yacht that residents can reserve for four to eight hours. The yacht is captained at all times, and there is also a private fleet of luxury cars available for residents to use.
Dogs are welcome at Pacific Gate. The tower has a 1,400-square-foot dog run, one of the first of its kind in San Diego.
The many additional luxury amenities include a pool, a garden area, a rec room, a fitness center, a movie theater, and a chef concierge.
The Metropolitan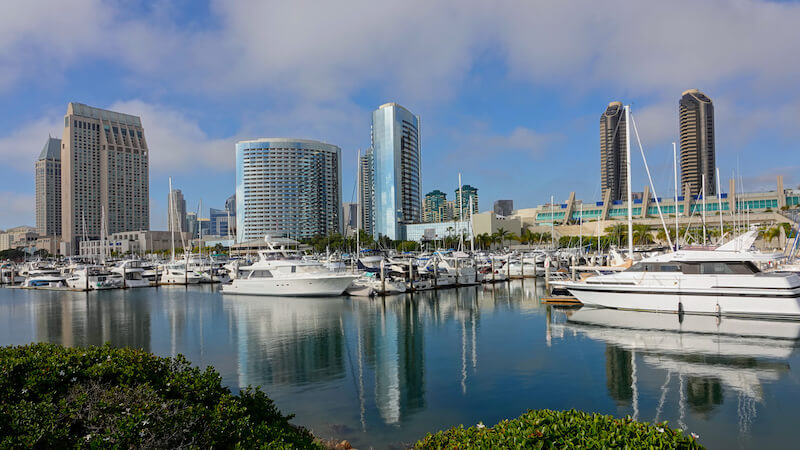 The views from the Metropolitan are considered some of the best out of all the condos in San Diego. The front of the building is right on Harbor Drive and next to Petco Park. Its proximity to the water means that every unit has unobstructed views of the city, San Diego Bay, and the Pacific Ocean.
The Metropolitan is a 22-story building with four condo units per floor. Only the upper 10 floors of the building contain condo residences, offering incredible views for owners. Every unit is considered a luxury penthouse.
The units have Sub-Zero and other luxury brand appliances. Every unit has a private terrace, soaring 10-foot-high ceilings, and floor-to-ceiling glass, making the views even better.
Residents have private entrances and elevators guarded by 24-hour security. There's a concierge service, room service, laundry, and dry cleaning. Owners also have access to a private rooftop pool, a spa, a recreation area, and a fitness center.
Park One
The Park One building sits on the crest of Banker's Hill in San Diego. Its elevated construction provides some of the best views in the city of Balboa Park, the city skyline, the mountains, and San Diego Bay. The views from the lower floor are partially obstructed by the trees in Balboa Park but are still spectacular.
Park One is 14 stories tall, with one unit per floor. The unobstructed views from this building's upper floors are comparable to a 40th-floor condo unit in the downtown area because there's nothing nearby to block the line of sight.
With a single unit on each floor, every residence has a private foyer just off the elevator. The condos themselves are all 2,280 square feet, with dual master suites.
Park One has an underground parking garage and two reserved spaces for every unit. Each unit also has a balcony, a side-by-side washer and drier, and an internal trash chute.
Park One is in an excellent location, just a few minutes from some of San Diego's top attractions, including the San Diego Zoo and Balboa Park. Some of the city's best restaurants, art galleries, museums, and theaters are not far away in the Hillcrest neighborhood.
Bayside
Bayside condos are close to San Diego Bay on the Pacific Highway. West-facing units on the upper floors have unobstructed views of the bay, Coronado Island, and the Pacific Ocean. North-facing units have spectacular San Diego skyline views.
The building has 36 floors of residences, with the top six floors reserved as penthouses. The lower floors have three to four units each, with some condo units as large as 3,226 square feet. Each residence has a large private balcony and floor-to-ceiling glass to enhance the natural light and views. The elegant interiors all have hardwood floors and luxury appliances.
Bayside's amenities include a private wine tasting lounge, a resort-style pool, a sauna and steam room, and a fitness room. The front desk has 24-hour security and concierge service. Owners also have access to a private movie theater and a community library.
Exceptional Views Are What Condo Living Is All About
One of the main differences between high-rise and low-rise condos is that high-rises put the owners above the city to relax and take in the view when they're at home. Living in a condo should feel like a resort vacation, and these high-rises in San Diego offer that sort of luxurious experience.