Fun Facts & Trivia About San Diego, CA
Posted by Daniel Beer on Thursday, July 15, 2021 at 7:00 AM
By Daniel Beer / July 15, 2021
Comment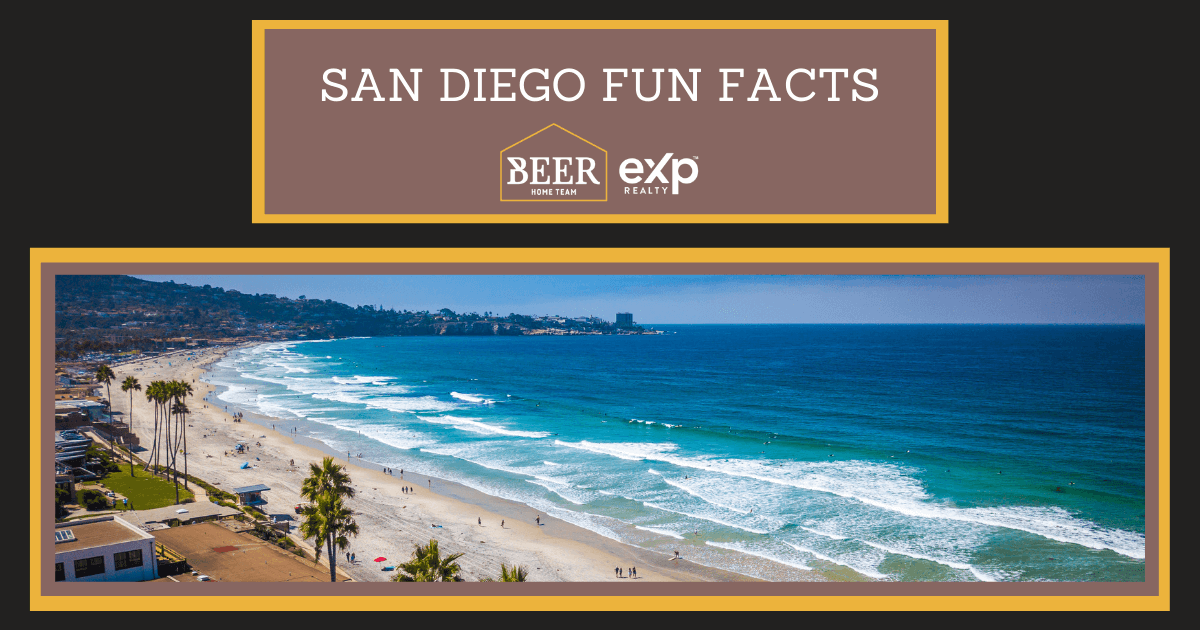 San Diego is famous for being home to the first SeaWorld theme park and the Padres baseball team. This city is also known for its beautiful beaches, sunny climate, and laid-back atmosphere. But there are many things that people moving to San Diego may not know. For instance, many people don't realize that San Diego is California's second-largest city or that it actually covers an area larger than the State of Delaware. Check out the following fun facts about San Diego, California, below.
San Diego Is Home to Torrey Pine Trees
The Torrey pine is the rarest pine tree in the United States, and it can only be found in San Diego County. For the most part, the remaining wild population of these trees grows in either Torrey Pines State Natural Reserve or in the city of Del Mar. There is also a population of Torrey pines living on the Santa Rosa and San Miguel Islands, but many consider those trees to be distinct and separate subspecies. Golfers will probably recognize this tree's name as it's part of the moniker of a well-known municipal golf course located next to the reserve — the Torrey Pines Golf Course.
This open-crowned tree typically grows between 26' and 56' tall and bears hard-shelled pine nuts that are actually edible. The Torrey pine is a beautiful tree that will often take on a twisted, tortured look, especially when exposed to harsh coastal winds. Approximately 3,000 of these critically endangered trees live in the Torrey Pines State Natural Reserve. There's also a small population of trees living in the Torrey Pines Golf Course, but their numbers have been sadly on the decline for various reasons, including storm damage and droughts.
San Diego County Produces 60% of All California Avocados
Avocados are delicious when eaten alone, as a spread on toast, and mashed up into guacamole. They also make an awesome addition to salads, hamburgers, and sushi. While many people think avocados are vegetables, they're actually a fruit—and a healthy one at that. They're free of sodium, cholesterol, and trans fats, and they're also very nutrient-rich.
Where in the United States are most of the nation's domestic avocados grown? California, of course. In fact, 90 percent of the United States' avocados are grown in the Golden State. A majority of those delicious fruits (60%) come from San Diego County. So, it's probably not surprising that avocados are celebrated in San Diego. There is, for instance, a popular festival held in the village of Fallbrook to honor this creamy fruit. The Fallbrook Avocado Festival, an annual event for more than three decades, attracts approximately 70,000 attendees each year.
Additionally, many of San Diego's restaurants give avocados a feature role on their menus. For instance, George's at the Cove, which many consider one of San Diego's top restaurants, uses 600 avocados per week in its dishes.
Residents searching for fresh-from-the-farm avocados to eat at home should check out the city's many excellent farmers' markets. For instance, residents of downtown San Diego condos or the Gaslamp Quarter can hit the City Heights Farmers' Market for delicious local avocados.
The California Burrito Originated in San Diego
The California burrito is a delicious concoction that combines carne asada, French fries, and cheese in a large flour tortilla. Some eateries will also toss in sour cream, salsa, or guacamole. These hearty burritos taste great after a sun-kissed day on the sand in the beachfront neighborhood of La Jolla. For decades, it's been a go-to meal for hungry surfers who have spent hours carving the waves.
For sure, the California burrito is a local favorite that almost everyone agrees originated in San Diego. However, the exact inventor of this one-of-a-kind dish is up for discussion. Some people credit Roberto Robledo with being the first to whip up and sell the California burrito. Robledo, his family, and some of his friends owned many shops, a few of which included Roberto's, Rigoberto's, and Aliberto's. Many foodies believe that the California burrito probably originated in one of these shops.
Other foodies credit Joaquin Farfan, Jr., of Lolita's Taco Shop or the Santana's chain as the first to make this burrito. Regardless of who invented it, diners can now find California burritos at eateries all over San Diego and even outside the city.
San Diego Has the Most Dog-Friendly Restaurants Per Capita in the U.S.
How dog-friendly is San Diego? According to a study conducted by WalletHub, San Diego actually has the most dog-friendly restaurants per capita. It was also ranked number one for having the most pet businesses per capita.
So, what does it mean when a restaurant is dog-friendly? Eateries with an outdoor seating area with a separate outdoor entrance are now permitted by law to allow dogs in those areas. Of course, this does not mean that a restaurant with a patio has to serve dogs; it just means they can if they want to. The following are some restaurants in San Diego known for being particularly dog-friendly.
Casa de Freds. This restaurant boasts a large outdoor patio as well as a special doggy menu.
Bull's Smokin BBQ. Canine visitors will enjoy a dog-friendly patio and free bones.
Sally's Fish House. This restaurant has a large waterfront patio with a special menu that caters to furry friends with items like Pupcakes.
SAN Is the Busiest One-Runway Airport in the U.S.
It's hard to imagine that an airport as busy as San Diego International Airport (SAN) has only one runway. But, surprisingly, it does. So, approximately how many passengers did this airport with only one runway serve in 2019? A staggering 25.2 million passengers made San Diego the busiest single-runway commercial service airport in the United States.
While it may only have one runway, San Diego is still considered by many to be one of the best airports in the nation. The Points Guy recently ranked the 50 busiest airports in the nation and rated San Diego as the best for 2019. Some of the factors the website considered when making its decision included the time it takes to commute from the downtown area and the airport's amenities.
San Diego's largest carrier is Southwest Airlines, which recently announced a slew of new flights. For example, Southwest added numerous nonstop flights to Maui, Kauai, and the Big Island in 2021 and a new service to Norfolk, Virginia. The airport's second-biggest carrier is Alaska Airlines.
Why Do People Love San Diego?
Another interesting fact about San Diego? It is the eighth-most populous city in the entire United States. It's easy to see why San Diego attracts so many residents. The spectacular weather (approximately 146 sunny days and 117 partly sunny days per year) and the plethora of pristine beaches make it easy to understand the current cost of living in San Diego. Prospective buyers can choose from various homes, including condos, townhomes, single-family residences, homes in San Diego golf communities, and gorgeous San Diego waterfront properties.
Looking for the perfect home in San Diego? Contact Beer Home Team of eXp Realty with San Diego Home Finder at (858) 465-7899 to get in touch with San Diego real estate agents who can help you find your San Diego dream home today.