San Diego Economy: Top Industries, Biggest Employers, & Business Opportunities
Posted by Daniel Beer on Thursday, December 22, 2022 at 1:45 PM
By Daniel Beer / December 22, 2022
Comment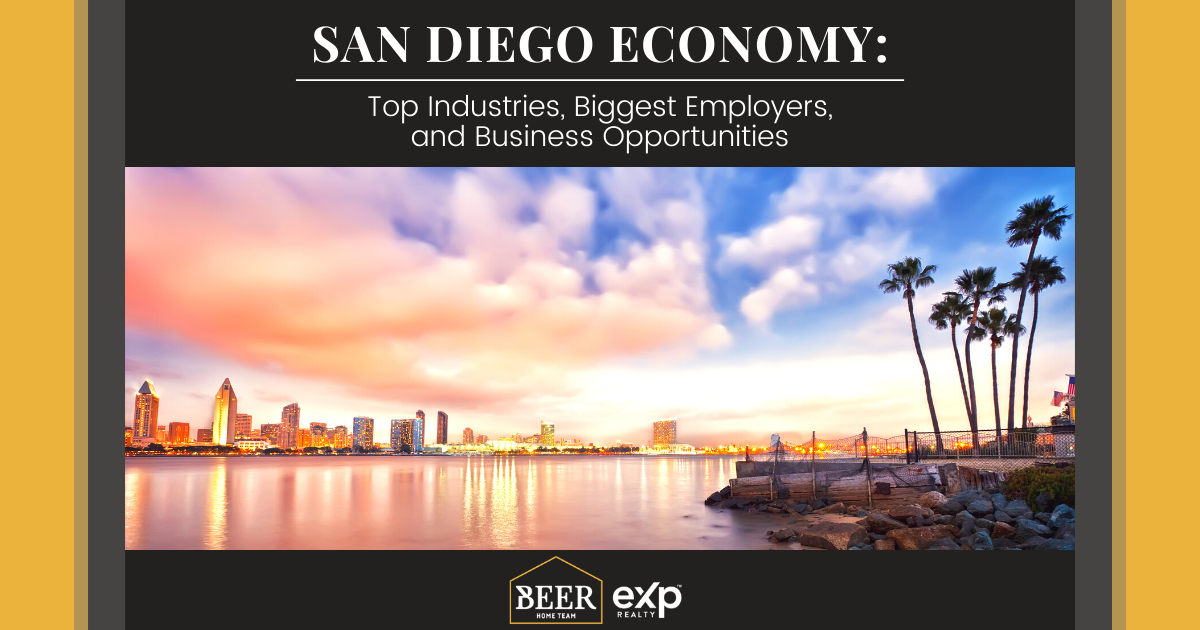 Those considering purchasing one of San Diego's waterfront homes or a home in one of San Diego's gated communities are sure to have many questions about the area. One of the most important is the state of the local economy. Even with a dream home that checks all the boxes, it's important to understand if moving to San Diego will continue to remain sustainable in the years to come.
Of the 1.4 million residents in San Diego, many opt to work outside of the city limits for many reasons. However, for those who do work in San Diego, the data is promising. Keep reading to examine the industries, top employers, and facts and figures of San Diego's economy in more detail.
San Diego Industries
Industries in San Diego can vary widely from what one may think when California comes to mind. Three common industries employ San Diego residents.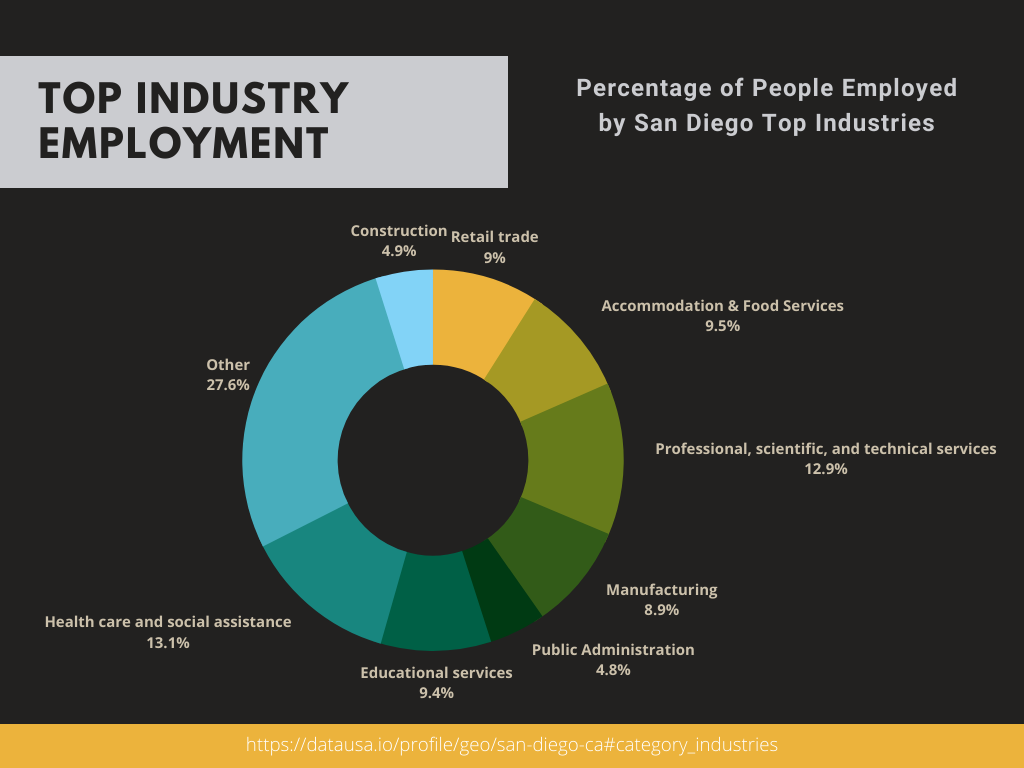 The first is health care and social assistance, with over 93,500 employees. Next is the professional, scientific, and technical services industry, with about 92,500 employees. The third most common is the hospitality industry, with over 67,500 employees. These three industries alone employ over 35% of San Diego's workforce.
San Diego also specializes in some industries. The management and enterprises industry is twice as large as might be expected in a city of its size. The professional, science, and technical services industry is 1.7 times larger. Additionally, the real estate industry is 1.4 times larger, which makes sense with the in-demand area.
Of the industries that are the highest paying, the first is management and enterprises, with an average salary of almost $101,000. Next is the utility industry, which averages an annual salary of $78,500. Finally, the finance and insurance industry produces an average salary of $77,000.
Top Industries in San Diego
Health Care & Social Assistance
Educational Services
Professional, Scientific & Technical Services
Accommodation & Food Services
Retail Trade
Manufacturing
Top Employers in San Diego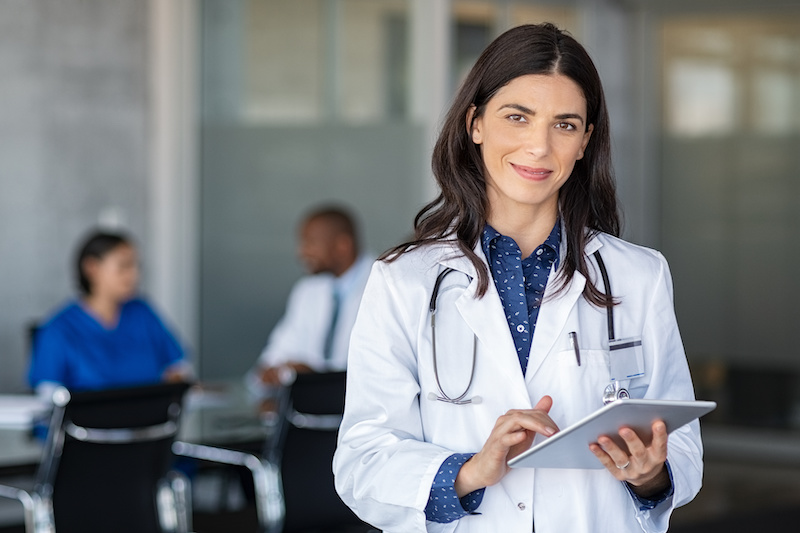 There are several top employers in San Diego covering a multitude of industries. The largest employer is the United States Navy, with over 41,600 at the San Diego Naval Base.
Next is the University of California San Diego, with over 38,700 employees. As one of the largest universities in the state, employees provide education opportunities to undergraduate and graduate students.
Sharp HealthCare employs over 18,700 residents. The company offers a range of medical services at multiple hospitals as a not-for-profit regional health care provider in San Diego.
The County of San Diego is the fourth-largest employer with over 18,600 employees. The county provides utilities, code enforcement, and other public services.
San Diego Unified School District has nearly 13,000 residents on its payroll. The district employs teachers, principals, janitors, and school bus drivers. Additionally, the district provides kindergarten through 12th-grade public education.
Scripps is a nonprofit healthcare network with over 12,300 employees. Patients are connected with doctors and specialists to receive the care they need at more than 20 hospitals and outpatient facilities.
The City of San Diego has about 11,600 employees who take care of streets, parking enforcement, the police and fire departments, special event management, and other activities.
Qualcomm has at least 10,300 employees in its workforce. The company provides 3G, 4G, and 5G technologies to residential and commercial customers.
The San Diego Community College District employs more than 6,200 residents. The district provides affordable college education for those who want to earn technical degrees or their Associates before moving on to larger universities.
Kaiser Permanente is a smaller healthcare provider, but it still employs over 5,300 individuals. It offers scheduled and emergency services to San Diego residents.
Additional Large Companies in San Diego
Sempra Energy
General Atomics
San Diego Data Processing
Pulse Electronics
Teradata
San Diego Economy Facts & Figures
Residents of San Diego fill many occupations in the city. The most common jobs include management occupations (77,000+ people), sales and related occupations (70,000+ people), and office and administrative support occupations (66,000+ people). Additionally, the highest-paid positions on average are legal occupations ($116,500), computer and mathematical occupations ($92,000), and architecture and engineering occupations ($83,700).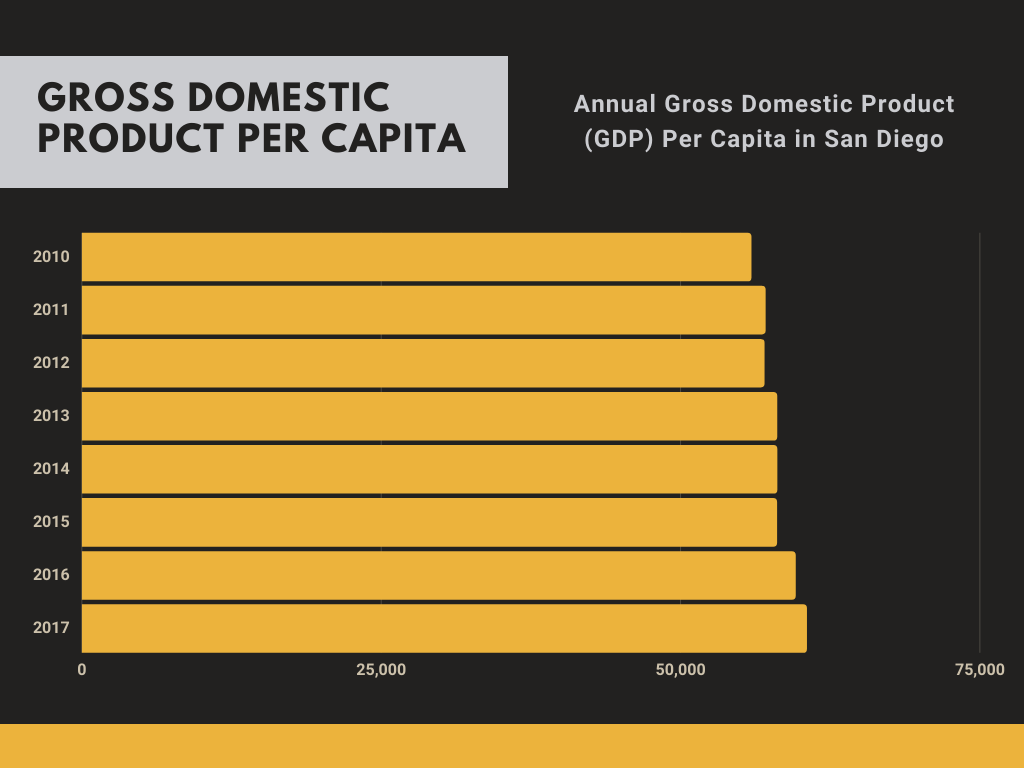 A few other factors of San Diego's economy are also important to review. San Diego has a cost of living margin of 160.1, which puts it 60.1% higher than the national average. The current unemployment rate in San Diego is 6.6%, which is just above the nation's average of 6%. Despite its unemployment rate, the job market did increase by 1.4% over the past year. In the next decade, job growth is expected to be 34.9%, which is just over the United States predicted 33% in the same period.
It's important to know that taxes in San Diego tend to be higher than in other areas in the nation. The sales rate is just slightly higher than the 7.3% average, with San Diego's rate coming in at 7.8%. However, the income tax is much higher. The nation's average is 4.6%, whereas San Diego's income tax is 9.3%.
Taxes are important when one is looking at the average salary. The average individual income in San Diego is about $33,800, and a household's income is around $64,800. Compared to the United States average of $28,500 and $53,500, respectively, the average income in San Diego is slightly higher than the country's average.
Find Your Career in San Diego
After reviewing the hard economic data of San Diego, it's easy to see that the city is relatively healthy and looking to improve over the next decade. However, the data is just one piece of the puzzle when deciding which area to call home. Fortunately for those looking at San Diego, they are considering one of the best cities in the country. The year-round temperate weather, water activities, and world-class dining are just some of the best aspects of living here. Those who desire water views and regular entertainment options will quickly fall in love. So long as one can look past the traffic, the community of San Diego is open and welcome to all who are ready to own their own little slice of paradise.
Looking for the perfect home in San Diego? Contact Beer Home Team of eXp Realty with San Diego Home Finder at (858) 465-7899 to get in touch with San Diego real estate agents who can help you find your San Diego dream home today.