San Diego Cost of Living: San Diego, CA Living Expenses Guide
Posted by Daniel Beer on Monday, December 12, 2022 at 12:05 PM
By Daniel Beer / December 12, 2022
Comment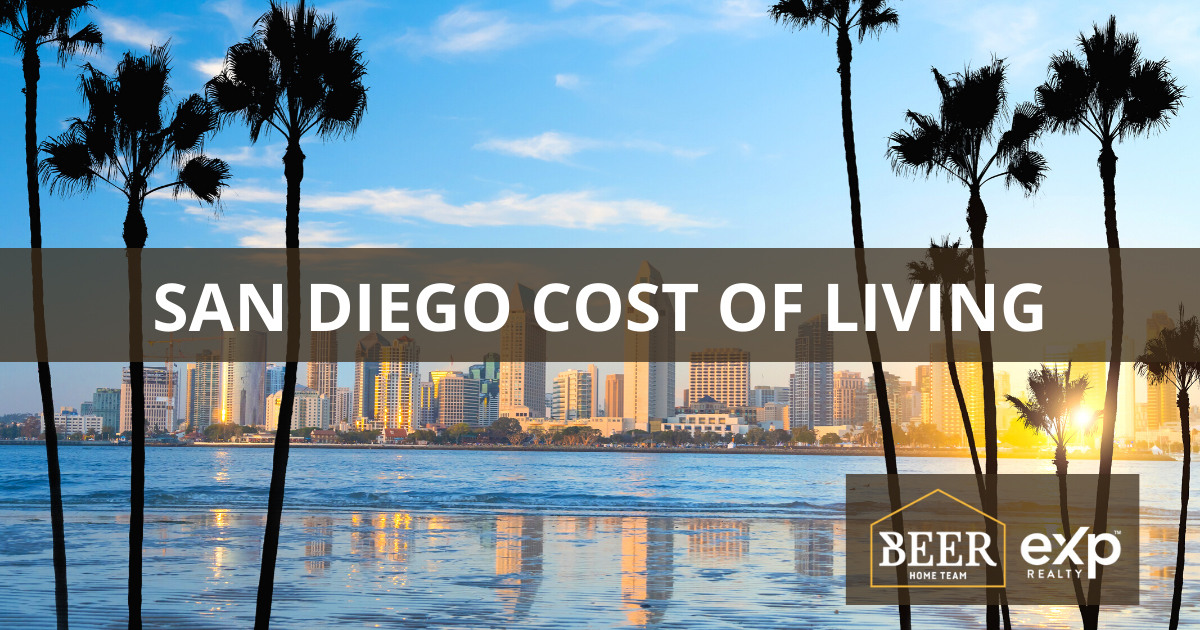 Known for its beautiful landscape and warm weather, more than 1.4 million people call San Diego home. It's the second-largest city in California and the eighth-largest in the country, with the metro community containing more than 3.3 million inhabitants.
Due to the city's robust population and its desirable coastal real estate, the cost of living in San Diego is 160% more expensive than the typical U.S. city. That means that, on average, it may cost about $160 to purchase the same amount of goods and services that $100 would buy elsewhere. Using the same standard, the cost of living for California as a whole is around 150%, so higher expenses than average in San Diego may be expected. However, living in San Diego also means access to its many beaches, excellent dining options, outdoor sports in the sunshine, and much more. There's no question that the San Diego lifestyle appeals to many.
Before buying that waterfront property on San Diego Bay that you've had your eye on and moving to San Diego, however, read on to learn a few things about San Diego's cost of living.
Table of Contents
Housing in San Diego
Although costs across the board are more expensive than the typical U.S. city, these expenses are not uniform. For example, residents will pay 179.1% more for housing. The median home cost for the community is $645,000, compared to $231,000 across the country. Homes in the area have appreciated by 55.9% in the last decade, compared to the national average of 27.4%. That's potentially good news for new homeowners that want to make sure the investment is safe.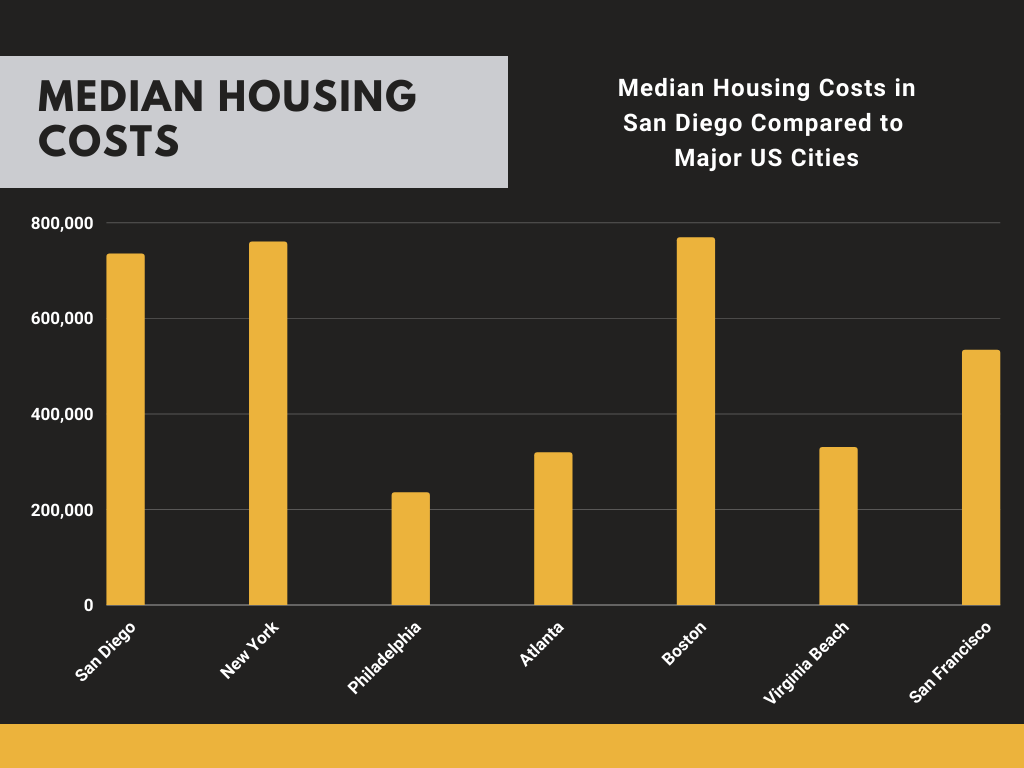 Renters make up about 48.5% of the community, so around half of the residents live in properties they own. Only about 6.9% of houses are considered vacant, much less than the typical U.S. city at 12.2%. This higher housing demand naturally means higher prices.
Median Home Price
Like most communities, the median home price varies based on many factors. Those looking to buy a home at a certain price range would be well-advised to consider several different neighborhoods. For example, in the city's southeast area, the Encanto neighborhood sometimes has homes for sale for between $620,00 and $750,000, making it relatively affordable. Median prices in Nestor are also sometimes lower than other San Diego areas.
Emerald Hills is also a great community for more affordable homes, with prices that may range from $419,000 to $750,000. Those who prefer the bustling world of a dense urban environment may love living in a Downtown San Diego condo. Homes downtown have a median cost of around $572,000.
Median Rent
New residents who wish to rent or aren't ready to purchase a home can find a wide variety of rental properties in the community. Studio apartments within the city average about $1,450 a month, but residents can save money by living in the metro area for around $1,330. For comparison, the typical cost for a studio apartment in the U.S. is about $820.
A one-bedroom apartment in San Diego costs about $1,620 a month. Two-bedroom apartments within the city may cost residents about $2,110 each month, compared to around $1,940 in the metro community. Adding a third bedroom can increase the rent to about $3,020 each month, nearly twice the national rate of around $1,600. The largest four-bedroom rentals cost about $3,700 monthly. Moving to the outlying areas of the region might still require about $3,400.
Utilities in San Diego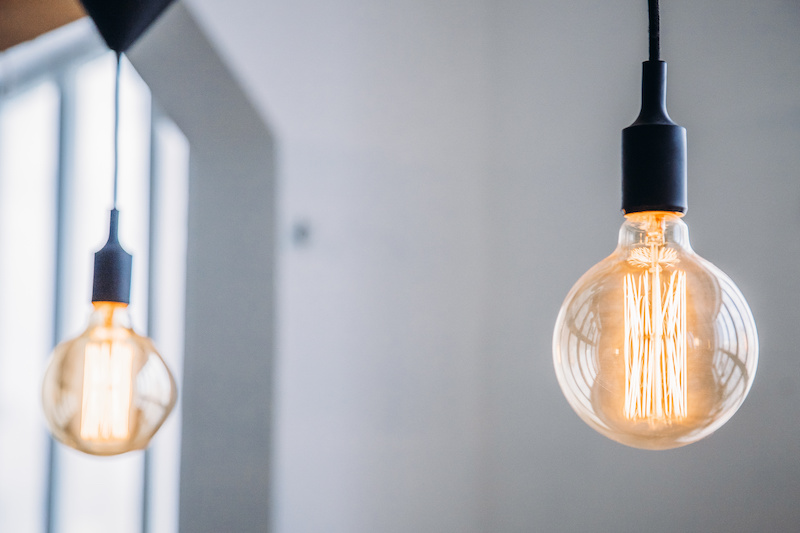 Where housing costs may be much more expensive than the typical U.S. community, utility costs are roughly the same. New residents can expect to pay about 3% more to enjoy basic resources such as electricity and water. Among other factors, San Diego's mild weather helps residents avoid the hefty seasonal costs that happen in colder places. The average monthly electricity bill for San Diego residents is about $88.
Water and sewerage costs are also a necessary part of a resident's budget. New residents can expect to pay about $80 for their water bill each month. The rate for sewer service may add about $52. Costs for internet service vary widely across the community depending on the data speed and service provider. Considering the major companies, the average monthly costs range from $50–$60.
Cell phone plans in the area are available at a variety of ranges. The most affordable plans start at about $40 each month, but most residents pay about $72 for mobile phone access. One final cost to consider is homeowners insurance. While many may not consider this cost necessary, it's the best way to protect property from loss. Expect to pay about $905 each year for coverage.
Food Costs in San Diego
Food can be a variable cost in one's budget. Home-cooked meals can be less expensive, but occasional takeout can be a relief on a busy schedule. Sitting down at a restaurant can sometimes be as much about enjoying the ambiance and company as the meal itself.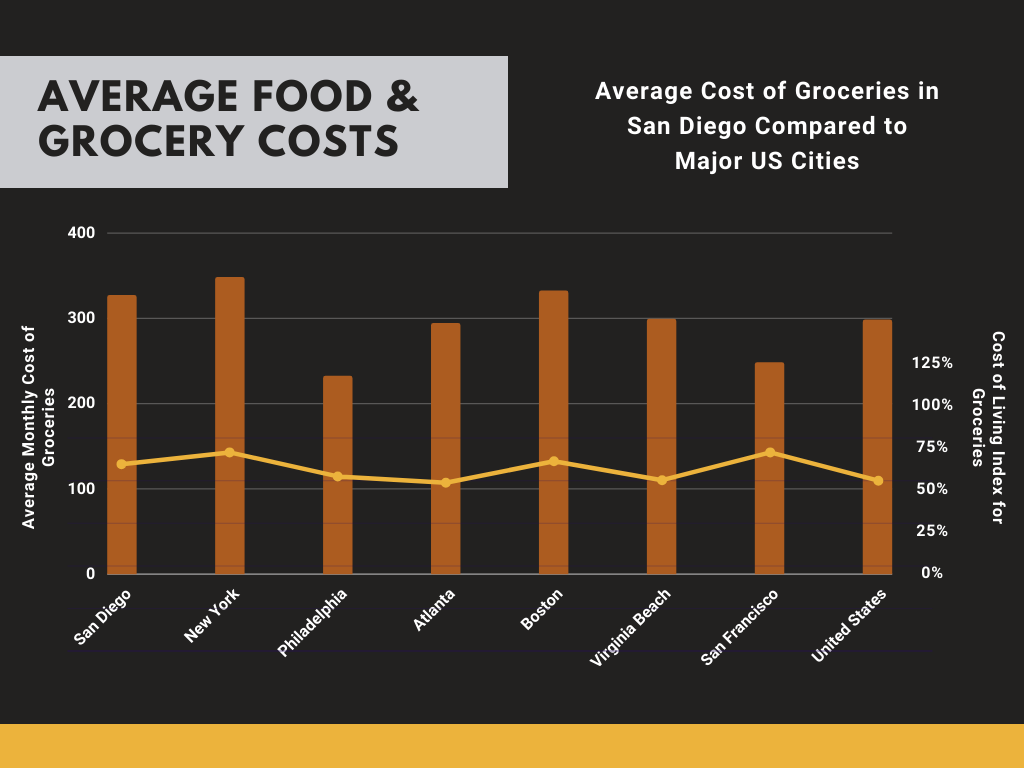 In any case, the best advice is to budget food expenses wisely. It's possible to enjoy delicious food and nights out without spending more than is reasonable.
Groceries
Residents can expect grocery costs to run about 10% more expensive than the typical U.S. city. Depending on household size and individuals' personal tastes, this can add up to quite a bit. As a result, residents wishing to save money may want to prioritize finding discount stores or farmer's markets within the community.
As for the costs related to specific meals, a whole chicken may cost about $11.50. Start by roasting the chicken, then add potatoes ($3 per 5-pound bag), carrots ($1 per pound), and sweet onions for $0.75 each. For breakfast, grate and fry some potatoes, then add large eggs for $4 per dozen and shredded cheese for $4.50.
Restaurants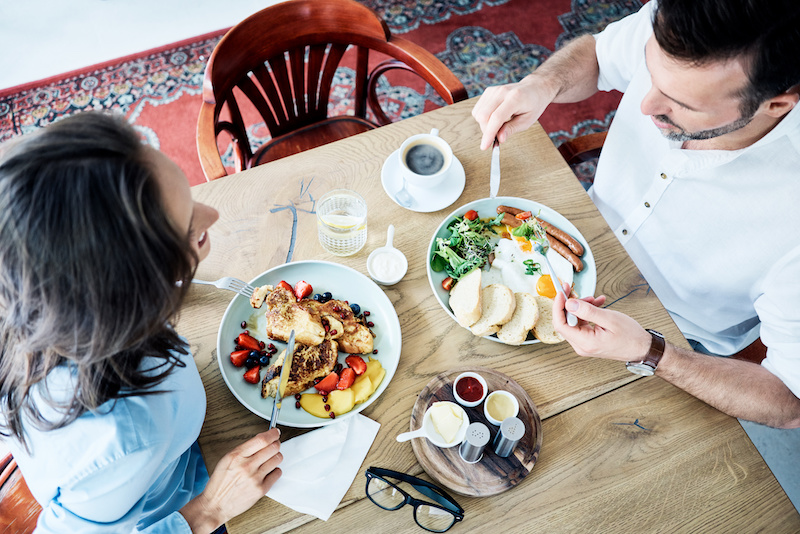 Most people will want to leave room in their budget for the occasional evening out. Visit CUCINA Urbana for a delicious Ricotta Spinach Agnolotti with wild mushroom for $20. Those who prefer seafood may fancy Eddie V's. Try the Maine Lobster Bisque for $15 or the Jumbo Lump Crab Cake for $22.
Of course, dining out isn't only about enjoying an evening. Sometimes dining out is necessary for busy schedules or a quick pick-me-up. For example, grab an iced coffee on the way to work for $2.63 or order a two-cheeseburger meal for lunch for $6.89.
San Diego Transportation
Transportation is another of those regular costs that most people must include in their budget. Generally, residents can expect to pay about 20% more for travel costs than the typical U.S. city. Fortunately, the average commute time is only about 24 minutes, versus the national average of 26.4.
As for how residents get to work, about 75% drive to work alone. These residents can expect to pay anywhere between $3.51 to $4 for a gallon of gas in San Diego, though this price fluctuates. Additionally, drivers in the city may also need about $1,030 a year for car insurance, more than the national average of $889 and the state average of $841.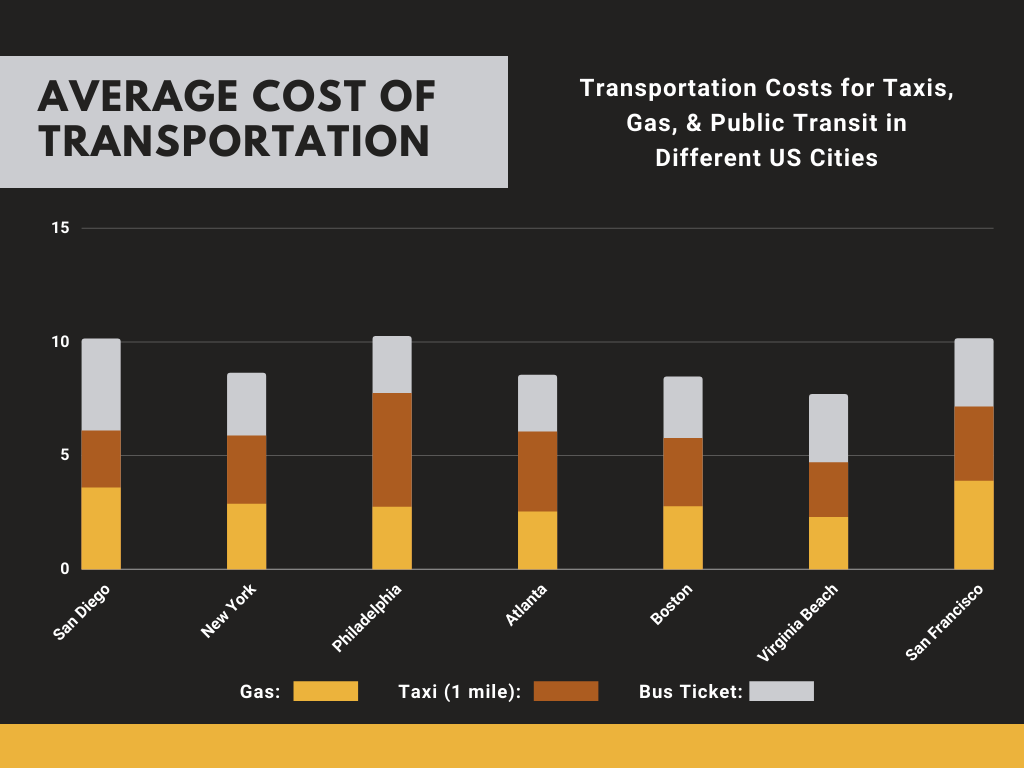 Around 9% of residents utilize carpools to get to work, meaning they probably share the above-mentioned costs. Those working from home make up about 7%. Another 4% of workers take mass transit to the job.
The Metropolitan Transit System operates several forms of public transportation. Bus and trolley service costs about $2.50, but regular riders can save money with monthly passes. Regional routes are $5 and $8 for those living in the broader metro area.
Ridesharing apps like Uber are also options. Traveling from the San Diego Zoo to the International Airport can cost about $11.70.
San Diego Health Care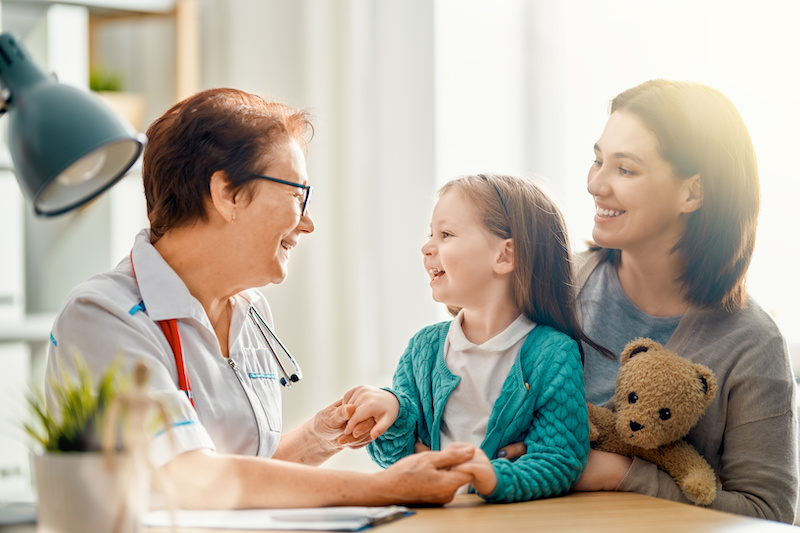 For many people, health care is one of those hidden costs. However, in the case of accidents or unforeseen sickness, these costs can suddenly overcome a budget. It's a good idea to consider these costs as part of any relocation consideration.
Fortunately, people living in San Diego only pay about 89% of the healthcare-related costs of other communities. For example, a visit to the doctor within the city might cost about $120 for a basic checkup. Dental visits are a less expensive at just over $100. Checking a prescription for glasses at the optometrist might cost about $110.
Costs for prescription drugs tend to increase with age, but residents pay about $470 each year on average. For those with furry friends, basic services at the vet may cost about $50. Health insurance premiums average about $590 per month, but subsidies are available to many residents.
San Diego Child Care
Parents of young children may be keenly aware that care during working hours is a high cost. For this reason, potential residents of San Diego should prepare to consider child care in any budget analysis. It's good to have an understanding of the expected cost and the realities of potential options. The following prices do not consider the cost of transportation or time necessary to deliver the child or children each morning.
The first option is child care that is run out of the caregiver's home. San Diego residents can expect these businesses to average about $250 each week for infants and $200 for children at the preschool age. Those willing to pay a little more for formal care may prefer to send their children to child care centers. Infant care at these locations often averages about $350. Care for older children is usually slightly more affordable, depending on the age of the child.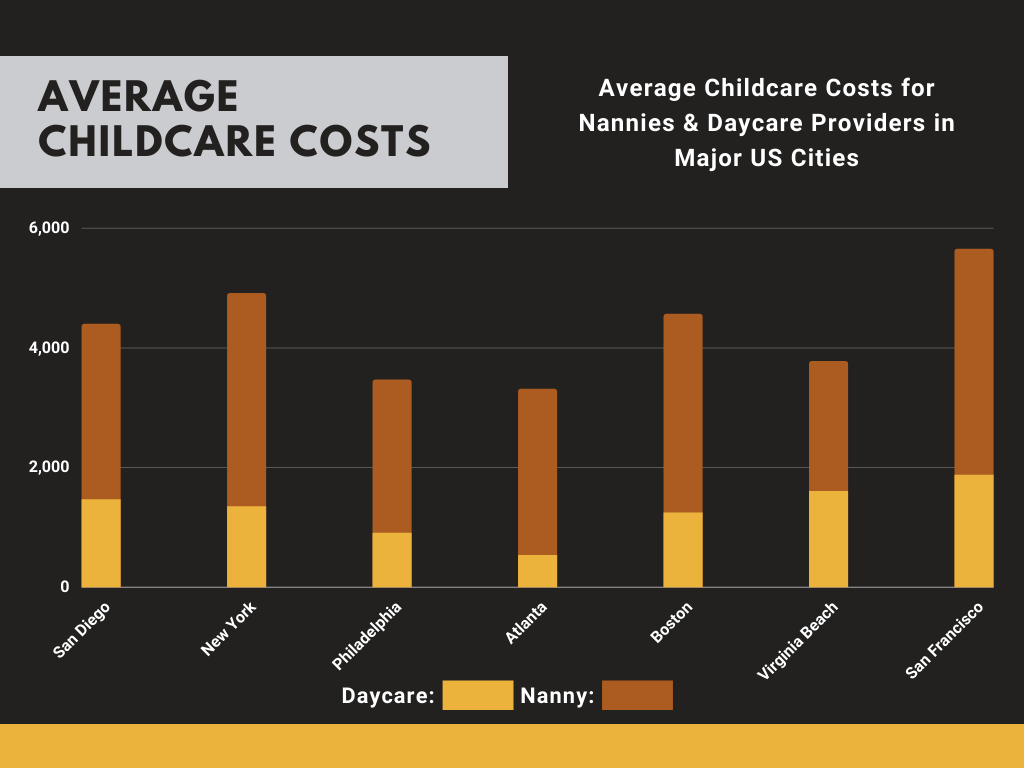 Parents of multiple children may also want to consider nanny services. The average rate in San Diego is about $16.25 an hour. Hiring a nanny to work full-time for a year would cost about $33,800. Sending a single preschool-aged child to a daycare center for a year may cost about $15,600, assuming $300 per week for 52 weeks. That means any parent or guardian with more than one child may actually pay a similar or lower amount to hire a caregiver at home.
Entertainment in San Diego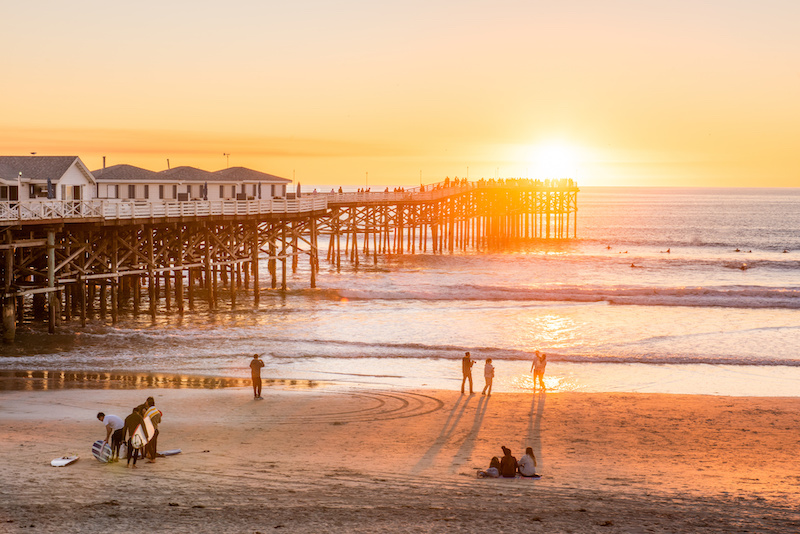 Of course, no budget is complete without considering entertainment costs. The last thing new residents want to discover is that they can no longer afford to enjoy their favorite diversions in their new town. So make sure to add the 7.75% combined sales tax rate.
San Diego has a plethora of free or very low-cost activities. Walking around Balboa Park, one may find several art pieces, gardens, and other botanical wonders. Those who love the water or beach can enjoy Mission, Pacific, and Coronado beaches for free. Residents can find miles of shoreline and boardwalks full of scenery, restaurants, and specialty shops with all three options.
Those who don't mind spending money can visit the world-famous San Diego Zoo and Safari to see more than 800 animal species, with tickets starting at $62 or $120 for both the zoo and safari. Sports fans have a wide variety of teams to enjoy, including the San Diego Padres baseball team. Tickets generally start at $26.50.
Lovers of live music also have several options. Visit the Music Box for local artists and national acts. Tickets for some of the most famous singers and bands globally are as low as $19.
Salaries in San Diego
One final consideration for the community is salary. After all, it's impossible to understand the true impact of the cost of living without considering the expected paycheck. The per capita income for the community is about $37,000, which is more than the national rate at $31,000. Household income is also higher than the U.S. average at $72,000 vs. $58,000. The average salary in San Diego is about $66,000.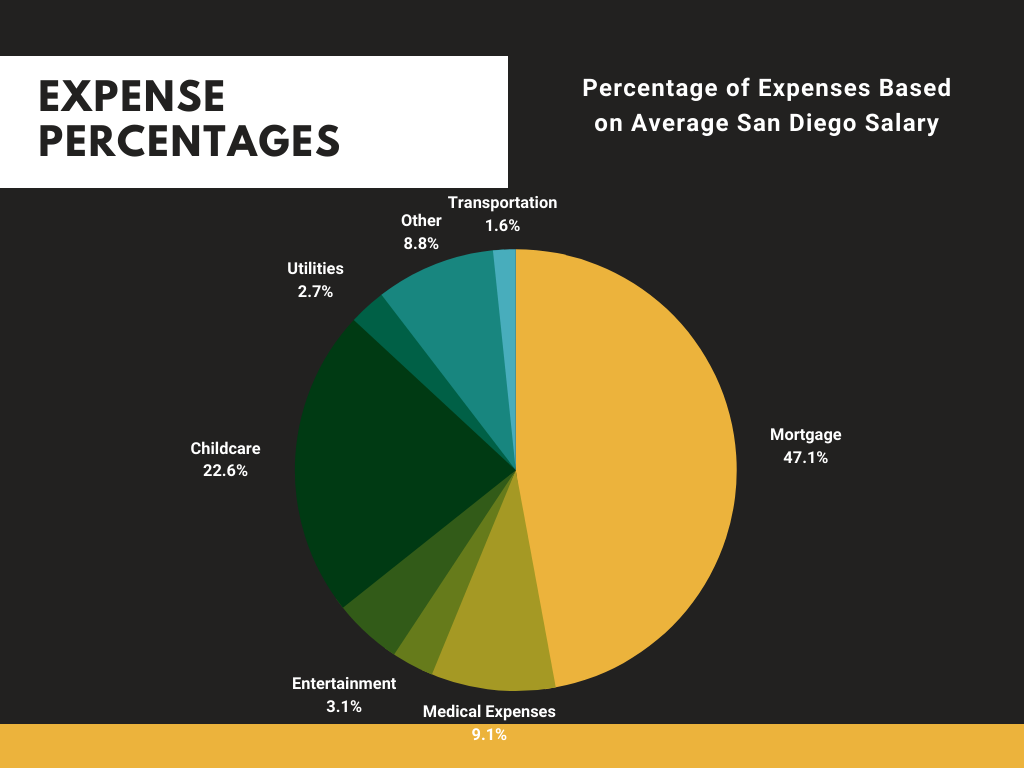 Architects and engineers are among the highest-paid occupations at about $86,000 annually, followed by computer and math jobs at $83,000. Legal professionals make a respectable $80,000 each year, followed by health practitioners with $79,000. The income tax rate for the community is 9.3%, which is higher than the U.S. average rate of 4.6%.
The unemployment rate is about 6.6%, 0.6% higher than the U.S. average.
The minimum wage for the community is $14 per hour.
Find Your Home in San Diego
With the beautiful climate and strong local economy, the growth in San Diego is likely to continue for the foreseeable future. Therefore, prospective residents would be wise to visit the community and see the breathtaking scenery, beach lifestyle, and bustling entertainment landscape. San Diego could be a great place to call home.
Looking for the perfect home in San Diego? Contact Beer Home Team of eXp Realty with San Diego Home Finder at (858) 465-7899 to get in touch with San Diego real estate agents who can help you find your San Diego dream home today.