Reflections From a Day in Houston
Posted by Daniel Beer on Thursday, October 19, 2017 at 2:14 PM
By Daniel Beer / October 19, 2017
Comment
By Daniel Beer
It has now been over a month since I returned from our experience in Houston to help with the relief efforts along with our Director of Sales, Derek Marshall. I have spent countless hours thinking about what I saw, the people who were affected, and the devastation that just can't be accurately captured at scale on television.
I had seen the damage on the news and read about it online, but actually seeing it all in person with my very own eyes was incredibly overwhelming. It was hard to believe all of the damage that had happened to so many innocent families just a 3-hour flight away from our home.
We began our day in Austin at 6:00 A.M. and made our way to the local Convention Center where we jumped on a bus and had a 2.5-hour drive to a Houston suburb known as Katy that had been devastated.
Something I hadn't realized was that every year Houston has areas that flood as it is a flood-prone area. However, Katy was not categorized as a flood zone and had never been flooded before.
Katy came to be flooded because there was so much water in all of the dams and levees from the heavy amounts of rain that the city was left with the decision to either let these overflow and burst massive amounts of water towards Downtown Houston, the heart of the city, or direct the water elsewhere and essentially sacrifice other neighborhoods. They had no choice but to direct the water towards Katy, which caused unimaginable damage to a beautiful community.
Being that Katy was not considered a flood zone, no one had flood insurance. All of the damage done was being taken directly out of the homeowners' pocket.
The ten people in our group were assigned to a family's home that had been absolutely destroyed from head to toe. To make matters worse, the homeowner had just invested two hundred thousand dollars upgrading his home and was under contract to sell it when the flood hit.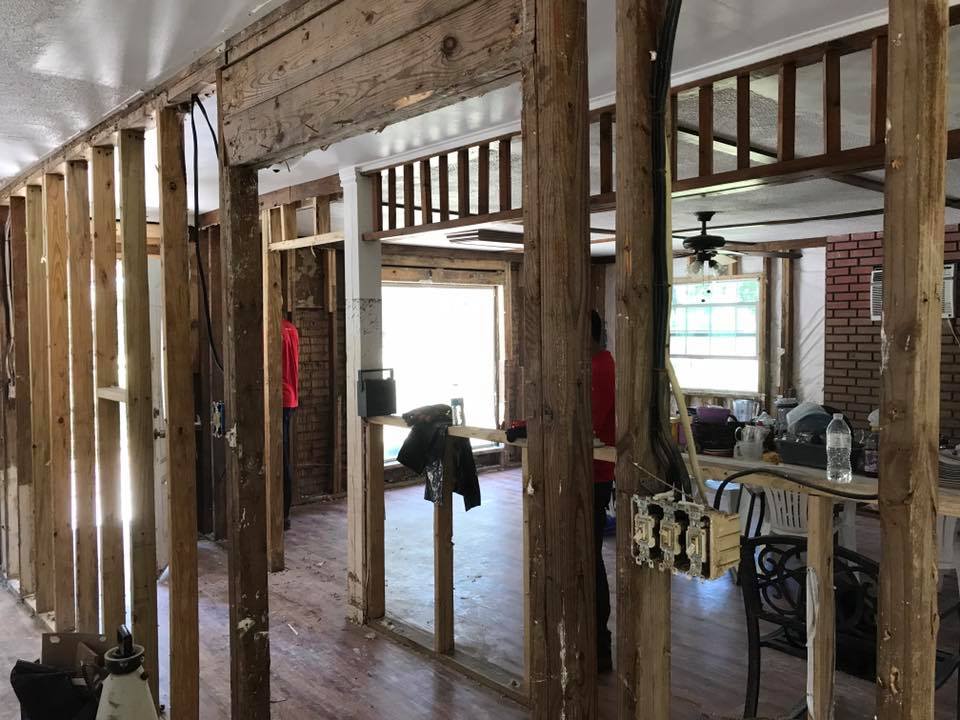 Even if he replaced it all, the home wouldn't be worth nearly as much because even if he had the money to replace what happened to his house, it would be years before all of his neighbors could find the funds to replace the damage to their own homes. The loss of value in this beautiful neighborhood is really difficult to comprehend. Imagine an entire Del Sur, 4S Ranch, Westwood, Santaluz, Carmel Mountain, or other such neighborhoods wiped out.
We even saw families coming back to their home for the first time only to find it basically washed away, including the homeowner whose house we were working on. It brought up a lot of emotion for everyone.
Plus, keep in mind that these people were all now homeless, while some have friends and family nearby, others had to move hours away, while their job remains in Houston. Effectively threatening their ability to earn a living. Shelter vs livelihood. Imagine being faced with that decision.
Although it was such a difficult experience to fathom, one of the most unexpected parts of our trip that took me by major surprise was how much gratitude I felt. I knew I was there to give, but I didn't realize how much I would also receive. There truly is no greater satisfaction than giving, yet I had never felt that so deeply until that day.
I will never forget the homeowner of the house we were "de-mucking". His heart-felt thank you's were so impactful and sincere that we all in the group felt like he was giving us a gift by allowing us to contribute and work on his home. That level of human connection was so powerful. A difficult feeling to articulate.
Everyone in the community was so strong. So much damage had been done and yet not once did I hear anybody affected complain or show any sort of self-pity. The overall attitude of the community was very hopeful and humbling. It was extremely eye opening.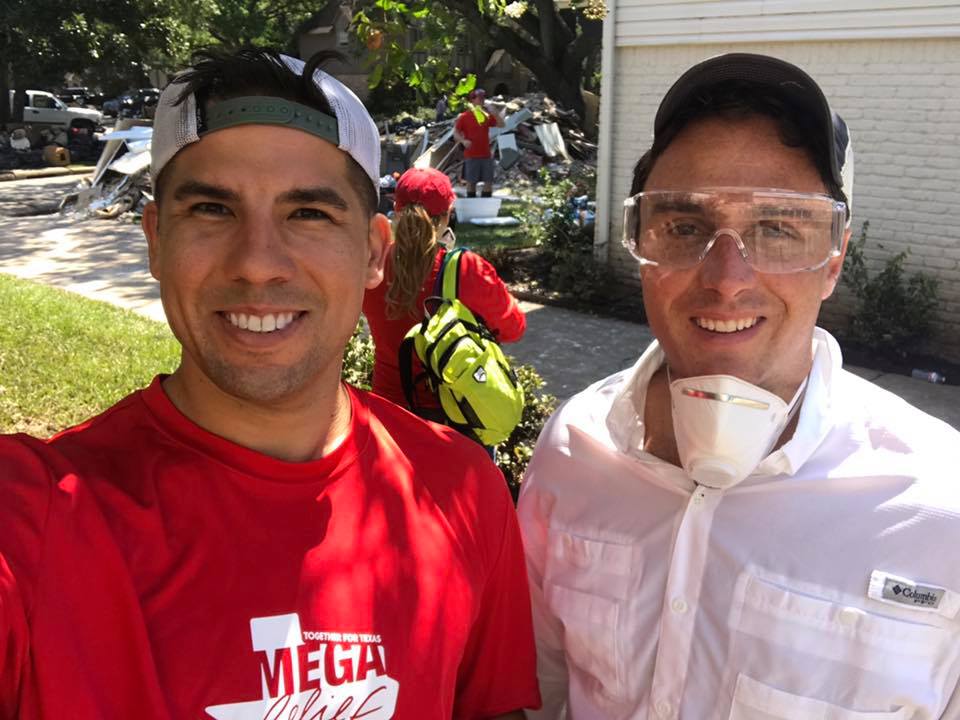 Director of Sales, Derek Marshall (left), and CEO, Daniel Beer (right)
My experience in Houston made me think about my business back home and how I can improve it by better serving our community at a higher level. What could we be doing to give back to the community and make an impact on the lives we are already serving and hope to serve one day?
For starters, I purchased and read The Go Giver by Bob Burg and John David Mann. If you haven't read this book, I highly recommend it. One of the best ones I have ever put my hands on. With the combination of the lessons I learned from this book and those learned in Houston, my daily routine both at work and at home have changed for the better.
If you have any friends or families affected by any of the recent natural disasters, our thoughts and prayers go out to you.
Daniel Beer
CEO/Owner of Beer Home Team
Keller Williams Realty
info@beerhometeam.com