Types of Gated Communities: Pros & Cons of Guard-Gated vs. Unmanned
Posted by Daniel Beer on Tuesday, January 11, 2022 at 11:10 AM
By Daniel Beer / January 11, 2022
Comment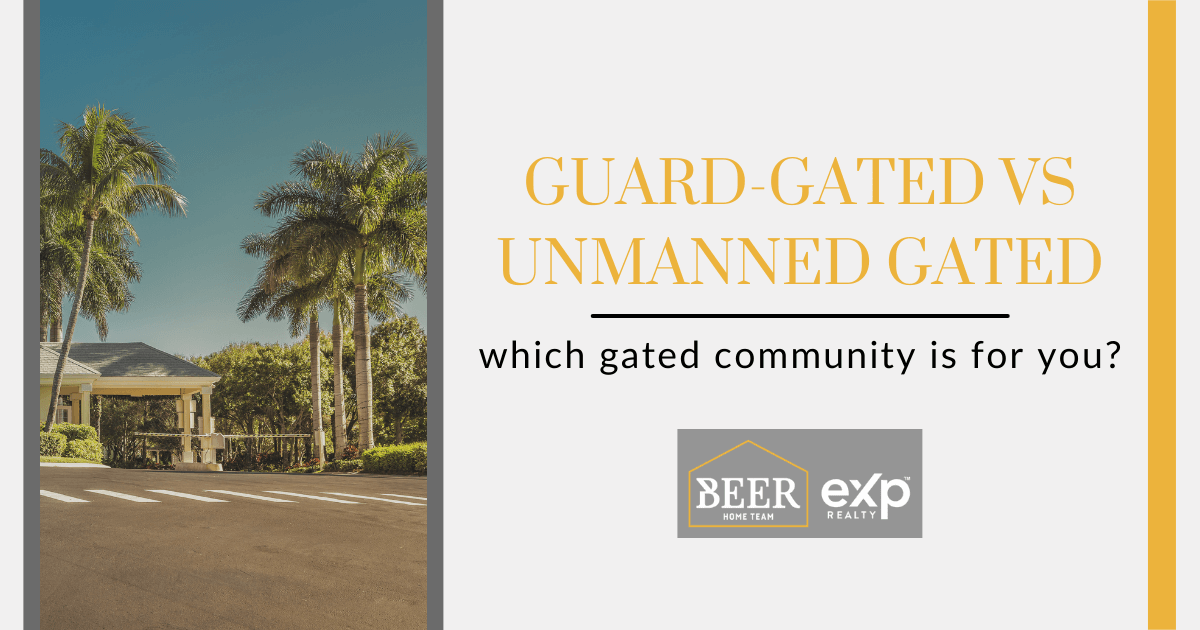 Gated communities offer residents security, privacy, and assurance that their homes will be safe. While many homebuyers find a gated community to be a highly desirable feature, they often don't stop to consider that not all gated developments are the same. Some communities offer a guard-gated service, while others provide the security of a gate, but it is unmanned. Home seekers exploring different gated communities should know both types of gate services offer benefits; however, which one is more favorable will vary. If a gated community is desired, here are several essential factors home seekers should consider when deciding between homes in guard-gated and unmanned gated developments.
Why Should You Live in a Gated Community?
People can use quiet neighborhoods as "pass-through" routes to avoid vehicle congestion and traffic lights in traditional neighborhoods. Without physical barriers such as gates, people can freely come and go, leading to strangers walking through neighborhoods. Gated communities of any kind offer residents who live there significant benefits, including the feeling of being secure and knowing strangers who aren't neighbors won't be coming anywhere close to their homes.
Advantages of Living in a Gated Community With No Guard
Residents of gated communities enjoy numerous advantages that residents living in non-gated communities don't. The top benefits of gated communities include:
Stronger Security
Gated communities offer residents the peace of mind that people won't compromise or destroy neighborhood homes. Even an unmanned gate is usually enough of a deterrent for someone to target a different neighborhood that is easier to access.
Slower Vehicle Speeds/Safer Pedestrians
Residential areas often see too many accidents due to drivers cruising through their neighborhoods at excessive speeds. Upon arrival to a gated community, drivers must halt their vehicles to show credentials before being allowed to enter. This process naturally brings cars to stop, makes drivers more aware of their surroundings, and resets the motorist's mindset to follow speeds more appropriate for residential areas. As a result, pedestrians don't need to worry as much about reckless drivers and feel freer to jog, bike, and walk in their neighborhoods, making it safer for kids as well.
No Solicitors
Aggressive solicitors can be a nuisance, and living in a gated community all but eliminate this high inconvenience. Usually, HOAs discourage commercial solicitation, and many all-out block salespersons from going door to door in their neighborhoods. This factor is a massive benefit to many homeowners, regardless of the type of gated community chosen.
Controlled Access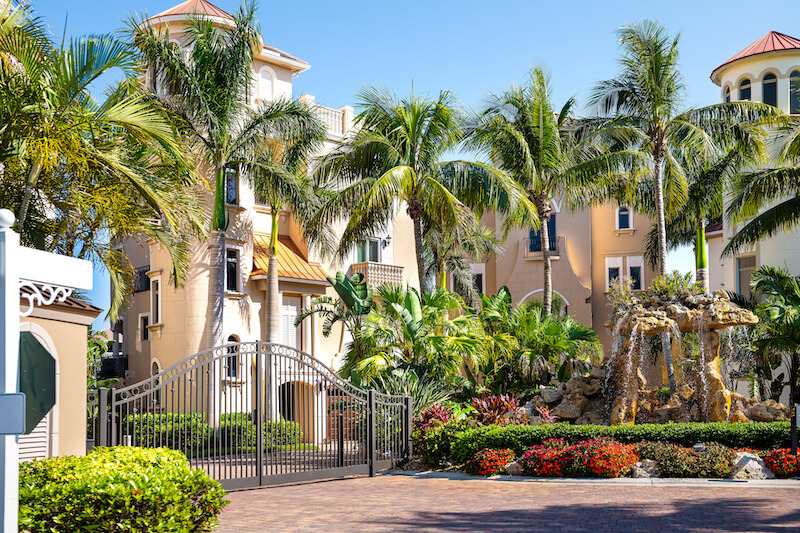 Gates enable communities to regulate who comes and goes in their neighborhoods. All visitors must need a code or resident approval to gain entry, ensuring a highly accurate record of people who have come and gone. Typically, gates also work with security cameras to track vehicle license plates entering the neighborhood.
In addition to the above, residents of gated communities enjoy a greater shared sense of community and use of amenities exclusive to the neighborhood.
Benefits of Living in a Guard-Gated Community
In addition to the excellent benefits of simply living in a gated community, many homebuyers prefer to purchase a property within a guard-gated community. The mere existence of a guard can deter unwanted entry with no further intervention required. Aside from this, there are other advantages as well.
Provides Extra Layer of Protection
While a physical gate adds a good level of protection, a physically present guard to observe and track visitors adds an extra stronger layer of security. Guards can monitor every person who comes and goes and question people upon arrival. If an attempt is made to enter without authorization, a guard can stop them or, worst scenario, sound an alarm or call for police backup.
Careful Records of Visitors
Not only do visitors need to share credentials or state their business to the guard, but the security cameras also take photos of the visitors, cars, and license plates. Guards have a permanent record of anyone coming and going at all entrances and exits using CCTV.
Guest Notices
Even if expecting company, residents may not know precisely when their family, friends, contractor, or other person visiting arrives. A guard can check a visitor's credentials, and some services offer the added benefit of alerting the residents when to expect arrival.
Prevents Tech Hiccups
Technology is generally reliable, but it can also experience glitches. Suppose a badge, card, or other credential isn't taken. In that case, a security guard can ensure residents and legitimate visitors can get where they need to go by verifying them either by face or by showing other forms of identification.
While gated communities often cost a bit more than non-gated communities, some financial benefits make many very affordable. Secured properties typically offer homeowners better value for their properties. Furthermore, guards are paid via HOA fees. In other words, residents can experience all the protections manned security guards offer without worrying about finding a reliable security company or paying a monthly bill.
Contact an Experienced Real Estate Agent to Help Find the Right Home
Living in a gated community, whether unmanned or guard-gated, can offer residents peace of mind, and some of these gated communities offer great commutes, as well. Many present-day buyers prefer a community offering features such as space for remote work, great amenities, and gates. Finding a knowledgeable real estate agent is a great way to help home seekers find the right neighborhood that meets their needs and preferences.