Best San Diego Attractions: Sightseeing Tours & Tourist Spots For Out-of-Town Guests
Posted by Daniel Beer on Monday, December 6, 2021 at 9:16 AM
By Daniel Beer / December 6, 2021
Comment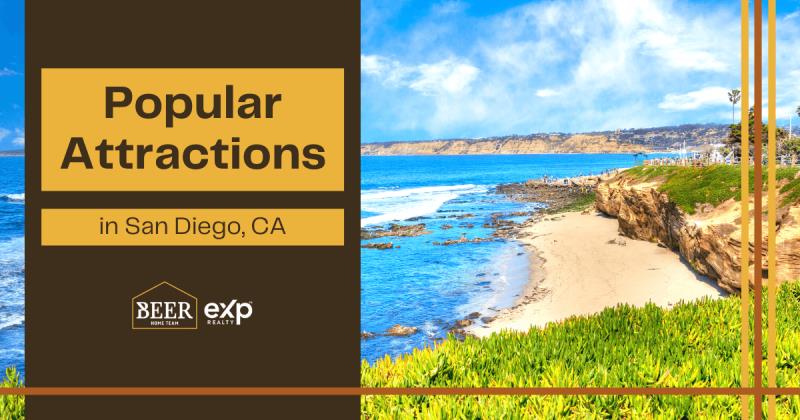 San Diego is known for its stunning views of the Pacific Ocean, blissful year-round temperatures, and its fusion of Spanish and American architectural styles. Anyone visiting this unique city on the US-Mexico border is almost sure to visit the more popular attractions like SeaWorld and the San Diego Zoo. But what about more "off the beaten path" attractions? San Diego has plenty of those! The things to do in San Diego are fun for new residents and life-long locals.
For those thinking of moving to southern California, here are some popular attractions that can be found in the San Diego community.
LEGOLAND California Resort
The young and the "young at heart" are sure to love a vacation at the LEGOLAND California Resort. It takes about two hours to drive from San Diego to the resort, which is in the town of Carlsbad. There are so many activities to do at the LEGOLAND Resort that it requires a two- or three-day stay to take it all in.
Every room at the resort features an in-room treasure hunt with a LEGO-themed gift for the children. Every room has a separate sleeping area for the kids, and spaces can be reserved based on specific LEGO themes. Being so close to the Pacific Ocean, the resort has a SEA LIFE Aquarium and a LEGO-themed water park with plenty of slides. The LEGOLAND Park has more than 60 rides based on LEGO movies, toy sets, and game characters. The LEGO Movie World experience also has characters, rides, games, restaurants and other features based directly on family films. Be sure to pick up some LEGO Movie memorabilia for the kids from the Awesome Shop, where "Everything is Awesome!"
LEGOLAND California Additional Information
Address: LEGOLAND California, One Legoland Dr, Carlsbad, CA 92008
Hours: Vary — check park's calendar
Contact: (888) 690-5346
Fee: 1-Day Admission to Theme Park: $89.99
Explore Coronado Island
Military buffs and everyday visitors will enjoy exploring Coronado Island on the San Diego Bay. The best part of visiting is a convenient bridge from downtown San Diego out to the island. Coronado is perhaps best known for the Naval Air Station located there and for being the place where US Navy SEALs complete much of their training. The beautiful Hotel del Coronado is one of the most visible landmarks in San Diego. Multiple US presidents and notable celebrities have stayed at the luxury hotel, which is rumored to have been the inspiration for The Emerald City in "The Wizard of Oz."
Coronado Island features some of the city's most dazzling, sandy beaches. Coronado Beach along Ocean Drive is a world-renowned surfing location, and it's not a wrong spot for swimming or beach volleyball. Beachcombing tours are available for those who just want to dip their toes in the sand. About a third of the island is a residential area of Cornado luxury homes. Fine dining and upscale shopping are available too. The idyllic beaches and laid-back atmosphere on Coronado Island can make it hard to believe it's situated in a major metropolitan area.
Downtown Adventures
Out of all the storied communities in Southern California, the Downtown San Diego neighborhood is still considered one of the most beautiful and sophisticated areas to visit. Baseball fans can catch a San Diego Padres game at PetCo Park. The New Children's Museum is an all-ages attraction anyone can enjoy. The USS Midway Museum is a spot that every US Navy veteran should visit at least once in their lifetime. The Embarcadero area downtown is just steps from the Bay and is an excellent spot for shopping or taking a bay cruise.
The historic Gaslamp Quarter area in Downtown San Diego stretches from Harbor Boulevard in the south to Broadway in the north. Visitors can catch a stage play at the Balboa Theater or have drinks and dinner at the Hard Rock in this district. The Gaslamp Quarter is also San Diego for those who appreciate the city's nightlife. There is a pub crawl tour that visits many of the best bars in the city. Rooftop bars, craft beers, and many adventures await. The Gaslamp Quarter also features some of the finest dining in the city.
La Jolla Cove
It's not exactly a "best-kept secret" in the San Diego area, but La Jolla Cove is considered one of the best beaches in Southern California. Naturally, parking gets scarce on the weekends at this hotspot, especially in the afternoons. Visitors should arrive early if they hope even to find a parking spot. It is safe for kids and adults to swim in the Pacific Ocean. The beach is located just downhill from Scripps Park in the town of La Jolla. There is usually a good breeze, so many families bring a kite to fly in the park.
La Jolla Cove is especially well-known for the enormous sea lions that make this area their home. They can be viewed just a few yards to the southeast of the public beach area. It is required for visitors to stay on the designated site of the roped-off area where the sea lions sun themselves. (Bring a camera!) Families can bring a picnic to enjoy or walk across Coast Boulevard to find many eclectic local restaurants. Snorkeling, diving, and kayaking are other activities available at this great cove.
Birch Aquarium
The Birch Aquarium is operated by the Scripps Institution of Oceanography at UC San Diego. It is guaranteed to be less crowded than SeaWorld while offering unique aquatic wildlife experiences to visitors. It is located in La Jolla Village, just to the north of San Diego. The Ellen Browning Scripps Memorial Pier is usually closed to the public. Still, visitors can book tours to watch the sunset from one of the most beautiful locations in Southern California. Groups of up to six people, including children nine and up, can book these tours.
Birch Aquarium also offers Tidepooling Adventures, where children three and up (with parents) can receive an up-close guided tour along the shoreline and learn about aquatic animals and plants that live here. A Behind-the-Scenes Tour offers a look at the fantastic marine creatures at the aquarium, including feeding times. Summer Camps at the aquarium are an excellent way for budding oceanographers to learn more about the animals that live nearby in the Pacific Ocean.
Oceanographers and scientists from Scripps do research on every continent and in every ocean on the planet. They frequently provide lectures the public can attend, titled "Perspectives on Ocean Science."
Birch Aquarium Additional Information
Address: Birch Aquarium, 2300 Expedition Way, La Jolla, CA 92037
Hours: 9 a.m.–5 p.m. Daily
Contact: (858) 534-3474
Fee: Adult $24.95 / Child (3–17) $19.95 / Senior (60+) & Students $22.95
Explore Top Attractions in San Diego, CA
There is much to appreciate in San Diego County. It is a community filled with a rich history and modern promise. Along with its world-famous attractions are certainly worth visiting, people who live rave about the many things to do with kids in San Diego. Even after living here for a few years, many residents still feel like they have only scratched the surface of everything that San Diego has to offer. Your next best adventure could be waiting just around the corner!
Looking for the perfect home in San Diego? Contact Beer Home Team of eXp Realty with San Diego Home Finder at (858) 465-7899 to get in touch with San Diego real estate agents who can help you find your San Diego dream home today.