Naval Air Station North Island & Naval Base Coronado PCS Guide: Coronado BAH, Schools & Base Information
Posted by Daniel Beer on Tuesday, November 15, 2022 at 9:00 AM
By Daniel Beer / November 15, 2022
Comment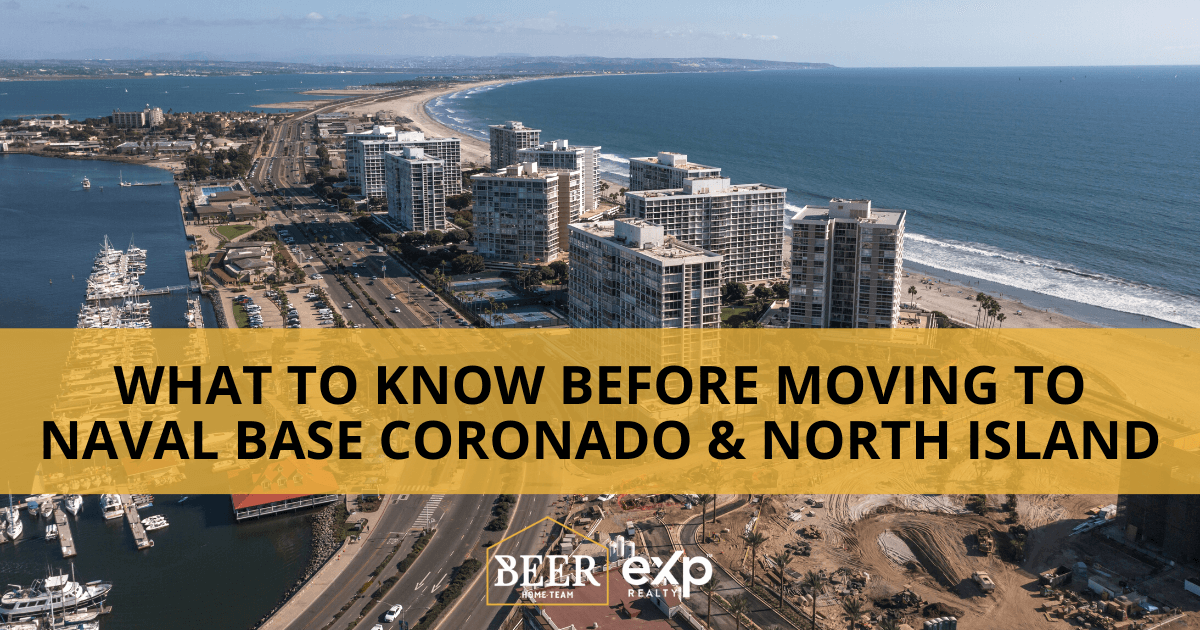 San Diego calls itself "America's finest city," and anyone PCSing to the area will soon see why. Service members can enjoy delightful weather almost every day, explore famous beaches, and invest in the thriving San Diego real estate market. However, moving to San Diego on military orders comes with special considerations.
Naval Base Coronado and Naval Air Station North Island are some of the most significant military installations in the area. With thousands of military and civilian personnel spread over these massive facilities on the tip of the Coronado peninsula in the San Diego Bay, they can feel like their own cities. Take the stress out of your PCS. Here's what you need to know about moving to Naval Base Coronado and North Island.
Naval Base Coronado & North Island BAH
Regarding housing, there's no more important number than the BAH (basic allowance for housing.) As servicemembers likely know, this will vary depending on the cost of living in the area the base is located. A servicemember's rank will also factor into their BAH, whether they have dependents. Housing allowances in Coronado and North Island are among the highest rates offered by the U.S. Department of Defense.
Current Rates (Updated for 2023)
| Pay Grade | With Dependents | W/O Dependents |
| --- | --- | --- |
| E1 | $3,639.00 | $2,730.00 |
| E2 | $3,639.00 | $2,730.00 |
| E3 | $3,639.00 | $2,730.00 |
| E4 | $3,639.00 | $2,730.00 |
| E5 | $3,792.00 | $2,844.00 |
| E6 | $3,807.00 | $3,009.00 |
| E7 | $3,945.00 | $3,318.00 |
| E8 | $4,122.00 | $3,666.00 |
| E9 | $4,392.00 | $3,708.00 |
| W01 | $3,810.00 | $3,189.00 |
| W02 | $4,020.00 | $3,663.00 |
| W03 | $4,239.00 | $3,711.00 |
| W04 | $4,449.00 | $3,819.00 |
| W05 | $4,704.00 | $3,984.00 |
| O01E | $3,981.00 | $3,633.00 |
| O02E | $4,206.00 | $3,696.00 |
| O03E | $4,488.00 | $3,777.00 |
| O01 | $3,801.00 | $2,970.00 |
| O02 | $3,804.00 | $3,519.00 |
| O03 | $4,230.00 | $3,726.00 |
| O04 | $4,794.00 | $3,954.00 |
| O05 | $5,196.00 | $4,056.00 |
| O06 | $5,241.00 | $4,224.00 |
| O07 | $5,286.00 | $4,287.00 |
Naval Base Coronado & North Island Cost of Living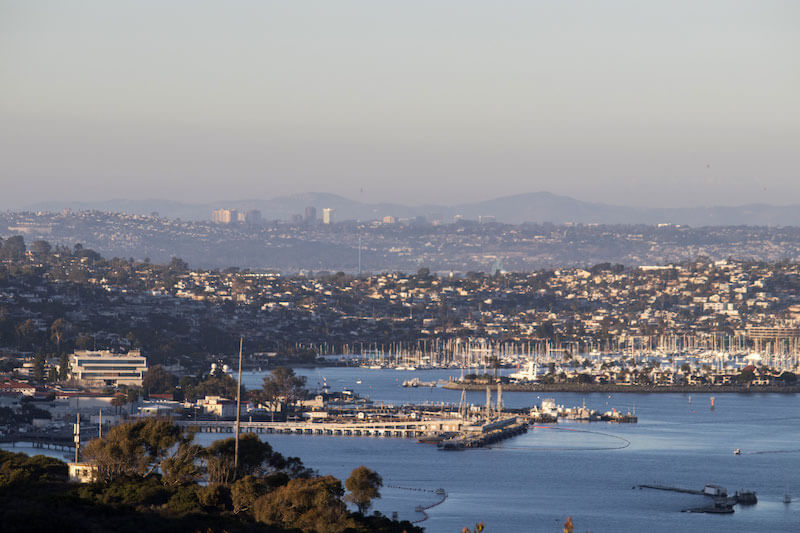 San Diego BAH rates are some of the highest of any zip code in the country because they reflect the elevated cost of living in San Diego. Housing can cost as much as twice the national average by some metrics. The average home in the area sells from the mid-$800s to the mid-$900s. In addition, average monthly rents hover in the $2,800–3,200 area. Homes for sale on Coronado can be especially pricey due to the area's luxurious reputation and proximity to beaches, dining, and shopping. Thankfully, the more generous BAH payments help defray many of these costs.
Southern California residents will also generally see a slightly higher cost of living in other areas, particularly transportation, due to higher-than-average gas prices. Other expenses like utilities and food will tend to cost slightly more for those serving at Naval Base Coronado and North Island, though less noticeably. However, overall costs in all non-housing categories tend to be comparable or slightly below the average for California.
Naval Base Coronado & North Island Housing: On-Base Options, Off-Base Neighborhoods & Nearby Cities
Servicemembers stationed at NAB or NASNI have several choices for both on- and off-base housing. On-base housing provides two- and four-bedroom homes, most constructed in Spanish-style. They may not be the most important or newest homes in the San Diego or Coronado area, but they provide the most convenient location. On-base housing is also available in the Silver Strand portion of Coronado. Unfortunately, there will likely be a waitlist for these sought-after properties.
Those looking to live off-base will find a vast selection of options in the neighborhoods near Naval Base Coronado & North Island. Coronado is one of San Diego's most desirable communities, leading to high prices for even modest housing. Many servicemembers may have to supplement their BAH with additional money to cover costs. However, more affordable neighborhoods can be found throughout the metro area.
Those looking to be in the center of it all can find condos, townhomes, and single-family detached properties in popular areas like Downtown San Diego, the Little Italy community, or the Hillcrest neighborhood.
More relaxed communities located close by include the North Park neighborhood, Point Loma, and the nearby city of Chula Vista. Many service members also choose to buy homes in Imperial Beach, located in South Coronado.
Nearly 50 "base housing communities" are also spread through the San Diego area, serving as off-base neighborhoods explicitly targeted at military families. Like all major cities, prices span a wide range depending on the home's exact location, size, and condition but are typically within or close to BAH rates. Those living off-base may be a few miles away, but traffic on the Coronado Bridge or Silver Strand Boulevard can potentially make these somewhat lengthy drives.
Schools Near Naval Base Coronado & North Island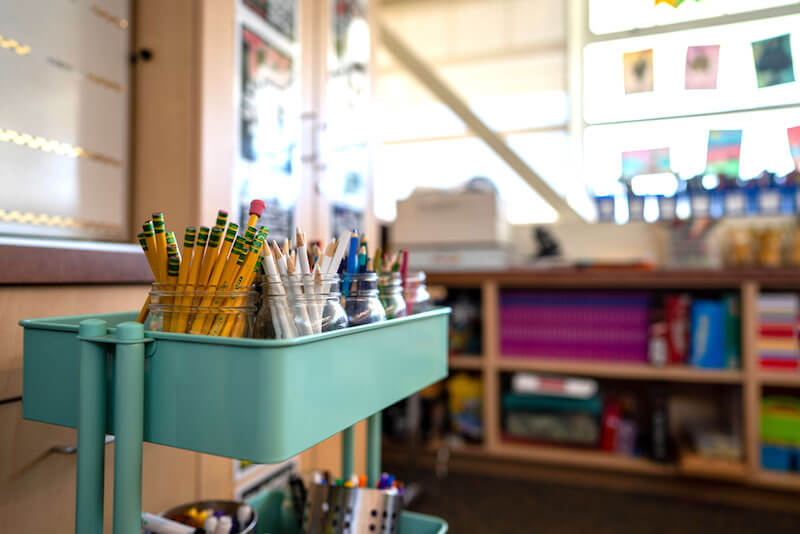 Unlike some areas, there are no Department of Defense schools in the region. Students living near Naval Base Coronado or North Island can attend a variety of San Diego schools both within the Coronado community and the broader area. Public schools are part of the Coronado Unified School District. On-island students will be eligible to attend either Silver Stand Elementary School or Village Elementary School, followed by Coronado Middle School and Coronado High School. Meanwhile, servicemembers living off-base in other parts of the city will be eligible for their local San Diego Unified School District public school.
There are also many private schools near Coronado. These include religiously affiliated institutions, including Sacred Heart Parish School and Christ Church Day School, and schools geared to certain types of students, like Coronado School of the Arts for all San Diego. These are just a tiny fraction of the many private educational choices in the broader San Diego area, which are nearly guaranteed to offer something to appeal to all parents and students.
San Diego is also home to numerous colleges and universities for those going on to higher education. These include the University of California San Diego, the University of San Diego, and San Diego State. In addition, more affordable community college options are also available.
On-Base Amenities
As many servicemembers likely know, the area is home to many military facilities. This means plenty of amenities for those stationed at Coronado and North Island. The only downside is that they're somewhat spread out between the different bases and facilities. For example, just across the bay on the mainland, the Naval Base San Diego complex at 32nd Street offers a large commissary with fresh meat, fish, and other products. In addition, personnel and their families can take advantage of the extensive medical facilities of the Naval Medical Center in Balboa Park.
Closer to home North Island includes an on-base recreation center with fun amenities like a bowling alley and movie theater, conveniences like a commissary, and gyms and swimming pools both there and at Coronado. Military personnel and their guests also enjoy exclusive access to several beaches on Coronado Island, including Breakers Beach and Gator Beach, providing an escape from the crowding that other local areas often experience. On-base restaurants and other dining options at North Island include a Mcdonald's and a Starbucks.
Nearby Attractions & Things to Do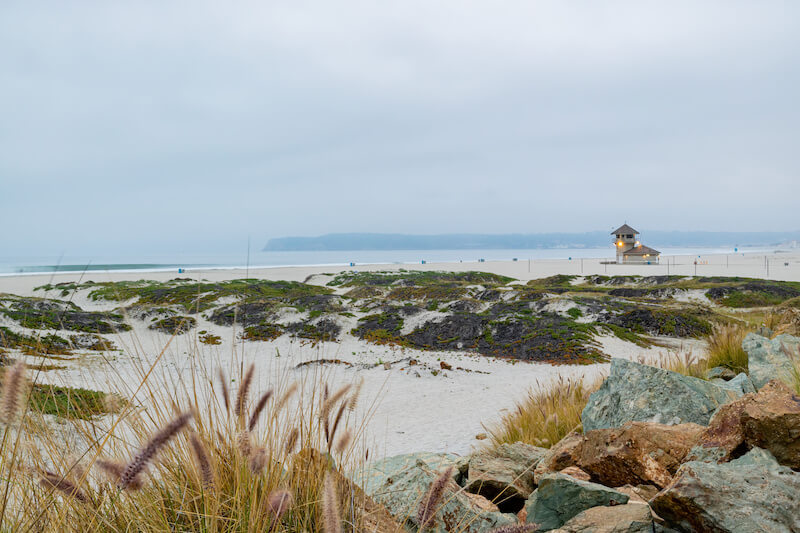 Many of the most famous San Diego attractions are located near these two bases. Servicemembers will surely want to enjoy some of the island's incredible beaches, including Coronado Beach and Silver Strand State Park. Residents will also have access to a wide variety of shopping and dining, both along Orange Avenue and clustered in the retail center around the Coronado Ferry, which provides quick transport across San Diego Bay. Thanks to the popular and convenient Sea' N Air Golf Club, golfers won't even have to leave the base to get in a round.
Across the bay, San Diego offers various museums and other attractions, like the USS Midway Museum, which preserves the legendary aircraft carrier. Balboa Park is just a short drive away, hosting many of the city's top sights and ample green space. The park is the location of the world-famous San Diego Zoo and numerous museums from science to history to video games. Residents should also check out the Gaslamp Quarter, home to extensive nightlife options, and Petco Park.
Naval Base Coronado & North Island Are Waiting For New Arrivals
PCSing away from home can bring a whole set of challenges but also a whole new set of opportunities. There are few places that are more true than San Diego's Naval Base Coronado and North Island. Servicemembers enjoy some of the country's highest BAH rates to help combat the region's above-average housing costs and have many options to live both on-based and off. Best yet, they're located in one of the most beautiful parts of the nation's most desirable cities, with everything from beaches to museums close at hand. Those moving to the area should keep all this information in mind for the smoothest transition possible.
Looking for the perfect home near Naval Base Coronado & Naval Air Station North Island? Call Beer Home Team of eXp Realty with San Diego Home Finder at (858) 465-7899 today to contact local real estate agents who can help you find a home near Naval Base Coronado and Naval Air Station North Island.