8 Suburbs Near San Diego with Great Walkability [2023]
Posted by Daniel Beer on Friday, December 2, 2022 at 9:19 AM
By Daniel Beer / December 2, 2022
Comment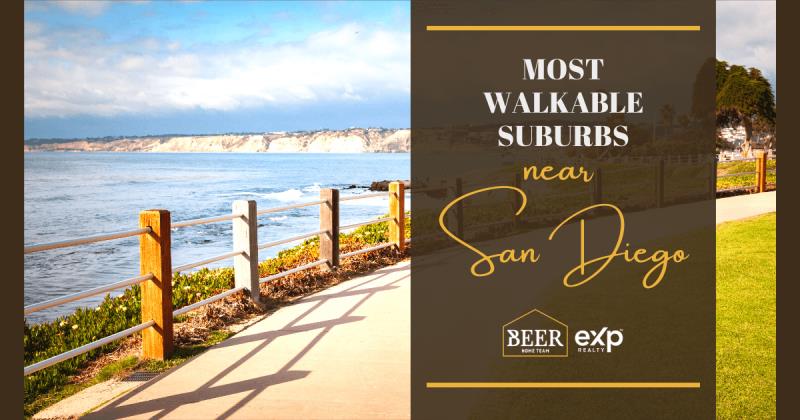 San Diego is known for its pleasant, year-round weather and gold-sand beaches along the Pacific Coast. The best San Diego suburbs all have a unique appeal. However, some communities stand out amid all other homes for sale in San Diego County for their excellent walkability and pedestrian-friendly atmosphere. The homes in these towns keep residents within steps of scenic vistas, unparalleled shopping and dining, and access to some of the best attractions in San Diego. Keep reading to learn all about the most walkable communities near San Diego.
Carmel Valley
Carmel Valley Amenities
Minutes away from Torrey Pines State Beach and Black Beach.
Many parks in Carmel Valley feature green lawns and picnic areas.
Popular local breweries include Northern Pine and Rough Draft.
Cinépolis Luxury Cinemas boasts 11 auditoriums for film screenings.
Located 20 miles north of San Diego's downtown core, Carmel Valley was once a ranch town dominated by horse stables and dairy farms. Today, it's a vibrant community with an extensive business district and convenient local amenities.
The homes for sale in Carmel Valley are accompanied by a host of recreational activities, including an 18-hole course at the luxurious Grand Golf Club, plus pickleball, badminton, and basketball courts at the Carmel Valley Recreation Center. For nature enthusiasts, Carmel Mountain Preserve offers over five miles of hiking paths surrounded by beautiful scenery.
There are also several walkable districts in Carmel Valley, each with various shopping and dining opportunities. These include Piazza Carmel, where restaurants like Villa Capri, Royal India, and Gami Sushi serve world fare, and Torrey Hills Center, home to the popular Porkyland Mexican Grill.
Escondido
Escondido Amenities
Home to Stone Brewing World Bistro & Gardens.
The EcoVivarium Museum offers interactive exhibits.
Daley Ranch has over 20 miles of hiking and biking trails.
Westfield North County has many well-known retailers.
Founded in 1888, Escondido is a historic community located about 30 miles northeast of the Downtown San Diego neighborhood. Escondido real estate is famous for the downtown core that's packed with quaint shops, cafes, and other local businesses, many of which reflect the community's distinct character and small-town feel.
Escondido San Diego Hall is at the center of it all, with an open-air plaza that doubles as a venue for cultural events, such as mariachi performances and flamenco dancing. Other entertainment venues include the California Center for the Arts, featuring a 1,500-seat concert hall; the San Diego Children's Discovery Museum, offering interactive exhibits; and Grape Day Park, home to the annual Grape Day Festival. The festival mixes live music with grape-stomping, food trucks, and other activities.
For walkable hotspots near the action of Central Escondido, residents stroll down East Grand Avenue, where popular Escondido eateries like Filippi's Pizza Grotto and O'Sullivan's Irish Pub serve up tasty cuisine with a side of old-world charm. Other top-rated food spots include Burger Bench, Plan 9 Alehouse, and Hunsaker's.
Del Mar
Del Mar Amenities
Powerhouse Park & Beach offers picnic areas and incredible sunsets.
Del Mar Dog Beach features a broad shoreline for dogs to roam free.
The Del Mar National Horse Show attracts spectators from across the globe.
The Del Mar Farmers Market offers organic and pesticide-free produce.
Del Mar is a quiet seaside town located approximately 15 miles north of Downtown San Diego. The Del Mar homes for sale offer a relaxing haven for those who prefer a more relaxed pace, with its laid-back vibes and lack of crowds.
Founded in 1936, the historic Del Mar Fairgrounds is home to the Del Mar Horsepark, which offers year-round activities for equestrians. It's also the site of the San Diego County Fair, which puts on carnival rides, live music, and entertainment booths over four weeks in the summer.
For a unique shopping experience, locals head to Del Mar Village, where specialty boutiques like Seabiscuit Del Mar, Frustrated Cowboy, and Sundancer sell locally-designed jewelry and clothing. On pedestrian-friendly Coast Boulevard, Del Mar's restaurant lineup is considered the best in San Diego County. Popular picks on this vibrant strip include Jake's Del Mar and The Poseidon, two highly rated restaurants specializing in seafood dishes.
Encinitas
Encinitas Amenities
Pannikin Coffee & Tea is a charming cafe converted from an old railroad station.
Dining options on the coast include Chart House, Las Olas, and Pacific Coast Grill.
The Encinitas Ranch Golf Course offers an 18-hole layout and ocean panoramas.
Ideal surf breaks are found at Cardiff Reef, Swamis Beach, and Grandview Surf Beach.
The Encinitas real estate market has helped the community make a name as one of San Diego's premier beach towns, with a coastline spanning six miles along the Pacific Ocean. One of the city's crown jewels is Moonlight State Beach, a pristine shoreline with wide sandy beaches, volleyball courts, and scenic ocean views.
Encinitas is also home to several world-class surf breaks, each luring dedicated surfers the world over. Swami's Beach, which inspired the Beach Boys' 1963 hit song, "Surfin' U.S.A.," is one of them. The beach sits at the southern edge of Encinitas' walkable core. This area, known casually as Encinitas 101, is home to seafood shacks and other beach-themed restaurants, including Encinitas Fish Shop, Union Kitchen & Tap, and Potato Shack Cafe.
From Moonlight Beach, residents are within walking distance of the San Diego Botanic Garden. This 37-acre park offers four miles of walking trails that wind through succulent nurseries, tropical rainforests, and the most extensive collection of rare bamboo groves in the U.S.
East of the Botanic Gardens, the Encinitas Marketplace features several gourmet shops, including Baker & Olive and Sprouts Farmers Market. For a breezy outdoor shopping experience, visitors can browse various stores at the Moonlight Plaza Shopping Center or The Lumberyard in Encinitas 101.
Solana Beach
Solana Beach Amenities
Fiesta Del Sol offers live music and a street fair with activities.
North Coast Repertory Theatre puts on plays and musicals.
Annie's Canyon Trail is distinguished for its marine terraces.
Solana Beach Boardwalk is teeming with juicers, eateries, and shops.
The homes for sale in Solana Beach are nestled between Del Mar and Encinitas on the Pacific Coast. Locals know it as a charming seafront community with tall copper bluffs facing two miles of coastline. This stylish city dates back to the 1920s when a vibrant arts community began to flourish there. Today, Solana Beach's walkable downtown area is still home to a thriving arts community, where locals and visitors can browse some of the best galleries in San Diego County.
A few noteworthy Solana Beach art studios in the city's walkable Design District include Exclusive Collections Gallery, Susan Street Fine Art, and the award-winning Aaron Chang Ocean Art Gallery. The district is Solana Beach's premier dining destination, with the art-themed Tavern and Urban Remedy restaurants serving American fare. North of the community, Claire's on Cedros is a cherished breakfast and lunch spot known for its lemon ricotta pancakes, while nearby Pizza Port offers several pies with a beer-infused crust.
Locals flock to Fletcher Cove, Tide Beach, and Seascape Surf Park for swimming, bodyboarding, and surfing activities. At nightfall, they drop in at The Fish Market, a seafood restaurant and oyster bar known for its San Diego-style fish tacos.
San Marcos
San Marcos Amenities
San Marcos has one of the best restaurant scenes in Southern California.
North County's SPRINTER rail system connects Escondido and Oceanside.
Visitors can go golfing and kayaking at the Lakehouse Hotel and Golf Resort.
San Marcos' Antique Village has 60 booths selling antique wares and vintage finds.
San Marcos is a mountainous community located about 35 miles north of Downtown San Diego. The San Marcos real estate market attracts buyers with plenty of indoor and outdoor recreation, plus a walkable dining enclave known as Old California Restaurant Row.
This walkable strip is a popular place to sample global eats, including Fish House Vera Cruz, Landon's: East Meets West and India Princess. For a unique dining experience, Old California Mining Co. offers a variety of comfort foods, with Smokehouse and Tex-Mex dishes served inside an Old West saloon replica.
For entertainment, locals kick back at Old Cal Coffee, a cafe and events space where locals gather for live music and poetry readings. This chill coffeehouse is steps away from a movie theater complex, department stores, and a farmer's market.
Summer Hill Park in San Marcos features a playground, basketball court, and picnic areas, while Double Peak Park offers scenic hiking trails and ocean views. Not too far from Double Peak, Twin Oaks Golf Course has an 18-hole layout, a restaurant, and an events space for special occasions.
Pacific Beach
Pacific Beach Amenities
PB is a city of avid cyclists with nearly 3.5 miles of bike paths.
Kate Sessions Park offers sports fields and a vast lawn for picnics.
Bad Axe Throwing lets PB residents hurl axes at targets in a social setting.
PB Shore Club is a popular nightclub offering live music, food, and drinks.
Located about nine miles northwest of Downtown San Diego, Pacific Beach, or "PB," for short, is a tight-knit community known for its healthy lifestyle and bohemian culture. The Eco District stands out in the Pacific Beach real estate market with its sustainable practices and zero-waste initiative. What better way to explore this eco-friendly community than on foot?
PB's walkable strip on Garnet Avenue stretches for 1.5 miles and is home to various wellness centers, fitness studios, and boutique health shops. The pedestrian-friendly avenue also boasts an eclectic mix of Pacific Beach restaurants like PB Fish Shop and Costa Brava, known for their fresh fish tacos and Spanish tapas.
Located within walking distance of this lively strip is the Pacific Beach Community Park & Rec Center, which has lighted basketball and tennis courts, a multipurpose field, and a sand-filled tot lot. On the coast, PB's Endless Beach Party is home to Tourmaline Surfing Park's famous wave break, while North Pacific Beach is ideal for sunbathing and beachcombing.
La Jolla
La Jolla Amenities
La Jolla Village Art Walk is home to many murals and local art galleries.
La Jolla Cove is a popular spot for scuba diving, snorkeling, and kayaking.
The Athenaeum Music and Arts Library hosts art classes and concerts.
The La Jolla Music Society produces a free music festival called Summerfest.
Located approximately 14 miles north of Downtown San Diego, La Jolla real estate initially comprised one of San Diego's top resort destinations along with Pacific Beach, connected by a network of railroads stretching back to the late 1800s. Today, La Jolla is a picture-postcard community known for its rugged coastline, architectural landmarks, and exciting cultural scene.
La Jolla's finest beaches are located along the shores of Torrey Pines State Reserve. The most popular of the bunch is Black's Beach, known for its seclusion and picturesque views. Just north of Black's Beach, Torrey Pines Golf Course is one of the best golf clubs in California and home to several PGA tournaments.
The community's southern district is a trustworthy walker's paradise, with La Jolla Cove drawing in locals and visitors with its scenic vistas, tide pools, and world-renowned snorkeling. Minutes away from the cove, La Plaza La Jolla is a famous shopping mall that anchors one of the city's most walkable areas: La Joya By The Sea (sometimes called Village of La Jolla). Here, expensive hotels like La Valencia and Pantai Inn are among colorful street art, indie boutiques, and popular eateries, such as George's at the Cove and Eddie V's Prime Seafood.
On the Village's southern end, the La Jolla Woman's Club and the La Jolla Recreation Center are historic spaces commissioned by Ellen Browning Scripps, one of the city's most influential residents. Her namesake park, located steps away from La Jolla Cove, offers breathtaking views of the Pacific Ocean and seal sightings at Boomer Beach.
Stroll Through San Diego's Walkable Suburbs
You don't have to live near the heart of town to enjoy the convenience of San Diego walkable neighborhoods. The most walkable communities near San Diego are rich in history, art, and culture. They boast some of the finest beaches along the Pacific Coast and a unique natural beauty not found anywhere else in the world. Add exceptional shopping and dining opportunities, and it's no wonder that these walkable communities near San Diego are among the best to visit or buy a home.
Looking for the perfect home in San Diego? Contact Beer Home Team of eXp Realty with San Diego Home Finder at (858) 465-7899 to get in touch with San Diego real estate agents who can help you find your San Diego dream home today.