8 San Diego Home Builders That Will Design Your Dream House
Posted by Daniel Beer on Monday, December 5, 2022 at 9:17 AM
By Daniel Beer / December 5, 2022
Comment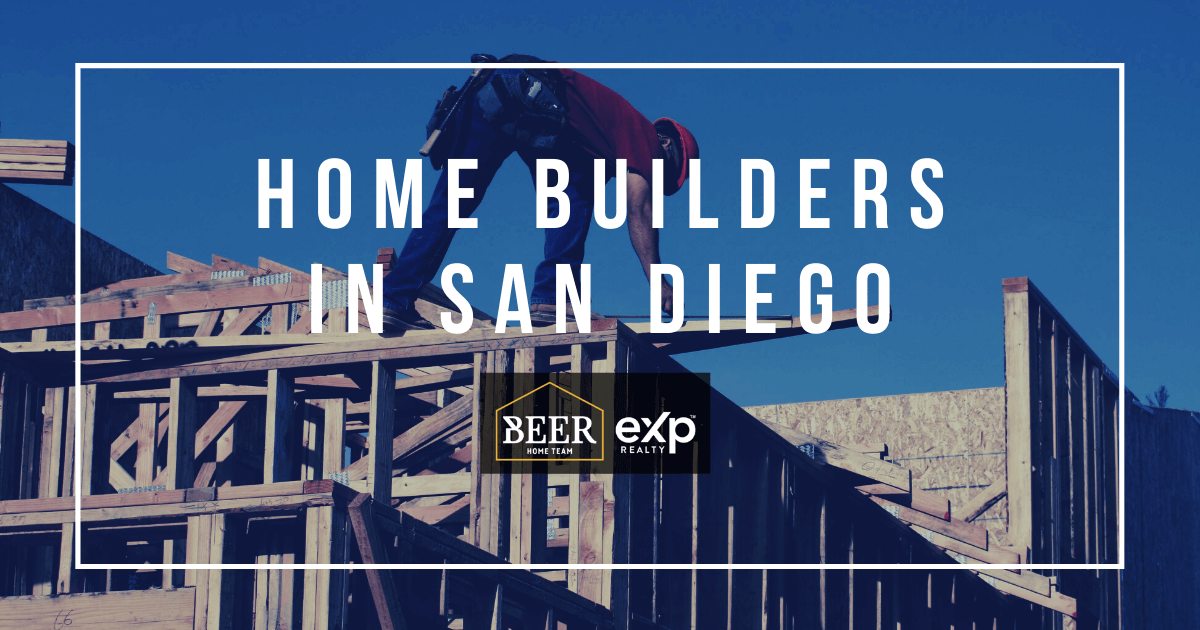 Home Builders in San Diego, CA: San Diego's Most Popular Home Builders Guide
Sitting on the Pacific Ocean, San Diego, CA, has much to offer anyone desiring a warm climate, a thriving entertainment and cultural district, and high quality of life. From the beaches to the San Diego Zoo, art galleries, and museums, there are so many good reasons to move to San Diego. While the San Diego real estate market is famous for established communities with waterfront homes, some buyers are looking for something more personal. That's when home building becomes an attractive option. Keep reading to learn all about the most popular home builders in San Diego.
Daley Custom Homes
A full-service, luxury custom home builder, Daley Custom Homes has served the region reliably since 1928. This home builder is recognized for its estate construction projects for celebrities and company leaders, this home builder offers a modern home building experience using the highest quality of materials and trendy, lasting styles.
Headed by Jeff Daley, who oversees each project personally, this builder has constructed over $250 million in real estate. The Daley family founded the company, with Jeff serving as the 5th generation leader. It originally was a heavy highway construction company, later moving into the residential construction market as competition grew.
Daley Custom Homes is known for several things – using highly skilled professionals, delivering projects on time, and keeping construction on budget. One of the ways it accomplishes this is by incorporating the latest technology into the design and build process, reducing costs, and ensuring a more efficient and effective result. An older company modernizing the home construction industry, Daley Custom Homes offers a range of solutions to meet most homebuyer needs.
Jackson Design & Remodeling
An award-winning home builder, Jackson Design & Remodeling uses a unique process to consistently provide clients with the highest quality results in custom, luxury home design, and construction services. Its design and build portfolio includes numerous projects throughout San Diego and features new homes, additions, outdoor living design, and complete home remodeling services. Luxury Home Builders by Jackson Design and Remodeling is the company's new home construction division. Home Expressions by Jackson Design and Remodeling serves as the company's kitchen and bathroom remodeling division.
The company was founded and continues to be managed by Todd Jackson. Its work has been featured in design magazines, TV, and numerous national- and local venues for superior construction, unique design, and attention to detail, among other accolades. The company focuses on superior quality and modern design to achieve these awards. It also has a design-build process that ensures the best performance of all the company, providing outstanding support to clients with solid communication.
Hill Construction Company
A recognized premier residential home builder in San Diego, Hill Construction Company has much to offer. It's noted for its work in high-end technical construction projects and a strong portfolio of fine-crafted luxury homes. It's served the region for over 40 years, including providing historic preservation, modern design, cutting-edge contemporary design, and adaptions of modern technology.
Hill Construction Company is an award-winning company earning accolades for its custom, one-of-a-kind designs. To be successful, the company works closely with clients to match the structure of their homes to their personality, lifestyle needs, and environmental goals.
Peter Hill founded the company in 1975, the father of the current president and CEO, Ryan Hill. It was a building and remodeling company that developed into a comprehensive company offering a modern vision for home building at its founding.
Berg Construction
Berg Construction has been a strong fixture in San Diego construction and home remodeling since 1985. While much of their work is in residential development, the company has designed mountain cabins, shopping centers, church additions, and more throughout Southern California.
While project management and superior quality are factors contributing to Berg Construction's success, it is also the company's dedication to providing integrity in all it does. This helps them minimize cost overruns and other surprises, ensuring the best possible experience for the client. It typically works to meet client needs in style and material selection but aims to provide superior attention to detail. As a general contractor, Berg Construction pairs with proven contractors to ensure a seamless experience for home buyers and homeowners.
Wardell Builders
Wardell Builders is a large company providing home construction and design services for luxury homebuyers. The company aims to provide superior craftsmanship, outstanding service, and a successful experience throughout the home building process. To do so, it relies on the company's experience, a custom home team that has worked together for years crafting architecturally complex, modern designs and unique homes.
A family-owned business founded by Terry Wardell has grown thanks to its reputation for fine workmanship. It has worked to build and remodel signature homes throughout the area. Wardell Builders was also awarded a national custom home builder recognition.
Today, the company focuses on sustainable, green properties and energy-efficient designs. The company specializes in residential construction solutions for those who want a unique home that fits their lifestyle.
Marrokal Design & Remodeling
Marrokal Design & Remodeling is a full-service custom builder. First founded by Gary Marrokal over 40 years ago, it is currently managed by Tom Capizzi, who joined the company in 2015. Through years of experience and craftsmanship, the builder has become a recognized figure in the region. It was named the remodeler of the year in 2011 for its work.
One of the ways Marrokal Design & Remodeling built its success is by crafting homes that genuinely meet the needs of their clients. They listen, develop solutions, and maintain open communication throughout the project. The company also notes that its goal is not satisfaction but exceeding the expectations of each of its clients.
In custom home design, the company has worked to build properties for many affluent members of San Diego society and completed comprehensive restoration work. It offers an entire design-build process that offers unique features and details that help make homes stand apart from others on the block.
Murray Lampert
One of the main features of homes built by Murray Lampert is their eco-friendly design. Nearly every home built by the company has this focus, aiming to support the needs of residents seeking a high-quality lifestyle and the environment. Green home construction that incorporates numerous steps to reduce energy costs and minimize waste products is the foundation of the company's work. The company is a Green Certified firm as a result.
From full-home construction to remodeling work, Murray Lampert aims to create a healthy living. It uses passive solar systems, high-efficiency plumbing and HVAC, wood insulation, whole-house air circulation systems, and on-demand hot water systems, among many other resources.
Gregg Cantor serves as the company's president and CEO after starting with the company in 1977. This family-owned and managed business has grown since its initial founding and now has reliable relationships with various members of the community and trade partners.
J Walsh Construction
An award-winning general contractor and builder, J Walsh Construction is recognized for its period homes, contemporary designs, and historical development projects throughout San Diego. The company prides itself on offering effective problem-solving solutions for everything from restoration projects to energy-efficient design.
Jon Walsh is the president of J Walsh Construction. After spending years inspired by his father, he founded an architect's company. He learned European craftsmanship and artisanship to offer something different and desirable in a highly competitive market. Now the company is focused on providing exceptional service, professional management, and quality living environments. Much of its work focuses on historic remodels and restoration work, but the company also builds modern, luxury homes.
Which San Diego Home Builder Is Right For You?
For those looking for tips on buying new construction homes, selecting the ideal builder is at the heart of the process. These builders can help anyone design the home of their dreams in any of San Diego's best neighborhoods.
Looking for the perfect home in San Diego? Contact Beer Home Team of eXp Realty with San Diego Home Finder at (858) 465-7899 to get in touch with San Diego real estate agents who can help you find your San Diego dream home today.