San Diego Mansions: 2023 Expensive Neighborhoods Guide
Posted by Daniel Beer on Monday, December 19, 2022 at 11:13 AM
By Daniel Beer / December 19, 2022
Comment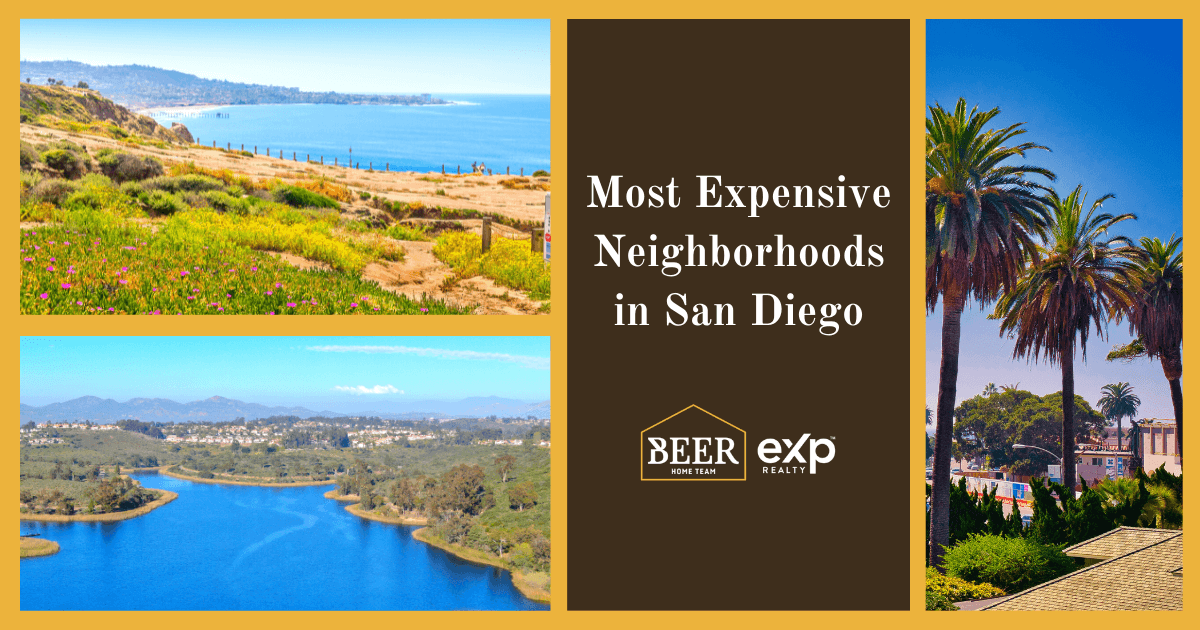 Fondly nicknamed America's Finest City, the San Diego community sure lives up to the hype with its perfect-year-round weather, miles of pristine beaches, beautiful parks, and gorgeous desert landscapes. This sprawling city also boasts an array of impressive neighborhoods, each with a unique charm. Some areas are a great fit for those looking to lead a laid-back beach lifestyle, while others are small but with a dense suburban feel perfect for anyone who prefers an urban vibe. Below we explore some of the most expensive San Diego neighborhoods.
La Jolla
La Jolla Amenities
La Jolla Shores
La Jolla Underwater Park
The Scripps Institution of Oceanography
La Jolla Farmers Market
Voted as one of the best beach destinations globally, La Jolla is a picturesque coastal neighborhood near Downtown LA. It stretches seven miles on the beautiful shores of the Pacific Ocean and is backed by the majestic Mt. Soledad, making it one of the most beautiful neighborhoods in San Diego. La Jolla boasts a rugged, eclectic landscape characterized by spectacular sandy beaches, high sea cliffs, rocky reefs, and pristine caves that make it befitting of its name: The Jewel.
La Jolla was a military base named Camp Matthews. Today, La Jolla is home to over 40,000 people. It has various home styles, ranging from cottages and traditional Spanish-style homes along the cliff to modern and contemporary luxury homes near La Jolla's city center.
La Jolla is conveniently located 10 minutes from the Del Mar community, 15 from Downtown LA, and 20 from the city of Chula Vista, meaning seamless access to city amenities and a stress-free commute. The area is also home to academic facilities, top art galleries, museums, and a range of trendy shopping malls, restaurants, and entertainment venues.
Named one of the best San Diego restaurants and listed among the top 100 restaurants in America, George's at the Cove is an elegant eatery serving delicious seafood and American cuisine. The restaurant features an open-air terrace offering splendid ocean views.
Located a few minutes from La Jolla Village Square, Westfield UTC is an upscale outdoor mall where one can shop and dine under one roof.
Carmel Valley
Carmel Valley Amenities
Carmel Valley Branch Library
Carmel Valley Park and Recreation Center
Torrey Pines State Natural Reserve
Named in honor of the Carmelite Sisters of Mercy, Carmel Valley is a planned suburb on the northeast corner of San Diego. This master-planned city is perched on a mesa, meaning plenty of natural open space, trails, and beautiful neighborhood parks. The Torrey Pines State Natural Reserve, home to a vast array of endangered species, is also nearby.
Before it became the high-end neighborhood we know today, Carmel Valley was home to Native Americans and Spanish Ranchers. It later became a dairy farm and a monastery established by the previously mentioned Carmelite Sisters. Today, Carmel Valley is characterized by several home architecture styles: single-family homes, luxury homes and mansions, condos and townhomes, and ranch-style homes.
Carmel Valley also boasts a string of academic institutions, such as Bluff Academy. The Carmel Valley Branch Library is one of the busiest in San Diego, serving locals from the area and nearby communities.
Carmel Valley is conveniently near Interstate 5 and Route 56 and is a short drive to Del Mar Mesa, Sorrento Valley, and the Pacific Highlands Ranch community. The Barrel Room is a casual restaurant, bar, and lounge offering retail, wine, and a rich cuisine selection. A haven for hardcore bikers, the Moto Talbott Specialty Museum houses over 100 motorcycle models from different countries.
Rancho Penasquitos
Rancho Penasquitos Amenities
Rancho Penasquitos Branch Library
Canyonside Recreation Center and Community Park
Hilltop Recreation Center
Los Penaquitos Canyon Preserve
Developed in the 1960s, Rancho Penasquitos is a planned residential community tucked in the northeast corner of San Diego. It's one of the largest master-planned communities in the country. The neighborhood also boasts a wealth of natural beauty, including parks like the Los Penasquitos Canyon Preserve, a natural park home to over 100 bird species and a range of plant species, reptiles, and even amphibians.
Since it's essentially a residential neighborhood, Rancho Penasquitos is mainly made up of residential homes, with options including stand-alone family homes and Rancho Penasquitos gated community homes. The area has many educational institutions, including the Poway Unified School District, Meadowbrook Middle School, the O'Farrell Charter School, and the Learning Choice Academy. Rancho Penasquitos's public transit system is also well developed and has up to 12 bus stops.
Featuring a selection of over a hundred beers and a rich food menu, the Knotty Barrel gastropub is where Rancho Penasquitos residents turn to when in need of some good beer, food, and quality banter. The Maderas Golf Club has an 18-hole golf course with natural lakes, cliffs, creeks, and even forest areas. It's considered one of the best golf courses in San Diego.
Torrey Pines
Torrey Pines Amenities
Torrey Pines Golf Course
Torrey Pines State Reserve
El Pescador Fish Market
Pizza on Pearl
Named after a rare pine tree only found in one other place besides the Torrey Pines States Reserve, the Torrey Pines community is a small, gorgeous town on the northern coast of San Diego.
The small neighborhood sits on 2,600 acres of land, and its residential areas are characterized by stunning oceanfront luxury homes with historic, Mediterranean, and modern architecture. 42% of Torrey Pines consists of parks and natural open spaces with magical views of the Pacific Ocean, a lagoon ideal for bird-watching enthusiasts, park trails, wetlands, and even canyons.
Schools include Torrey Pines High School, among others. Residents can effortlessly commute to downtown San Diego as it's only 20 minutes away, and it's well-connected thanks to the 1-5 freeway.
Once an army anti-aircraft artillery training base, the Torrey Pines Golf Course is a 36-hole golf course with countless awards. It has hosted a series of top golfing tournaments, including the San Diego Open. Farmer & The Seahorse is a popular joint for breakfast, brunch, and lunch offerings. They also host happy hours every Wednesday through to Friday in the afternoon.
Scripps Ranch
Scripps Ranch Amenities
Scripps Ranch Community Recreation Center
Alliant International University
Hoyt Park
Also known as Scripps Miramar Ranch, Scripps Ranch is a coastal bedroom community. The neighborhood started as an estate established by Edward Willis Scripps, a Midwestern publisher who moved to San Diego for its warm weather. Today, much of this land holds over 12,000 households and has a population of about 30,000 residents. Single-family homes characterize the neighborhood, but this is slowly changing as more people move here.
Similar to many luxury San Diego Neighborhoods, Scripps Ranch also boasts a wealth of natural attractions. One of the community's highlights is the beautiful Lake Miramar, a 160-acre reservoir famous for its clear water and significant fish population. Pristine trails and parks surround the lake, making it even easier to connect with nature. What's more, the Pacific Ocean and its stunning shoreline are only 10 miles away from Scripps Ranch.
With brands like LG Electronics, Med Impact, and Hitachi based here, Scripps Ranch doesn't just make a great place to live; it also unlocks access to excellent job opportunities in San Diego. Local schools include EB Screeps Elementary School, Marshall MS Middle School, and Scripps Ranch High School.
Established nearly half a century ago, the Scripps Ranch Theatre offers excellent live performances and is a great place to unwind. Vons is a top shopping spot in Scripps Ranch, featuring a bakery, a deli, and a pharmacy under one roof.
Sabre Springs
Sabre Springs Amenities
Carmel Mountain Ranch Recreation Center
Sabre Springs Park
South Creek Park
Sabre Springs Trail
Sabre Springs is a small planned community in the northern corner of America's finest city. The neighborhood was home to three different groups of Native Americans and became Sabre Springs after a land grant was passed.
Today, Sabre Springs is one of the most sought out neighborhoods in San Diego, with an estimated population of 10,000 people. Due to its fortuitous location between the Carmel Mountain community, Scripps Ranch, and Rancho Penasquitos, Sabre Springs boasts immense natural beauty and is backed by the beautiful San Diego mountain ranges. There's also plenty of recreational resources, such as the Carmel Mountain Ranch, featuring an indoor gym, baseball fields, kids' play areas, and lush green picnic areas.
Although it's a relatively small neighborhood, Sabre Springs has over 20 elementary schools and a range of middle and high schools. Sabre Springs is located west of Interstate 15 and is only a short drive to neighborhoods like the Poway neighborhood and Carmel Valley, meaning easy access to job opportunities. Most homes feature Spanish-style architecture, but modern new construction homes are slowly starting to come up.
Famous for its fresh, finely made coffee, House of Black Coffee (HOB) in Sabre Springs offers various coffees ranging from fair trade to organic. Located on 11385 Poway Road at Sabre Springs Plaza, Phileas Foggs is a top joint for classics like shepherd's pie and offers a beverage menu with more than 200 craft beers.
Roseville-Fleetridge
Roseville-Fleetridge Amenities
Cabrillo Recreation Center
South Mini Parks
Mission Bay Park
Pacific Fleet Training Center
The Roseville-Fleetridge community has two different neighborhoods, Roseville and Fleetridge, but the two are often merged due to legislation policies. Roseville, one of the oldest neighborhoods around Point Loma, was developed in the 1860s by a developer known as Louis Rose. Roseville is the commercial hub of the two and features eateries, seafood restaurants, café, and other social spots. Fleetridge is the residential neighborhood of the duo. Fleetridge is a laid-back, hilly neighborhood made up of lovely homes built in the 1950s and new construction homes continuously cropping up.
It also stands out for its unique, curved streets, and some of the homes in the area feature fantastic views of San Diego Bay. Both Roseville and Fleetridge are strategically placed, allowing seamless access to some of Point Loma's most famous streets. One can also easily navigate between Point Loma's different neighborhoods when in Roseville-Fleetridge.
Established in 1933, the Sun Harbor Marina is the world's first LEED-certified marina. Besides berthing boats, the marina offers amenities such as car parking. There are many restaurants and shops where one can dine and shop. The Portuguese Hall is a popular event space and hosts a Portuguese market Tuesday through Saturday. Pick up delicious treats like linguiças, cheeses, fish, peppers, and more.
Point Loma Heights
Point Loma Heights Amenities
The Loma Club Golf Course
Liberty Public Market
Sunset Cliffs Natural Park
Point Loma Community Park
Once an army training center, Point Loma is now one of the best and most expensive neighborhoods in San Diego. It's a historically significant neighborhood as it's the first place the Europeans landed when they came to America's west coast.
Today, the Point Loma area is a popular tourist destination thanks to the wealth of historical landmarks, plenty of seafood shops, and expansive, pristine land for nature lovers to explore.
Like most neighborhoods in the northeastern corner, the Point Loma Heights neighborhood is also part of the San Diego Unified School District. Schools include Correia Middle School, Point Loma High School, and Point Loma Nazarene University.
Once a naval training center, Liberty Station is a waterfront village featuring many eateries, breweries, art galleries, museums, design studios, and even a golf course. Point Loma Seafoods is one of the best seafood spots in San Diego. It's a bayside restaurant with scenic views, a rich seafood menu, and an impressive selection of wines and tap beer.
Ready to Move to San Diego?
San Diego can be best described as vast and beautiful. This sun and surf city features a long beach shoreline with countless neighborhoods, each with something unique to offer residents. Some are upscale beach-lovers' paradises characterized by luxury homes and condos, stunning ocean views, and varied terrain. At the same time, others are relaxed, Mesa-perched areas with plenty of natural parks and hiking trails. Review the different options highlighted above to identify the perfect neighborhood for when you move to San Diego.
Looking for the perfect home in San Diego? Contact Beer Home Team of eXp Realty with San Diego Home Finder at (858) 465-7899 to get in touch with San Diego real estate agents who can help you find your San Diego dream home today.