San Diego's 8 Most Affordable Neighborhoods
Posted by Daniel Beer on Friday, December 16, 2022 at 7:52 AM
By Daniel Beer / December 16, 2022
Comment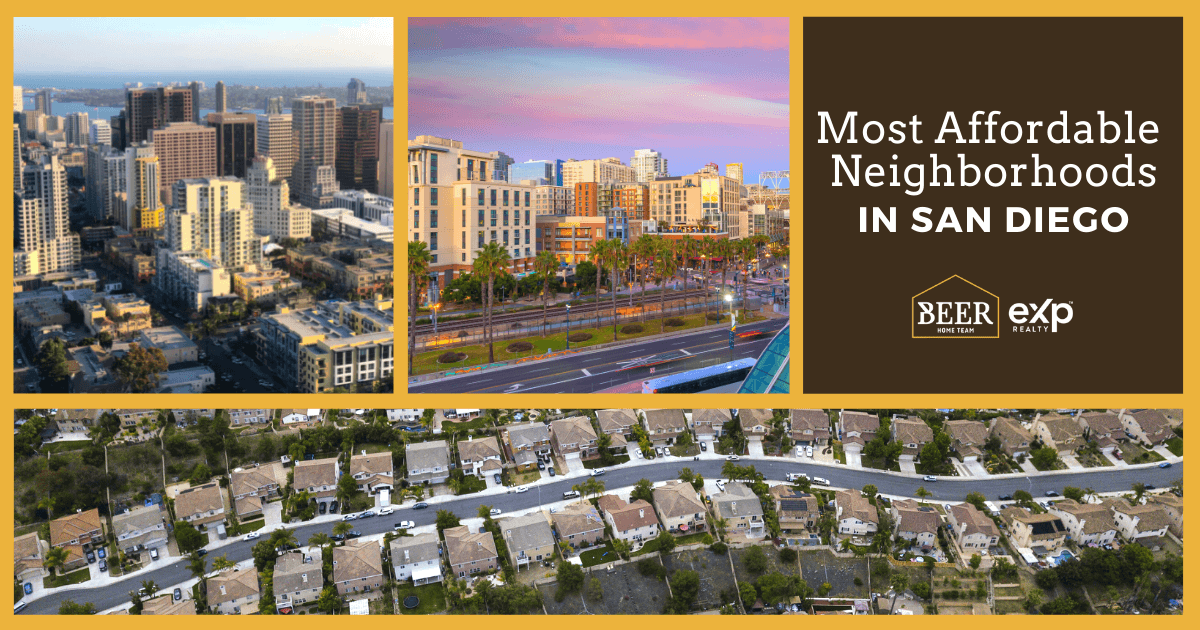 San Diego, California, is a beautiful city located on the Pacific Coast. It is recognized for many things, including its stunning beaches, warm climate throughout the year, and culturally important amenities. From the deep harbor filled with boats to the art galleries that line some of the most desirable locations, the San Diego community has something for most people. While many think of it as a high-end and exclusive area, there are many affordable neighborhoods in San Diego. If you're thinking about moving to San Diego, read on to discover some of San Diego's more moderately priced neighborhoods.
San Ysidro
San Ysidro Amenities
San Ysidro Ranch
Las Americas Premium Outlets
Outlets at the Border
Mercado Miguel Hidalgo
Turista Libre
Blanco Brothers Ranch
Centro Cultural Tijuana
San Ysidro home prices: $390,000 to $435,000
San Ysidro sits right at the conjunction between I-5 and I-805. It is a dense, urban neighborhood that has a large number of rental properties. There are single-family homes here, too. Many of these homes were built between 1940 and 1969, though some newer properties are also present. The mixture of real estate options here really helps this area to stand out.
San Ysidro Parks offers a few neighborhood parks here, including San Ysidro Community Park. Others include the Larsen Athletic Fields, Visa Terrace Park, Howard Lane Park, and Coral Gate Neighborhood Park. The San Ysidro Senior Center is available with programming options throughout the year for those over the age of 50. The San Ysidro Library is also available to the public. There are some shops located nearby, including the Adidas Factory Outlet at the Americas Premium Outlets.
This charming community is smaller but denser than other areas of San Diego. Homes are smaller, as are lots, but there is a lot of charm in the older homes with beautiful architecture.
Mission Valley
Mission Valley Amenities
Junipero Serra Museum
Belmont Park
Cosmopolitan Restaurant
Café Coyote
Fashion Valley Mall
Riverwalk Golf Club
Mission San Diego de Alcala
Cowles Mountain
Mission Valley home prices: $512,000 to $612,000
The Mission Valley community was the first Spanish settlement in the state. This affordable and central community in San Diego offers a range of home styles, including single-family homes and condos. With just a 15-minute drive to most of the amenities in San Diego, Mission Valley is a good place to live for those who want access to everything on a consistent basis. It sits near I-15 and I-5. It's home to over 31,000 people. It's a mostly residential area, but a few key components help make it unique.
First, it is located about 15 minutes from the San Diego International Airport, making it easy for those who frequently fly to get into and out of the city with ease. The Riverwalk Golf Club is also in this area, providing the perfect pastime for a Saturday afternoon.
The homes in Mission Valley offer a range of nice features. That includes some older homes dating back 100 years or more. More commonly, Mission Valley homes were built in the 1970s and onward. Its urban feel has encouraged more modern homes in the area.
Mira Mesa
Mira Mesa Amenities
Leatherneck Aviation Museum
Poway-Midland Railroad
PowPAC Community Theater
Lightning Brewery
Crab Hut
Los Penasquitos Canyon Preserve
Potato Chip Rock
Cabrillo National Monument
Mira Mesa home prices: $290,000 to $610,000
The Mira Mesa community is located in the heart of San Diego. It's a mostly urban area that is quite densely populated but offers a number of three- and four-bedroom sized homes. There are some condos and apartment complexes in the area as well. Most of the homes in this area were built between 1970 and 2000, though some are much older, dating back to the 1940s. This area has a low vacancy rate due to its overall desirability.
Mira Mesa is ideally located in that it takes less than 30 minutes for most people living here to get to work. It's only about 20 minutes from the northern part of the city. It's close to I-15 and I-805. The San Diego Tech Center is located in this area. The community also has several smaller parks throughout it, the largest of which is Los Penasquitos Canyon Preserve, a beautiful canyon estimated to be 7,000 years old. This vibrant community hosts many events throughout the year, including the San Diego Tet Festival.
The homes for sale here are numerous in terms of style and size. It is possible to find condos and townhomes in the area, including in Villa Mar and Mirabella Point, which are subdivisions here. Canyon Country and Mesa Del Sol have larger single-family homes.
Gaslamp Quarter
Gaslamp Quarter Amenities
Balboa Park
The New Children's Museum
USS Midway Museum
Little Italy
Barrio Logan
Seaport Village
Maritime Museum of San Diego
Embarcadero
Gaslamp home prices: $270,000 to $510,000
The Gaslamp Quarter is a unique blend of old buildings and new architecture. The Gaslamp Quarter community is on the National Register of Historic Places. This is due to the architecture present here, much of which dates from 1880 to 1910. While these buildings were used for other purposes, many today are the homes of various restaurants or clubs, often beautifully restored. Over 70 restaurants, shops, offices, lofts, and galleries exist in the area in these structures. Those living in this area are sure to participate in numerous events during the year, including the Mardi Gras Celebration and Taste of Gaslamp.
The homes present in the Gaslamp Quarter are typically high-rise condos or lofts in these buildings. Some single-family homes exist as well. While this area only spans 16 blocks, it is rich with activity and outstanding amenities, sometimes making it a challenge to find available homes for sale.
Some areas to explore include Horton Plaza Park, one of the most important in the area, and just a walk down the main thoroughfare, where there are numerous small shops and pubs. The ArtsTix and The Balboa Theatre are located in this area.
Cortez Hill
Cortez Hill Amenities
Sea World (nearby)
Mission Beach
Mission Bay
San Diego Zoo (nearby)
Old World Trolley Tour
Whale watching cruise
Hotel Circle
Cortez Hill home prices: $412,000 to $650,000
Bordered by I-5 to the north, the Cortez Hill neighborhood is another quaint community in San Diego with affordable real estate options. It's located between 11th Avenue and 1st Avenue. It's named after the El Cortez Hotel, which has been operational in the area since 1927. Like the hotel, much of the area has beautiful older architecture and restored buildings. It is home to numerous historical neighborhoods and subdivisions, making it an ideal place to buy a home for many.
The homes for sale in the Cortez Hill community tend to be beautiful and well maintained. Some have a traditional Victorian style. More modern homes are also present here, including lofts, townhomes, and some single-family properties. Most homes in this area have a smaller footprint with two bedrooms and two bathrooms across 1,000 square feet of living space or less.
For those considering the area, check out Tweet Street, a linear park that offers a beautiful setting for walking. It's 1,800 feet long and offers a play area and open spaces.
Kearny Mesa
Kearny Mesa Amenities
Societe Brewing Company
San Diego Mormon Temple
Mission San Diego de Alcala
The Pacific Beach
The Comedy Place
Kearny Mesa home prices: $410,000 to $580,000
Less residential area than many of the rest, Kearny Mesa is a community that offers small to moderately sized homes tucked into the heart of San Diego. Many homes here were built in the 1960s and offer unique layouts, including Spanish architecture, bungalows, and ranches. Each home offers a unique blend of character, often with brighter colors and more of a traditional feel. Still, some modern homes are present here, including some townhomes.
Kearny Mesa is located in a flat area between the Tierrasanta community and the Clairemont community, with the Linda Vista community to the south and the Mira Mesa community to the north. It's close to Highway 52 and I-805. Much of the area is home to commercial and industrial operations, but there are numerous small businesses in the area. Mission Bay Park is one of the area's best parks, with its numerous open spaces and walking trails. Those looking to shop can easily do so at Fashion Valley Shopping Center or the numerous smaller retailers and family-owned shops in the area.
The homes for sale here range widely in size and value. Condos and townhomes are readily available, though the area has several neighborhoods of modern single-family homes as well.
City Heights
City Heights Amenities
Community Actor's Theatre
Copley-Price Family YMCA
The Hideout
Pancho Villa Farmer's Market
Soda Bar
Colina Park Golf Course
Mariscos El Titanic
City Heights home prices: $420,000 to $545,000
The community of City Heights is a welcoming, more spacious area than some other neighborhoods in San Diego. This area has several shopping areas and entertainment options and offers a range of home styles to consider. For many people, City Heights is an affordable but upscale and modern area of the city.
The real estate market in City Heights has changed many times over its history but has always focused on more affordable homes close to the waterfront. Single-family and multi-family residences are present here. Much of this community centers around Euclid Avenue and El Cajon Boulevard. It's possible to divide this community into 16 individual neighborhoods, each with its own style and cultural importance.
This is also a walkable community with various restaurants, including everything from high-end cuisine to family-owned Mexican and Italian restaurants. Tower Bar, a historic bar in the area, is perhaps one of the best places for nightlife. For those seeking parks and open space, Azalea Park is a solid choice. It is more than just a green space; it's also home to numerous murals and hand-painted signs and operates as an art district in the city as a result.
East Village
East Village Amenities
Petco Park
San Diego Symphony
Mission Brewery
San Diego Trolley Silver Line
Fault Line Park
MindFox Escape Room
Donut Bar
Waterfront Park
East Village home prices: $285,000 to $850,000
Yet another affordable place to buy a home in San Diego is in the East Village neighborhood. It is recognized for its multi-family and single-family homes and condos. This community is located near the downtown San Diego area, making it a good option for those who want a fast commute into the city. It's also mostly a residential area. The area was once known as the warehouse district due to the numerous empty lots and vacant buildings. A revitalization of the area occurred in the early 2000s, leading to a modern area with sleek properties.
New construction continues in some areas of East Village. The area is also home to several luxury hotels and beachfront properties. Still, it has become a popular area for tourism and locals looking for fun things to do in San Diego. The area is more urban and modern, with space for up to 30,000 residents—it's not quite there yet, but new development is pushing in that direction.
East Village is home to the Saville Theater, perhaps one of the most recognized areas for jazz in the area. The SoCal Music Festival also takes place here each year.
Explore All that San Diego, CA Has to Offer
With a rich culture and numerous beautiful locations to call home, it's easy to see why someone may wish to call San Diego home. San Diego has something special to offer most people, whether it is the waterfront homes with the view or the city's variety of entertainment, parks, and lifestyle. It takes a bit of time to get to know the various neighborhoods here, but it can be an excellent place to call home once you have a good idea of all of the options.
Looking for the perfect home in San Diego? Contact Beer Home Team of eXp Realty with San Diego Home Finder at (858) 465-7899 to get in touch with San Diego real estate agents who can help you find your San Diego dream home today.