What Is a Modern House? Modern Home Features You Should Know
Posted by Daniel Beer on Thursday, September 22, 2022 at 8:53 AM
By Daniel Beer / September 22, 2022
Comment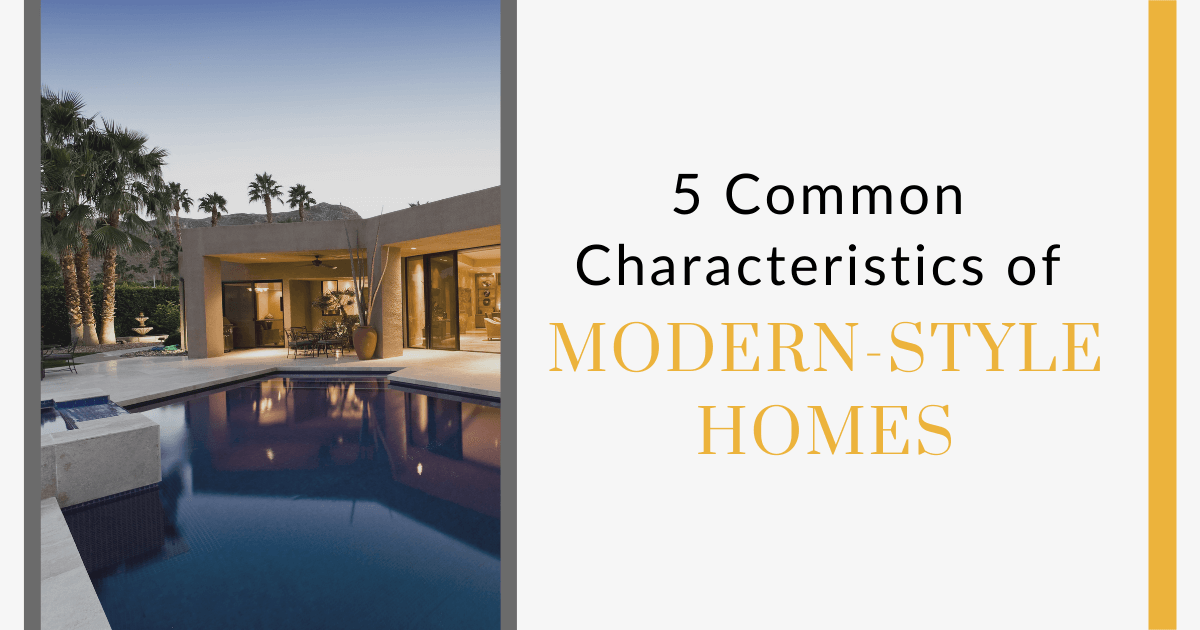 When thinking of modern architecture, one is likely to think of what is popular today. Yet, designs in home trends are routinely changing and evolving, which makes it challenging to pinpoint what constitutes a modern home in any given era.
Still, there are a few defining characteristics of modern-style homes that are typical of such projects today. If you're interested in buying or building a modern house, you'll need to first understand a few key characteristics
What Is a Modern House?
Many people think of the present day when they hear the term "modern architecture," but the concepts of modern design actually date back about 100 years.
Modernism was a cultural movement that began in the 20th century, emphasizing simplicity, functionality, and authenticity. These values were reflected in the design of everything from furniture to buildings, and they continue to influence many new construction homes today. Additionally, the directly contrasted 19th century design styles that catered towards maximalism and flair.
Modernism manifests in residential architecture via clean lines, open floor plans, and a focus on functionality. Modern homes also use natural materials like wood and stone, and they often incorporate large windows to let in lots of natural light.
Modern Vs. Contemporary
When defining modern homes, it's important to note the differences between modern and contemporary design. There's plenty of overlap between modern homes and contemporary architecture. However, the key difference is that "contemporary" refers to the present day, while "modern" refers to the past era defined above.
Contemporary homes borrow characteristics of modern architecture and blend them with state-of-the-art design to create something unique yet familiar. Home buyers today will often see modern-style homes with contemporary designs like sustainable construction, energy-efficient home upgrades, and smart tech integrations.
Expansive Open Floor Plans
A defining trait of modern interior design in homes is an open-concept floor plan. This layout allows occupants to feel "together" without totally sacrificing privacy. For example, a partial wall or open bar counter may divide the living room from the kitchen, allowing for chatting between rooms. This is also excellent for family gatherings and entertaining guests, as everyone can move about and visit each other with ease.
By eliminating some of the walls in a traditional-style home, rooms receive more natural lighting that creates an airy feel. The open floor plan further emphasizes a modern look with a feeling of simplicity and openness.
Neutral Color Palettes
The current modern-style designs call for more neutral colors and minimalism. This is particularly the case on the exterior, where lighter and more earthy tones are dominant through natural materials.
Practically all neighborhoods with modern-style homes will favor materials like concrete, brick, metals, or stone in hues of grey, beige, and white. Some feature wood siding to employ texture to draw one's focus to the unique architecture of a modern-style home. In essence, less is more to stay in tune with their simplistic layout.
Interiors can be a bit bolder, especially when it comes to furnishings, wall art, and decorative rugs. Pops of bright colors on the trim and accent walls can bring life to neutral walls without being too overwhelming. Owners should use caution to avoid going overboard with splashy colors that can negate the open-concept floor plan and layout of a modern-style home.
Geometric Shapes and Clean Lines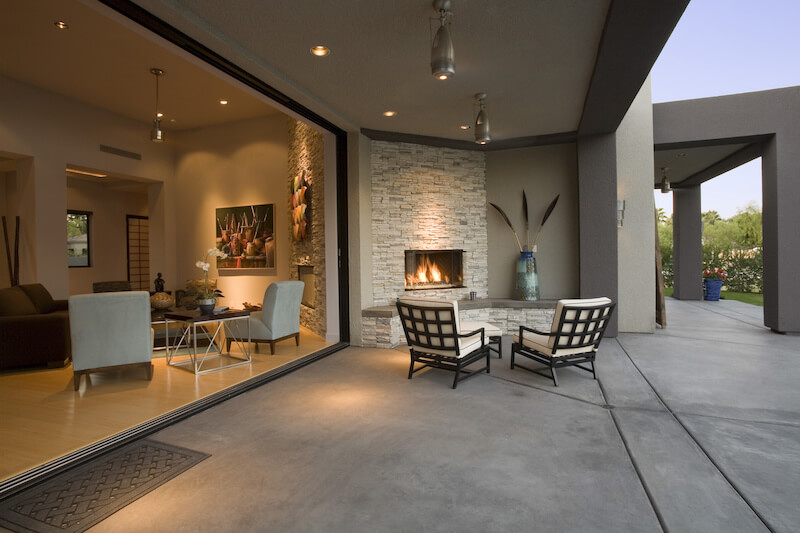 Unlike cottages and colonial homes, modern-style architecture tends to be free of arches, ornate columns, window shutters, and outlandishly shaped features. Instead, they are designed with straight lines complemented by basic geometrical shapes both inside and out.
Modern design also favors the presence of strong vertical and horizontal components. These designs intend to create a sense of harmony with the home's natural surroundings and landscaping.
The aim of modern home interior design is all about simplification with an emphasis on function. They often lack unnecessary frills and invoke a space that is calming and welcoming. That being said, some owners may desire a bit of high-tech installations that allow them to enjoy some perks of smart homes.
The Use of Traditional Materials
Modern homes take advantage of the presence of those hues that are common in natural materials. Concrete, wood, stone, steel and environmentally friendly native materials are commonly employed for exterior siding, beams and built-in shelving.
Natural materials make a statement that resembles the features of a Craftsman-style home, yet blends modern lines and shapes that still make a bold statement. These homes are reflective of past trends while keeping an eye on the future.
Again, staying in tune with nature relies on using eco-friendly materials, so many buyers attempt to work with a builder in new construction home situations that goes the extra distance to secure locally and regionally sourced materials whenever possible.
Large Windows are a Must
Modern homes are graced with numerous windows, many being floor to ceiling. Some even take up an entire wall to allow for an abundance of natural lighting in the home and can merge the outdoor spaces with the home's interior living space. The whole space feels brighter without relying solely on artificial lighting throughout daytime hours.
Modern house design makes the most of windows and glass, but owners will want to ensure the installation of high-quality panes. Consider Low-E glass, dual panes, automatically tinting windows, and thermal-grade window coverings to keep heating and cooling from escaping the home.
Is a Modern-Style Home a Good Choice to Invest In?
Home shoppers looking for a home with a spacious and airy feel with an open floor plan will appreciate what modern-style architecture brings. These homes usually have large, oversized windows and materials from the natural world, expressed with a minimalist direction. If this sounds like a dream home, start giving modern-style homes on the market a serious look.