Marlene's Tea & Cakes in Verrazzano near Santaluz and Camino Del Sur 92127
Posted by Daniel Beer on Thursday, April 3, 2014 at 12:41 AM
By Daniel Beer / April 3, 2014
Comment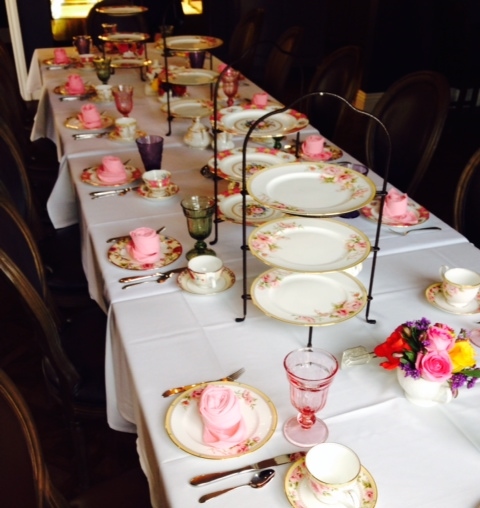 Wow! Sometimes we experience things that we just want to rave about immediately to our closest family and friends. I just came back to my office at the Piazza Camino Del Sur shopping center in Verrazzano after stopping next door at Marlene's Tea & Cakes to grab something to carry me through my morning. Tea and cake for breakfast, you ask? They have more than that. I thoroughly enjoyed my coffee and breakfast sandwich, which by the way, is freshly made in their bakery.
Opened in February, Marlene's Tea & Cakes is a welcomed treat to the Santaluz neighborhood. As soon as you step inside, you already know it is going to be something distinct and out of the ordinary. From wall to wall and tea to cake, every inch of this elegant escape is reminiscent of a French café and patisserie. Your experience is enveloped in detailed care and ambiance. Afternoon tea and delectable sweets and savories are served at each table on fine china beneath chandeliers. There is also a private cozy dining room that can be reserved for a small party of your favorite people, little or grown-up.
Marlene's can also bring their exceptional experience to your private catered events, including customized menus to match your own signature custom colors. If you are on the go as I was this morning, Marlene's sends you off with your fresh brewed beverage and eats warmed up just right. It is the small thoughtful touches that mean the most, and Marlene's is right here in our community giving back with 5% of all cupcake sales going back to the Willow Grove Educational Foundation.
Marlene Spawton is the proud owner and culinary talent who puts her love into every delicious nook and cranny of this gem. It is said that when one does what they are passionate about, the end results are always amazing. Her passion translates to afternoon tea, sweet and savory delights, as well as deliciously crafted monthly items such as this month's mini beef wellington, cream of mushroom soup, and prosciutto and pear sandwiches… just to name a few.
If you haven't been yet, you must visit Marlene's Tea & Cakes located at 14677 Via Bettona, San Diego, CA 92127. Their hours are Mondays and Tuesdays (7am – 12pm) and Wednesdays through Sunday (7am – 5pm).