Horse Boarding in San Diego: 4 Luxury Stables Near You
Posted by Daniel Beer on Thursday, November 11, 2021 at 11:45 AM
By Daniel Beer / November 11, 2021
Comment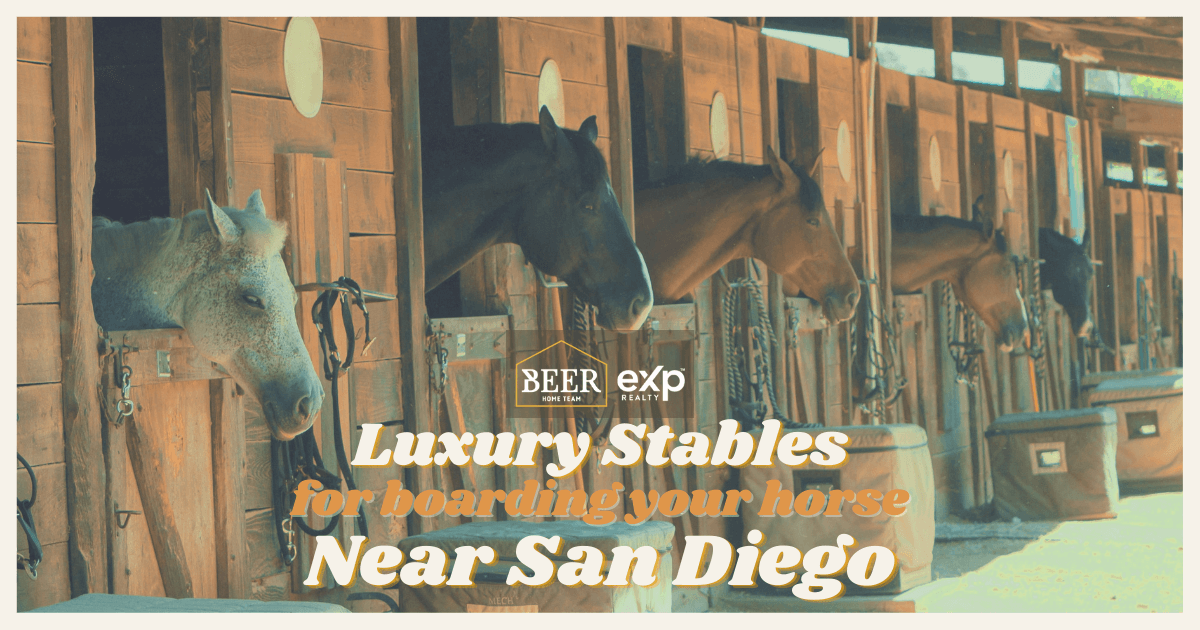 Many people are surprised to learn that San Diego homes are located in "horse country." Although the county is home to more than 3.3 million residents, there are many open spaces, state parks, and backcountry trails for people to go horseback riding. Thanks to the sunny Southern California climate, endurance racing and other competitive equine events are extremely popular year-round. And living in the big city doesn't mean anyone is excluded from these activities. Designing a horse shelter can be a lot of work, but thankfully there are great options that already exist. Keep reading to learn about a few luxurious stables in San Diego with boarding options for horse owners.
Creek Hollow Ranch
The Creek Hollow Ranch is a 350-acre working equestrian ranch located just a few miles east of the San Diego Zoo Safari Park. The ranch has several wooded and open trails for horse owners to ride along or train for their next equestrian event. The ranch has more than two dozen pastures for its boarding guests to enjoy the sunshine and run around out in the open during the day. The pastures have shade trees, well-kept fences, and shelters that allow the horses to get out of the occasional rain shower.
Creek Hollow Ranch employs three professional trainers to provide everything from beginning horseback lessons to advanced equestrian events. The facility is available to rent for equestrian events and clinics, although reservations need to be made well in advance.
Amenities for horses at Creek Hollow Ranch include:
Main Barn: 18 deluxe 12x18 stalls; comfort flooring; hot water wash racks; and three adjacent paddocks for monitored turnout.
Mare Motel: 12x24 and 24x24 stalls; half-covered California stalls with fully covered walkways; and 6' welded wire fencing.
Blanketing, turnouts, and bathing are provided for all boarded horses, in addition to feeding (up to four flakes of hay daily plus owner-provided feed). The barns and stalls are cleaned daily and the pastures twice weekly.
Rancho El Camino Equestrian
Rancho El Camino Equestrian is located just across I-5 from the Del Mar Fairgrounds and the Hilton San Diego/Del Mar. The ranch is one of the most prominent locations in the San Diego area for equestrian training and riding lessons. It also provides luxury stabling for horses.
Most of the grounds at Rancho El Camino Equestrian are taken up by the various training areas. It features a Hunter/Jumper sand ring, a dressage sand ring, a lunging and all-purpose arena, a trail arena, and more.
For boarding, Rancho El Camino Equestrian has a variety of stall sizes in its mare motel and the Western barn. It has 12x24 attached or separated stalls, 16x24 separated stalls, and 24x24 separated stalls. Every booth features plush shavings and is cleaned daily by the staff. Boarding includes twice-daily feeding with the owner's choice of Bermuda or alfalfa hay. Owners boarding their horses at Rancho El Camino Equestrian also have access to all the riding and training arenas, tack storage, and wash racks.
San Pasqual Valley Ranch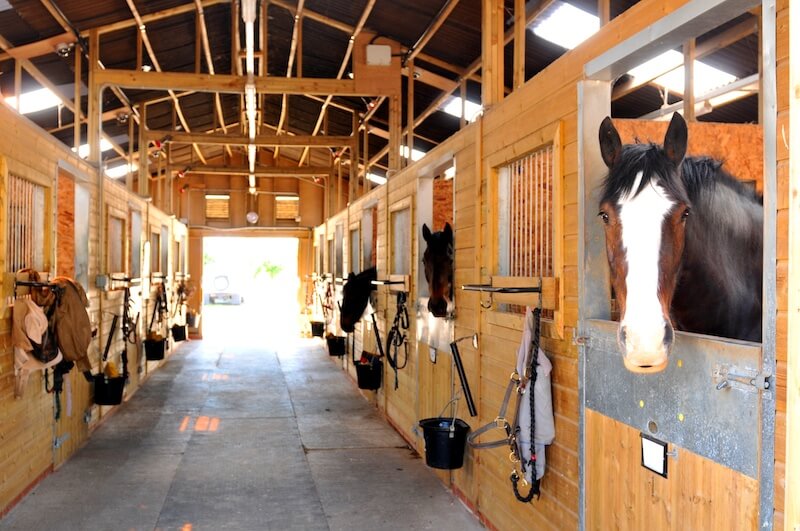 The San Pasqual Valley Ranch is located near the wineries in the San Pasqual Valley, just west of the San Diego Zoo Safari Park. This ranch has state-of-the-art facilities and provides easy access to many miles of comfortable and scenic trails in the valley. Parking a horse trailer or turning it around is accessible on this spacious facility.
The San Pasqual Valley Ranch accommodates both English and Western riders. The ranch has both a rodeo arena and two sand arenas, as well as three round pens. The ranch also has cattle which are primarily used for rodeo horseback training and events. The "cattle club" provides weekly training for team sorting, penning, and roping. There are also annual events with jackpots for barrel racing, two-person sorting, and ropings.
Luxury boarding facilities and amenities at the San Pasqual Valley Ranch include:
24x24 box stalls
12x36 "in and out" stalls with automatic fly spraying system
Plush floor shavings & daily stall cleaning
Twice-daily feedings
Wash racks & tack boxes
Automatic waterers
Wash racks
The ranch prides itself on providing "perfect footing" for horses in all accessible areas.
Encinitas Riding Club
The Encinitas Riding Club is located north of San Diego, but English riders consider it worth the extra driving time to stable their horses in the facilities here. It features world-class equestrian training and luxury facilities for boarding horses. The Encinitas Riding Club has a new clubhouse, two full-size arenas, and viewing decks for spectators to watch the events. The club also offers easy access to many lovely riding trails in the area.
For boarding, the Encinitas Riding Club has six different barns, including a mare motel. They have regular and oversized box stalls, in and out stalls, and pipe corrals. Every booth is fitted with comfortable flooring and has fans and automatic fly spray systems.
Additional amenities at the Encinitas Riding Club include:
Eight tack rooms and 18 cross-ties (all are covered or shaded)
Five wash racks with hot water
Indoor laundry facility
6-horse walker with a covered roof (allows exercise even during rainy weather)
Grass pastures for turnout
Luxury Stables Await in San Diego
When San Diego horse owners want to provide the very best stabling options for their animals, plenty of options are available. The popularity of equestrian, rodeo and endurance events makes luxury facilities like the ones listed above possible in San Diego County.