Tips for Horse Owners: Design a Luxury Shelter at Home
Posted by Daniel Beer on Thursday, November 18, 2021 at 8:26 AM
By Daniel Beer / November 18, 2021
Comment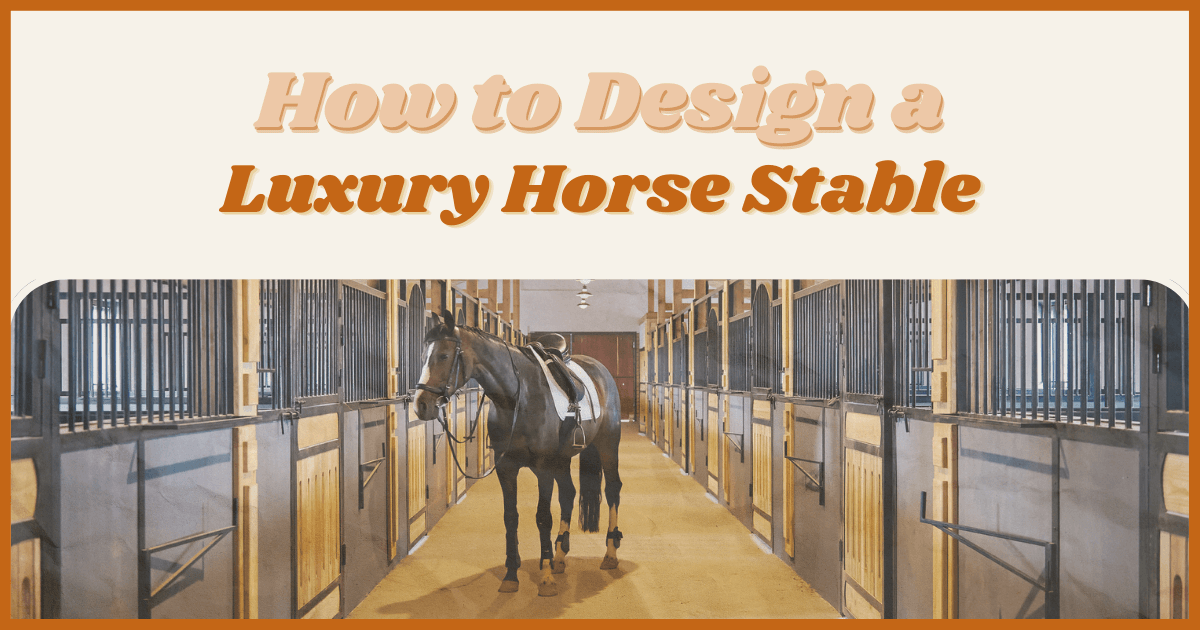 Horseback riding is one of the biggest perks of owning an equestrian property. Many people board their horses at a local luxury stables. These establishments are excellent for caring for animals when the owners don't have enough space on-site. However, if you own a luxury horse property, you may want to design a lavish stable to match your estate. In general, the average animal stalls in stables in the U.S. are about 12 by 12 square feet, but a stable of the highest class can feature booths around 14 by 14 square feet or larger.
These top-of-the-line stables generally have stalls equipped with stylish barriers, luxury flooring, premium ventilation, exquisite lighting, and advanced feeding and watering systems. Looking to improve the accommodations of your horse? Keep reading for tips to design a luxury stable.
Explore Various Types of Stalls
Stalls are the heart of a stable, and creating a sense of luxury begins with choosing the suitable wood. The most durable, attractive, and extravagant choices for stall construction are dense domestic hardwoods and exotic hardwoods that hold up well to animal kicks, heavy traffic, and the elements.
Oak, douglas fir, and mahogany are the top domestic selections for stalls. Exotics like Brazilian hardwood, zebrawood, and burl species are popular with luxury stable designers. The size of stalls is wholly dependent on the animal, its breed, and other factors. However, making sure they have plenty of room and then some extra is by far more luxurious.
The inclusion of runout to exterior spaces is a nice feature that allows animals to take advantage of warm, sunny days. Depending on the temperament of animals in the stalls, grills that are partial and airy provide a more high-class feel, but solid walls can be a better choice if different species and multiple owners share the stable. You'll also have to evaluate the pros and cons of stalls and run-in sheds before building.
Including Automatic Feeding and Watering Systems
Cool, clear water is the most vital nutrient to horses. This means making sure the stable's inhabitants have plenty of clean, fresh water readily available for them to survive and flourish. In warm climates, water can rapidly generate harmful algae that cause illness. Stagnant water can become a breeding ground for mosquitoes that may carry West Nile Virus. This disease can mainly result in severe equestrian illness and fatalities, according to the World Health Organization. Having automatic watering systems in a luxury stable keeps these problems at bay and saves time and resources.
Food is essential, but keeping it regulated can pose challenges. However, automatic feeding and watering systems designed for stables benefit both animals, owners, and those tending to the stable work. While automatic feeders can be set with timers and release ordered amounts of food on-demand, automated watering systems have even more significant benefits.
Invest in a Tack Room & Grooming Stall
Grooming livestock and stable animals is essential to keep them healthy and happy. Any luxury stable design needs a dedicated grooming stall and a tack room to make grooming more manageable, whether boarders, trainers, or only owners have animals housed there.
If multiple people store equipment, offer them privacy with a dedicated space with a divided tack room. Don't skimp on having a tack room for private use, as they keep costly supplies safe and easily accessible.
Grooming stalls should have no more than 12 feet of width for 17 h.h. Warmbloods, while miniature ponies won't need this much cross-tie space. Even while lavishness is the goal, too large an area could pose dangers to animals and their caregivers.
Effective Ventilation Options for Luxury Stables
A stable ventilation setup reduces heat, sweating animals, and evaporating water from trough areas. Increasing airflow in stables helps both humans and creatures breathe better and feel more comfortable.
High ceilings are excellent, along with the installation of big fans, vents, louvers, strategically placed doors, and windows that expel hot air and allow stale air to inherently escape. Louvers along walls, eaves, roofs, and on windows add to the rustic charm of the stables and allow natural lighting to enter, as well.
The inclusion of a modern, high-tech ventilation system will not only work more efficiently, but these smart systems can sense any issues with air quality or availability and automatically adjust to rectify them right away. Studies have shown numerous benefits of mechanical ventilation systems in stables and barns, such as reducing allergens, particulates, ammonia, and CO2.
State-of-the-Art Lighting for Stables
Overhead lighting that broadcasts illumination over large areas like workspaces, wash stalls, grooming areas, walkways, and main entryways is necessary for any stable. Those seeking premium and attractive options that are also efficient should consider installing solar power LED lights on the roof.
Fluorescent bulbs connected to electronic ballasts can be costly, but they operate more quietly and flicker less than less expensive ballast options. Motion sensor lighting enhances safety as well as makes night use of stables feasible.
Choosing High-Quality Flooring for Stables
Sand, porous asphalt, rubber pavers, and interlocking mats are prevalent in stables and are suitable even in high-class stable settings. However, this critical design component is a surface animals will stand on more than anywhere else.
A luxury stable should have the best flooring possible. Two slip-resistant and anti-microbial materials that promote animals' health are troweled rubber and Padenpor DLX.
Both are constructed from recycled rubber and create an attractive and seamless floor that helps reduce leg impacts like shock and concussions. They last for years, can withstand heavy foot and hoof traffic. They can be cleaned quickly and resurfaced if needed.
Considering Building a Custom Luxury Stable?
Whether you're an avid keeper of animals like horses or show species or plan to board or train someone else's livestock, a luxurious stable is something to be appreciated by users and animal occupants alike. Be sure to discuss plans with several local barns and stable designers. Check reviews and get several estimates to find the best builder who understands the need to create a premier showpiece stable for the property.