Homeowners Desperate to Sell Home to Move Out of State
Posted by Daniel Beer on Tuesday, December 20, 2016 at 8:39 AM
By Daniel Beer / December 20, 2016
Comment
These homeowners were putting an offer on their dream home out of state, contingent upon the sale of their home here in San Diego. Needless to say, they were in desperate need of a quick sale.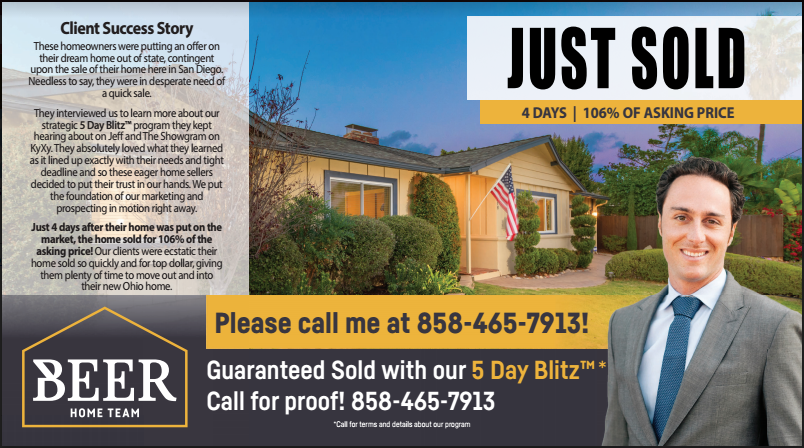 They interviewed us to learn more about our strategic 5 Day Blitz™ program they kepy hearing about on Jeff and The Showgram on KyXy. They absolutely loved what they learned as it lined up exactly with their needs and tight deadline and so these eager home sellers decided to put their trust in our hands.
We put the foundation of our marketing and prospecting in motion right away.
Just 4 days after their home was put on the market, the home sold for 106% of the asking price! Our clients were ecstatic their home sold so quickly and for top dollar, giving them plenty of time to move out and into their new Ohio home.
Are you ready to have a quick home sale and break away from the traditional home selling techniques?
Fill out this form or call 858-465-7913 to learn more about how we can GUARANTEE sell your home quickly and for top dollar!