8 Home Security Tips for San Diego
Posted by Daniel Beer on Tuesday, March 16, 2021 at 6:12 AM
By Daniel Beer / March 16, 2021
Comment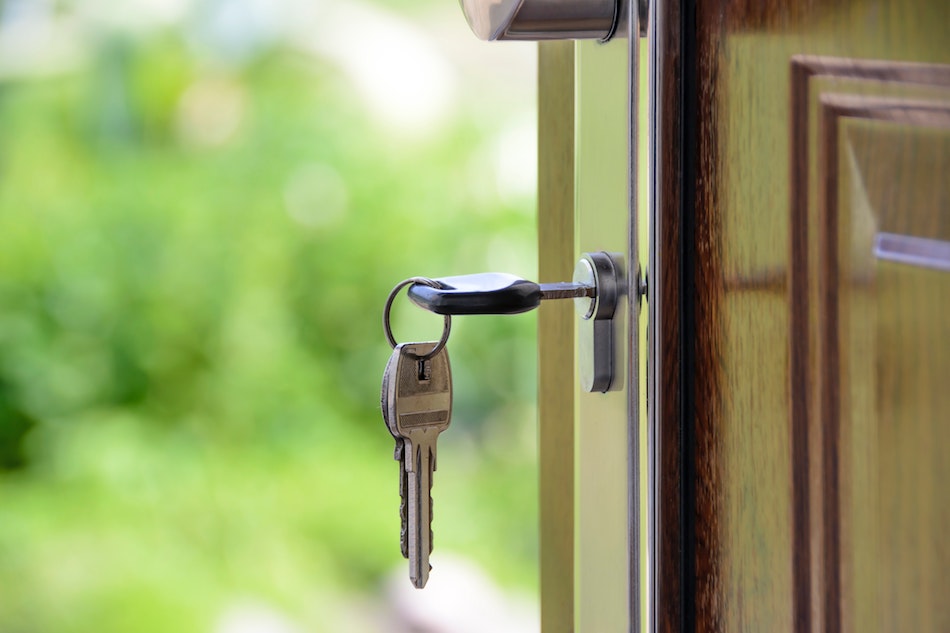 When it comes to home safety, no amount of caution is too much. Break-ins happen every 13 seconds in the United States, and households that want to keep its members safe need to take precautions to ensure their belongings and their loved ones aren't at risk.
Here are several home safety tips & options for home security to improve your home's safety.

Click the image to view our full-sized infographic.
Common Strategies to Prevent Break-Ins
While the number of burglaries in San Diego decreases each year, you shouldn't let your guard down when it comes to home security. Follow these tips to prevent thieves from gaining access to your home.
Hiding Places
Trim tall shrubbery covering windows and doors so thieves have no place to hide from you or attentive neighbors. Install motion detector lights in poorly lit areas around your home to deter intruders.
Vacation Time
The social media pictures and updates can wait until you get back—and thieves will never even know you were away. Ask a neighbor to grab any mail or door flyers that might be piling up and giving clues to your absence.
Yard Work
Thieves can easily break windows and gain access to your home. Don't provide them with tools to make the job easier. Keep your yard clear of tree limbs, toys, gardening tools, ladders, etc.
Security Alarms
Security alarms alert police of any intrusions—and give thieves only a small window of time to escape. But don't forget that alarms only work if you remember to arm them.
Window Protection
Shatterproof glass is great for window protection—but if replacing windows isn't an option, security film is a smart alternative. The film prevents glass from breaking, depsite thieves' best attempts.
Sliding Doors
Sliding glass doors usually have very flimsy locks—something thieves absolutely love. Install a security bar inside the window track to make break-ins even more difficult.
Lock Up
Keep windows and doors locked when not in use—especially when you're away. If you enjoy sleeping with a window open, find a lock that allows you to open the window a few inches while staying secure.
Change Locks
If you're moving into a new place or someone has recently moved out, the first order of business is installing new locks. You never know how many previous residents have copies of your keys.
These are just a few strategies you can employ to deter thieves from your home.
4 Popular Types of Home Security Systems for Your Home
Digital technology has evolved to a point that extensive wiring once required for home security is no longer necessary. Wireless systems are every bit as reliable as older systems that relied on telephone cables and audible alarms. In fact, smart home security, including cameras, is often achievable now without professional installation, allowing homeowners to monitor and visually inspect their property via cell phone from across town or across the continent.
Here are a few of the options available to homeowners today
Basic, or Unmonitored, Systems
Basic security for the home consists of sensors to detect a breach or a threat and to activate an alarm. Such systems are quite simple, but owners may also select from a virtual "laundry list" of features: Glass-break or water (flood) detectors, motion sensors, and heat or smoke detectors are the primary options. DIY and professionally-installed systems may require that sensors be installed at key points around a home's perimeter, and at interior points subject to fire or water damage. A system may utilize a central control panel and at least one keypad for activation and disarming, or it might be operated by a cell phone or portable device.
Monitored Security Systems
More comprehensive and elaborate security can be designed, installed, controlled and monitored by professional companies. Such a system would include all basic detectors, but might also include surveillance cameras, digital data recorders, silent alarms or even on-site inspections. Normally, in case of a security incident, a signal would be transmitted to the monitoring company, which would then handle notification of the homeowner and alerting authorities for proper response.
Wireless Security Systems
Home security systems no longer require bulky, permanent sensors, detectors, alarms or control panels. Simple wireless systems are available for DIY installation. They provide peace of mind, and are typically controlled by cellphone. Cameras and senors can be located wherever necessary, even in the backyard, or at a home's points of entry. More sophisticated systems allow visual inspection and transmit digital notifications to owners about the home's current status.
Hard-wired Systems
Homes and businesses with existing wired security may also take advantage of digital and cellular upgrades, but since they are permanently installed, older security systems are not normally transportable to a new location. Older systems with permanent keypads may require modification if users want to access security settings or check on property from a remote device. The lines to hard-wired security systems are subject to interference, and may be damaged or deactivated by weather, wildlife or criminals.
Whether you live in a gated community, on a large lot in a semi-rural area, or in an urban high-rise, home security is today's primary consideration.