These Smart Tech Features Increase Home Value—Does Yours Have Them?
Posted by Daniel Beer on Monday, April 12, 2021 at 9:05 AM
By Daniel Beer / April 12, 2021
Comment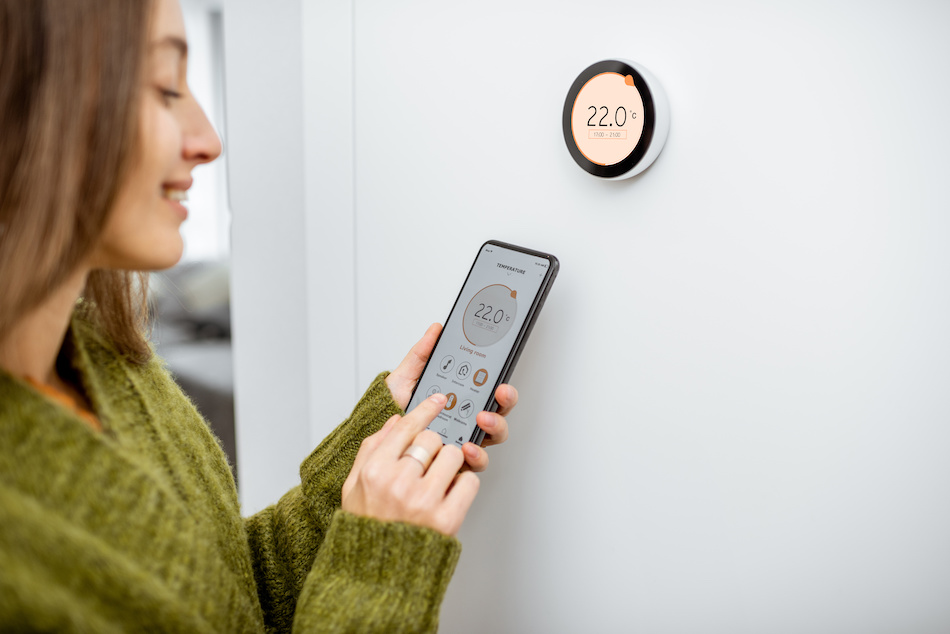 Homeowners looking to increase their home's value can consider investing in smart tech features. While many home renovation projects don't add much of a return on investment (ROI), smart home features typically add worth. As the Internet of Things (IoT) continues to grow, people can essentially connect everything in their households to boost convenience and security.
Once connected, all that's needed is a push of a button, a voice command, or a smartphone to use as a "remote control." The best smart tech upgrades to consider adding to homes right now include the following options.
Smart Thermostats: Convenient Energy Management
In 2018, a smart-home survey revealed 77 percent of potential homebuyers wanted smart thermostats. Current data support these findings; this year, smart thermostats are among the three leading technologies desired in a home.
The appeal is easy to see. Smart thermostats not only adjust to occupants' energy consumption, but they can also be programmed or controlled remotely with a smart device. The best thing for homeowners? It's not an expensive device and, for the most part, brings a full ROI.
Smart Security: Keeping a Home Safe Remotely
Smart security features are also one of the top features buyers seek. Roughly 65 percent want smart security cameras, security locks, and doorbells. Security cameras and smart doorbells allow buyers to see and communicate with anyone who visits their home, even if the homeowner isn't there. The locks provide more flexibility by giving trusted people ways to enter the house without worrying about a key and keeping homeowners informed of any forced entry.
Nearly 75 percent of buyers want smart smoke alarms. Having an alarm controlled by phone makes it easier to stop a false alarm and provides notifications. Adding any or all of these security features typically yields a strong ROI.
Smart LED Lighting: Reliable and Easy Home Lighting
LED lighting is reliable, energy-efficient, and long-lasting. Add "smartness" to the equation, and homeowners have a hugely desired feature in their homes should they decide to sell. Like other smart tech, homeowners can control this lighting remotely.
Accidentally left the lights on? No problem, turn them off from an app. Want to make it look as if someone's home? Flick them back on from afar using the same app. Smart LED lighting is energy-efficient, and the bulbs are steadily coming down in price, making them a sound investment after installation.
Smart Appliances: Making Chores Simpler
Most people don't tote their appliances when they move, so the appliances in a house are one feature buyers will carefully examine. Smart appliances are one of the best tech enhancements a homeowner can make. Consider upgrading:
Washers
Dryers
Refrigerators
Dishwashers
Most smart appliances are energy-efficient (look for the ENERGY STAR label) and add a significant level of convenience when performing daily chores in the home, making them an appealing upgrade. For example, a smart refrigerator might allow grocery shoppers to check the contents of the fridge remotely. Smart washers, driers, and dishwashers respond to voice controls and send up-to-date notifications.
Automated Blinds and Curtains: Effortless Light Control and Insulation
Automated blinds and curtains add convenience and security. Still, many people might also file this home feature under the "coolness" factor, as they look great and easily catch a buyer's eye. Imagine being able to wake up in the morning and tell the blinds to raise themselves through the automated home voice system. In addition to the convenience, the blinds might offer light filtration or heat management to ensure comfort. They also can yield a decent ROI.
So, Is Smart Tech Worth It?
Smart technology continues to grow in popularity and, moving forward, many homeowners are going to find the appeal in these types of home upgrades as they assimilate into daily living and become the "new normal."
Not all home upgrades are worth the time, energy, and money put into them, but smart tech usually doesn't fall into this category. Real estate agents consistently say buyers are willing to pay more money for smart features in homes. For sellers, smart tech isn't a bad upgrade because most find they can recoup their smart tech investment by more than 50 percent. In the meantime, they can enjoy the benefits smart tech brings into their lives before selling their homes.