4 Everyday Adventures You Can Have When You Live Near Elfin Forest in Escondido
Posted by Daniel Beer on Thursday, December 15, 2022 at 8:18:55 AM
By Daniel Beer / December 15, 2022
Comment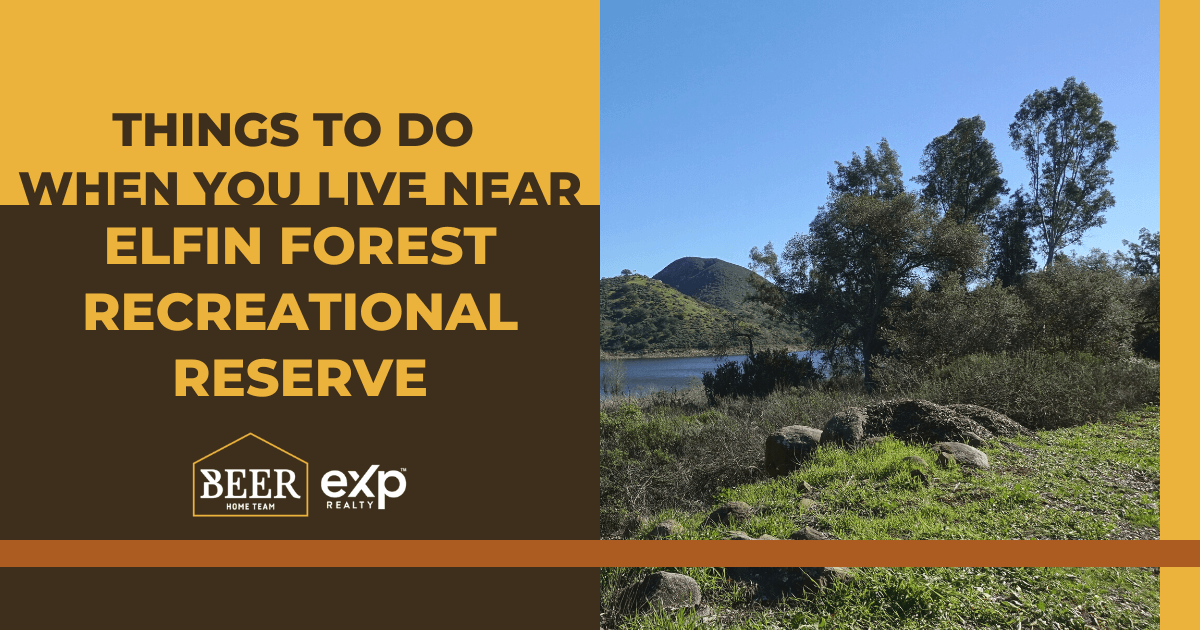 The Elfin Forest Recreational Reserve is one of the finest natural resources in San Diego County, spanning 784 acres of mountainous oak woodlands, coastal sage scrub, and chaparral. Centered on the Olivenhain Reservoir, the Reserve offers several overlooks where visitors can enjoy views of the reservoir and surrounding mountains.
The Reserve is less than 15 minutes southwest of downtown Escondido, off Harmony Grove Road. Living near the Elfin Forest Recreational Reserve makes it easy to enjoy hours of outdoor recreation and learn more about nature with miles of hiking trails, a beautiful Interpretive Center, and other great parks just minutes away.
Enjoy Miles of Trails
Elfin Forest Recreational Reserve offers 11 miles of multi-use trails open to hiking, mountain biking, and horseback riding. Leashed dogs are also welcome to explore the trails.
The 1.4-mile Way Up Trail is the main access point for most trails within the Reserve. After crossing the creek, this trail climbs over 500 feet up to Harmony Grove Overlook. From there, hikers can continue to the Equine Incline Loop or the Ridgeline Maintenance Road.
The Equine Incline Loop traverses 2.6 miles in the western part of the Reserve. During the rainy season, there are several creek crossings along the route. Shortly after the trail begins, hikers can follow a 0.2-mile spur to the beautiful Me-xal Overlook. The Loop also leads to the Elfin Forest Overlook. Here, the Manzanita Trail leads to Ridgeline Maintenance Road, allowing trail goers to create an even longer loop before heading back.
Ridgeline Maintenance Road connects many of the Reserve's overlooks and picnic areas alongside the reservoir. Following it southeast leads to the Lake Hodges Overlook Trail, which provides hikers a nice view of the reservoir and the nearby Lake Hodges.
The 0.2-mile Creek Trail, located near the Reserve's entrance, offers a much easier and shorter hike. The Reserve hosts free interpretive walks on this trail every second and third Sunday of each month from 9:00–10:30 a.m., starting from the Interpretive Center. It's important to note that homeowners living near the Elfin Forest Recreational Reserve are a mere 30 miles from the plentiful hiking trails in San Diego.
Explore the Botanical Nature Trail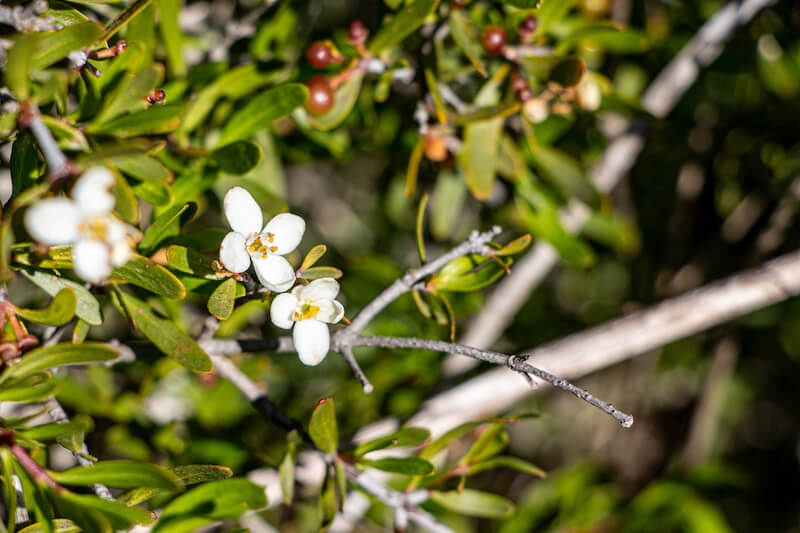 Learn about chaparral, coastal sage scrub, and riparian habitats on the Botanical Nature Trail. The 0.6-mile hike has 27 informative stops with details about local plants, ecosystems, and history.
The Botanical Trail starts at the Creek Viewing Area near the park entrance. It connects to the Way Up Trail, allowing hikers to loop back down to the parking lot for about a mile overall.
A creek flows across the Botanical Nature Trail between markers 5 and 6. Hikers can use rocks to cross the creek and continue along the trail. The water is usually low enough to cross safely but may be too high after heavy rains. In this case, hikers should follow the Way Up Trail to reach the remaining stops.
Most of the Botanical Trail's markers highlight native plant species, including the Arroyo Willow, Bushrue, and San Diego Sagewort. Other plaques discuss the Reserve's ecology and concepts like ecotone, diversity, and water dependence. After following the trail, hikers should be able to identify some of the region's key species and understand some of the factors that help shape different plant communities.
Tour the Interpretive Center
The Elfin Forest Interpretive Center combines artistic representations of the Reserve with educational exhibits, all under a green living roof. It was built from recycled materials in 2009 and uses off-the-grid solar to power its operations today.
James Hubbell and other local artists contributed to the Center's impressive permanent displays. Inside, the Center features a vibrant ceiling mural depicting the forest, a mosaic tile floor representing Escondido Creek, and sculpted columns highlighting the region's wildlife. Outside, visitors can enjoy a lush pergola and a column depicting the Kumeyaay creation story. The Interpretive Center complements the great art in Downtown Escondido.
The Center also displays two temporary exhibits each year. One of these is dedicated to their annual photography contest starring the best photos of the Reserve's landscapes, plants, and animals.
In addition to art, the Center also offers several educational exhibits. Visitors can examine and learn about live insects from the creek using a microscope. They can also dissect owl pellets to see what animals the Reserve's owls have eaten recently.
An aquaponics display helps teach visitors about the creek's ecosystem. Plants help filter the tank's fish waste, which acts as a fertilizer for the plants.
The Center, which is easily accessible from Southwest Escondido, offers various animal track casts to aid visitors in animal track identification. Because many of the Reserve's animals only come out at night, identifying their tracks is often the best way visitors can experience those more elusive species.
Visitors can enjoy the Center from 9:00 a.m. to 3:00 p.m. daily.
Visit Other Nearby Parks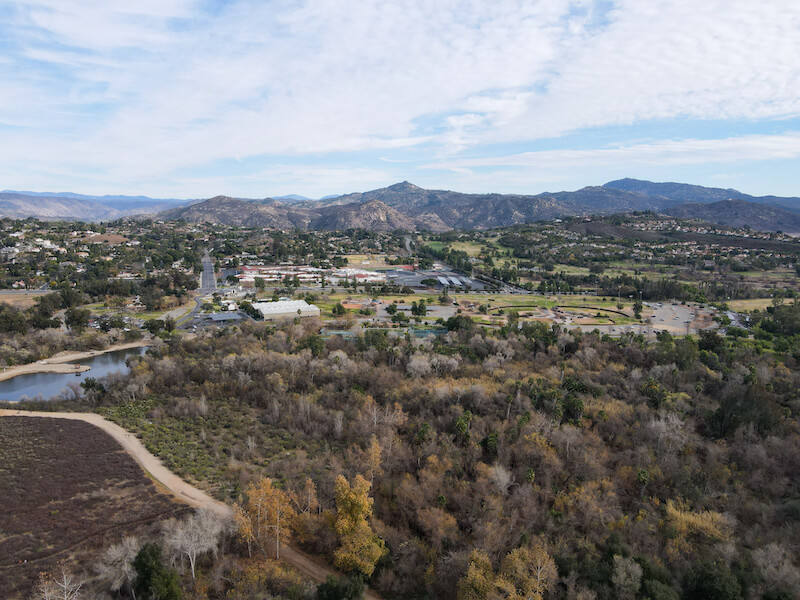 Escondido's homes for sale provide easy access to Felicita County Park, Stagecoach Community Center & Park, and Kit Carson Park; these areas offer more trails, picnic areas, playgrounds, and athletic fields for even more outdoor fun.
The 346-acre Felicita County Park has 2.5 miles of multi-use trails, several playgrounds, and a park museum showcasing the area's rich history. Guided classes and interpretive hikes through the park's 53 acres of ancient oak groves are available by reservation. A 1.4-mile TRACK trail offers several activities for kids to win prizes, including a scavenger hunt. Seven reservable picnic areas with barbecues make Felicita County Park an excellent location for special events.
Stagecoach Community Center & Park, which neighbors luxury homes for sale in Carlsbad, features a 17,400-square-foot community center, lighted athletic fields, and two covered picnic areas with barbecues. Visitors can attend classes at the community center or enjoy open play in the gymnasium. Outdoors, the park offers a play area, basketball courts, four tennis courts, and three athletic fields for softball, baseball, soccer, and football.
At the 285-acre Kit Carson Park, visitors can enjoy art, nature, and exercise. Several miles of trails allow visitors to explore a 5-acre arboretum, a sculpture garden, three ponds, and a free 17-hole disc golf course. A Sports Center features a 22,000-square-foot skate park, two roller hockey arenas, and a pro shop. Located adjacent to South Escondido, Kit Carson Park offers a tot lot, reservable picnic areas, and lighted baseball, softball, soccer, and tennis facilities.
Living Next to Elfin Forest Recreational Reserve
With miles of multi-use trails, an informative Botanical Trail and Interpretive Center, and other great parks nearby, the Elfin Forest Recreational Reserve is one of the best places in San Diego County for outdoor recreation, nature appreciation, and education. Living next to the Reserve offers quick access to Escondido's best wineries and many shops, restaurants, and galleries less than 15 minutes away. Nearby neighborhoods like Harmony Grove Village, Hidden Hills, and Felicita offer beautiful luxury homes and townhomes just minutes from the Reserve.
Looking for the perfect home in Escondido? Contact Beer Home Team of eXp Realty with San Diego Home Finder at (858) 465-7899 to reach real estate agents who can help you find your Escondido dream home today.