San Diego Driving & Commute Times
Posted by Daniel Beer on Wednesday, December 28, 2022 at 7:10 AM
By Daniel Beer / December 28, 2022
Comment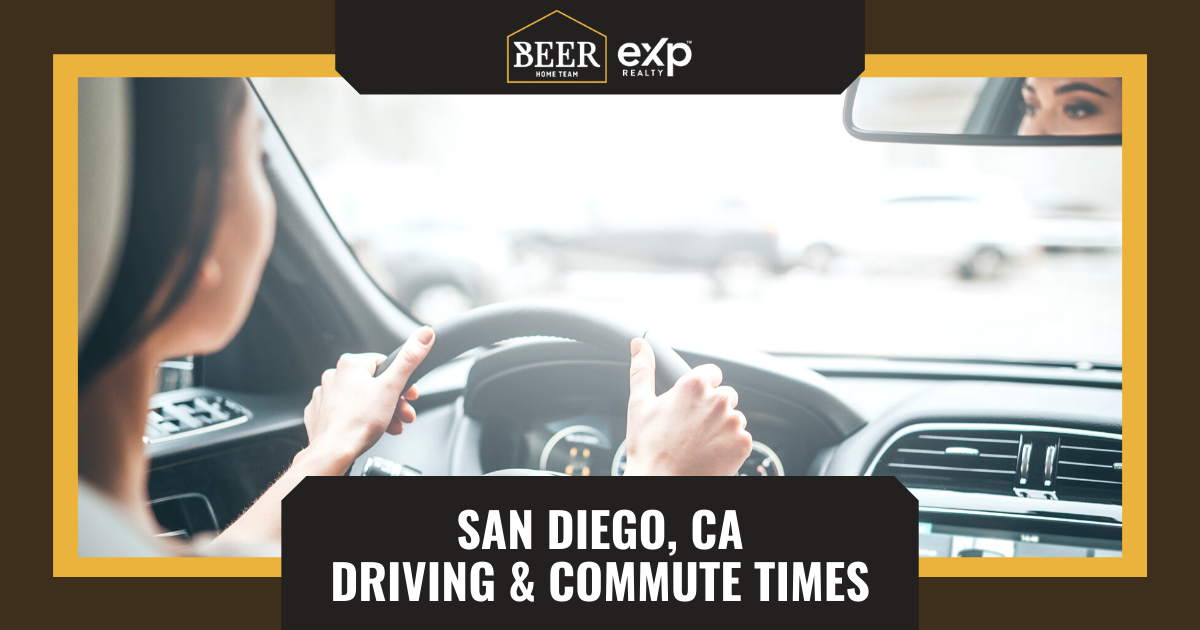 After signing the dotted line for a waterfront home in San Diego, new residents will be ready to get the move complete and begin their life in California. However, anyone who has not lived in San Diego or another large California city before will want to understand how driving works in the area. While San Diego isn't as congested as, say, Los Angeles, there are plenty of cars on the road that can give small-town drivers a run for their money. However, driving is just one small aspect of living in San Diego, so it shouldn't deter anyone from living here. Here's an overview of what new residents should know about driving in San Diego so they can start to feel at home sooner.
Get to Know Your Major Roads
When it comes to knowing the major roads in San Diego, drivers will quickly find they spend a lot of time on the area's interstates. These are some of the few roads with enough lanes to handle the sheer volume of cars that drive on the roads each day.
The Montgomery Freeway is also called the San Diego Freeway. It comprises Interstate 5, leading from the International Border at San Ysidro and extending north along the San Diego County coastline into Camp Pendleton. Drivers can expect all eight lanes to be bumper-to-bumper during rush hour.
The Ocean Beach Freeway is also called the Kumeyaay Highway. It's made up of Interstate 8, following Old U.S. 80 from the Imperial Valley into the county near In-ko-pah, then traveling west into the city of San Diego. One of the busiest stretches of the freeway is near the Interstate 15 and Interstate 805 interchanges. Drivers can expect at least eight lanes on this road.
The Escondido Freeway is commonly referred to as the Avocado Highway. It's Interstate 15, which stretches from San Diego to Temecula. Many residents who live in the neighborhoods outside of San Diego use this freeway to commute daily.
The Jacob Dekema (Inland) Freeway is Interstate 805. It's an alternative to the Montgomery Freeway (a.k.a. San Diego Freeway / Interstate 5). Also, it's used by residents who live in neighborhoods just outside of San Diego. It has many congestion problems, but these are being resolved over the next several years by adding more lanes.
What to Expect During Rush Hour
San Diego's traffic during rush hour isn't the worst in the world, but it also isn't pleasant. Locals might rate the rush hour traffic as a 7 out of 10 (10 being the worst). Those who are from a smaller area without eight-lane highways may be in over their head at first.
Few days are similar to one another when comparing rush hour traffic. One day, the roads can flow at 45 miles per hour for miles. On others, drivers can be stuck at a snail's pace. Rush is heavily dependent on factors like tourists, accidents, and events.
One can expect a typical morning rush hour to range from 6:30–8:30 a.m. During major events, the rush can run from 4 p.m. to 6:30–7 p.m., depending on the day. During these times, all lanes of the freeways will be filled with vehicles and commuters attempting to get to work on time or eager to get home.
Parking
Parking in San Diego can get costly quickly. Most of the lots and parking garages run on an hourly rate with a two-hour minimum. Fortunately, there are plenty of options around the city that can be reserved in advance.
The average rates begin at $10 for 2 hours and as much as $30 for 1 hour. The rates will depend entirely on how close the parking is to the best that San Diego has to offer. Those who don't mind walking a bit can find cheaper parking away from the downtown neighborhood.
Parking is enforced around the clock, so it's important to pay attention to signage. When in doubt, find another area to park. The last thing anyone wants is a parking ticket to ruin their day.
Other Helpful Things to Know
It's important to know that the local authorities don't play around with distracted driving. Anyone under 18 years old is not permitted to have anything to do with their cell phone while in the driver's seat. Those over the age of 18 may have their phone connected to their car for hands-free use. Even holding the phone while at a complete stop can result in a ticket. The only exception to this rule is in the event of an emergency situation.
Those who are new to the area may notice a lane that often has less traffic in it. This is an HOV/carpool lane. The lane is reserved for vehicles with more than one individual in the car. Heavy fines are sent to the owner of the registered plate if drivers are caught driving in the HOV lane with a single occupant (the driver). However, some carpool lanes can be used by drivers as a toll road with the appropriate transponder.
Lane splitting is completely legal in San Diego. Lane splitting refers to a two-wheel vehicle driving between cars and lanes. Motorcyclists take full advantage of this law, so drivers should always be aware of their surroundings. All drivers should look twice and use blinkers to ensure a motorcyclist can understand what other vehicles are doing.
Drive Smart in San Diego
Unfortunately, driving in San Diego isn't always pleasurable. However, that doesn't mean it makes the city a terrible place to live. In fact, it is quite the opposite! The beautiful water views, temperate weather, and world-class dining are at residents' fingertips throughout the year. Learning the roadways and always leaving early for work will help make settling into the area a breeze.
Looking for the perfect home in San Diego? Contact Beer Home Team of eXp Realty with San Diego Home Finder at (858) 465-7899 to get in touch with San Diego real estate agents who can help you find your San Diego dream home today.