Deer Canyon Elementary School Named National Blue Ribbon School for 2015 by Poway Unified
Posted by Daniel Beer on Monday, January 4, 2016 at 3:50 PM
By Daniel Beer / January 4, 2016
Comment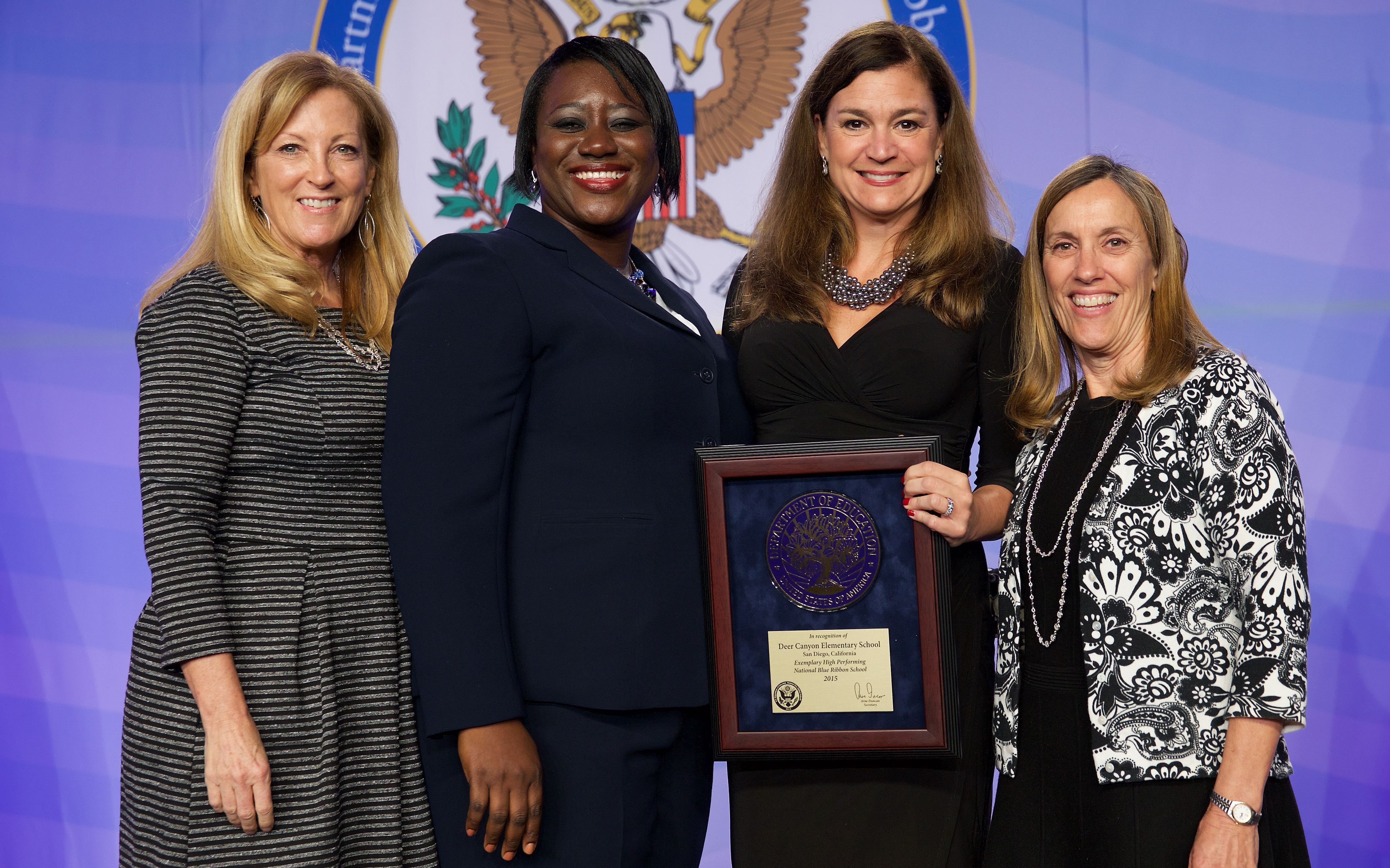 At the end of last year, the U.S. Secretary of Education, Arne Duncan, announced that Poway Unified School District's Deer Canyon Elementary School is now recognized as a 2015 National Blue Ribbon School. Among 331 other schools across the nation, Deer Canyon Elementary School is "leading their students to the highest levels of achievement and making outstanding progress in closing achievement gaps."
For this recognition, the Board of Education represents public, non-public, traditional, charter and magnet schools in 44 different states, all of which prove that diversity shows that excellence isn't limited to certain students or neighborhoods. More importantly, the selected National Blue Ribbon Schools demonstrate that challenges of all kinds can be overcome.
Deer Canyon Elementary School is located in the community of Rancho Penasquitos and is led by Principal Terry Worthington and an amazing administrative staff. Principal Worthington has been a part of the Deer Canyon Elementary School family for 8 years. When asked how Deer Canyon celebrated being named as a 2015 National Blue Ribbon School, Worthington said "We have shared our good news through our local newsletter, Echoes and a morning announcement when the initial announcement was made. We celebrated at our First Flag school-wide assembly in November and were recognized by the County Board of Education at their November meeting." Worthington also stated that they now can proudly fly the National Blue Ribbon Award flag in front of their school each day along with a special plaque on the schools' front door.
Deer Canyon Elementary School is home to an exceptional group of students, staff and parents who are committed to ensuring the highest academic rigor, social emotional development and education of the total child. "We are fortunate to have a number of Foundation funded programs on campus, including PE, Art, Science and Music. Our PTA provides family programs, enrichment activities and special events for our community and school." Having such a supportive staff and tight knit community has given Deer Canyon the opportunity to live up to their mission each day, that being to ensure all students develop a love of learning and become highly successfully in not only school, but in society and the work place.
The staff at Deer Canyon is known to be highly collaborative and extremely committed. When asked about her staff, Principal Worthington expressed that "This is a team who 'eat, sleeps and drinks' education. They are constantly thinking about how to meet the needs of children as well as seeking new and exciting activities to bring into the classroom. I am truly fortunate to be a part of this exceptional team." With such an exceptional team comes the combined effort to successfully prepare the students for their future. Getting the elementary students ready for middle school, high school or even college is a difficult challenge to take on, but the Deer Canyon staff has developed unique programs in which allow the students to experience real-life learning opportunities that support social-emotional growth, character and service learning. These programs include "One to World" classrooms where the teachers differentiate instruction and engage students in various activities that develop each of their talents, STEAM labs where the students experience hands-on activities to enhance scientific methodologies, and even monthly Character Corps and Art Docent volunteers. Through these programs, the students are able to demonstrate their individual skill sets as well as achieve both academically and "as productive members of our society."
The students and staff of Deer Canyon like to have their fun too! Thanks to the PTA, Foundation and an incredible amount of parent volunteers, each spring the schools hosts a Health Expo led by local community members and high school students where the children take part in a variety of activities that promote their health and well-being. But that's most certainly not all. "Every year, fifth grade students are invited to join the Ride Across California, a tradition that originated at our school 25 years ago. During this event, students spend a week riding bicycles from the Arizona border to the California coast." Other annual events include Family Fun Night at the end of the year, Lego Robotics, Lego Robotics, Jr., and Math Olympiad. The list seems to be endless!
Although Deer Canyon Elementary School has already accomplished so much, they still work towards their mission and goals each day. Principal Worthington, the Deer Canyon staff and their supportive community continue to seek opportunities to reach every child, maximizing individual growth and achievement. They seek inspiration from other schools because it is "through the shared knowledge that we continue to build our practice and add to our toolbox of effective instructional strategies. We are life-long learners always in search of best practice."
The U.S. Board of Education encourages each school named as a National Blue Ribbon School to share what they know in order to educate other schools to execute the best type of practices, the value of involving community members and families in the students' learning process, the importance of college and career readiness and so much more. These types of educational processes and systems that the 332 schools partake in on a daily basis have led them to become such an inspiration to schools and educational organizations everywhere.
Congratulations to the staff, students and families of Deer Canyon Elementary! Your hard work and determination is truly inspiring and appreciated by our community.