4 Luxury Waterfront Construction Styles That Optimize Your View
Posted by Daniel Beer on Thursday, December 9, 2021 at 7:00 AM
By Daniel Beer / December 9, 2021
Comment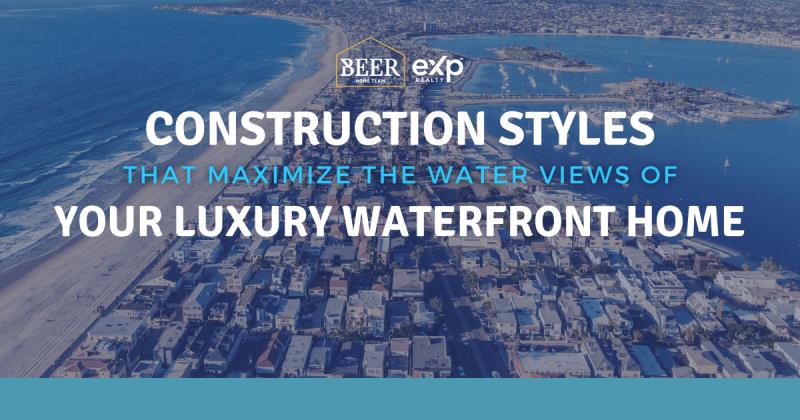 Homeowners fortunate enough to live on a waterfront property want to maximize their water views and get the most of its potential. These homes typically come at a premium price (though waterfront property also offers great returns), so why not get the most bang for the proverbial buck on your waterfront home? Letting these gorgeous views go to waste would be a shame. If you've invested in a waterfront home, be it ocean, lake, pond, or river, read on for some great techniques you can use to maximize waterfront views.
Prioritize Windows Facing the Water
If building new construction, talk to the architect to make sure the house is oriented so that floor-to-ceiling windows can give unimpeded views. The more area span windows have, the bigger the view, and integrating "glass wall" style windows nicely accommodate the ability to achieve amazing views. Another option is to add bi-fold doors to walls facing the water. Incorporating corner windows into a home's design can also add breathtaking immersive views. Any options added will let in a significant amount of natural light and give incredible water views.
While water views are a priority, it's important to consider comfort as well, which means giving some thought to sunlight levels. Homeowners don't necessarily want to be woken at 5:30 a.m. as the summer sunlight starts streaming in, but maybe want to see that light once 8 a.m. rolls around. Depending on the angle the windows are positioned at, functionality is an important consideration. Solutions can be found in a variety of window treatments that don't block views, including darkening or smart blinds, that can be opened or tucked away easily. To address heat concerns, one popular eco-friendly home investment is to install double-glazed windows with glass that offers heat reflectivity ("Low-E glass") to keep temperatures more comfortable.
Homeowners can also consult with an experienced architect or builder about ways to maximize water views without hindering daily lifestyles.
Inside, Keep an Open Floor Plan
Open floor plans are a top building trend in general; however, open floor plans are a must when it comes to homes with water views. The fewer indoor walls, the fewer obstructions there will be to seeing the water's gorgeous backdrop or how the sunlight dances across the water ripples. If the house currently has walls blocking these views, a talented architect can help do a redesign, and an experienced contractor brings the vision of an open floor plan to a reality.
Imagine walking into a home and looking straight out the back of the home towards the view? Or dining over candlelight as the moon reflects on the water? Curling up on a cool winter's day with a good book to unwind while watching the wind whip through the waves? By optimizing the home's layout, homeowners can enjoy practically panoramic views of the water. With a good design, the possibilities to create moments of inspiration and relaxation are endless.
Invest in Outdoor Spaces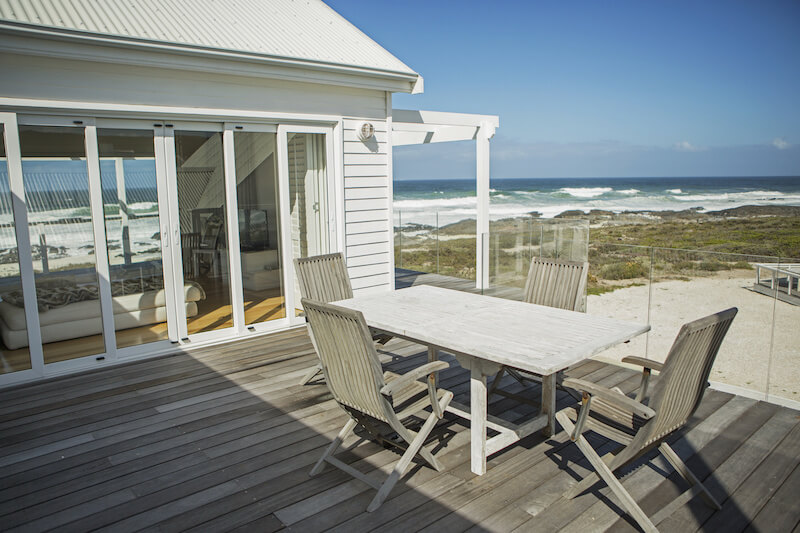 Investing in outdoor living space for a waterfront home also goes a long way towards maximizing a home's amazing water views. For instance, by making a balcony, deck, or other outdoor living space more inviting, homeowners and their guests will be more likely to spend time there. Converting existing outdoor space to an open lanai equates to eliminating the obstructions caused by columns, railings, and other structures, providing the opportunity to see pristine water views. Other investments to consider to further heighten the outdoor experience are for homeowners to design an alfresco kitchen, grilling space, firepit, pool and spa, and comfortable seating arrangements. For colder weather months, integrating an outdoor fireplace or heater easily extends the seasonal use of these cozy outdoor spaces.
One of the best benefits to waterfront property is having instant access. Adding a private boat dock, complete with a small storage area for surfboards, water skis, tubes, and other water accessories (stowing a portable firepit is also nice!), easily enhances a waterfront lifestyle and increases the property's ROI. Add in some lounge chairs, and homeowners can round out the perfect daily excursion without ever leaving home.
Consider Where Everyone Spends the Most Time
When planning to build or redesign a home, it's crucial to consider where and how everyone spends the majority of their time. Start by assessing how much time is spent in rooms such as the living room, kitchen, den, bedroom, or home office, to name a few. Next, think about what a daily lifestyle and routine will look like, because this directly impacts ideal room placement. For instance, if working from home, a water view could augment the workday and provide inspiration. Ideally, homeowners want to maximize the water views in the spaces where they spend the most time. This is especially true for properties with only a few optimal views or if the home only has partial water views.
Save less important areas, such as mudrooms, storage rooms, pantries, for the walls and angles of the home that don't offer the best water views. If building new, this should be easy, but even in existing homes, a good designer can help reconfigure spaces to open up more angles to view the water.
Water Views Can Enhance a Lifestyle
Homeowners who create areas of "wow" factors can significantly boost each day and share that feeling with anyone visiting their homes. Waterfront homes offer so many benefits, but it's vital to plan with views in mind to make the most of the property. Maximizing a home's water views can do a lot to enhance a lifestyle and improve occupants' quality of life while simultaneously creating a welcoming environment for visitors.