4 Condo Decorating Ideas That Save Space & Look Great
Posted by Daniel Beer on Wednesday, April 20, 2022 at 2:07 PM
By Daniel Beer / April 20, 2022
Comment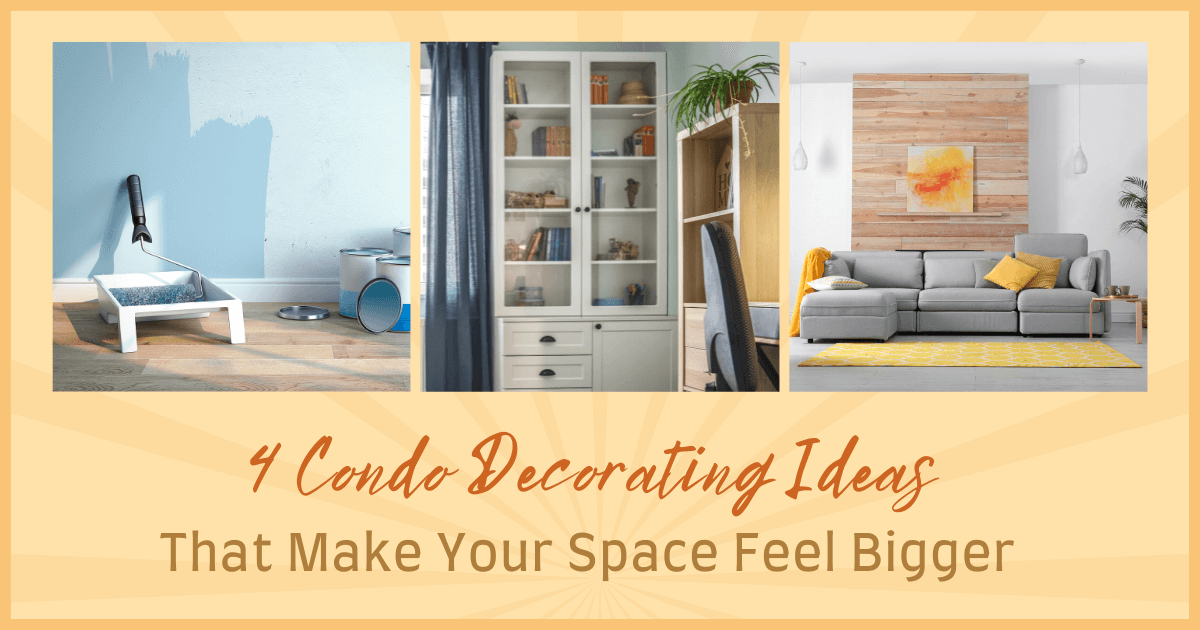 First-time homebuyers and seasoned investors can all benefit from a little guidance when buying a condo. There are many reasons to buy a condo instead of a single-family home. However, space is at a premium in a condo, so owners sometimes have to be creative with their design plans. Fortunately, there are many ways to orient the furniture, artwork, and appliances to make any condo feel clear and spacious. Keep reading to learn about four space-saving design ideas that will make your condo feel roomier.
Think Up, Not Out: Vertical Storage Uses Less Floor Space
The air space inside a condo can be woefully underused, and the best way to maximize that space is by thinking vertically. Every room in a condo will have some vertical space that can become part of the overall design.
Several design principles come into play when decorating a condo space vertically (and creating more storage). Tall and narrow shelving, for instance, takes up less space than wide and short furniture or storage pieces. Depending on the ceiling height in an individual condo, tall shelving can create more storage space in the end.
Another design concept that comes into play is that items displayed on the wall don't take up floor space. Think of a tall bookcase in a living room as one example. It's a great place to store books, but this type of shelving can also be a display for some of the owner's items. This can eliminate the need for additional furniture pieces to display items.
Finally, vertical design concepts will naturally draw the viewer's eyes upward. This can make a living space appear larger than it is. It's like an optical illusion, but it works!
Make Wall Space Count: Use Paint, Mirrors & Art For a Larger Condo
The walls inside a condo have more surface area than the floors, so it makes sense to exploit that space to make a condo appear larger. Artwork, paint, and mirrors can come into play here.
Starting with the paint, lighter colors always work to open up an interior space. Light colors reflect natural light better, making any room look more open and expansive. Plus, light colors offer various choices, so owners aren't stuck with only a handful of options. Pale shades of blue, pink, gray, and other colors make a room look more open as natural light from outside reflects off it. Remember to use your floor area to calculate wall space before painting.
Smaller pieces can make the wall space look larger when it comes to artwork. More prominent works of art that take up more space can make a room look smaller. Works of art that match the paint color of a room can create a "floating" effect that visually enlarges the space.
Finally, hanging mirrors from the walls can open a space up further. Try to place mirrors on walls that face the condo's windows.
Clever Storage Tips: Fold-Away Storage & Furniture With Hidden Compartments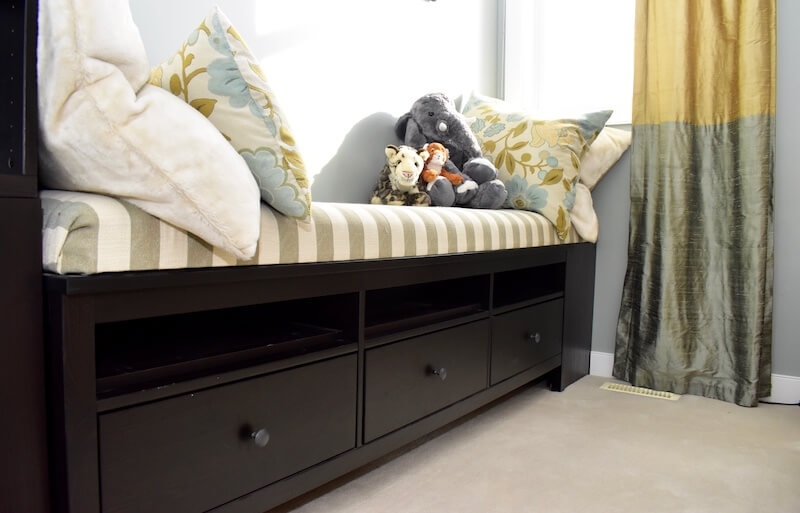 Most condos will have some natural storage space in them to begin with. This can include kitchen cabinets, "cubby holes," and closets. Utilize those spaces. Next, think of furniture pieces that have dual uses as storage.
A "captain's bed" for the bedroom with drawers beneath the mattress can eliminate the need for a dresser or bureau. There are also many options for beds or futons that fold away when not in use. Some can even be folded away to reveal a separate piece of furniture, such as an at-home work desk.
Coffee tables, couches, and other furniture pieces that have hidden compartments underneath them can be found. Utilize pieces like this for extra storage around the condo to reduce clutter and keep a clean space. With fewer "things" out in a condo, it leaves more space overall.
Foldaway tables and chairs can only take up an inch of horizontal space when they're not being used for meals. Another thing to remember is knowing when a condo has enough furniture. There is always a point where a design layout can cross the line from a minimalist approach to taking up too much space.
Sometimes Bigger Pieces Save More Space
An extensive collection of smaller furniture pieces can make the limited space appear cluttered and "full." A better visual presentation uses a few larger furniture pieces, which makes the space look more open. One stately piece of furniture can be a focal point in a room, with the rest of the pieces enhancing it.
Don't forget dual-use for furniture pieces as well. A stylish couch can easily double as a bed, and so forth. Placing a larger furniture piece against a blank wall (no artwork or mirrors on it) is yet another way to visually create a larger, more open space in a room.
Space between pieces of furniture is also essential. If pieces of furniture are next to each other or have an end table connecting them, the room looks more full. Space between furniture pieces opens the room up, which is the goal of designing in tight spaces.
Designing Interior Space in a Condo is an Adventure
What do you actually own when you buy a condo? Everything! As a condo owner, you have complete creative freedom so it's up to you to make the home your own. The space can be maximized by following these tips, so remember to have fun and experiment during the design phase. Don't be afraid to change strategies or swap furniture pieces if one method isn't working as planned.