Spanish Revival Architecture Guide: 3 Common Traits of Spanish Style Homes
Posted by Daniel Beer on Friday, February 18, 2022 at 9:30 AM
By Daniel Beer / February 18, 2022
Comment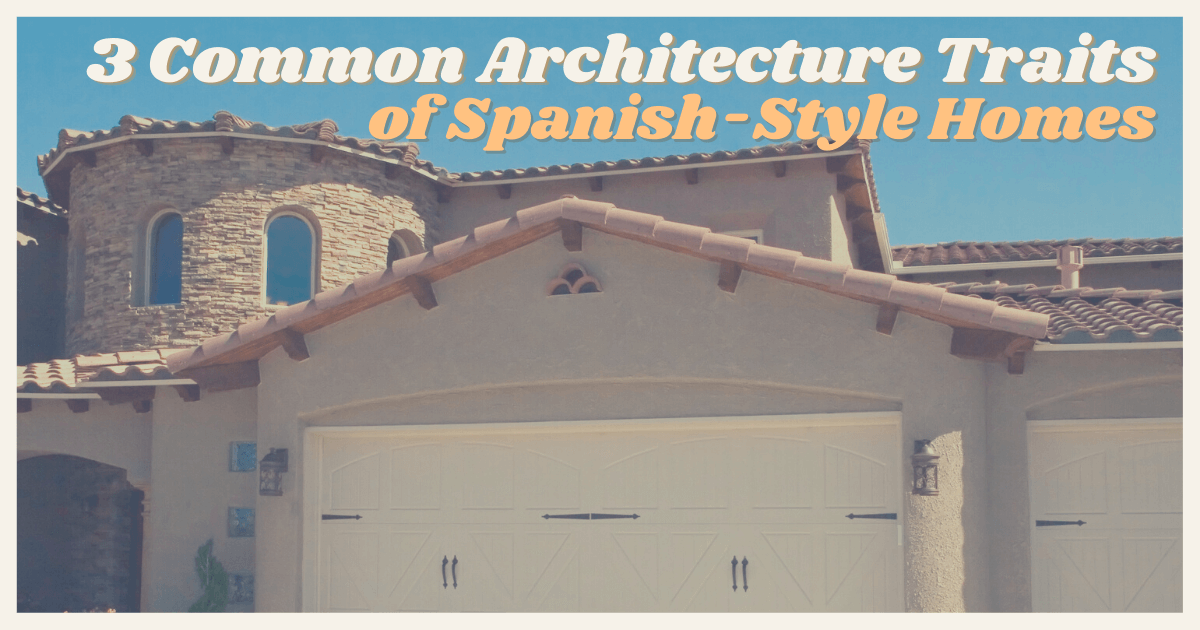 Spanish-style homes are primarily throughout the Southwest region of the United States, partially because there are territories in the country that Spain ruled for over 400 years before becoming states. Many architectural elements in southwestern homes set them apart. These unique elements make them so desirable in their locations because Spanish-style homes are often built to pair with a more arid environment in mind. Those currently house-hunting can read on for a shortlist of things to look for when identifying a Spanish-style home.
Check Out the Roof
Barrel roof tiles are one of any Spanish-style home's most iconic signature elements. These "S"-shaped tiles are typically made of terracotta clay and are crafted to last a lifetime. Sometimes, these tiles are vibrant colors. But usually, they are red or reddish-brown in appearance and slant downward on the roof.
When house-hunting, it is recommended to look for any cracked or loose tiles as they will need replacing. The roof itself is traditionally flat and low-pitched with no overhang. Because the roof is flat, interested buyers should check for proper drainage as it can cause severe leaks if overlooked. One other element notably seen in Spanish-style roofs is exposed wood support beams because of the heaviness of the material of the walls and things like stucco.
Walls Have Arches & Stucco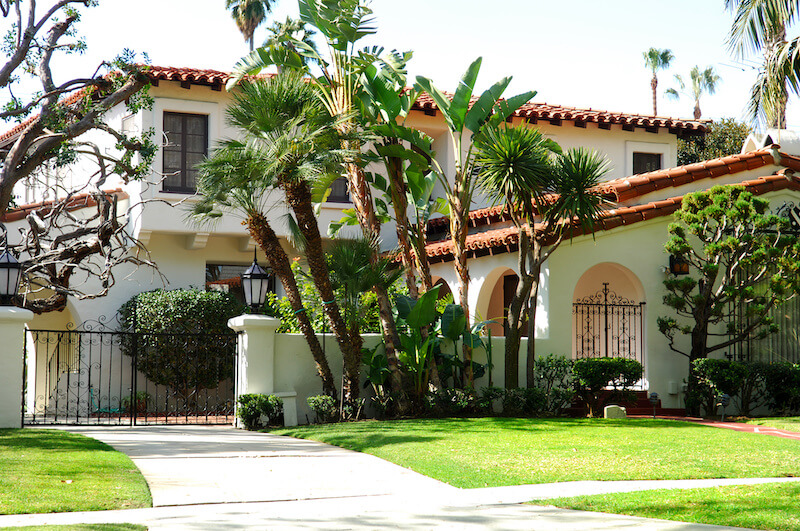 Many people tend to appreciate these houses because the architecture utilizes local and natural elements in its construction, from the clay used in the roof tiles to the stucco used for the walls. These natural elements create an atmosphere of comfort and connectedness to the home's environment. Stucco walls are perfect for climates known for high heat. In colder regions, this material shrinks away, dries, and cracks easily. In hotter climates, stucco material is widely loved for its ability to insulate and repel against heat while naturally cooling the interior of a home. Any cracks visible in the stucco walls may indicate foundational issues. Arches in the stucco walls are another key tell for Spanish-style dwellings. These rounded arches are most often found over the windows, doors, and entryways throughout the house.
Wrought-Iron Detailing
Traditionally used in place of glass panes in windows, wrought-iron detailing is a beautifully ornate detail in homes with a southwestern look. Influenced by previous gothic elements, wrought-iron detailing is typically found in windows, stair railings, and gates. They are also seen on things like lanterns and other exterior decors. However, some specific types of Spanish-style architecture do not lean as heavily on the wrought-iron detailing. For example, Morrish and Mission Revival types of architecture may substitute these ornate details. Instead, balconies may have sculpted parapets rather than wrought-iron detailing.
Different Types of Spanish-Style Architecture
Southwestern architecture has been influenced by a lot more than just its Spanish origins, considering Spanish-style architecture is also always a product of its environment. That means there is a proliferation of Spanish-style homes throughout Arizona, California, New Mexico, and Florida. However, this popular style exists throughout the world. Most of the houses in these locations are newer and known as Spanish-revival houses for bringing back South American or Mexican architecture. The most common Spanish-style homes are Mission Revival, Pueblo Revival, Monterey, Floridian, and Spanish Eclectic. The last one on that list, Spanish Eclectic, is the most common of these house types because it is an umbrella term. Spanish Eclectic borrows from all different kinds of Spanish-style modern revival homes.
Spanish-Style Homes Bring Warmth & a Unique Look
At the end of the day, Spanish-style homes are almost always associated with architectural elements that convey warmth and comfort. When house-hunting for Spanish-style homes, it is essential to keep this list of things in mind. The roofs, walls, and windows all have specific qualities that set them apart from most other types of homes. The mix of Old World and New World styling appeals to a wide range of individuals for its distinctive look.