Best Water Recreation in San Diego
Posted by Daniel Beer on Thursday, August 12, 2021 at 12:22 PM
By Daniel Beer / August 12, 2021
Comment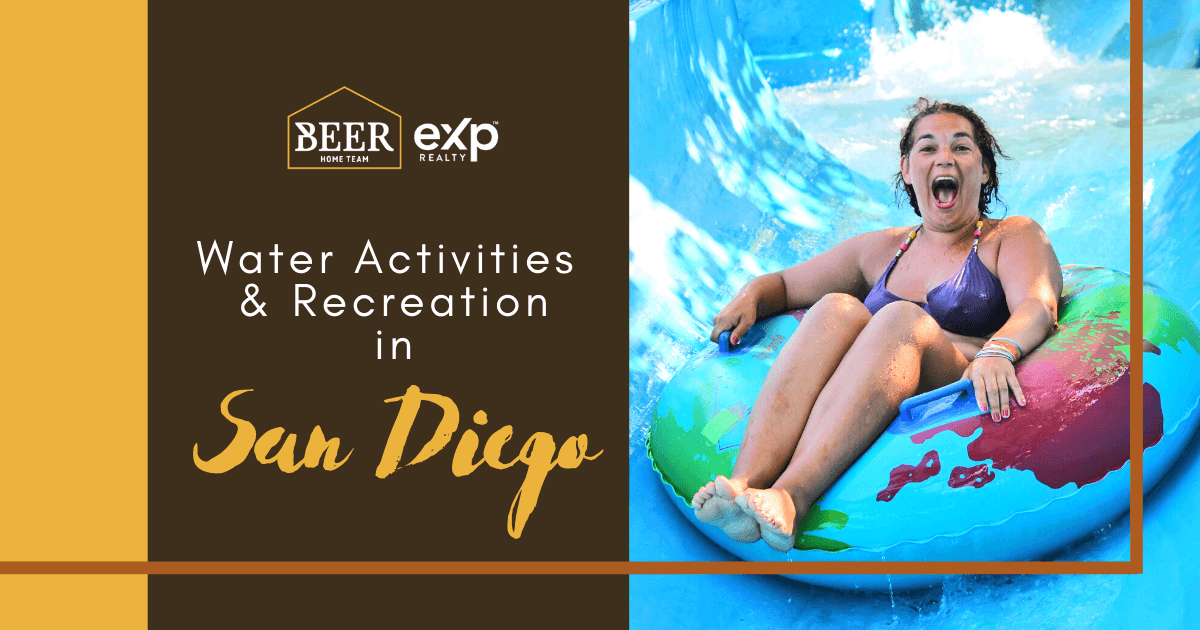 Year-round warm temperatures and an abundance of sunshine make the city of San Diego a dream destination for residents and potential residents with an appetite for water recreational activities. Go surfing, diving, snorkeling, or sailing in the Pacific Ocean. Or, hold a swim party at a Carmel Valley home with a pool. However people like to play in the water, San Diego has something to offer. Read on to dive into the options for water recreational activities in San Diego, California.
Learn to Surf
Popular San Diego Surfing Locations
Pacific Beach
Mission Beach
Ocean Beach
For beginner surfers just starting on their own or taking surfing lessons, San Diego is home to many beaches that are perfect for first waves.
Pacific Beach is one of the San Diego beaches that draws new surfers to its shores. The beach has all the things needed for an exciting and safe surfing experience. Waves tend to be smaller, and the sandy bottom is forgiving. The beach has lifeguards, public facilities, and places to take a break for food and beverages. Pacific Beach is a world-renowned surf spot, so first-timers might encounter other beginners or helpful surf veterans. Some people love surfing so much that they decide to purchase homes in the Pacific Beach neighborhood to enjoy prime access to the waves.
Mission Beach also provides beginner surfers with sandy bottoms and gentle waves. Those who've advanced their techniques head to the southern region and the South Jetty, where waves are larger and better formed, offering an improved ride. Iconic San Diego restaurants surround the homes in the Mission Beach neighborhood.
Ocean Beach almost always has good waves for newbies to conquer. North of the beach is an area referred to as Avalanche Jetty that offers interesting runs for those with a little more experience. This beach is a favorite of experienced surfers and may be crowded. Ocean Beach also has lifeguards on watch. After a fun-filled day on the sand, take a peaceful strong among the charming houses in the Ocean Beach neighborhood.
Dive Under the Waves
Popular San Diego Diving Destinations
Matlahuayl State Marine Reserve
Wreck Alley
Point Loma
La Jolla Shores
For underwater adventurers who want to see what's beneath the surface of the Pacific Ocean, there are many opportunities for world-class scuba diving in San Diego. One of the top places is Matlahuayl State Marine Reserve, also referred to as La Jolla Underwater Park. Here, divers experience various underwater scenes and activities, from wrecks and kelp forests to diving with sea lions and leopard sharks.
Advanced divers can explore the six decks and more than 100 compartments of the 366-foot long and 40-foot wide HMCS Yukon at San Diego's Wreck Alley. The Canadian destroyer escort was deliberately sunk in 2000, creating an artificial reef that has become a popular diving destination. Wreck Alley provides habitats for aquatic creatures and exciting exploration sites for divers.
Other top locations for scuba diving include Point Loma, the La Jolla Shores neighborhood, and La Jolla Cove. It is possible to dive year-round in San Diego. July through January is considered the best time for clear visibility. Winter water temperatures are a bit cooler, and the surf tends to be choppy.
Blast Off With a Jetpack
JetPack America Amenities
Flight packages
Jetpack instructions
Equipment rental
For those who have never had a jetpack experience, now is the time to strap on the equipment and fly high over Mission Bay. Before anyone can take to the sky, a thorough flight instruction session takes place. Instructions for beginners, intermediate, and advanced flyers cover all aspects of controlling the jetpack plus safety. Once the instruction is over, jetpackers take off with communication from the instructor via speakers mounted in the safety helmet. A team member is also in the water on a jet ski for support as jetpackers glide and dive above the water. In San Diego, JetPack America is the go-to location for flight packages, instruction, and rental equipment. Love fun facts about San Diego? JetPack America has trained over 100 jet pack flight instructors across the world.
What to expect is a memorable experience that will last a lifetime. Consider jetpacking an all-in-one package that includes scuba diving, skydiving, parasailing, and jet skiing at one time. Soar as high as the tallest downtown San Diego condos! The water-powered jet pack is one of San Diego's most popular water activities.
Make a Splash at a Water Park
Popular San Diego Water Parks
LEGOLAND and CHIMA Water Park
The Wave Waterpark
Aquatica San Diego
Shoot down a flume, get bombarded by water cannons, zip down water slides, and race down the river at LEGOLAND and CHIMA Water Park. The parks offer fun rides and slides alongside interactive activities. Take a Coast Cruise to new adventures, slide through a crocodile's mouth at Cragger's Swamp, and get splashed and sprayed at Duplo Splash Safari.
About 45 minutes from San Diego, The Wave Waterpark in the city of Vista adds to a day of fun in the sun with plenty of water activities. The park's Slide Tower provides four thrilling rides. There's tubing on the El Rio Loco river or float along on your own. Cool down at the Wave's Spray Park, or tube down a slide at the Rip Tide that ends in the water.
At Aquatica San Diego, visitors will love the many options to choose from. Children and adults scream with delight as they slip and slide down one of the water rides. Those who are thinking about becoming a surfer can get a feel for what it's like with the 5-foot waves at Big Surf Shores. When a slower pace is desired, the meandering river is a good place to relax.
Board a Pacific Ocean Boat Charter
Pacific Ocean Boat Charter Amenities
Watch sunset from sailboat
Whale-watching
Guided tours
Watching the sunset from a sailboat is a San Diego experience that should not be missed. Sailboat rentals in San Diego are available for those with experience handling a sailboat and those who prefer to hire a captain to navigate the boat. For the day, evening, or longer, enjoy the freedom of sailing towards the horizon. Whether the rental is for a group of six or a party of eight, there is a sailboat to fit all occasions.
Seeing the grace and beauty of whales gliding through the waters is a sight that will not be forgotten. From December through April, whale-watching in San Diego is at its peak season. Take a guided tour to get an up-close view of the magnificent mammals. Enjoy the experience from the comfort of the deck, which also provides the perfect place to record or take photos.
Water Recreational Activities Never Dry Up in San Diego
San Diego is a paradise of adventure, exploration, and discovery. Water recreational activities are just one category of exciting things to do in San Diego. Whether surfing in the Pacific Ocean, sailing into the sunset, diving to deep depths, or enjoying the attractions to the fullest at water parks, this SoCal city promises never-ending fun.
Looking for the perfect home in San Diego? Contact Beer Home Team of eXp Realty with San Diego Home Finder at (858) 465-7899 to get in touch with San Diego real estate agents who can help you find your San Diego dream home today.