Trails in San Diego: 6 Hikes, Walking Trails & Jogging Paths Locals Love
Posted by Daniel Beer on Wednesday, November 30, 2022 at 9:10 AM
By Daniel Beer / November 30, 2022
Comment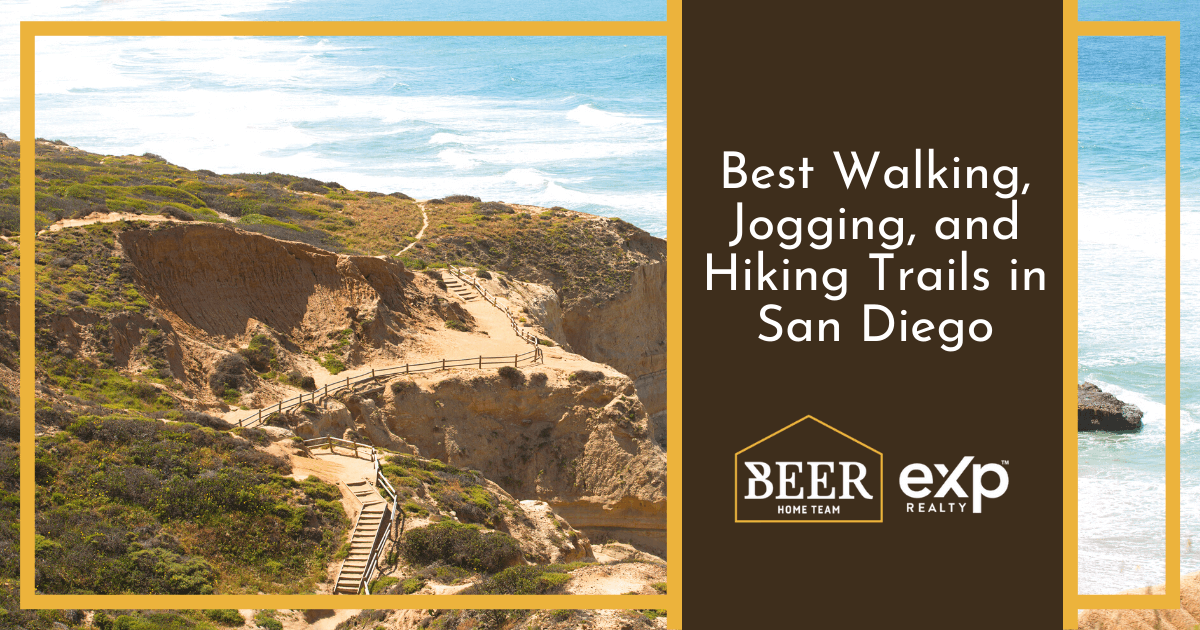 With well over 250 days of sunshine per year, outdoor activities in San Diego are a way of life! One of the best ways to get out and enjoy the fantastic SoCal weather is to explore the walking and hiking trails around town.
Hiking trails can be found in almost all of the parks in town, while convenient walking trails wind through the best neighborhoods in San Diego. Indeed, access to outdoor amenities is one of the biggest perks of living in the San Diego area. Keep reading to learn about the best walking and hiking trails in San Diego.
Razor Point Trail: Torrey Pines State Reserve
Found near the La Jolla community, the Torrey Pines State Reserve has a variety of beautiful backdrops. Beachgoers can enjoy the lovely state beach for a lazy day by the water. More adventurous types can head for the forested area full of Torrey Pines and badland cliffs. Because this is a very popular area, those looking for isolation would probably find the trail crowded. However, new hikers and those just looking for exercise may welcome the feeling of never really leaving civilization.
The Razor Point Trail is about 1.3 miles with an elevation of about 177 feet. As an out-and-back trail, the route requires traveling to an endpoint and retracing steps. The trail is an excellent place for relaxing scenery for hikers of all experience levels. In part because of the popularity with humans, dogs are not allowed on or off the leash.
Los Penasquitos Canyon Trail
Los Penasquitos, another popular trail in town, is only about a half-hour north of the Downtown San Diego area. That location makes it great for after-work walks to de-stress from the day's events. The path makes a loop with about 6.8 miles and 157 ft elevation gain. Because the route is flat, it is an excellent opportunity for running, mountain biking, and even horseback rides.
Accessible to those of all skill levels, the trail is popular due to its broad mix of amenities and scenery. Tree lovers can enjoy the giant California oaks and sycamore trees, while animal lovers enjoy the deer, mallard ducks, and Pacific tree frogs. Los Penasquitos boasts a wide variety of life, with more than 500 species of plants and 175 different birds. Like many mammals, amphibians, and reptiles in the area are endangered, now may be the last time to view some of these specimens in person.
As for those who love to hike with companions, this is an excellent trail for kids on nature trips. Also, four-legged walkers are welcome if they remain on a leash.
Balboa Park Loop
Balboa Park Loop will become a regular destination for those who prefer urban hiking. The trail itself is 4.5 miles with an elevation gain of 344 ft. It is a loop, meaning it is possible to return to your vehicle at the journey's end.
Balboa Park Loop is great for hikers and runners of all skill levels, and it is heavily traveled, so people will rarely feel isolated. This is an excellent option for those with children or dogs on a leash. Because this trail is closer to urban areas, visitors can expect fewer encounters with wildlife. However, it is still known for incredible natural views, including wildflowers along the trail.
Despite the easy rating, there are a couple of warnings for new visitors. First, areas of the trail may be too steep for wheels, including strollers and wheelchair use. Also, the Florida Canyon region of the trail is the least urban of the environment.
Rose Canyon Trail
About 20 minutes north of downtown, Rose Canyon Trail is another popular outdoor hiking and running destination. The trail itself is about 10.4 miles and includes a 600 ft elevation. Considered a loop route, it is an excellent place for nature trip hikes or heart-pumping running and mountain biking. Those seeking an even more significant challenge can continue through the Marian Bear Natural Memorial Park.
Dogs are welcome to join on a leash. While parts of the trail may be suitable for young hikers, this is not one of the best routes for that group. Perhaps the best thing about this trail is the wildlife. Walkers may encounter rabbits, foxes, and mule deer, with large raptor birds flying overhead.
Father Junipero Serra Trail
Located near the La Mesa community, the Father Junipero Serra Trail can be considered one of the easiest on this list. The route is paved the entire way, making it a great place for those using wheelchairs, strollers, or bikes. The elevation of 305 ft and opportunities for leaving the road can also challenge those who want a little more.
This is a great starter route for the youngest hikers or group outings concerned with fresh air than exercise. Nature lovers can stroll through the area while enjoying the birds and wildflowers along the trail. Dogs are allowed on a leash, as the area is heavily traveled. At about 4.5 miles, the road goes out to a destination and back.
Potato Chip Rock on Mt. Woodson Trail
One of the more challenging routes on this list, the Mt. Woodson Trail is considered moderate difficulty. While part of the trail is paved, it is an 8-mile trip including the return, with around 2000 ft of elevation gain. Perhaps most importantly, there is very little shade, and the region can get very hot. This is a trail for those with experience hiking in heat through exposed areas.
Travelers will want to bring plenty of water. Also, if water supplies are half gone before the end of the trail, experts recommend that you turn back and return to the parking area. Dogs are allowed on a leash, and remember to bring hydration for them as well. Those willing to take the trip are most often driven to see Potato Chip Rock at the top of the summit.
Hit the Trails in San Diego
The city may be a thriving metropolis, but that doesn't mean outdoor lovers can't enjoy the natural world. With a bit of research, anyone can find San Diego gated communities and waterfront homes that provide easy access to one of these trails. No matter which trail you choose, it's always fun to explore nature in San Diego.
Looking for the perfect home in San Diego? Contact Beer Home Team of eXp Realty with San Diego Home Finder at (858) 465-7899 to get in touch with San Diego real estate agents who can help you find your San Diego dream home today.