8 Best Cities Close to San Diego: 2023 Suburbs Guide
Posted by Daniel Beer on Thursday, December 1, 2022 at 1:00 PM
By Daniel Beer / December 1, 2022
Comment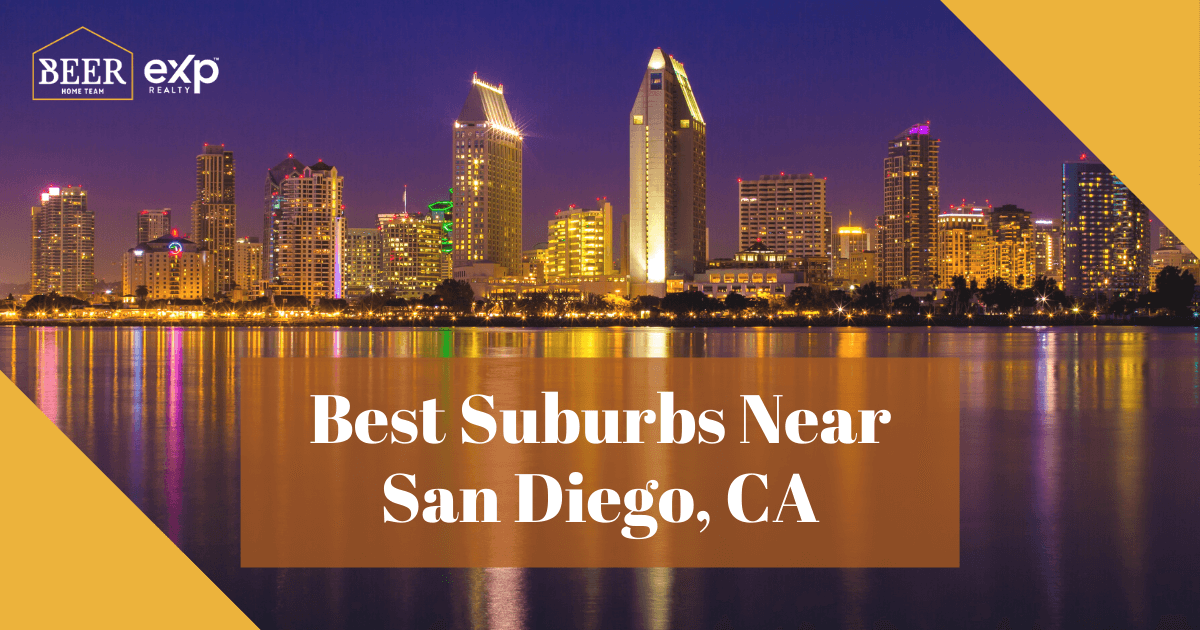 Homebuyers looking to live on the fantastic beaches of the West Coast flock to San Diego real estate. A warm climate, excellent neighborhoods, plentiful amenities like art galleries, museums, and natural gardens—what's not to love? But San Diego's waterfront homes and downtown condos aren't the only options for eager house-hunters. San Diego is surrounded by other cities, each with its own vibrant lifestyle and amenities. Keep reading to take a look at some of the best suburbs near San Diego.
Escondido
Escondido Amenities
California Center for the Arts, Escondido Campus
San Diego Children's Discovery Museum
Forgotten Barrel Winery
Reidy Creek Golf Course
Homes for sale in Escondido are about a 34-minute drive down I-15 S and CA-163 S from San Diego, with good traffic. This city is just to the north of San Diego and offers a more mountain-like atmosphere for residents. Being this close to San Diego is just a nice benefit—Escondido is full of outstanding amenities and features of its own. It's also a location with a wide range of home styles, from larger estates to single-family homes of around 1,200 square feet of living space. Homes range in price here from $650,000 up to $950,000 on average. It's a large community which means there are various neighborhoods and subdivisions throughout it.
For those living in Escondido, there are a few big attractions and amenities in the city to take advantage of. First, it's home to over 30 individual neighborhoods. The downtown area is ideal for those who are seeking shopping and dining options. A Delight of France is a delicious high-end eatery here, and Stone Brewing World Bistro is another must for those looking for good food and drinks. The San Diego Zoo Safari Park is located within a short drive, too.
Del Mar
Del Mar Amenities
Del Mar Racing
The Scream Zone
Seagrove Park
Crest Canyon Park
Del Mar Fairgrounds
Del Mar Dog Beach
Del Mar sits about 24 minutes from San Diego along I-805 S and CA 163 S. This is a true beach city right on the waterfront—many Del Mar homes have an ocean view. The area also has multiple neighborhoods near the water, with homes ranging in size from 1,400 to 3,500 square feet. Home values in Del Mar vary widely based on the age and location of the property. It's possible to find homes worth $3–5 million close to the shore with home prices around $850,000 to $1 million slightly further away.
There are plenty of reasons to buy Del Mar real estate. Beyond the breathtaking views and the sandstone canyons, there are various amenities here, including several parks and beaches. Torrey Pines State Park is located here, as is the San Dieguito River Lagoon. There's nowhere better for a good bike ride and beautiful scenery. The city has many restaurants throughout, including The Poseidon Restaurant right on the waterfront.
Poway
Poway Amenities
Old Poway Park (railroad and historical area)
Blue Sky Ecological Reserve
San Dieguito River Park
Palomar Medical Center Poway
Poway, California, is about a 30-minute drive along I-15 and CA 163 from San Diego, located just to the north of the big city. This city used to be quite rural but has seen significant development and growth over the years. It's smaller in terms of population but has much to offer those who wish to buy Poway real estate. The mountain views and rolling hills here are hard to beat, and residents can enjoy a more natural atmosphere while still remaining close enough to commute to San Diego. Poway has many ranches and Spanish-influenced structures, and home values here range from $875,000 to $2 million, with some larger homes commanding a much higher value.
This area is noted for its numerous parks, including Aubrey Park, Starridge Park, and Lake Poway itself. There are a few restaurants and shops in the area, too. That includes Bernardo Winery, a must for those who love a refreshing glass. The Carmel Mountain Ranch and the Maderas Golf Club are located nearby as well. Much of the rest of the area is residential or open green space.
San Marcos
San Marcos Amenities
Lakehouse Hotel and Golf Resource
Walnut Grove Park
Palomar College
California State University San Marcos
The city of San Marcos is a bit further away at about a 50-minute drive in good traffic along I-15 and CA 163, but it's still one of the most popular suburbs of San Diego. The city sits next to Elfin Forest Recreation Reserve, creating numerous green areas throughout the city. It's also home to a wide range of residential areas with mostly modern single-family homes and condos. At this distance from San Diego, homes for sale in San Marcos are often more affordable to San Diego homebuyers, typically ranging from $500,000 up to $790,000. There is some new development in the area as well. Neighborhoods include San Elijo Hills real estate, Twin Oaks real estate, and Grove Park real estate, among many others.
San Marcos offers a vibrant lifestyle that provides residents with fun things to do, including numerous parks such as Hollandia Park and Double Peak Park. These offer fantastic hiking and biking options. In total, the city has 63 miles of trails for biking, running, horses, and hiking to offer across 18 mini-parks and 16 larger parks. Smaller neighborhood parks dot the landscape, too. Long Route 78 is a shopping area with a Target location and the North County Square shopping center.
Encinitas
Encinitas Amenities
Vigilucci's Trattoria Italiana
Santa Fe Railroad Station
Self-Realization Fellowship gardens
San Elijo Lagoon Nature Center
Rancho Santa Fe
Encinitas is about 30 minutes from the heart of San Diego, right up the coast to the north. It is a beach city with incredible views of the water and high cliffs. It's also only about 95 miles from Los Angeles. A large community, Encinitas real estate is divided into several significant neighborhoods, including homes for sale in Old Encinitas, Olivenhain real estate, the New Encinitas neighborhood, and homes for sale in Cardiff-by-the-Sea. The area's homes range from large condos to single-family homes, and home values range widely based on the location and the views. Most homes sell anywhere from $875,000 to $2 million, with some homes priced much higher. There is limited new construction in Encinitas, but some projects may be present.
There are many vibrant areas of Encinitas that make it a desirable place to live. The San Diego Botanic Garden spans some 37 acres in the city. Swami's Beach is a desirable location, especially for those that want to sit on a bluff and watch the surfing nearby. The Moonlight State Beach offers a beach area, tennis courts, volleyball, and much more. The downtown area has many shops and restaurants to explore. The Pacific Coast Grill is perhaps one of the best in the area for its water views.
Chula Vista
Chula Vista Amenities
Bayshore Bikeway
Chula Vista Nature Center
OnStage Playhouse Theater
Salt Creek Golf Club
Mountain Hawk Park
Imperial Beach for surfing
Quite the beautiful community, Chula Vista is located just about 25 minutes from the heart of San Diego, right along I-5. The relatively short drive makes Chula Vista a popular location for commuting to San Diego. This is a large city, one of the largest in the state, and it's one of the most recognized for its vibrant lifestyle and culture. Homes for sale in Chula Vista typically sell for $680,000 up to $875,000, though it may be possible to find some condos and townhomes at a significantly lower price point.
Chula Vista has numerous parks and open spaces, especially with Mountain Hawk Park and the Otay Open Space Preserve located in the city's eastern area. Sweetwater Summit Regional Park offers biking and hiking trails. There are also many sights to see here, including the Bonita Museum and Cultural Center and Aquatica San Diego. The Living Coast Discovery Center is close to the waterfront and offers a wide range of exhibits. Much of the shopping and dining in Chula Vista happens along Route 54, and it's easy to get around since I-805 runs right through the city.
La Mesa
La Mesa Amenities
CampDads Adventure Co.
San Pasqual Winery Tasting Room and Gallery
Sharp Grossmont Hospital
Farmer's Table La Mesa
Pacific Southwest Railway Museum
La Mesa Arts Academy
Located more inland than other suburbs, La Mesa is a fantastic place to call home. It's about 19 minutes, with good traffic, to the east of San Diego, which also helps it to be one of the more sought-after locations for commuting into the city. Tucked into the area's rolling hills, La Mesa has often been called the Jewel of the Hills. It is a combination of commercial and residential neighborhoods with a dense downtown area with shops and restaurants. The homes for sale in La Mesa range from larger, modern homes to small condos and townhomes. Home prices range with this, with options from $575,000 to $790,000 on average. Some new development is possible in this area, too.
With its tree-lined streets and walkable neighborhoods, many people love the relaxing vibe of La Mesa. Yet, it is a thriving city with a wide range of amenities. The Mission Trails Regional Park – Lake Murray area is one of the best for those seeking a park for walking, biking, or horseback riding. A smaller park, called Briercrest Park, is also located in the heart of the city. The Grossmont Center is a shopping and dining center in the city with big-box stores and smaller retailers.
Oceanside
Oceanside Amenities
Oceanside Pier
Wisconsin Street Beach
Tyson Street Beach
Ocean Museum of Art
Mission San Luis Rey
Another suburb is Oceanside, which is located directly north of the San Diego coast. It takes about 43 minutes to get there along I-5. This coastal community is the third-largest city in the county, and it is home to a wide range of home styles, including numerous Spanish-influenced architecturally important buildings. Available home styles include everything from ranches to more modern estates, with custom homes being common, especially along the waterfront itself. Though some are larger homes, there are also several high-rise developments here with smaller footprints. Bungalows are also common here. Home values range from $680,000 up to $900,000, with some on-the-water homes valued significantly higher.
Oceanside real estate offers everything residents may need with a vibrant commercial center, medical facilities, and numerous schools. A true SoCal establishment with beautiful beaches, Oceanside is also popular for tourism. The New England-style harbor here sets the tone for the area. Recognized for its oceanside beaches with surfing, fishing, and whale-watching opportunities, it is a must for many.
Finding the Right Suburb Near San Diego
For those seeking out a place to call home, the San Diego metro area offers a wide range of opportunities. Many communities are ideal for those that love the outdoors, and other regions emphasize the urban lifestyle. For those who are looking for something special, exploring the San Diego suburbs is truly worthwhile.
Looking for the perfect home in San Diego? Contact Beer Home Team of eXp Realty with San Diego Home Finder at (858) 465-7899 to get in touch with San Diego real estate agents who can help you find your San Diego dream home today.