Find Spanish Style Homes in These 4 San Diego Neighborhoods
Posted by Daniel Beer on Friday, March 4, 2022 at 8:55 AM
By Daniel Beer / March 4, 2022
Comment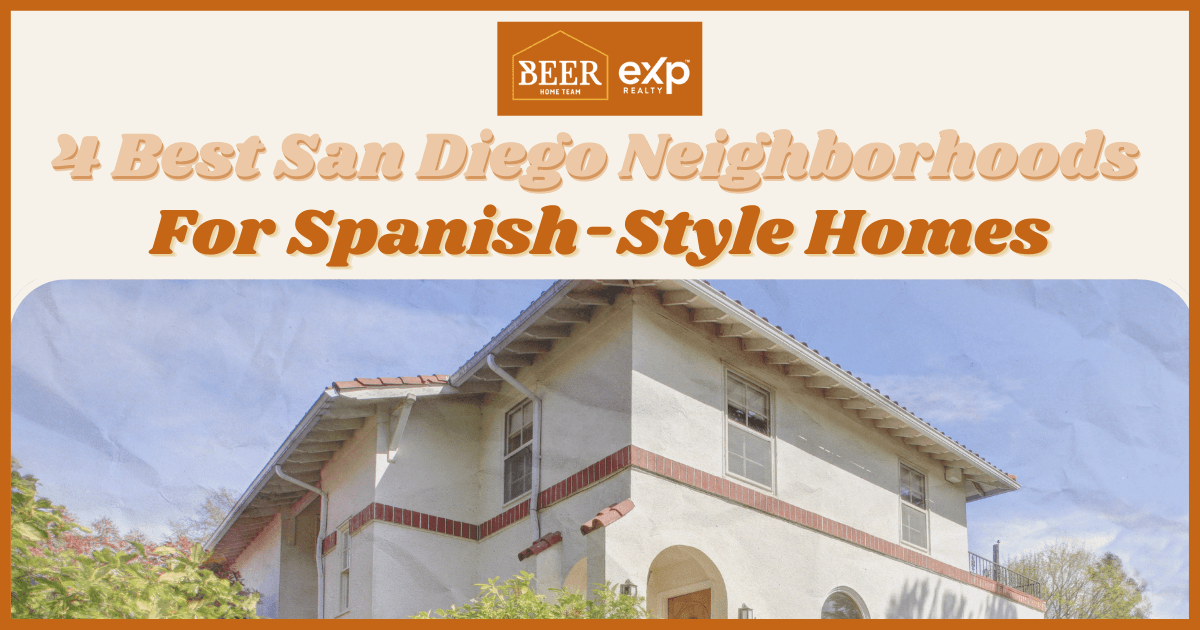 Spanish-style homes were first built in America in the early decades of the 20th century. Also referred to as Mediterranean or Hispanic, these homes borrow their Spanish-style architectural ideas from the first American settlers from Spain. Spanish-style homes are commonplace in states that were once under Spanish rule, such as California, Florida, Arizona, and New Mexico. The modern Spanish-style homes in San Diego bring together the best of old and new designs.
Most Spanish-influenced homes have a common theme: they're rustic, yet sophisticated. This is evident in their timeless style of earthy color palettes, natural materials, clean lines, and layered textures. Many homebuyers love the Spanish style because of its cozy feeling, which makes everyone feel at home. Looking for a Spanish-style home in San Diego to make your homeowning dreams come true? Keep reading to discover the best San Diego, CA neighborhoods with Spanish-style homes.
Table of Contents
Kensington
Kensington was established in 1910 by two sisters who owned the land. In 1926, it was further developed by real estate developers. Kensington homes became well known for their unique Spanish Revival style. The neighborhood is located between homes in City Heights in Central San Diego and the Normal Heights neighborhood. It is only a short drive from San Diego Bay and Downtown. Its central location and the small-town community vibe make it a great place to buy a home.
Kensington has a thriving downtown district with numerous shops, restaurants, a gym, a deli, an ice cream parlor, and much more. There are other amenities, such as a library, a playground, a nightclub, and a movie theater.
Most businesses and neighbors don't mind residents walking their dogs, and many restaurants allow pets on their patio or even have treats and water bowls for canine guests. Some of the best dog-friendly restaurants include:
Kensington Cafe
Tanuki
Del's Hideout
Cucina Sorella
The Haven Pizzeria
Working Class
What's more, Kensington is close to Ward Canyon Neighborhood Park, one of the biggest off-leash dog parks in the area.
Mission Valley
Mission Valley was established in 1769 as the first Spanish settlement in California, and it's clear that the architectural influence has stayed around. It serves as a popular entertainment and shopping center for San Diego. Many homebuyers purchase Mission Valley homes because of the ease of moving around and easily getting out of the town. Commuting by car is preferred by most residents because of the availability of many major roadways.
The West and East portions of Mission Valley are separated by State Route 163, which links to Interstate 8. The Route is served by Interstate 15, I-5, and Interstate 8. Residents also have the option to commute easily using public means. The San Diego Trolley System has several stops across the area and connects commuters to Downtown and the Blue and Orange Lines.
Thanks to the many roads and easy public commuting, residents can enjoy many of San Diego's unique attractions. Whether residents are looking for a day at the beach, a fantastic night out, or a way to explore the breathtaking geography, Mission Valley is just 15 to 20 minutes from most of everything anyone would want. It is only a 15-minute drive away from the iconic Gaslamp Quarter neighborhood, SeaWorld San Diego, and the San Diego Zoo. Outdoor enthusiasts can go hiking in Mission Trails Regional Park or play golf in the Riverwalk Golf Club.
Santaluz
Golf enthusiasts will love living in the Tuscany-inspired and Spanish-Colonial-influenced homes in Santaluz. Residents have easy access to the Santaluz Club, designed by Rees Jones, a designer who has won several awards for golf course designs throughout the nation. Thanks to this club, there are several recreational amenities inside this gated community. For instance, residents can visit the spa within the Santaluz Club for massages and numerous treatments or enjoy the lounge and the fantastic relaxing water features. Other outstanding restaurants in the community include the Vineyard Room, Bisto at Santaluz, and the Clubhouse Dining Room.
Santaluz is strategically located. It is close to several cities near San Diego, but it remains within the city limits. It is within a commuting distance of less than an hour to the Downtown San Diego neighborhood. Thus residents have access to most jobs within the area.
Santaluz is always bustling with fun activities. Residents enjoy the Summer Celebration and Fireworks Spectacular, Fall Harvest Festival, and Spring Fling & Dash on the Grass. There are several summer concerts and regular movie nights. The residents hold "Bagels and Brew" events that aim at helping the current residents to welcome the new ones.
Everything residents would want is around the corner. With proximity to the 4S Ranch Village Center in the 4S Ranch community, residents can access a dentist's office, yoga studio, pilates studio, etc. Sans grocery stores are also nearby.
La Jolla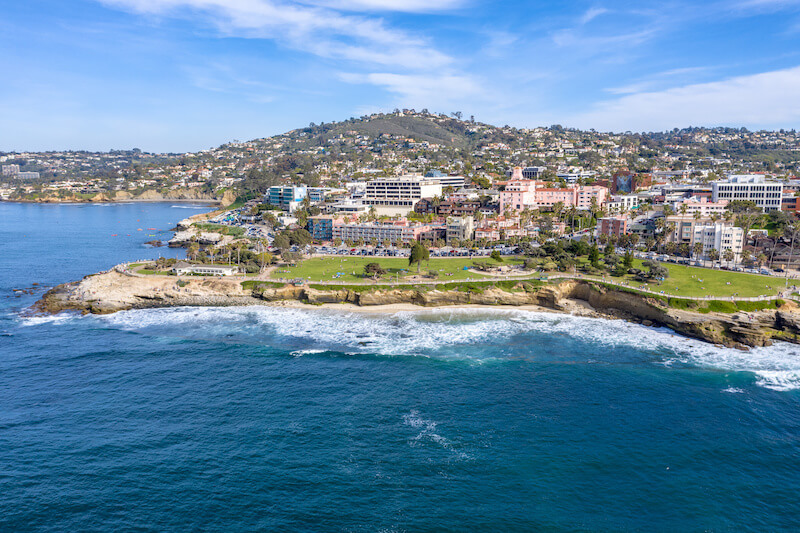 About 35.1 million people visit La Jolla annually, and it is ranked as a top U.S. travel destination. Buying a Spanish-style home in La Jolla could be a dream come true for many people because of the many attractions the neighborhood boasts. Also referred to as "the jewel" of San Diego, La Jolla is surrounded by the sea on three sides and backed up by the slopes of Mt. Soledad. It is indeed a paradise with a dramatic coastline, incredible views, and abundant activities!
Residents and tourists alike get to enjoy the well-groomed hiking trails and marvel at the spectacular views. Golf enthusiasts can play at the prominent Torrey Pines Golf Course, one of the best golf courses in San Diego. There's no end to the fun activities anyone can indulge in at La Jolla. Residents can visit the Torrey Pines Gliderport to soar over the beach cliffs or relax and watch the fantastic scenery and the action from above. Other attractions are nearby, such as the Museum of Contemporary Art and La Jolla Playhouse.
There is never a dull moment living in La Jolla. In addition to plenty of nature and fun activities to do, residents enjoy summer weather all year. Living in a Spanish-style home in this neighborhood is a plus because the white house color and thick walls insulate the home from the heat of California summers. It is also strategically located, which means a short drive to popular destinations such as Petco Park, The San Diego Zoo and Safari Park, and Balboa Park.
Living in Neighborhoods With Spanish-Style Homes in San Diego, CA
Living in a neighborhood in San Diego, CA, with many Spanish-influenced homes comes with many advantages, such as beautiful house designs and proximity to local attractions. If you're already planning on how to decorate your new Spanish-style home—or just want to bring the look and feel into your current interior design—take a look at homes in these great neighborhoods and gather inspiration.