4 San Diego Neighborhoods With Stunning Modern Style Homes
Posted by Daniel Beer on Tuesday, March 22, 2022 at 3:47 PM
By Daniel Beer / March 22, 2022
Comment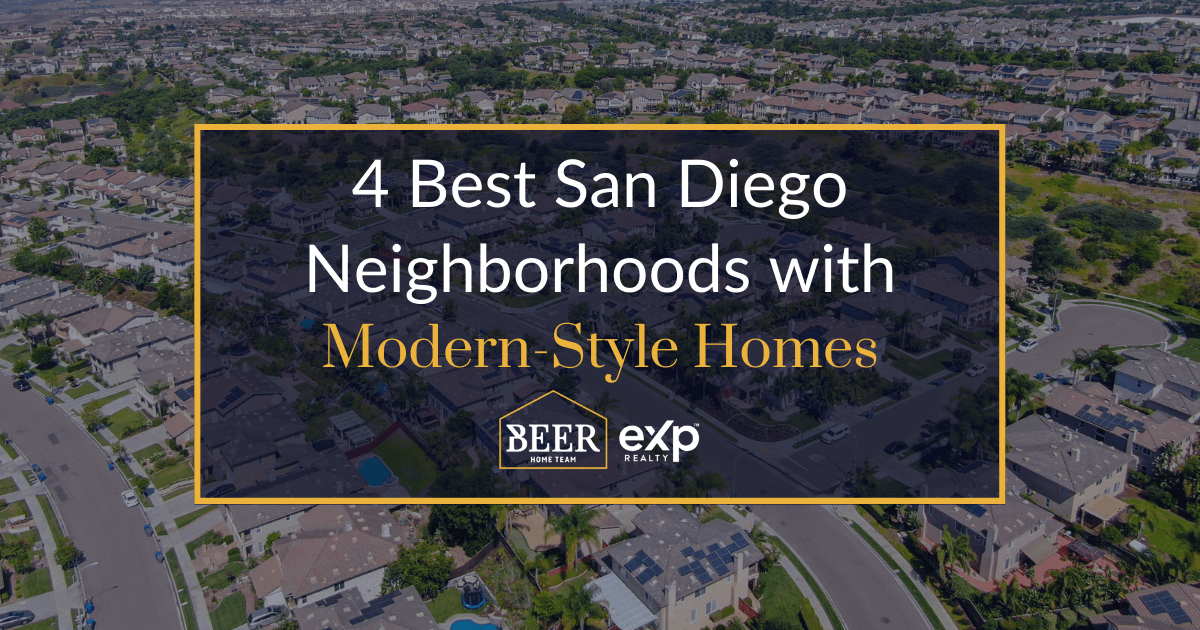 Modern-style homes are unique in their architectural structure from most other styles. The modern style features a lot of exposed metal, concrete, glass, wood, and stone. The homes are designed with simple lines to allow the structure to speak for itself and require minimal interior decorating. The uniqueness of a modern home is part of its appeal. Read on to discover four iconic neighborhoods in San Diego where buyers can find amazing modern homes for sale.
Mission Beach
Mission Beach is an iconic peninsula neighborhood in San Diego and one of the city's most sought-after real estate locations. Because it's a peninsula, homes on both sides of the community have a good chance of having waterfront views. While several condos and apartment buildings are near this oceanfront piece of land, buyers can also find luxury homes in the modern style.
Mission Beach is best known for the beach itself, a popular destination for surfers and sunbathers. The beach is less than a five-minute walk from virtually any property in the neighborhood. There are nearby beach volleyball and basketball courts and a world-famous beachside fitness center. Mission Beach also features some iconic bars for local nightlife, including The Beachcomber, The Sandbar Sports Grill, and the Wave House.
Luxury modern-style homes in Mission Beach are likely to have water views, no matter which part of the peninsula they were built on. These homes generally range in price from $1.6 million on the lower end to larger five-bedroom, five-bath homes up to $8 million.
Little Italy
Little Italy is one of the most popular downtown destinations in the city of San Diego. While buyers won't find any modern-style houses for sale in this neighborhood, many modern condos exist.
The allure of condo living keeps residents close to all lifestyle activities in a bustling area like the Little Italy community. West-facing condos can feature stunning views of North San Diego Bay, and east-facing units can see Balboa Park and the San Diego Zoo in the distance (provided they are upper units in high-rise condos).
Little Italy is bustling with year-round activities for residents. For example, there's a farmer's market in the neighborhood every Saturday. Annual events include the Little Italy Carnevale, the Sicilian Festival, the Taste of Little Italy restaurant walking tour, and a yearly Stickball Tournament during Labor Day weekend. Little Italy also features a bustling nightlife, many popular clubs and bars, unique downtown shops and boutiques, and several parks.
Purchasing a condo unit in a modern-style building in Little Italy typically starts in the $200,000 range, although these units are likely to be on lower floors. Luxury condos with spectacular views can usually sell for up to $1.2 million.
Gaslamp Quarter
The Gaslamp Quarter neighborhood is considered "The Heart of downtown San Diego," but locals refer to it as "the Gaslamp." This neighborhood also features many high-end condos designed with the minimalism of the modern style. This exciting community is one of the best places in the city to catch a rooftop concert or sample dozens of types of international cuisine in its many restaurants.
Gaslamp Quarter is just south of Little Italy, and it's another neighborhood that features a bustling nightlife. The Historic District has 94 historic structures, many of which were built in the Victorian era. Annual events that draw huge crowds to the neighborhood include ShamROCK (for St. Patrick's Day) and Mardi Gras in the Gaslamp. After the area was redeveloped in the 1980s, it now features many eclectic shops and boutiques, concert venues, and art galleries.
Most of the condos in the Gaslamp Quarter feature stunning nighttime views of the city. A modern-style condo on the lower end can usually sell for around $300,000. Buyers can purchase luxury Gaslamp Quarter condos for approximately $800,000.
East Village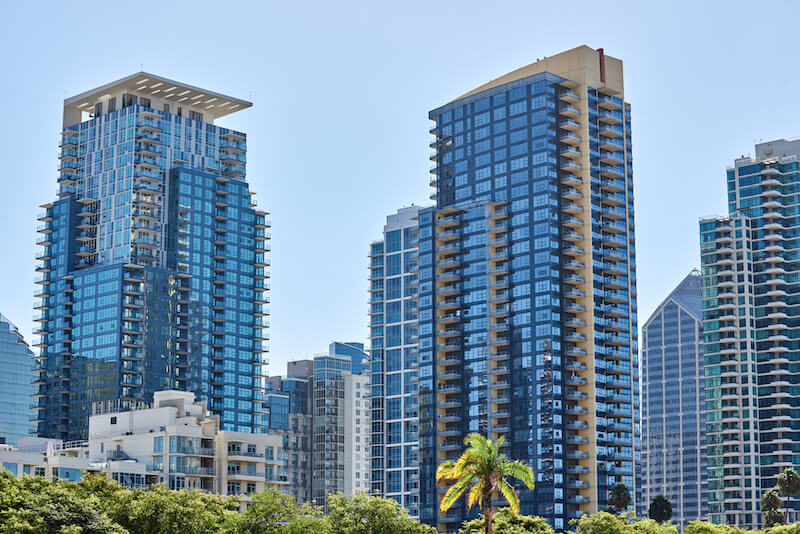 East Village is another iconic downtown San Diego neighborhood. The Gaslamp Quarter borders East Village on the west, and Interstate 5 forms the community's east boundary. East Village is the single largest neighborhood in downtown San Diego, encompassing more than 130 blocks. It features many gorgeous condo buildings that were constructed in the modern style.
Sports fans living in the East Village community have close access to Petco Park, the home field of the San Diego Padres baseball team. East Village is also home to the Harbor Drive Pedestrian Bridge, the San Diego Central Library, San Diego City College, the Fashion Institute of Design and Merchandising, and the NewSchool of Architecture and Design. The neighborhood also has dozens of quirky restaurants and a busy nightlife with bars, pubs, and nightclubs.
The median list price for a modern-style condo apartment in East Village is around $700,000, while a luxury condo can sell for more than $1.3 million.
Many Modern-Style Homes & Condos Await in San Diego
San Diego is a fantastic city to live and work in due to the beautiful year-round climate and access to the Pacific Ocean. The city has seen so much redevelopment and urban renewal since the 1980s that much of it feels "new" — and it is. It's not unusual to find a modern-style home or condo built less than 20 years ago. Buyers will have peace of mind that their investment in a modern luxury property will last for many years to come.