San Diego Luxury Waterfront Tips: 4 Ways To Get the Best Bang for Your Buck
Posted by Daniel Beer on Monday, December 20, 2021 at 6:06 AM
By Daniel Beer / December 20, 2021
Comment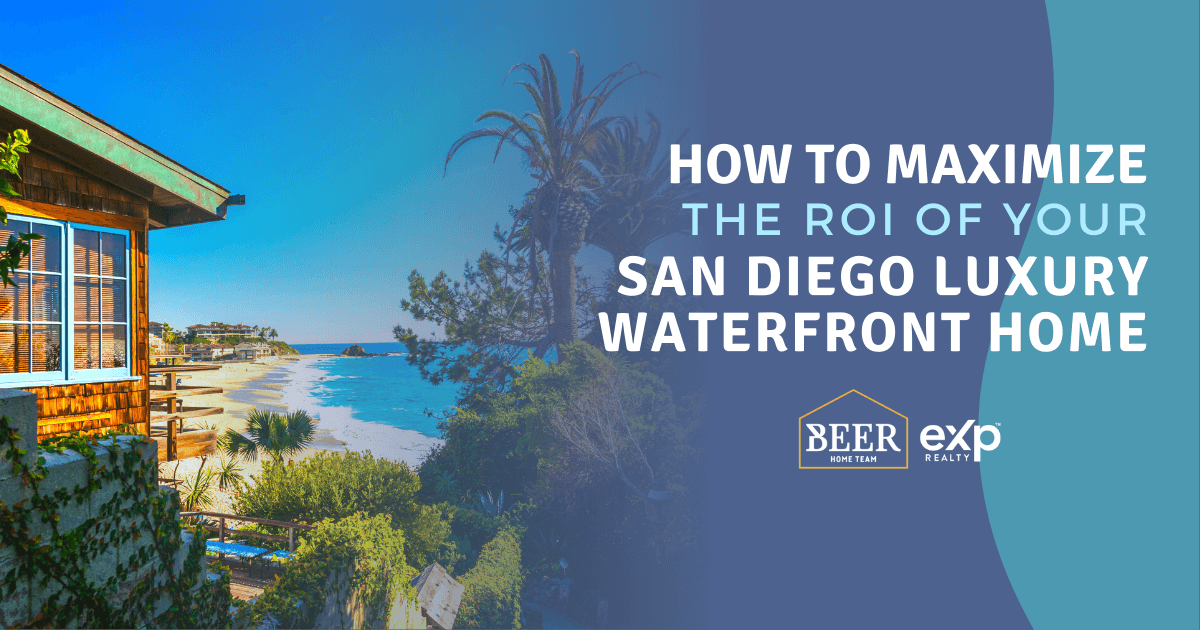 Imagine this: opening a window to hear the gentle Pacific Coast waves as they roll peacefully upon the shore. The radiant sunset paints a vibrant sky that stretches into the endless western horizon. It's a typical end to a day for people who own waterfront homes in San Diego.
Whether it be next to the Pacific Ocean, San Diego Bay, or Mission Bay, a luxury waterfront home in San Diego County offers a uniquely serene experience with some of the best weather on the planet.
But how can you ensure that your home on the coast is a value-buy and blossoms as a prime investment opportunity? Keep reading to learn about four ways to get the best bang for your buck when buying a San Diego luxury waterfront home.
Build a Private Dock or Boat Slip
Whether this home will be a primary residence, a rental property, or a seasonal getaway, a key goal with any property is to ensure that a purchase grows in worth over time. A private dock or boat slip is a desired facet of any coastal property and immediately boosts its value.
However, a private dock or boat slip benefits the home in terms of equity, but it provides year-round savings.
Additional benefits of a private dock include:
There aren't any marina fees
Owners are exempt from purchasing a fishing license
There is a free place to swim at all times
Building a private dock or boat slip is also purchasing security. Having a boat safely attached to a dock reduces the possibility of someone trying to vandalize or steal it. Owners can also glance out the window to ensure that boats and other nautical assets are safe and secure.
Lastly, there's one priceless benefit to having a private dock or boat slip: convenience. Whenever a homeowner wants to enjoy either boats or the dock, it's just a short walk away and always open.
Ensure Deeded Beach & Water Access
When purchasing waterfront property, the buyers may not own the public beach or the water itself. In this case, beach/water access must be included in the home deed when making the purchase.
Deeded beach or water rights include the ability to freely access the beach through a specified pathway to the pertinent beach or body of water, regardless of who owns it. The homeowner's access is protected and guaranteed.
Not only may this be vital to thoroughly enjoying a beachfront home and all of its offerings, but it's often an essential component of what makes a waterfront property a desired investment.
Design an Outdoor Living Space
San Diego's warm and pleasant climate is one of the area's greatest assets. Twelve months a year, it's possible to sit outside in a tee-shirt under blue skies. If most time is spent indoors, it would be more challenging to enjoy the beauty of San Diego's weather.
One possibility is to design a luxurious waterfront lounge in San Diego. By bringing some of the indoor elements outside, there are more opportunities for spending time in the sunshine.
The design options are endless, but some include an outdoor fireplace, a dining room, an area for games such as billiards or ping-pong, a reading space, and outdoor showers. Screen in a portion of the outdoor living space, add fencing and natural landscaping for privacy, and customize the design with mood lighting and accessories of a particular color scheme.
In addition to being a superb opportunity to enjoy further and personalize any luxury waterfront home, an outdoor living space increases overall property values.
Purchase in One of San Diego's Top Waterfront Communities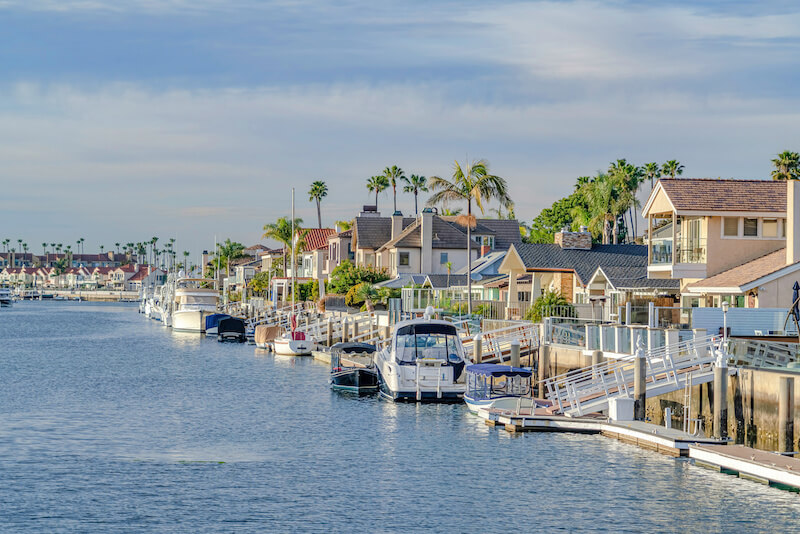 There are three crucial standards in real estate: location, location, location. San Diego has many reasons to seek a coastal home. Still, specific waterfront communities within the greater San Diego area offer a greater return on investment and more attractions than others.
Marina District condos and homes on Coronado offer serene coastal living and construction styles that maximize water views while being a relatively short distance from the vibrant offerings of city life. From exquisite culinary options to art, culture, recreational activities, and shopping, living near the Downtown San Diego area presents an energetic change of scene, allowing homeowners to step away from a tranquil luxury residence into an exciting world of entertainment opportunities.
San Diego Waterfront Homes: An Investment Beyond Measure
A luxury waterfront home in the greater San Diego area is a dream purchase. Residents enjoy year-round sunshine near beautiful beaches and a beloved city. Owners can expect to experience effortless demand from prospective short- and long-term tenants as a rental property. As an investment, the highly desirable real estate will be poised to grow in value for years to come.
Whatever your reason for owning, waterfront home in San Diego is a priceless property in a jewel region of the country.