Best Parks in San Diego: 5 San Diego Playgrounds & Parks Locals Love
Posted by Daniel Beer on Monday, January 24, 2022 at 9:50 AM
By Daniel Beer / January 24, 2022
Comment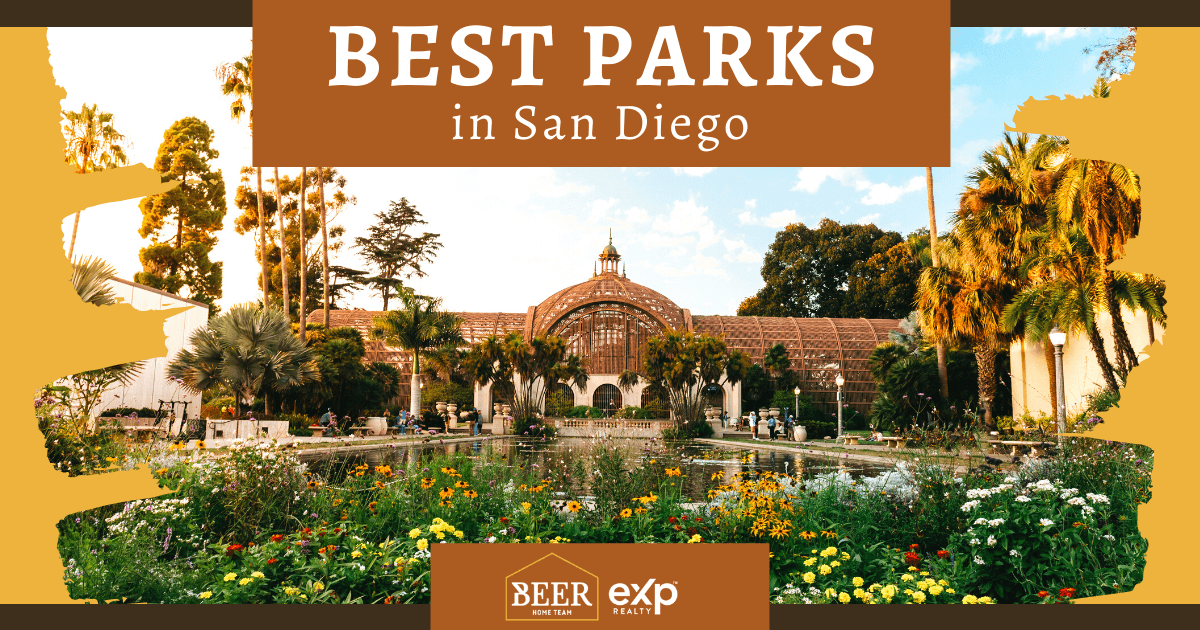 Besides fantastic all-year-round weather, miles of pristine beaches, incredibly breathtaking sunsets, and excellent craft beer, the city of San Diego is home to some of the most beautiful parks in the country. Whether you're looking to reconnect with nature, take your dog on a leash-free adventure, or things to do with kids, San Diego has just the park to suit the purpose. Looking to try out one? Keep reading to learn about all of the best parks in San Diego.
Balboa Park
Balboa Park Amenities
Museums
Lily Pond
Japanese Friendship Garden
Casa de Balboa
Moreton Bay Fig Tree
Activity Center
Plaza de Panama Fountain
Whether you're a history buff, a nature lover, or a new San Diego resident looking to learn about the culture of this beautiful city, Balboa Park has something for you. Located within view of Downtown San Diego condos, the urban park has 17 museums, each showcasing exhibits unique to a particular industry, such as auto, photography, railroad, art, science, and even air and space. It is also home to the world-famous San Diego Zoo, featuring multiple art performance venues and stunning botanical displays, such as the breathtaking Japanese Friendship Garden.
Balboa Park also boasts an activity center with table tennis, badminton, and volleyball courts, a separate golfing complex, and up to five playgrounds. The Morley Field Dog Park in Balboa Park will make an excellent escape for those with a furry best friend. Simply put, a visit or two isn't enough to exhaust what this diverse 1,200-acre park has to offer. Luckily, it opens 24 hours, has nearly endless restaurants and eating spots, and plenty of excellent places to stay near the park. Limited explorer passes offer admission to four museums and cost $56 for adults and $35 for kids ages 3 to 12.
Parkwide passes offer free admission to participating museums and other attractions for about seven days. The park also offers specialized tickets for those interested in specific attractions.
Mission Bay Park
Mission Bay Park Amenities
Boat docks
Sailboat rentals
Biking and walking paths
Basketball courts
Playgrounds
Mission Bay Park on 2688 East Mission Bay Drive is a dreamy oasis for those looking to find water recreation in San Diego. Spanning over 4,325 acres of land and water, it is one of the largest aquatic parks in the San Diego area. It boasts about 27 miles of shoreline, 19 of which feature breathtaking sandy beaches perfect for within city-limits relaxation.
Mission Bay Park has eight official swimming areas and has water vessels, boat docks, multiple launching facilities, and even boat rentals. There are well-paved cycling and strolling paths along the beach, and visitors also regularly engage in water sports activities such as water skiing, kitesurfing, and kayaking. The Mission Beach area is also home to the famous Seaworld San Diego, which is home to an extensive array of marine species, including dolphins, sharks, ever-adorable otters, and even orcas.
Mission Bay Park opens from sunrise to 10:00 p.m. every day and is easily accessible via Metro N Judah and T-Line bus lines.
Waterfront Park
Waterfront Park Amenities
Playgrounds
Fountains
Splash Park
Dog park
Pickleball courts
If you're looking to make some splash, Waterfront Park guarantees fun. The park boasts an extensive row of stunning reflective pools with interactive fountains, a futuristic playground with splash pad water features equally futuristic playground equipment, and nearly endless fun attractions for both adults and kids. There's a large grassy area perfect for picnics and simple outdoor relaxation, numerous walkways with resting benches, and multiple garden areas throughout its limits.
Thanks to its location, Waterfront Park offers terrific, unobstructed ocean views all around and has colorful sculptures perfect for photos scattered throughout. It opens from 6:00 a.m. to 10:00 p.m. every day, while its reflecting pools often open from 10:30 a.m. to 7:00 p.m. except on Monday when they're open between 12:00 p.m. to 10:00 p.m.
Visitors should review the park website for ticket information and regulations.
Sunset Cliffs Natural Park is unique and also one of the best parks in San Diego. It's essentially a coastal park with expansive ocean views and one of the best spots to enjoy the Californian sunset. The park sits on 68-acres and is divided into two sub-parks, a narrow eighteen-acre section known as Linear Park featuring several promontories, and a larger, 50-acre section known as Hillside Park. There are, walking trails and plenty of paths throughout the park where visitors can walk, jog, hike, or sit and enjoy the magnificent sunset. Surfing is also quite popular here, but biking, camping, and walking unleashed dogs are restricted in the park. Sunset Cliffs Natural Park is often open 24 hours and is also free to access for the public.
Mission Trails Regional Park
Mission Trails Regional Park Amenities
Visitor center
Hiking trails
Guided nature hikes
Kumeyaay Lake
San Diego's Mission Trails Regional Park is the best place to go when you need to reconnect with nature. It has over 40 miles of natural trails characterized by rugged canyons, hills, and other natural formations perfect for hiking, biking, and even horse-riding. If you choose to tag your equine friend along, the Equestrian Staging Area is a must-visit. The park also boasts two lakes and is home to Cowles Mountain, claiming San Diego's highest geographical point thanks to its 1592ft. high summit. Rock-climbing this summit will undoubtedly be thrilling for those looking to enjoy an adrenaline rush. Mission Trails Regional Park also features a visitor and interpretive center with state-of-the-art exhibits showcasing the park's history, flora, fauna, and significant geological formations. It opens every day from 8:00 a.m. to dusk and offers a range of guided nature walks, camping amenities, and events throughout the year.
Cabrillo National Monument
Cabrillo National Monument Amenities
Visitor center
Museums
Old Point Loma Lighthouse
Located south of the Point Loma Peninsula, the Cabrillo National Monument is a historical site set up to commemorate the first-ever Europeans to land on America's west coast. Thanks to its location, the park offers expansive vistas of San Diego's harbor and skyline, and on clear days, the Pacific Ocean and Mexico's famous Coronado Islands. The site became an official Californian landmark in 1932. Besides, the national monument features an array of military installations set up to protect San Diego's harbors from enemies in the early years, such as the coastal artillery. There's also a visitor center where one can learn about the history of the park and purchase souvenirs.
The park hosts numerous events throughout the year, including the famous annual Cabrillo Festival. While it's essentially a historical park, the Cabrillo National Monument is also home to a range of flora and fauna, such as the array of different algae species found in the tide pools. Access to the park is free to all, and it opens from 9:00 a.m. to 5:00 p.m. every day throughout the year, but the tide pool area often closes at 4:30 p.m.
Explore San Diego's Best Parks
For such a vibrant urban area, San Diego certainly doesn't lack an exciting array of things to do outdoors in San Diego. Despite being one of the largest cities in California and the country, the city's location by the Pacific coast means it's endowed with an abundance of natural parks that feature something for everyone to enjoy.