San Diego, California's 10 Best Neighborhoods
Posted by Daniel Beer on Tuesday, December 27, 2022 at 6:03 AM
By Daniel Beer / December 27, 2022
Comment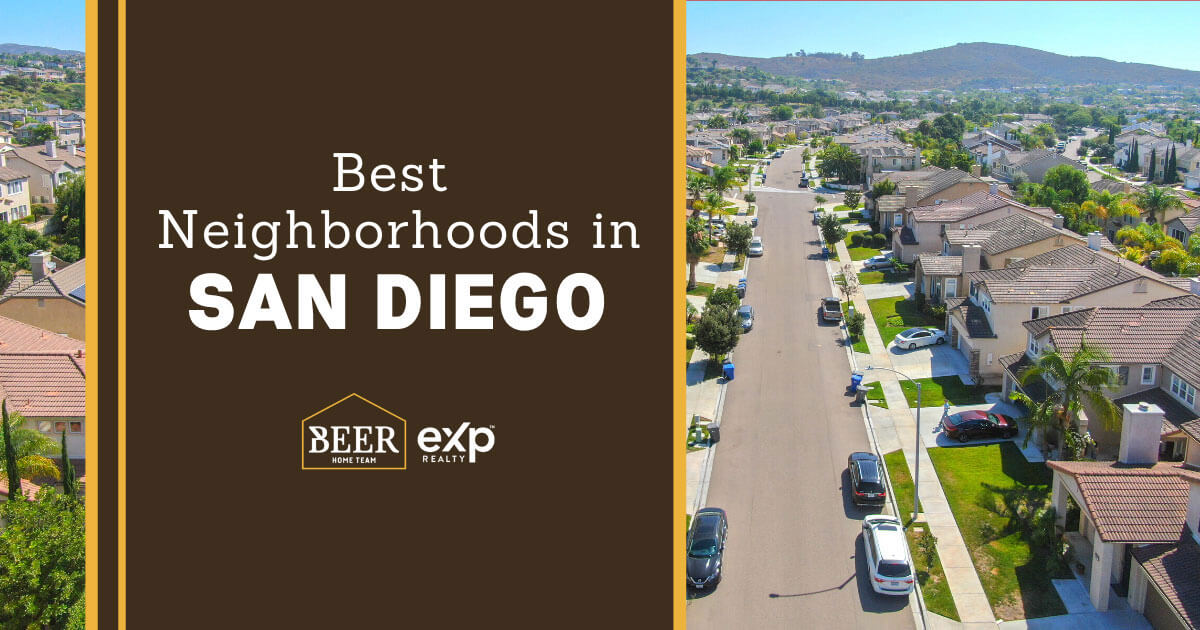 The city of San Diego is on the coast of southwest California, just north of Mexico. It has a population of about 1.5 million people and is the county seat of San Diego County. The city lies on about 200 deep canyons and hills separating the mesas upon which San Diegans traditionally have built their homes and businesses, and the San Diego River bisects the city east to west. Originally, San Diego was centered on the Old Town District; however, in the mid-1800s, development shifted to the bayfront. Today, the bayfront is the centerpiece of America's Finest City.
This sunny coastal community has a wealth of excellent places to call home. Read on to discover some of the most popular neighborhoods in San Diego, California.
La Jolla
The La Jolla community is surrounded on three sides by the sea and is bounded on the fourth by Mt. Soledad. It offers a spectacular coastline and beautiful beaches and is nicknamed the "jewel of San Diego." The I-5 freeway is the main route in and out of La Jolla; the south exit is at La Jolla Village Drive, and the north exit is at La Jolla Parkway. La Jolla is about 20 minutes from San Diego International Airport.
The price of homes in La Jolla is generally between the upper $300,000s and well over $1 million. The community includes townhomes, estate homes, waterfront homes, and homes in a gated community.
A popular bistro is Café La Rue, a European-style brasserie in the La Valencia Hotel. The Med features waterfront dining and Californian coastal cuisine. The Westfield UTC is a popular shopping and entertainment spot. It features more than 200 shops, restaurants, and entertainment venues, including its anchor stores Nordstrom and Macy's. The Conrad Prebys Performing Arts Center has four performing arts and activity spaces.
Torrey Pines
Torrey Pines is a coastal community of around 7,800 people in the northern end of the city. Its boundaries are I-5 on the east, the Del Mar community and the Pacific Ocean to the west, the Solana Beach community to the north, and University City and La Jolla to the south. It's incredibly picturesque, with lagoons, bluffs, canyons, trees, and wetlands. It encompasses about 2,600 acres, one-quarter of which is designated for residential development. The Sorrento Valley, an industrial area, is in the southern part of the community. The Downtown neighborhood and the airport are about a 20-minute drive away.
The community offers many luxury waterfront homes, including some on the bluffs that provide outstanding ocean views. It also offers historic homes from the 1920s, condos, and new construction homes in Mediterranean and contemporary styles. The median home price is about $1 million.
Popular restaurants in Torrey Pines include El Pescador Fish Market, a moderately priced seafood restaurant; Café Milano, an Italian eatery; and the Taco Stand.
Carmel Valley
Carmel Valley Amenities
Carmel Valley Recreation Center, which features a pool, athletic field, tennis courts, and a gymnasium
Trails and parks surrounding the neighborhood, including Los Penasquitos Canyon Trail and Del Mar Mesa
Highlands Ranch Pump Track
Local events and activities
An array of shopping and dining opportunities
The Carmel Valley planned community is in the northern corner of the city, adjacent to I-5. The land was once part of the Rancho Santa Maria de Los Peñasquitos. Later, in the 1900s, the Carmelite Sisters of Mercy founded a monastery and dairy farm in the area, and Carmel Valley and Carmel Mountain were named after them. Later, in a master plan, the area was named North City West. It officially became part of the city in 1975, and major development began in 1983 when the area once again was known as Carmel Valley.
The median price of homes in Carmel Valley is about $900,000, though home values can easily reach multiple millions of dollars. Most of the homes were built in the 1980s and 1990s, although some have been built since 2000, and are typically large single-family detached homes with four or five bedrooms.
In addition to providing an excellent residential lifestyle, Carmel Valley features a prosperous assortment of hotels and eateries and supports a well-rounded commercial district. While large homes and impressive recreational facilities make this neighborhood a practical place to live, the enthusiasm of an already fantastic community constantly working to evolve and improve inspires a connected, positive way of life.
Residents can find essentials along Carmel Mountain Road, at Piazza Carmel Shopping Center, and at Del Mar Highlands Town Center. At the intersection of Del Mar Heights Road and El Camino Real, One Paseo has restaurants, salons, and trendy boutiques. Examples of these boutiques are Serena and Lily, a home store, Roark, which sells men's adventure apparel and gear, and West of Camden, which focuses on artist-driven men and women's clothing.
Hillcrest
Hillcrest Amenities
Large farmers market on Sundays
A variety of annual festivals, including Cityfest and Mardi Gras
Borders Balboa Park, a hub for recreation, culture, and community gatherings
Variety of housing styles
The Hillcrest neighborhood is northwest of Balboa Park and south of the Mission Valley neighborhood. It's an older neighborhood that has a high population density relative to many San Diego neighborhoods. It's highly walkable, but most residents use a car to get to work.
The community has a variety of housing types, including Craftsman homes and Mid-Century condo buildings. Most houses were built in the 1970s to the 1990s; some were built in the 1940s to 1960s. Home prices range from the $300,000s up past $1 million.
University Avenue leads into the neighborhood's village, designated by an iconic neon "Hillcrest" sign. At University's intersection with Fifth Avenue are a number of other shops and eateries. The neighborhood also has various places to enjoy San Diego's nightlife. One local hangout is Urban Mo's Bar and Grill, which has popular burgers, cocktails, and a dance floor. The Alibi club is another hotspot.
Del Mar Mesa
Del Mar Mesa Amenities
Los Penasquitos Canyon Preserve
The Fairmont Grand Resort, which features an 18-hole golf course and four heated pools
Walking and horseback riding trails
Accessible to Interstate 5 and Route 56
Del Mar Mesa is a semi-rural 2,000-plus-acre community located east of Carmel Valley and north of Los Peñasquitos Canyon, about four miles from the coast. The neighborhood's development remains consistent with its agricultural history, and the community still includes parts of eucalyptus groves that were planted around the farmsteads in the late 1800s. Farming continued in portions of the mesa until the 1980s. Today, Del Mar Mesa presents many opportunities for equestrian activities, including horse boarding and equestrian trails.
Homes are typically large, ranging from about 3,800 square feet to more than 15,000 square feet, and are on large lots. Home prices range from about $2.2 million to more than $16 million.
One popular local establishment is Addison, a Michelin 5-star fine dining restaurant. Another is the Amaya restaurant, which is at the Fairmont Grand Del Mar Resort.
Mission Hills
Mission Hills Amenities
Two historic districts: Fort Stockton Line and Mission Hills
Canyons with hiking trails
Parks, including Pioneer Park and Mission Hills Park
14,000-square-foot library
The Mission Hills neighborhood is located on the hills overlooking Old Town and the San Diego Bay, just north of Downtown, west of Hillcrest, and south of the San Diego River valley. It's one of San Diego's most historic neighborhoods. The oldest parts of the neighborhood were subdivided according to a 1908 plan, and most homes are from the 1908-1930 period. Modern homes were built along the canyon rims in the 1950s and 1960s. Mission Hills is classified as an urban neighborhood based on its density.
Home prices mostly start in the $600,000s and top off around $3 million, and homes are primarily medium-sized, with three or four bedrooms.
The area is primarily residential, but Mission Hills does have a business district with shops, pubs, and services. Mission Hills Plaza anchors everyday shopping needs, surrounded by restaurants such as Farmer's Bottega and Fort Oak's fine dining and bars like The Lamplighter karaoke bar.
With historic and architecturally-diverse buildings that bring back the individuality and charm of the suburban lifestyle, Mission Hills features the thriving commercial and residential areas that make any smaller town an ideal place to live. Nestled in a beautiful canyon landscape, this neighborhood manages to be quiet and community-oriented while still in conveniently close proximity to the many attractions, museums, and cultural events of downtown San Diego.
Point Loma
Point Loma Amenities
Great views
Variety of home types and price points
Parks, including Liberty Station Park
Protected tide pools with marine life
The Point Loma neighborhood is west of downtown on a peninsula between the Pacific Ocean and San Diego Bay. The first European expedition landed on Point Loma in 1542, and the first European settlement began in 1769. The La Playa Trail, some of which is traced by today's Rosecrans Street, was the oldest European trail on the West Coast. Point Loma also has a rich military history. The Army set up artillery batteries in the mid to late 1800s. The U.S. Navy first established itself there in 1901 with a Navy Coaling Station. The Marine Corps Recruit Depot and San Diego Naval Training Center were commissioned in the early 1920s.
The neighborhood features grand luxury homes with views of the Pacific, the city, and San Diego Bay, although various housing types are available, including condominium developments. Home prices vary significantly depending upon the precise location within the community.
Point Loma has a variety of restaurants and shopping opportunities. Seafood restaurants such as Mitch's Seafood are prevalent. A popular concert venue, Pechanga Arena, also is located in the community. Liberty Station provides a variety of shops.
Pacific Beach
Pacific Beach Amenities
Beachfront
OceanWalk, a boardwalk connecting Pacific and Mission Beaches
Kate Sessions Park
Tourmaline Surf Park
The Pacific Beach beachfront community is nestled between the Mission Beach community and La Jolla, and community life centers around its eponymous beach. The community was first settled when Ora Hubbell began clearing the grain fields and pitched a tent on the land in the late 1880s, soon afterward building a racetrack and college with a small group of investors. By 1902, a railway connected Pacific Beach to La Jolla. Today, the neighborhood is considered urban because of its population density but still offers a beautiful beachside respite and plenty of San Diego's popular outdoor activities.
The real estate price usually ranges between the $300,000s and reaches past $3 million. Houses are small- to medium-sized, and there are a variety of housing types, including high-rises.
Mission Ave and Garnet are the main road arteries and the site of most of Pacific Beach's restaurants and shopping. The Fat Fish Cantinagrill, a Mexican restaurant, is one example. Closet Signature and Buffalo Exchange are vintage boutiques. Vons and Trader Joe's are popular grocery stores.
San Elijo Hills
San Elijo Hills Amenities
Questhaven Park
San Elijo Park
Garden Trail
The San Elijo Hills master-planned community provides a delightful small-town atmosphere while enjoying convenient access to everything that San Diego has to offer. Focused on providing a friendly environment, San Elijo Hills boasts a 19-acre community park with a soccer field, two baseball fields and plenty of areas to play and have picnics. San Elijo Hills features its own elementary and junior high schools; high school students are able to attend San Marcos High School which is located nearby.
Del Sur
Del Sur Amenities
Black Mountain Open Space Park
4S Ranch Sports Park
The Santaluz Club
This pristine development was designed to celebrate and facilitate a strong sense of community for all of its residents. Positioned next to Black Mountain Open Space Park and preserving over 1,000 acres of coastal green space, the Del Sur community sprawls over 4,600 acres and provides over 18 miles of walking and biking trails as well as 13 community parks. This private community was developed with green construction methods, embracing alternative energy resources to conserve electricity and water and help ensure a vibrant, healthy community that will last for generations.
Soak In the Sunshine in San Diego
San Diego has one of the best climates in the United States, according to the Farmer's Almanac. From many places in the city, residents can enjoy the nice weather with a view of the Pacific Ocean or San Diego Bay.
The wide array of excellent neighborhoods offers potential residents a variety of choices, from historic urban homes to San Diego waterfront estates to Downtown high-rise condos. They also offer lifestyle choices from urban to suburban to semi-rural. Recreational opportunities, culture, shopping, nightlife, and other things to do abound for those who move to San Diego.