8 Best Neighborhoods Near Naval Base Point Loma: Find Off-Base Housing Near Point Loma
Posted by Daniel Beer on Tuesday, November 1, 2022 at 12:25:50 PM
By Daniel Beer / November 1, 2022
Comment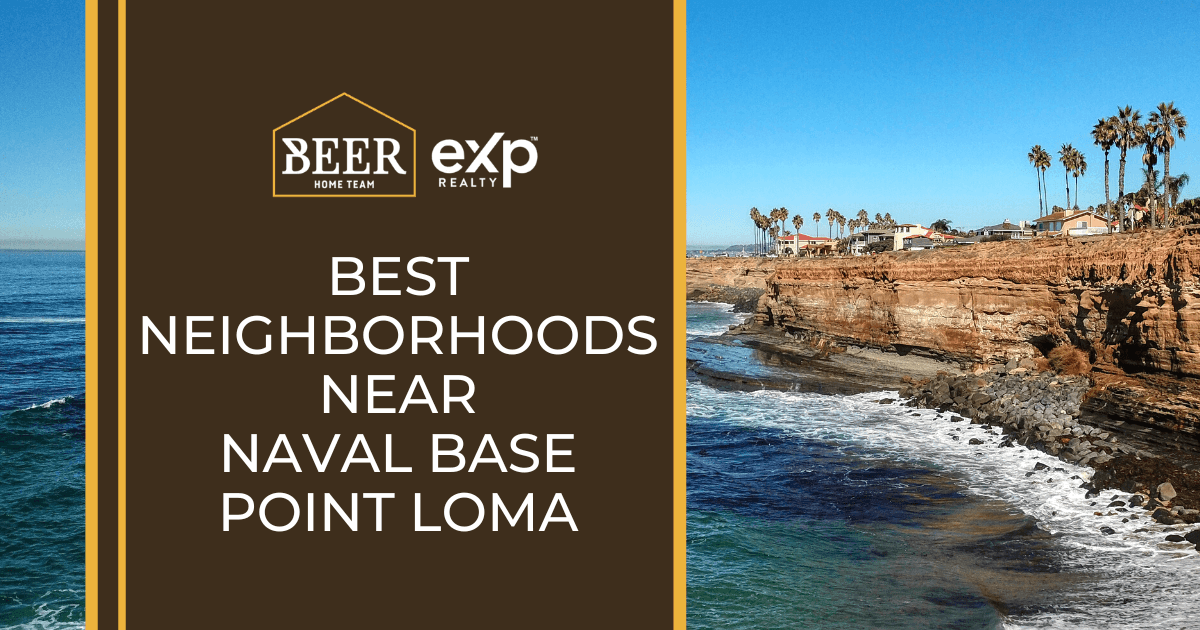 Relocating to Naval Base Point Loma allows service members to live in San Diego, one of the country's most beautiful and fun-filled cities. Off-base Point Loma housing can be found in many of the best neighborhoods in San Diego. Located within a short drive of Point Loma's gates, these San Diego homes for sale provide luxury and convenience at a variety of price points. Explore the best homes near Naval Base Point Loma in these eight nearby neighborhoods.
Ocean Beach
Less than five miles from Naval Base Point Loma lies the beachy community of Ocean Beach. Known as "O.B." to the locals, it's set west of Froude Street along the Pacific Ocean, providing residents with numerous beaches and other waterfront spaces like the Ocean Beach Pier.
In addition, Ocean Beach has a thriving restaurant and nightlife strip, primarily along Newport Avenue near the water. These include unique options like the New Zealand-themed pub Raglan Public House, Nico's Mexican Food, or cocktails with ocean views at the Sunshine Company Saloon. The area is also home to very few big chain businesses, which are instead replaced by a wide variety of independent and local retail, helping preserve the quirky neighborhood character.
Numerous height limits and other zoning rules affect the neighborhood; buyers will notice that the homes for sale in Ocean Beach don't have as many stories as other San Diego neighborhoods. This has resulted in a community of mainly single-family detached homes, with a few mid-rise condo buildings. Condos can be found starting in the high $500,000s, while single-family homes range from just under $1 million to more than $2 million.
Ocean Beach Amenities
Numerous public beaches (including a dog beach)
Ocean Beach Pier
Many retail, dining, and nightlife options
Ocean Beach Recreation Center
Ocean Beach Athletic Area
Point Loma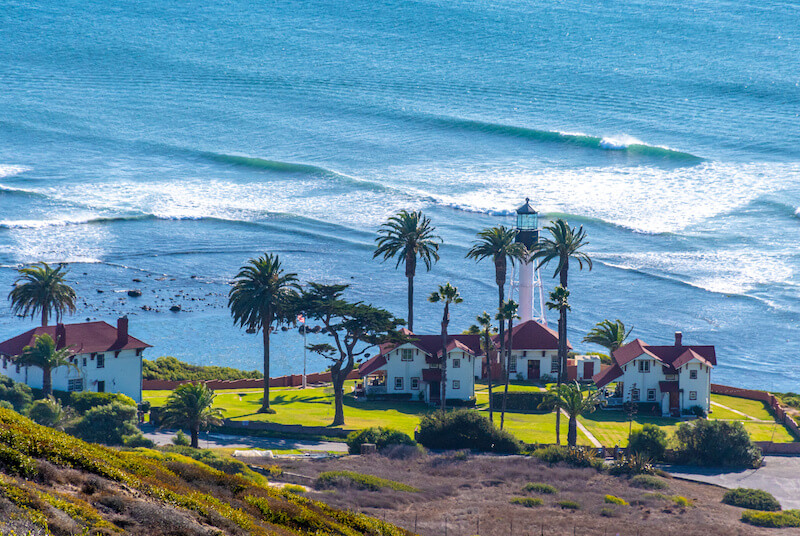 Service members can't live anywhere closer to Naval Base Point Loma than on Point Loma itself! Even the farthest reaches of the neighborhood are less than two miles from the base, putting residents within mere minutes of the gates. Stretching from Cabrillo National Monument to roughly Talbot and Hill Streets, this narrow strip of elevated land lies between San Diego Bay and the Pacific Ocean.
The base, monument, and Fort Rosencrans National Cemetery comprise much of the community. Point Loma residents can also take advantage of some of San Diego's most gorgeous natural environments, from the beautiful elevated views along the neighborhood to waterfront and beachfront sites like Sunset Cliffs Natural Park.
Homes for sale in Point Loma are mostly single-family properties, although buyers might be able to find some condos and townhomes, too. Average real estate prices range from $1 million to $2 million, although Point Loma luxury homes often cost more than $5 million.
Point Loma Amenities
Closest neighborhood to Naval Base Point Loma
Cabrillo National Monument
Sunset Cliffs Natural Park
Kellogg Beach
Point Loma Nazarene University
Roseville-Fleetridge
Those looking for a community with some historic flavor should check out Roseville-Fleetridge, the oldest settled area of Point Loma. The neighborhood was named for its developer, well-known early San Diegan Louis Rose, who bought and laid out the bayfront area in the 1860s. It's commonly paired with the hillier part of the area above, known as Fleetridge.
The community is less than two miles from Naval Base Point Loma's main gate, bounded by San Diego Bay, Chatsworth Boulevard, and Talbot Street. This ideal location is convenient not only to the Naval Base but also to other vital areas of San Diego, like downtown, the airport, and even the Mission Valley. Roseville-Fleetridge homeowners can enjoy a wide selection of waterfront dining options, including local favorites like Mitch's Seafood and Jimmy's Famous American Tavern.
Most Roseville-Fleetridge homes cost between $1.5 million and $4 million. Would-be buyers looking for historic homes should concentrate on the Roseville portion of the area, while those desiring newer properties will find more in Fleetridge.
Roseville-Fleetridge Amenities
Naval Base Point Loma Annex
Close to San Diego International Airport, downtown
Extensive bayfront dining options
Point Loma Community Park
Dana Middle School
Mission Valley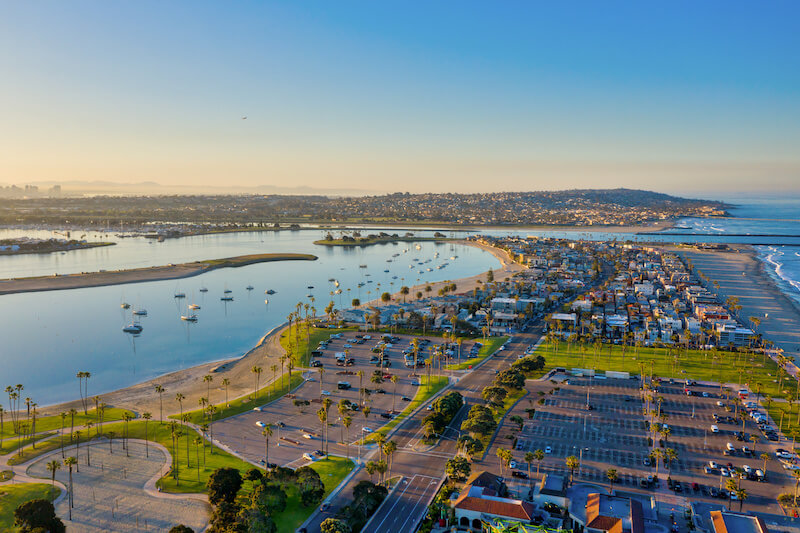 San Diego was the first Spanish settlement in California, and the Catholic mission that served as the center of that settlement gave its name to the Mission Valley community. The neighborhood is located approximately ten miles northeast of Naval Base Point Loma. Along the length of the valley runs Interstate 8, which was a significant boon to development in the area in the 1950s and '60s.
Today, the area is home to many of San Diego's best shopping options, including numerous big box stores, popular national chains, and the high-end mall known as Fashion Valley. In addition, residents can take advantage of many other local businesses and attractions, including a movie theater and numerous restaurants. The proximity to major highways makes travel throughout San Diego and southern California simple.
Mission Valley real estate differs from many other top San Diego neighborhoods near Point Loma in that it's primarily made up of condos and townhomes, as opposed to single-family detached homes. One-bedrooms can be found as low as the mid-$300,000s, with two-bedrooms starting in the mid-$400,000s. Large three-bedrooms or luxury units start in the high six figures but can reach $1.5 million.
Mission Valley Amenities
Close to Interstates 8, 805, 15
Extensive shopping options
Old Town San Diego Historic Park
Riverwalk Golf Club
Snapdragon Stadium
Bay Park
Bay Park takes its name from Mission Bay, which sits just west of this charming, primarily residential neighborhood. Just over seven miles north of Naval Base Point Loma, it's a top community for those who love the water. Mission Bay offers several public parks, boat launches, and other spots to relax or get active, with De Anza Cove Park, Tecolote Shores, and Fiesta Island Park, the closest to the Bay Park neighborhood.
Plus, residents are just a few minutes by car from the beautiful and unique oceanfront communities of Pacific Beach and Mission Beach, in addition to one of the city's top attractions: Sea World. While San Diego's top neighborhoods are just a short trip away, owners can enjoy numerous restaurants within the community, mostly in and around the Clairemont Village shopping center.
Single-family properties are most prevalent in Bay Park, with a smattering of condos and townhomes around the eastern edge. These units start for around half a million and can reach the high six figures, while detached homes typically start at just under $1 million. The most expensive homes for sale in Bay Park will often cost between $2 million and $3 million.
Bay Park Amenities
Clairemont Village shopping center
Mission Bay Golf Course
Numerous nearby parks
South Clairemont Recreation Center
Close to the University of San Diego
Downtown San Diego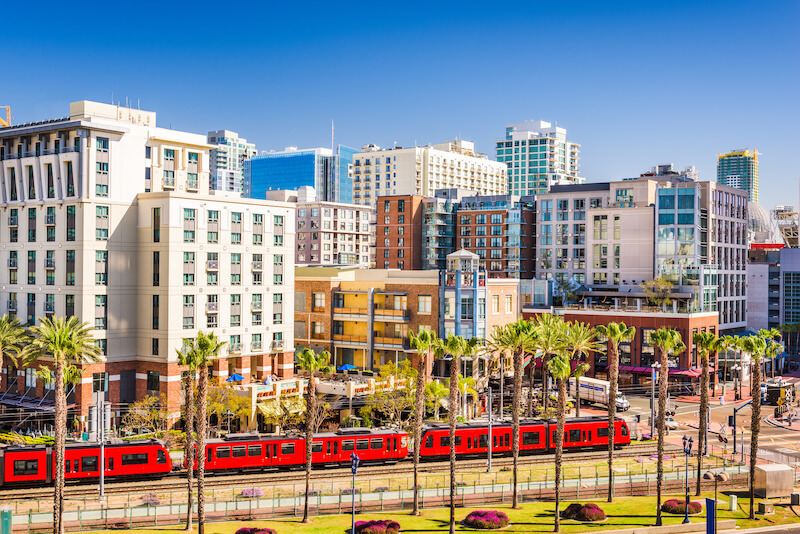 Some service members might desire the prime locations and unbeatable convenience that comes with the condos for sale in Downtown San Diego. Luckily for Naval Base Point Loma community members, Downtown San Diego is only about six miles from the base. The area is surrounded by San Diego Bay, Interstate 5, and other neighborhoods near Balboa Park. Those living downtown are also within walking distance from Petco Park, home to the San Diego Padres baseball team and numerous other events.
Downtown is also home to countless restaurants, bars, and nightlife spots, particularly in the Gaslamp Quarter and the Little Italy neighborhood. Plus, the gorgeous bayfront parks and walking paths help unlock some of the most beautiful views in the city.
As might be expected from the dense core of a city, housing in downtown San Diego is primarily made up of condos, rounded out by a few townhouse communities. Studios can be found for less than $300,000, with one-bedrooms starting in the low $400,000s. However, high-end properties will also have plenty of options, with larger units on upper floors and those in amenity-heavy buildings selling well into the low single-digit millions.
Downtown San Diego Amenities
Close to Balboa Park's museums, Zoo
Convenient to popular neighborhoods like the Gaslamp Quarter and Little Italy
Petco Park
Waterfront Park
Chula Vista
The southernmost of our top communities, Chula Vista is a medium-sized city that stretches from the bottom of San Diego Bay to the inland mountains east of the metro area. Homes for sale in Chula Vista are located between 15 and 25 miles from Naval Base Point Loma, depending on the neighborhood. The area offers everything would-be residents could ask for, from natural areas in the mountains and along the bay (like the San Diego Bay National Wildlife Refuge), to shopping at the Chula Vista Center, to numerous restaurants and nightlife of all types.
The Otay Ranch neighborhood of Chula Vista has become particularly popular with military members in recent years, since it's also one of the best neighborhoods near Naval Base Coronado. Otary Ranch is an amenity-filled planned community with condos and townhomes alongside single-family detached homes. Starting in the high $500,000s and reaching more than $1.25 million, homes are offered in various styles and sizes for buyers of all types. The remainder of Chula Vista offers remarkably diverse housing options and prices, from condos that cost less than $500,000 to luxury estates that can cost more than $1.5 million.
Chula Vista Amenities
Diverse neighborhoods in style and price points
Convenient to Interstates 5, 805
San Diego Bay National Wildlife Refuge
Chula Vista Marina
Pacific Beach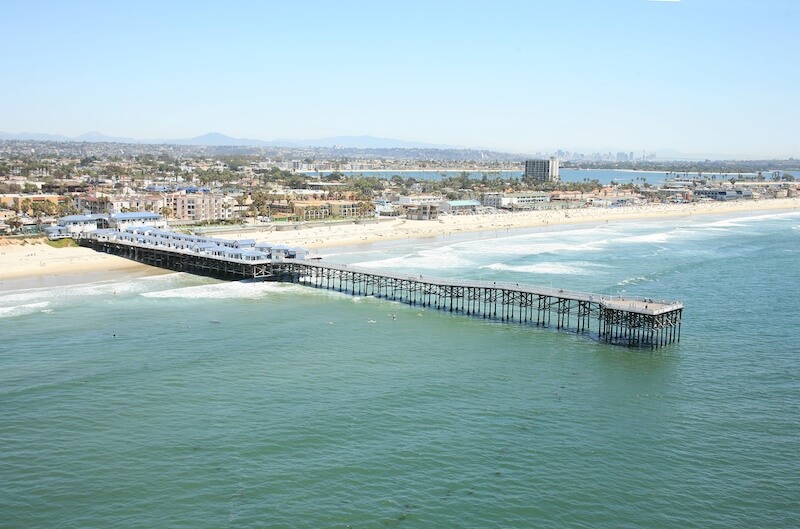 Just north of Mission Bay lies the hip oceanfront community of Pacific Beach. Approximately 8 miles from Naval Base Point Loma, Pacific Beach earns its name with a long stretch of gorgeous, sandy oceanfront, including Tourmaline Surfing Park, one of the area's top surfing destinations. Residents can also stroll along the famous Oceanfront Walk boardwalk, providing excellent views and a spot to exercise.
Pacific Beach also boasts one of San Diego's top nightlife scenes, centered along the main drag of Garnet Avenue. The mile-long thoroughfare and surrounding blocks are home to popular restaurants like Backyard Kitchen and Tap and bars like Bub's at the Beach. There are also plenty of community events, providing something for all would-be residents.
Real estate in Pacific Beach is a relatively even mix of single-family detached homes and condos, with a few townhouse communities rounding out the area's housing stock. More modestly sized one-bedroom condos can be found from the high $400,000s, with the area's waterfront and luxury multifamily units selling in the $1-2 million range. Single-family houses start at just under $1 million but can reach as high as $5 million in some cases.
Pacific Beach Amenities
More than a mile of beachfront
Extensive dining and nightlife scene
Adjacent to Interstate 5
Crown Point Park
Kate Sessions Park
Find Off-Basing Housing Near Naval Base Point Loma
From the mountains in the east to the Pacific Ocean in the west, San Diego is a remarkably diverse city regarding neighborhoods and housing. Those looking to live near Naval Base Point Loma have their choice of these unique communities, from the convenience of Point Loma or Roseville-Fleetridge to the beaches of Ocean Beach and Pacific Beach to the hustle and bustle of downtown. The hardest part may be picking just one!
Needing to find the perfect home near Naval Base Point Loma? Contact Beer Home Team of eXp Realty with San Diego Home Finder at (858) 465-7899 to reach San Diego real estate agents who can help you find a home near Naval Base Point Loma today.