8 Best Neighborhoods by Mission Bay: Live Near Beaches, Parks & the Bay
Posted by Daniel Beer on Tuesday, January 10, 2023 at 8:10:17 AM
By Daniel Beer / January 10, 2023
Comment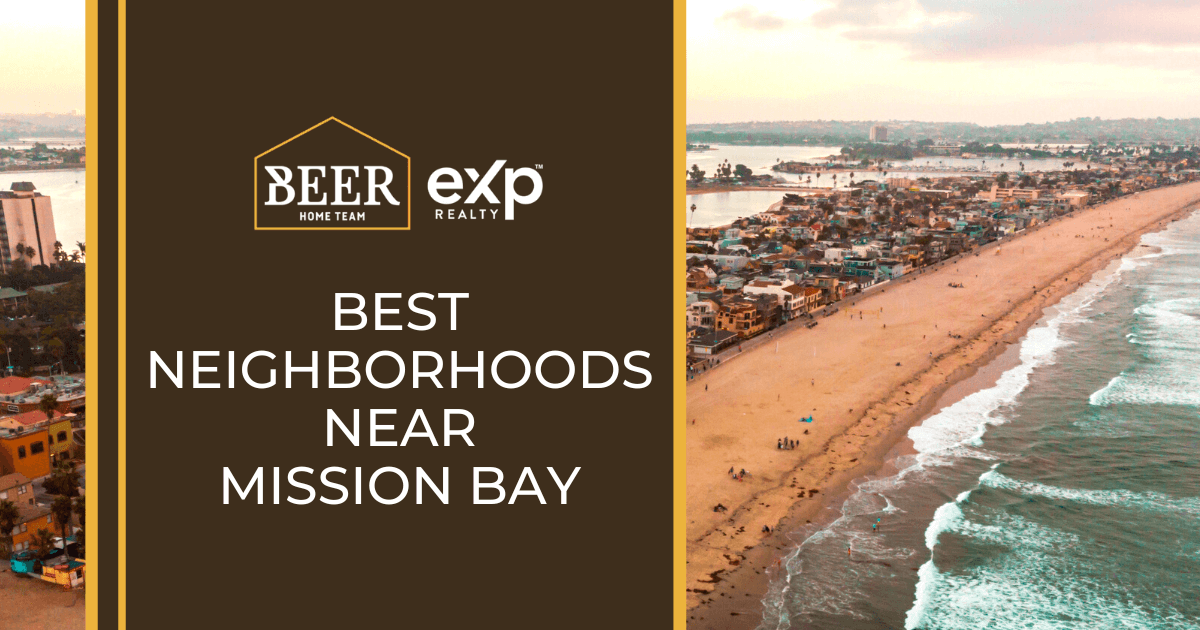 Mission Bay offers miles of beaches along the Pacific Coast, dramatic cliffs, quaint shops and eateries, amusement parks, boardwalks, shopping malls, and more. This area is ideal for homebuyers who want to be near the water and local amenities while also being close to downtown San Diego. Mission Bay has some great options to choose from when buying a home, from neighborhoods that border the ocean to ones near the downtown area. The following are the top neighborhoods near Mission Bay—including the types of homes there and available amenities—to be used as a resource for anyone visiting or moving to San Diego.
Ocean Beach
The Ocean Beach neighborhood is right along the coast, nestled between Sunset Cliffs to the south and Mission Beach to the north. This location provides residents with ocean views and opportunities to swim, surf, and sunbathe. Homes for sale in Ocean Beach are mainly single-family houses with an average of two bedrooms and two baths, though larger homes with five bedrooms and three or more baths can also be found. Certain areas of the neighborhood have some of San Diego's waterfront homes with convenient access to the beach, pier, and locally owned shops and eateries.
Ocean Beach is just 10 minutes from downtown San Diego and close to I-5, I-8, and other major roadways, giving residents convenient access to downtown attractions and major roads for traveling around this state. At home, Ocean Beach offers numerous amenities, from parks and piers to farmers' markets and cafes. Little Lion Cafe offers brunch, lunch, and dinner options, ranging from Belgian waffles to beef tenderloin, in a friendly environment. Walking on Water Cafe, located on Ocean Beach Pier, has served breakfast, tacos, sandwiches, burgers, and other casual foods in a scenic setting since 1993.
Ocean Beach Amenities
Santa Cruz Cliffs
Ocean Beach Farmers Market
Ocean Beach Pier
Dusty Rhodes Park
Wonderland Ocean Pub
Olive Tree Marketplace
Point Loma Heights
Point Loma Heights offers a central location with easy access to beaches, shopping, and other amenities and homes with an impressive range of architectural styles. The neighborhood is located between Midway Drive to the north and Point Loma Avenue to the south. While most homes for sale in Point Loma Heights are single-family residences, townhomes can also be found in the neighborhood. Point Loma condos are occasionally listed, too. Homes include varying styles, such as Spanish revival homes, craftsman homes, and bungalows. Many homes have a minimum of two bedrooms and two baths, although homes with four or more bedrooms are also around.
Point Loma Heights—located 15 minutes from downtown—is within minutes of main roads for traveling or commuting, including I-8 and I-5. The neighborhood is home to public gardens and some of San Diego's best parks, andis filled with dining and shopping options for residents. Cesarina offers terrace dining with a menu featuring Italian dishes where diners can watch how pasta is made and enjoy delicious desserts.
Residents can also head to Point Loma Plaza and Midway Towne Center for shopping. Point Loma Plaza offers smaller stores, gyms, salons, banks, and other amenities, while Midway Towne Center offers a grocery store, post office, restaurants, and other amenities.
Point Loma Heights Amenities
Tea's Moment
Stump's Family Marketplace
Peace Pies
Sabor Brazilian Grill
Point Loma Native Plant Garden
Bill Cleator Community Park
Pacific Beach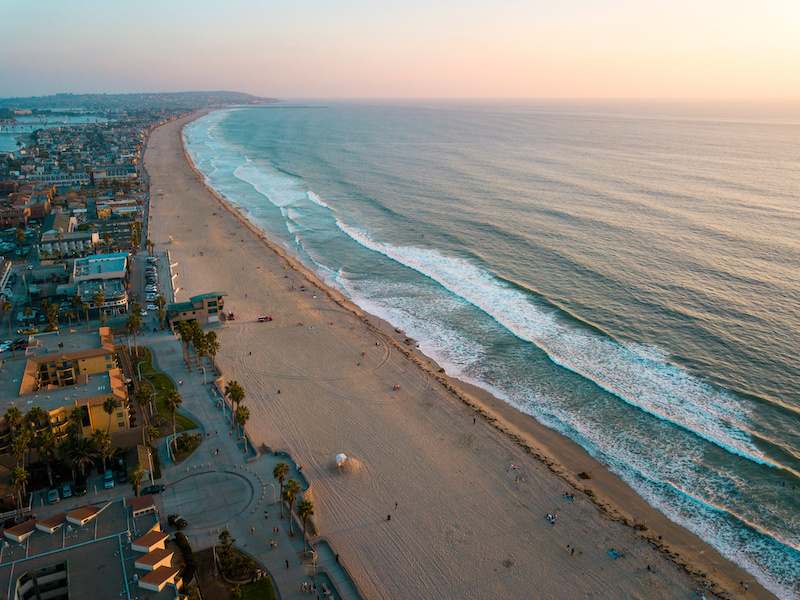 Pacific Beach, located just north of Mission Bay, is a neighborhood that offers boardwalks and beaches, along with notable amenities, freeway access, and much more. The Pacific Ocean borders Pacific Beach to the west, while I-5 borders it to the east. This scenic neighborhood has condos and single-family houses scattered throughout, giving home buyers options to purchase a home near the ocean, close to the freeway, or somewhere in between. Single-family homes in Pacific Beach have an average of three bedrooms and two to three bathrooms, but bigger homes with six or more bedrooms can also be found here. Condos in Pacific Beach typically have two or more bedrooms and two or more bathrooms.
Pacific Beach is about a 15-minute drive from downtown San Diego. The coast along the neighborhood's western border provides residents easy access to beaches, boardwalks, eateries, shops, and more. Residents can spend time surfing or soaking up the sun at Pacific Beach or head to Crown Point Park in the southern part of the neighborhood for picnics, barbecues, boating in the bay, basketball, and other outdoor activities. The Fishery is a seafood market and restaurant where residents can purchase wholesale seafood or enjoy a delicious seafood dinner or lunch.
Pacific Beach Amenities
The French Gourmet
Tourmaline Surf Park
Crown Point Coffee
Firehouse American Eatery and Lounge
Pacific Beach Taylor Branch Library
Midway District
Midway District provides a conveniently located neighborhood next to freeways and San Diego International Airport while offering its own amenities. I-5 borders the neighborhood to the east, while I-8 borders it to the north. Midway District is mainly filled with retail and other commercial properties, but there are also residential properties in the neighborhood. These are primarily condos with one or two bedrooms and one to two baths. Many condos in Midway District were built in the 1980s.
Midway District is just a few miles from downtown San Diego and right across the water from SeaWorld San Diego. With I-5 and I-8 running along two sides of the neighborhood, residents can easily get around to notable amenities. Within the neighborhood, residents have several stores, restaurants, and other amenities available. Brazil by the Bay is a restaurant and sports bar offering Brazilian dishes, burgers, and sandwiches. Residents can head to Grosvenor Square or Loma Square shopping mall. These shopping places provide amenities ranging from department stores, grocery stores, and restaurants to veterinary clinics, nail salons, and dental offices.
Midway District Amenities
Bay City Brewing
Mission Heights Chocolates
Los Panchitos Mexican and Seafood
Broken Yolk Cafe
Morena
Morena is a neighborhood near Mission Bay that offers access to natural surroundings, major roads, a university campus, and several local amenities. I-5 runs along the western border of Morena, while Tecolote Canyon is just off the northeastern tip of the neighborhood. Houses in Morena mainly include townhomes and condos, although detached single-family houses and triplexes can also be found here. Housing ranges from modest two-bedroom and one-bath townhomes under 1,000 square feet to townhomes and homes over 1,000 square feet with three or more bedrooms and two or more baths.
Morena is just over 15 minutes from downtown San Diego and offers quick access to I-5 and other major roads, making commuting or traveling easier for residents. The University of San Diego campus is located in the center of the neighborhood, with amenities surrounding it, including some of the best trails in San Diego, stores, restaurants, and more. Sardina's Italian Restaurant and Bar offers specialty sandwiches, pasta dishes, pizza, calzones, and other Italian menu items in a laid-back atmosphere. Residents can visit Bird Rock Coffee Roasters for a cup of locally roasted coffee or specialty drinks like macchiatos, flavored lattes, teas, and more.
Morena Amenities
University of San Diego campus
Tecolote Canyon Trailhead
The Cordova Bar
Urbane Cafe
The Shops at Arrive Mission Valley
Bay Park
Nestled between Mission Bay and Tecolote Canyon Natural Park, Bay Park provides stunning views both west and east and convenient freeway access. I-5 forms the neighborhood's western border, while the eastern border winds through the park. Homes for sale in Bay Park, considered a hidden gem among Mission Bay neighborhoods, mainly include condos and single-family houses. Many single-family houses are older homes that have been recently updated. Condos in Bay Park typically include one or two bedrooms and baths, while single-family homes often feature three or more bedrooms and at least two baths.
With I-5 running along the border of Bay Park and downtown San Diego just 10 to 15 minutes away, the neighborhood's location offers significant convenience for residents. Views of Mission Bay, along with the Pacific Ocean, enhance the neighborhood even more. Residents can also access local amenities, including grocery stores, outdoor recreation, restaurants, and more. Offshore Tavern and Grill provides a great place to unwind and enjoy a burger, sandwich, or a plate of fish and chips. The restaurant also offers build-your-own mac and cheese dishes. Tecolote Canyon Trailhead and Gardena Loop Trailhead provide scenic ways to explore the area.
Bay Park Amenities
Mountain Mike's Pizza
Bay Hill Tavern
Sprouts Farmers Market
South Clairemont Recreation Center
Harland Brewing Company
Santana's Mexican restaurant
Mission Beach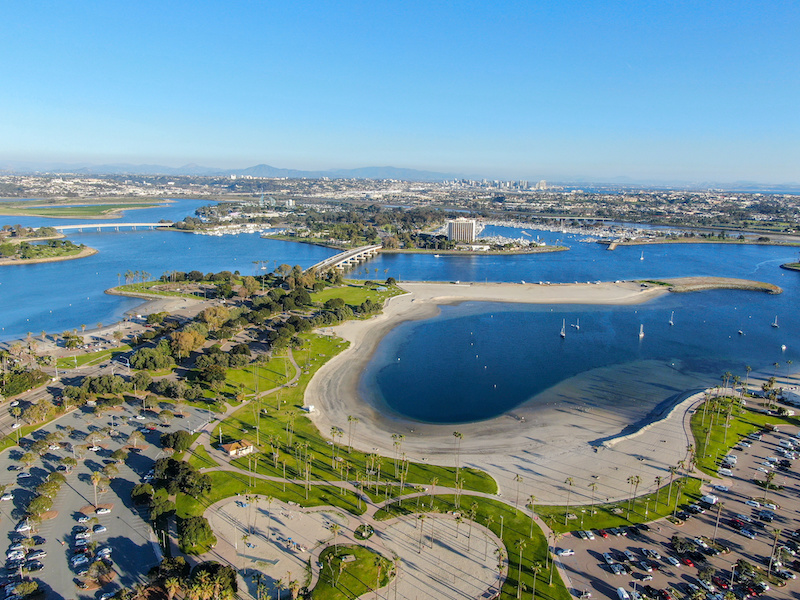 The Mission Beach neighborhood stretches along the western side of Mission Bay. With the Pacific Ocean bordering the neighborhood on the other side, residents have stunning water views in either direction. Townhomes, condos, and single-family homes can all be found in Mission Beach, with many being waterfront homes with views of the ocean or the bay. Condos in Mission Beach range from two-bedroom, two-bath units with just over 1,000 square feet of living space to spacious units with four or more bedrooms, three or more baths, and over 2,000 square feet of space. Single-family homes for sale in Mission Beach typically have two or more bedrooms and two or more baths.
Mission Beach is located roughly 15 minutes from downtown San Diego. The neighborhood provides residents with many beachside and bayside amenities, including dining and shopping, water sports, outdoor recreation, and more. Belmont Park and Boardwalk features a roller coaster dating back to 1925 and a boardwalk offering picturesque views of the ocean. Dockside 1953 at Bahia Resort Hotel serves California fare in a relaxed setting with views of Mission Bay. Ocean View shopping mall provides residents with a convenient place to shop in the neighborhood.
Mission Beach Amenities
Ventura Cove Park
South Mission Beach
Cannonball Asian fusion restaurant
Tiki Town Adventure Golf
Single Fin Surf Grill
Old Town
Historic sites and buildings, convenient access to main roads, and many neighborhood amenities make Old Town one of the best neighborhoods near Mission Bay. I-5 borders Old Town to the west, while I-8 borders it to the north. Homes for sale in Old Town offer a mix of condos and single-family houses, some dating back a few decades or more. Condos in the neighborhood have an average of two bedrooms and two baths in a modest size of 1,000 square feet or less. Larger condos can also be found here, along with single-family homes with three bedrooms and two or more bathrooms.
Old Town is just 10 minutes from downtown San Diego. The neighborhood offers many amenities, from historic sites to restaurants and stores. Residents can enjoy traditional Japanese-style sushi at Sushi Tadokoro, and Old Town San Diego State Historic Park provides an opportunity to learn more about the area's past and see original adobe buildings and other historic buildings. Meanwhile, Presidio Park offers a place to spend time outdoors while exploring sites such as Junipero Serra Museum, Witches Tower, Serra Cross, and Derby Dike.
Old Town Amenities
Whaley House Museum
Casa de Reyes
Old Town Market
Garden Coffee
Coral Tree Tea House
Pizza Bella Italian Bistro
From Beaches to Businesses, Mission Bay Has It All
The Mission Bay area of the city of San Diego provides multiple places that can make excellent homes for buyers looking for scenic surroundings and conveniently close amenities and roadways. Some of the areas are also among San Diego's best neighborhoods, and for good reason. From ocean and bay to canyon and cliff views, neighborhoods near Mission Bay offer stunning surroundings while being close to freeways, businesses, downtown San Diego, and an abundance of amenities.
Looking for the perfect home in San Diego? Contact Beer Home Team of eXp Realty with San Diego Home Finder at (858) 465-7899 to get in touch with San Diego real estate agents who can help you find your San Diego dream home today.