Where to Live Near Camp Pendleton: 8 Best Neighborhoods & Cities For Off-Base Housing
Posted by Daniel Beer on Monday, November 7, 2022 at 12:22:53 PM
By Daniel Beer / November 7, 2022
Comment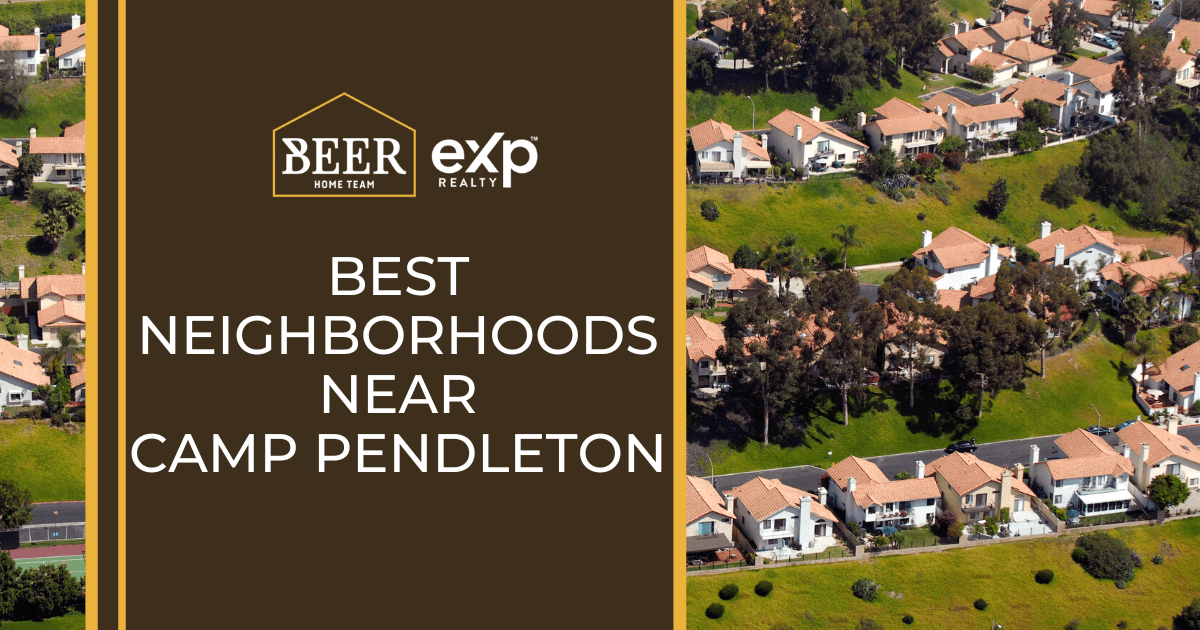 Camp Pendleton is a US Marine Corps Base in the city of Oceanside, just north of the city of San Diego. Spanning over 125,000 acres, it's one of the largest Marine Corps installations in the country.
Named for Major General Joseph Henry Pendleton, Camp Pendleton was established in 1942 for World War II training operations, and today, it's home to several operating force units. Given Camp Pendleton's particularly large size, service members making a change of station here should know about living in and commuting from the surrounding cities. Here are the best neighborhoods and cities near Camp Pendleton.
Rancho Del Oro
The Rancho Del Oro neighborhood is in central Oceanside, 4.8 miles away from the San Luis Rey gate to Camp Pendleton. Established in the 1980s, Rancho Del Oro offers various home types, from condominiums and townhomes to large estates with expansive lawns. Residents are very close to downtown Oceanside and its iconic pier, shopping, dining, and entertainment. The neighborhood is also close to Highway 76 and State Route 78, providing quick access to beaches in nearby Carlsbad.
Residents living in Rancho Del Oro also enjoy many outdoor activities. You're never more than 10 to 15 minutes away from the beach, and you can also hike, bike, and play sports at the area's many parks. Rancho Del Oro Park is 16 acres of outdoor space with several tennis courts, and the 17-acre Martin Luther King Jr. Park has spaces for picnics, playgrounds, and grilling, as well as soccer, basketball, and roller hockey fields.
Nearby hotspots include Mission San Luis Rey de Francia. Established in 1815, this mission is still operating and consists of a museum, visitors' center, retreat center, and pristine gardens. At the nearby Heritage Park Village and Museum, you can learn about the history of Oceanside or host a private party, wedding, or special event under the park's picturesque gazebo.
Rancho Del Oro Amenities
Emerald Isle Golf Course
Palisades Park
Oceanside Harbor
El Corazon Park
John Landes Park
Ivey Ranch
Ivey Ranch is another central Oceanside community located 4.8 miles from Camp Pendleton's San Luis Rey gate. Ivey Ranch is just south of Rancho Del Oro, and the two communities are often referred to as one single area. Although most Ivey Ranch homes were built between 1970 and 2000, a few were built before 1939. Residences run the gamut of styles, including apartments and townhomes.
Residents make the most of the mild year-round weather and proximity to the beach. On any given weekend, you can opt for a day on the water, at the beach, or exploring downtown Oceanside on foot. Between Oceanside, Carlsbad, and San Clemente, there are several nearby options for restaurants, retail, and entertainment.
If you're looking for some time on the fairway, play a few rounds at one of several golf courses, including Emerald Isle Golf Course, Center City Golf Course, Oceanside Golf Course, and Marine Memorial Golf Course. Or, grab a skateboard and enjoy the ramps, half-pipes, funboxes, and more at the Martin Luther King Jr. Skate Park.
Ivey Ranch Amenities
Guajome Regional Park and Guajome Lake
Oceanside Harbor
El Corazon Park
John Landes Park
Rancho Del Oro Park
North Valley (Mission Valley)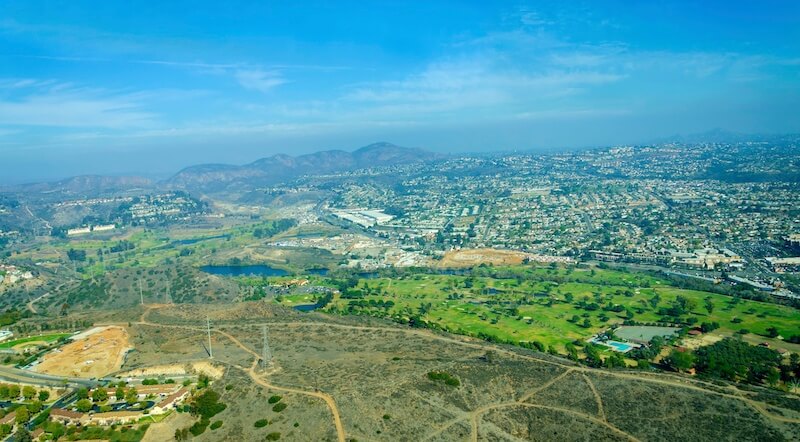 North Valley, also commonly referred to as the Mission Valley neighborhood, is approximately 2.2 miles from Camp Pendleton's San Luis Rey gate. It's situated just north of Ivey Ranch and Rancho Del Oro, on the other side of Highway 76. Like their neighbors south of the highway, North Valley locals enjoy classic SoCal activities, including visiting beaches and hiking.
North Valley features various home types, including those in the Mission Valley Estates community. You'll find everything from condos to single-family properties with over 6,000 square feet. The North County Transit System serves the community, with nine bus stops providing mobility alternatives for locals, including service to the San Diego International Airport.
Luiseño Park features a reproduction of an ancient Luiseño village, honoring Oceanside's history. This dog-friendly park also has sports facilities and a jogging trail. There's also the public, 18-hole Oceanside Golf Course, which offers outstanding views of the hillsides in San Luis Rey Valley.
North Valley Amenities
Guajome Regional Park and Guajome Lake
Libby Lake Park
Mance Buchanon Park
Mission San Luis Rey de Francia
Loma Alta
Loma Alta, approximately 3.4 miles from the Del Mar gate of Camp Pendleton, is one of the oldest neighborhoods in Oceanside – the earliest homes here were built in 1928. While the community is a bit further from downtown Oceanside than other areas, it offers several attractive amenities and outdoor activities that allow locals to take advantage of Southern California's beautiful weather all year.
As far as homes go, Loma Alta real estate offers properties of various types, including large single-family homes and townhomes, and many are within walking distance of numerous outdoor parks and shopping centers. Loma Alta is also home to several nonprofit organizations, including the Veterans Association of North County, the Women's Resource Center, the Bread of Life Rescue Mission, and the Boys and Girls Club of Oceanside.
Neighborhood hotspots include the year-round Brooks Street Swim Center, offering an L-shaped, heated pool with seven 100-feet-long swim lanes. Lap swimming is available in the mornings.
Founded in 1929, Buddy Todd Park is the oldest and largest in the Oceanside area. Within its 19 acres, the park includes areas for picnics, barbecues, baseball, and volleyball.
Finally, Ocean's Eleven Casino is the place to play poker and other card games in the San Diego area.
Loma Alta Amenities
Goat Hill Park Course
Oceanside Senior Citizen Center
MiraCosta College Community Learning Center
Mission Mountain Ridge
Mira Costa
The Mira Costa neighborhood is south of Loma Alta, 6.6 miles from Camp Pendelton's Del Mar gate. It's home to Mira Costa College, which offers two-year associate degrees and professional certificates in over 50 practice areas. The school also offers a Bachelor's degree program in biomanufacturing.
One of Mira Costa's most well-known areas is the Henie Hills. This area was founded by figure skater, actress, and art collector Sonia Henie and her brother, Leif, as a private retreat in the 1930s. Some of their friends built private vacation homes in the area, and in the 1950s, developers began to build many of the Henie Hills homes still standing today.
The three-acre Joseph Sepulveda Park hosts a full-size basketball court, baseball field, grilling areas, and playgrounds. It's named for a local philanthropist noted for his work with Oceanside youth.
The private, 115-acre El Camino Country Club features a lush, verdant golf course. Other amenities include a pool, fitness center, tennis courts, and event clubhouse.
Mira Costa Amenities
MiraCosta College Concert Hall
MiraCosta College Theatre
Palisades Park
IFLY Indoor Skydiving
Carlsbad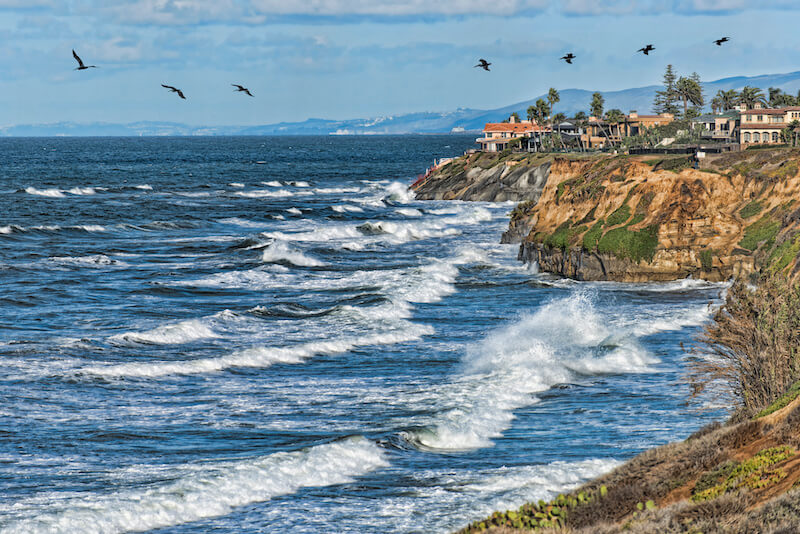 Carlsbad is another relatively large city, south of Camp Pendleton and 5.5 miles from the Del Mar entrance. It's extremely popular with tourists and was named the Digital Capital of California by Google due to its strong online business presence. Carlsbad is home to several theme parks, outlet malls, and famous beaches and has earned the nickname "Titanium Valley" for its golf manufacturing industry.
As with Oceanside and other SoCal communities, Carlsbad enjoys abundant sunshine throughout the year. With several parks and nearby beaches, it's not hard to make the most of it. Of note, Carlsbad is home to one of the only beaches in this area where you can camp and have fires directly on the beach.
Check out the following places when in the city of Carlsbad:
Legoland California Resort: In addition to traditional rides, this amusement park has an aquarium, resort, and miniature park featuring Legos
Tamarack Surf Beach: This local beach offers swimming and fishing and is flanked by the four-mile Carlsbad Sea Wall, an excellent place for walking, jogging, and people-watching.
Carlsbad Amenities
Buena Vista Lagoon
La Costa Resort & Spa
The Flower Fields Flower Garden
Miniature Engineering Craftsmanship Museum
Temecula
Temecula, well known as Southern California's Wine Country, is one of the bigger cities near Camp Pendleton, located 7.8 miles from the base's De Luz gate. Although it's physically closer to San Diego than Los Angeles, Temecula is considered part of Greater Los Angeles. Various types of homes are available in this city, which is much closer to the northern part of Camp Pendleton than the southern.
For those who like to have fun close to home, Temecula is the ultimate destination. It was honored in 2013 as a Most Playful City by the nonprofit KaBOOM! This honor was attributed to Temecula's 39 parks, over 116,000 square feet of recreational facilities, and 43 acres of school athletic grounds, open to the public when school is out.
Old Town Temecula is a shopper's dream, with its historic sites, buildings, restaurants, museums, and an outdoor farmers' market. Meanwhile, there are over 40 wineries, several tasting rooms, and 3,500 acres of vineyards in Temecula Wine Valley Country, located a few miles east of downtown.
With over 3,000 slot machines and 200,000 square feet of gaming space, Pechanga Resort and Casino is the largest in the Golden State.
Temecula Amenities
Pennypickle's Workshop
Wine Town Rollers roller derby league
Temecula Valley Balloon & Wine Festival
Temecula Football Club
Vista
Vista is a city southeast of Rancho Del Oro and Ivey Ranch, 7.9 miles from the San Luis Rey entrance to Camp Pendleton. Vista isn't directly on the coast, but a short drive puts residents seaside in minutes. Slightly inland, the city is noted for having a Mediterranean climate with drier summers.
The city is home to over 25 educational institutions and 800 businesses. Several types of residences make up the homes in Vista, as well as outdoor parks and indoor and outdoor recreational facilities.
The Antique Gas and Steam Engine Museum contains almost 60 acres featuring steam-powered technology. It also houses the Short Track RR Model Railroad Club, a model railroad lover's dream.
Alta Vista Botanical Gardens is a green space highlighting plant and animal species native to the area and artwork from local artists.
Vista Amenities
Vista Historical Society Museum
Rancho Guajome Adobe
Vista Farmers Market
Moonlight Amphitheatre
The Shore Near Camp Pendleton Is Calling
If your life or career calls you to Camp Pendleton, rest assured that you have several options for where you actually call home. The beautiful mild weather and the wealth of outdoor activities make this part of Southern California an exciting place to be. Between communities within Oceanside and nearby cities, you're never far from one of Camp Pendleton's gates or the beach.
Looking for the perfect home near Camp Pendleton? Call Beer Home Team of eXp Realty with San Diego Home Finder at (858) 465-7899 today to contact local real estate agents who can help you find a home near Camp Pendleton.