Where to Live Near Balboa Park: 6 Neighborhoods in Walking Distance of Balboa Park
Posted by Daniel Beer on Thursday, September 8, 2022 at 1:30 PM
By Daniel Beer / September 8, 2022
Comment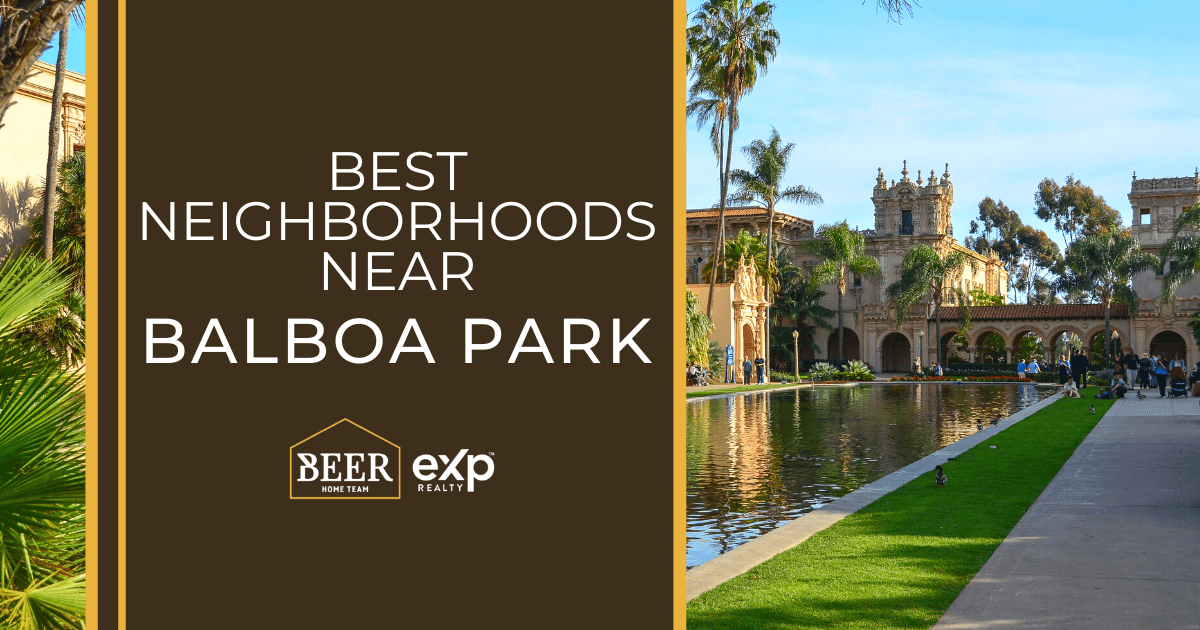 There's no doubt Balboa Park is one of the biggest attractions in the city of San Diego, both for tourists and San Diegans alike, and some of the best neighborhoods in the city surround the park. Located just north and east of downtown and San Diego Bay, this massive green space includes more than a half dozen museums, the famous San Diego Zoo, an arts village, a golf course, the Naval Medical Center, and acres of green space and walking trails. Balboa Park is surrounded by many excellent neighborhoods that provide some of the best housing and amenities in the entire San Diego area. Read on to learn more about the half-dozen best choices both for those moving to San Diego and relocating locals.
Golden Hill
Golden Hill is an eclectic, funky neighborhood that's seen a dramatic renewal in recent decades. This revitalization is thanks to increased popularity with folks drawn to its growing restaurant, shopping, and art scene. It occupies a narrow stretch between Balboa Park's southern border and the Martin Luther King Jr. Freeway, convenient to the park's golf course and the Naval Medical Center. Residents can enjoy the thriving dining scene centered around 25th Street and Broadway, including local favorites like Pizzeria Luigi and the Turf Supper Club. Meanwhile, the neighborhood's hilly topography provides beautiful views of the city, San Diego Bay, and beyond!
This is also a great neighborhood for those who love historic houses and architecture, as it's home to a number of San Diego's unique 19th-century properties. These include beautifully restored Victorians, Craftsmen, and Colonials, mixed with more modern construction townhomes and condos. One-bedroom condos can start as low as the $300,000s, though more typically sell for around a half-million. Homes start near the $900,000 mark and can reach $1.5 million or more.
Golden Hill Amenities
Historic homes mixed with new construction
Close to downtown
Easy access to Interstates 5 and 15
Golden Hill Elementary School
Cortez Hill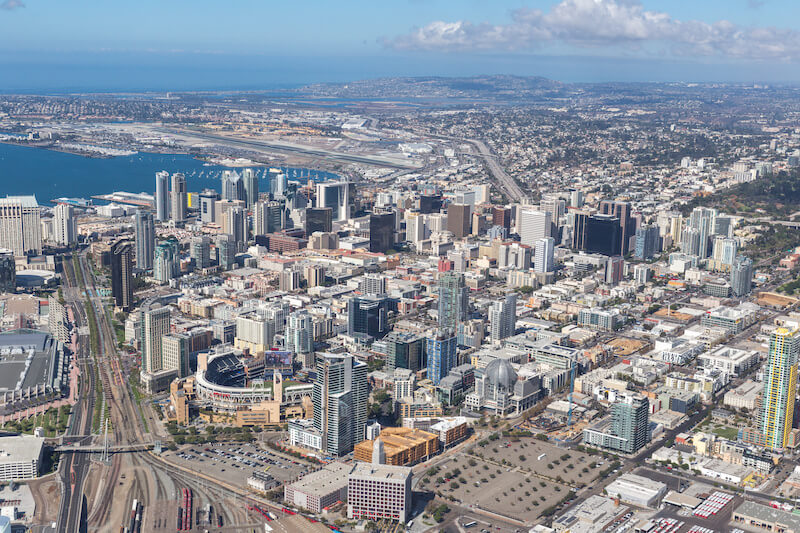 Cortez Hill takes its name from the historic El Cortez Hotel, one of the most prominent features of this compact neighborhood at the southwest corner of Balboa Park. The community is bounded north by Interstate 5, east by the Cabrillo Freeway, Front Street to the west, and Ash Street to the south. This allows residents to enjoy the convenience of downtown and the Gaslamp Quarter restaurants, entertainment, and employment centers without ever needing to get in their car. Meanwhile, Balboa Park's Air and Space, Automotive, and Comic-Con museums are located in the park, as are numerous trails and green spaces.
Cortez Hill's dense location right in the center of San Diego means the housing supply consists primarily of condos and other multifamily buildings. Still, there's a wide variety among these choices, with low- to high-rise buildings and new and historic properties. Homes for sale in Cortez Hill range from studios with less than 600 square feet of living space to three-bedroom homes with more than 1,500 square feet; prices typically start at just under $400,000 but are available throughout a range up to more than $1 million.
Cortez Hill Amenities
Mix of low/high-rises and historic/new construction
Adjacent to downtown/Gaslamp Quarter
Easy access to freeways
South Park
South Park was among San Diego's first "suburbs" at the turn of the 20th century and retains a close-knit community spirit to this day. It's located along Balboa Park's eastern edge, from Juniper Street to A Street, with Juniper Canyon and Interstate 15 serving as the east boundary. This is close to the Balboa Park Golf Course and the popular Grape Street Dog Park.
Much of the neighborhood's development centers around the main thoroughfare of Fern Street, with other areas primarily residential. Owners can enjoy the neighborhood's thriving craft beer and coffee scene or shop at one of the numerous unique local boutiques. Top restaurants represent a variety of international cuisine, from Buona Forchetta's Italian to the beer and burgers of Station Tavern. The neighborhood also hosts regular "walkabouts," which are community events with food, live music, and participation from local shops and businesses.
South Park housing primarily consists of single-family detached homes, with a smaller number of townhomes and condos also available. Home buyers interested in condos can find units listing from the high $400,000s to the $600,000s, while detached homes start north of $800,000 and reach close to $2 million. Many homes are built in the area's distinctive bungalow style.
South Park Amenities
Mix of condos and single-family homes
Vibrant food, beer, and shopping scene
Close to Interstate 15 and Martin Luther King Jr. Freeway
Albert Einstein Charter Academy
North Park (Altadena and Burlingame)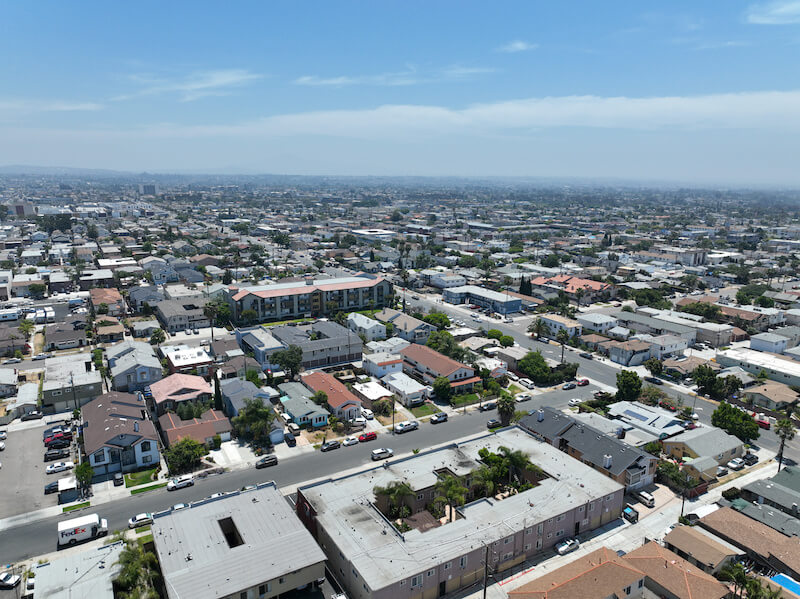 North Park is a large neighborhood wrapping around Balboa Park's northeast corner. Two of the best sub-neighborhoods within this walkable community are Burlingame, located between Juniper and Palm Streets, and Altadena, west of Boundary Street, between Upas and Redwood Streets. This puts them close to popular Balboa Park attractions like the Morley Field Disc Golf Course and the offshoot green space of Switzer Canyon.
The neighborhood may be best known for its distinctive pink sidewalks, just one sign of the community's hip, unique, and historical character. While the area is primarily residential, tons of restaurants, shops, and nightlife are within walking distance, along with options within the community like Thorn Brewing. Homeowners are also close to thoroughfares like the Escondido and Jacob Dekema Freeways.
Burlingame and Altadena residents can also enjoy their neighborhood's diverse architecture, which ranges from Art Deco to Spanish Colonial and Tudor Revival. Most properties are single-family detached homes, though some condos can be found starting in the $600,000s. North Park homes for sale can be found as low as the high six figures but typically sell for $1 million or more. The community's largest, most luxurious, and newest properties can sell in the $3-4 million range.
North Park Amenities
Distinctive look and architecture
Convenient location between the heart of North Park and South Park
McKinley Elementary School
Marston Hills
Would-be homeowners can hardly get closer to Balboa Park than Marston Hills, a small neighborhood tucked up against the park's northwest corner. It takes its name from the man considered the "father of Balboa Park," George W. Marston. He lived in the community, and walking tours of the historic property and the surrounding neighborhood are available for locals and tourists alike. The neighborhood's geography is also notable for its namesake hills and the finger canyons branching off the park. Residents are closest to Balboa Park's most famous attraction, the San Diego Zoo. On the other side, homes for sale in the Hillcrest neighborhood are walkable to dining, nightlife, shopping, and many more local businesses.
Marston Hills's housing comprises a mix of single-family detached homes and condo buildings, both mid and high-rise. The latter tend to sell for more affordable prices, from the $600,000s to the $900,000s. Comparatively, detached homes typically list for $1 million and up. Marston Hills is also notable for its many historic homes, some of which are official city landmarks.
Marston Hills Amenities
Adjacent to/inside Balboa Park
Historic properties
Marston House
Convenient to North Park/Hillcrest shopping, dining, and nightlife
Bankers Hill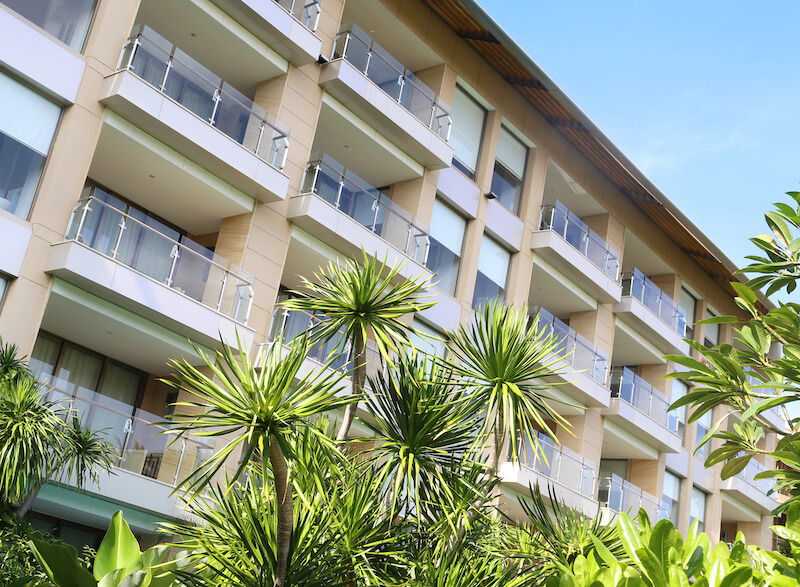 Bankers Hill covers the large, sloping neighborhood west of Sixth Avenue and east of the San Diego Freeway, centered around Laurel Street. It's close to Balboa Park attractions like The Museum of Us and Nate's Point Dog Park. The community earned its name in San Diego's early days when it was a popular spot for the city's most affluent to build their homes. These days, it's known for a mix of historic homes, modern high-rise condos, and apartments. It's among the city's most walkable neighborhoods, just a few minutes from the shopping and dining of Hillcrest to the north and the Gaslamp Quarter to the south. The delicious food and exciting nightlife of Little Italy are also close by.
Unlike many of the top neighborhoods near Balboa Park, most homes for sale in Bankers Hill consist of condos and other multifamily buildings. Condos in Bankers Hill sell over a wide price range, from less than half a million for one-bedrooms to nearly $3 million for luxury three-bedrooms on high floors. The more limited number of single-family detached homes in the area start north of $1 million and can reach $1.5 million or more.
Bankers Hill Amenities
Sloping terrain with views of the park and San Diego Bay
Walkable to shopping/dining/nightlife
Close to San Diego International Airport
Adjacent to Interstate 5
San Diego's Best Neighborhoods: Just a Stone's Throw from Balboa Park
San Diego calls itself "America's Finest City," and the attractions of Balboa Park—the most famous of San Diego's great parks—are a big part of making that a reality. Just about every would-be homeowner will agree after a visit to these great neighborhoods. Whether buyers are looking for historic charm or modern convenience, they'll be sure to find what they're looking for just a short distance from their future favorite park.
Looking for the perfect home in San Diego? Contact Beer Home Team of eXp Realty with San Diego Home Finder at (858) 465-7899 to get in touch with San Diego real estate agents who can help you find your San Diego dream home today.