8 Best Neighborhoods Near Naval Base Coronado & North Island
Posted by Daniel Beer on Tuesday, August 2, 2022 at 8:45 AM
By Daniel Beer / August 2, 2022
Comment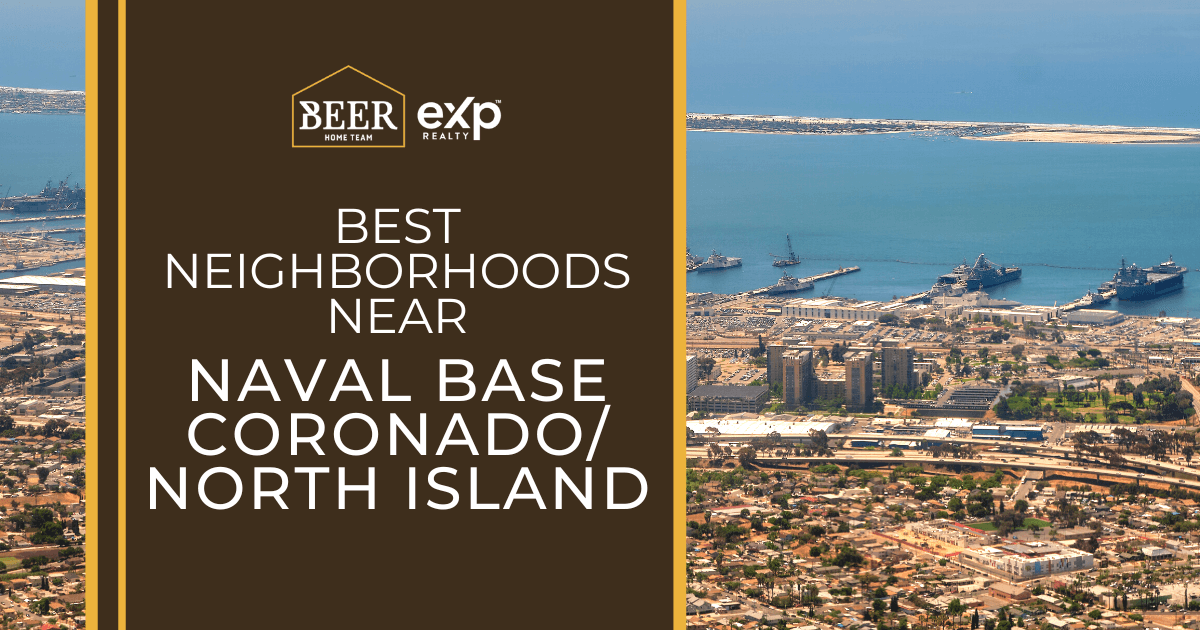 San Diego calls itself "America's finest city." A big part of what makes the city of San Diego so great is the faithful service of the area's large military community, anchored by posts like Naval Base Coronado and Naval Air Station North Island. However, finding housing can be tricky, and that's doubly true for service members. The neighborhoods near Naval Base Coronado/North Island allow service members to live near their posts and all of San Diego's great amenities.
Coronado
When it comes to living close to Naval Base Coronado or North Island, it doesn't get any closer than Coronado itself. Even at the very furthest reaches of the neighborhood, residents are barely eight miles from North Island and less than five from Naval Amphibious Base Coronado. Frequently referred to as an "island," Coronado is just a peninsula separating San Diego Bay from the Pacific Ocean. The narrow spit of land is never more than a mile and a half wide and often much smaller.
Besides the military presence, the community is best known as one of San Diego's top tourist destinations due to its miles of pristine beaches, high-end restaurants, and hotels. These include the iconic Hotel Del Coronado and numerous spots along Orange Avenue. Plus, downtown San Diego is just a quick ferry ride away.
Homes in Coronado can be among the most beautiful and luxurious in the San Diego area, and prices can also be correspondingly high. Housing primarily consists of large, detached single-family homes, though there are also many condos and other multifamily buildings. Homes start around the $1 million mark, though properties frequently sell in the mid-single digit millions or more. Buyers can find everything from modest, 900-square-foot condos to sprawling 4,000+-square-foot mansions within this extensive price range.
Coronado Amenities
Closest to NAS North Island/NAB Coronado
Miles of beaches
Vibrant shopping/dining district
Ferry access to downtown San Diego
National City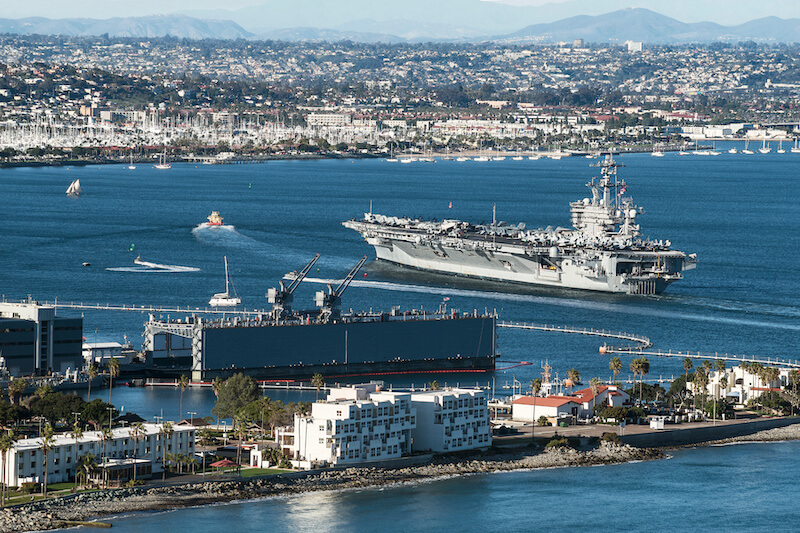 Located across San Diego Bay from Coronado Island, National City is an excellent choice for those looking to be close to NAS North Island and NAB Coronado. From the heart of the city, residents are just about seven miles from both bases. It's one of the longest-established parts of the San Diego area, tracing its roots back to the late 19th century.
National City has a mix of residential, commercial, and industrial areas. It enjoys an ideal location close to Coronado and downtown San Diego along the 5 and 805 freeways for easy travel.
National City offers a mix of multifamily housing (both high-rise and garden-style) and single-family detached homes. Houses usually include three to five bedrooms and two to three bathrooms, while condos are often one- or two-bedroom units. With some units starting in the low $300,000s, it's among the more affordable parts of the region. However, those looking for larger or more updated homes can find them from the mid-six figures to just over $1 million.
National City Amenities
Affordable homes starting in the $300,000s
Las Palmas Park
Westfield Plaza Bonita shopping center
Paradise Valley Hospital
Otay Ranch
Otay Ranch sits at the southeastern corner of the city of Chula Vista, near the edge of where the San Diego metro area transitions into the inland mountains. The community is just over 20 miles from Coronado and North Island. Sprawling over 5,300 acres, it's an excellent choice for would-be owners who want lots of amenities and a walkable community that's still removed from the hustle and bustle of San Diego.
Within Otay Ranch, a community clubhouse and several swimming pools provide space for residents to mingle and relax. Otay Ranch Town Center is also just a short walk away, providing shopping, dining, and space for local events.
Homes in Otay Ranch consist of apartments, townhouses, and luxury single-family detached homes. The community's housing options mean a wide variety of sizes of spaces are available, from compact, affordable two-bedroom condos to sprawling five- or six-bedroom houses. Buyers should expect to pay at least half a million for the most affordable homes and condos. More typically, properties sell from the $600,000 to $1 million range, with the most expensive homes selling for up to $1.5 million.
Otay Ranch Amenities
Community clubhouse
Multiple swimming pools
Neighborhood green spaces and walking trails
Walking distance to Otay Ranch Town Center
Public transit accessible
Rancho Del Rey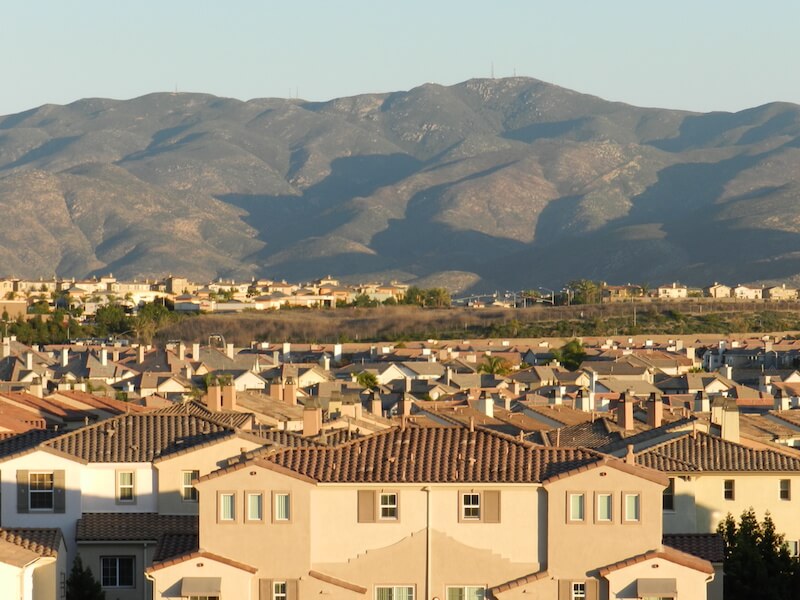 Rancho Del Rey is another moderately sized Chula Vista neighborhood just east of the 805 freeway, between East H Street and Otay Lakes Road. It's just 15 miles from the area's military posts on Coronado and features the striking topography of Rice Canyon, which splits the community. The neighborhood is primarily residential, save for a few businesses located along East H Street, including the city's Costco and a Home Depot. Still, Rancho Del Rey residents have access to numerous San Diego parks and local green spaces, from El Rancho Del Rey Park to the popular Discovery Park.
Those looking for homes in Rancho Del Rey will primarily have a choice of townhomes or single-family detached houses. Properties start in the high $500,000s for two-bedroom units with 1,000-1,500 square feet. Single-family homes can be found from approximately $600,000 and up, reaching more than $1.5 million for the largest properties.
Rancho Del Rey Amenities
Easy access to local shopping
Multiple green spaces, including El Rancho Del Rey Park
Near Southwestern College
South Bay Family YMCA
Serra Mesa
The Serra Mesa community is a northeast San Diego neighborhood between the 805 and 15 freeways, approximately 15 miles from NA Coronado and NAS North Island. It takes its name from Junipero Serra, the Franciscan missionary who played a significant role in the founding of San Diego. He established the Mission Basilica San Diego de Alcala, which lies at the foot of the Mesa in the Mission Valley.
Serra Mesa is also home to the Ruffin Canyon Open Space Preserve, which preserves some of the city's valuable green space. Additionally, residents can take advantage of sports fields, playgrounds, and other facilities at the Serra Mesa Recreation Center. Owners are also just minutes away from downtown San Diego and Mission/Pacific Beach.
Would-be Serra Mesa residents can choose from multifamily buildings, townhomes, and detached houses. Some start as low as the upper $300,000s, making them an excellent value for their location. Single-family homes typically sell from the $600,000s to more than $1.5 million. Most properties have three or more bedrooms, though some lower-priced two-bedrooms may also be available.
Serra Mesa Amenities
Mix of housing at various price points
Close to interstates 8, 15, and 805
Serra Mesa Recreation Center
Ruffin Canyon Open Space Preserve
Rady Children's Hospital
Imperial Beach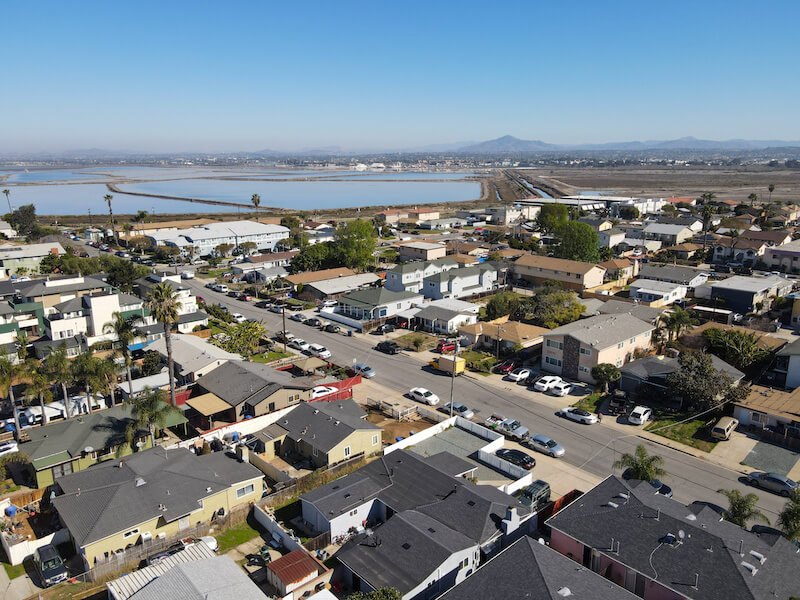 The Imperial Beach neighborhood is a popular beachfront community running from the southern tip of San Diego Bay to the international border with Mexico. Situated at the point where Coronado meets the mainland, it's about seven miles south of NAB Coronado and roughly ten from NAS North Island.
Imperial Beach is one of the best spots to enjoy San Diego's incredible natural environment. The community includes Border Field State Park, which offers hiking trails and a beachfront. The beach culture continues with the Portwood Pier Plaza and a vibrant surfing scene.
With multifamily housing and single-family homes, Imperial Beach is an excellent choice for those who don't need excess space. Most homes are compact, typically under 2,000 square feet, but offer modern finishes or easy access to San Diego's top beaches. Condos usually start in the high $300,000s but can be found well into the upper six figures. Single-family detached homes typically range from the $700,000s and up.
Imperial Beach Amenities
Extensive condo and multifamily options
Portwood Pier Plaza and expansive beachfront
Border Field State Park
Tijuana River National Estuarine Research Reserve
Lemon Grove
Set just outside San Diego's eastern border, Lemon Grove is a small city offering big benefits to those looking to be close to the area's military bases. The community is roughly 13 miles from the facilities on Coronado Island. As might be expected from its name, it was primarily a lemon grove until development began in the post-World War II era. The city is proud of its citrus heritage, welcoming visitors with a giant lemon statue.
Lemon Grove has one of the San Diego suburbs' best drinking and dining scenes, including local gems like Coop's West Texas BBQ, Lido's Italian Foods, and 13 Point Brewing. Residents also have easy access to everyday shopping and errands at Lemon Grove Plaza, along the town's northern edge.
Homebuyers will find various homes for sale in Lemon Grove, including condos, townhomes, and single-family houses. Condos and townhomes are the most affordable, usually starting in the mid-$300,000s. Single-family detached homes typically start in the $600,000s and can reach $1 million or more. Most single-family homes include three to five bedrooms, with luxury homes sometimes including six or seven.
Lemon Grove Amenities
Homes available across a wide price range
Vibrant local dining scene
Lemon Grove Park
Lemon Grove Plaza shopping center
Encanto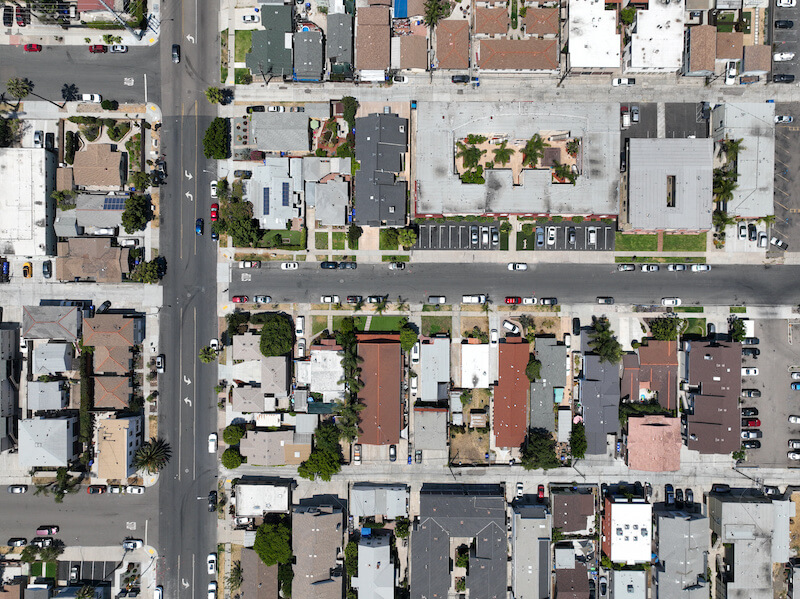 Close to Lemon Grove, Encanto is one of San Diego's easternmost neighborhoods and the final top choice for neighborhoods near Naval Base Coronado and North Island. Spanish for "charm," many potential homebuyers will feel just that from this community, roughly 10-12 miles from NAB Coronado and NAS North Island.
Set among rolling hills, Encanto is primarily a residential neighborhood, though it's convenient to many other popular areas of San Diego. It is also home to a handful of businesses along its major roads and public resources like the Martin Luther King Jr. Recreation Center. Here, residents can enjoy sports fields and courts, a picnic area, and a swimming pool.
Encanto homes for sale are primarily single-family detached houses, with some condos and other multifamily properties along the southern edge. Properties generally start around half a million for modest-sized or older two- or three-bedrooms. Larger, modern properties can easily sell for twice that, reaching as high as $1.5 million or more.
Encanto Amenities
Mostly residential community
Convenient to downtown San Diego
Nye Elementary School and numerous charter schools
Martin Luther King Jr. Recreation Center
So Many Great Neighborhoods Near NAS North Island & NAB Coronado
As always, service members should keep their basic housing allowance in mind and how it can impact their choice of a home. The allowance amount will vary depending on pay grade and dependency status. In the San Diego region, this can range from as little as just over $2,000 per month for E-1s without dependents to more than $4,000 for O-7s with dependents. However, servicemembers can spend above this number if their budget allows.
Finding off-base housing in a new city can be challenging, but it doesn't have to be. For those associated with NAS North Island and NAB Coronado, there are many incredible options throughout the San Diego metro area. Some offer top community amenities or affordable prices, while others provide easy access to downtown or the region's famous beaches. Future homebuyers should consider this valuable information; they'll be moving into their new home before they know it.
Looking for the perfect home in San Diego? Contact Beer Home Team of eXp Realty with San Diego Home Finder at (858) 465-7899 to get in touch with San Diego real estate agents who can help you find your San Diego dream home today.