8 Best Neighborhoods Near MCAS Miramar: Where to Live Near the Base
Posted by Daniel Beer on Thursday, May 5, 2022 at 12:40 PM
By Daniel Beer / May 5, 2022
Comment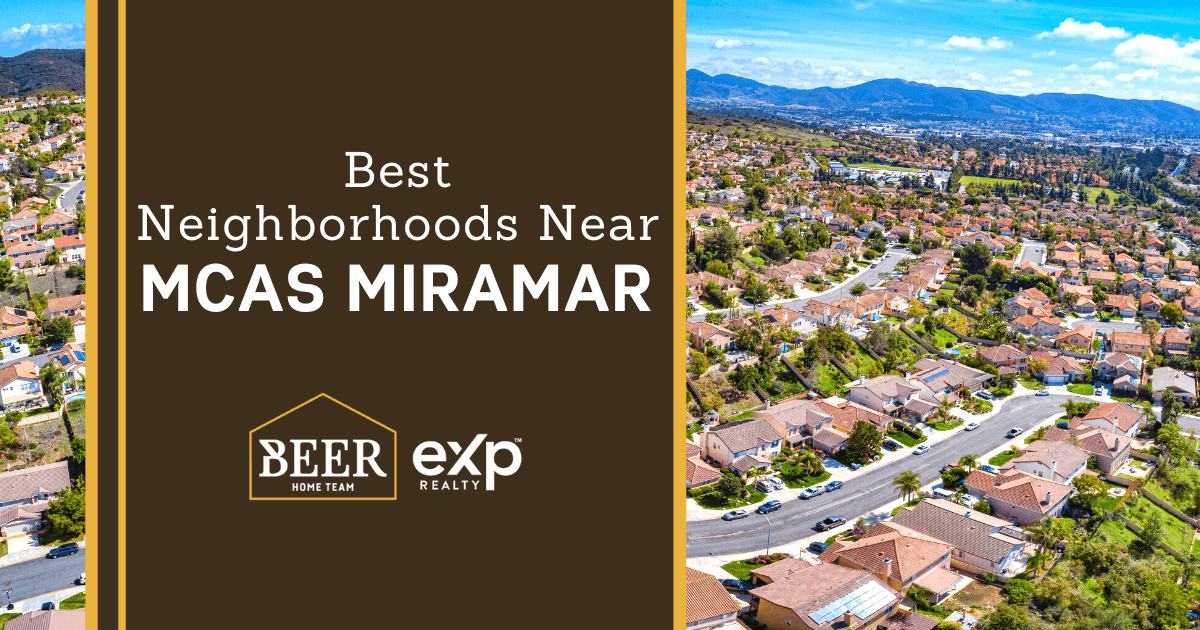 The Marine Corps Air Station Miramar, or MCAS Miramar, is an air station located in the city of San Diego, California. It is located just north of downtown San Diego and has been in operation since 1918.
Prospective homebuyers preparing to move to San Diego and looking for a property close to MCAS Miramar have several excellent San Diego neighborhoods to choose from. These communities cater to a wide range of budgets and boast gorgeous properties, convenient amenities, and proximity to the air station. Read on to learn about some of the best San Diego neighborhoods near MCAS Miramar.
Mira Mesa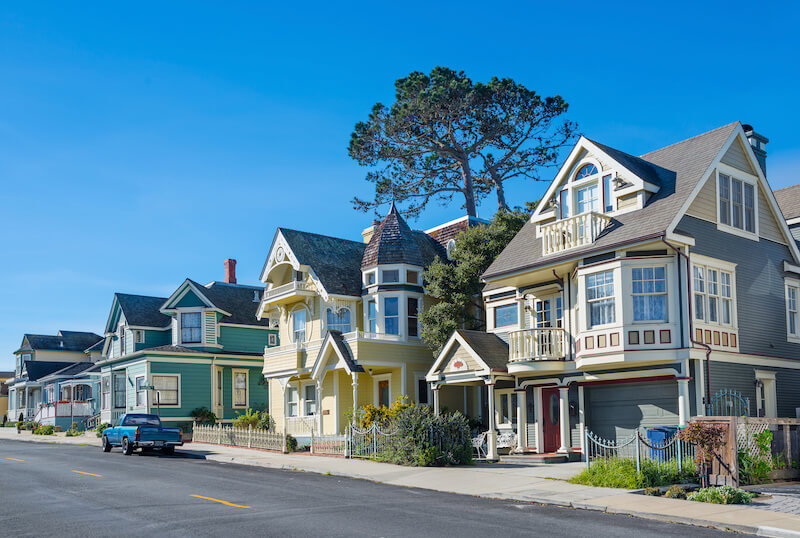 The neighborhood of Mira Mesa is home to more than 80,000 residents. It is close to Interstates 15 and 805 and is conveniently located fourteen minutes from MCAS Miramar by car.
The neighborhood is brimming with amenities, including several markets, boutiques, and restaurants within a short walk of most residences. The eateries in the area represent a wide range of cuisines, and some of the most popular dining spots in Mira Mesa include Tasty Pot, R & B Filipino Cuisine, and Menya Ultra Mira Mesa.
Mira Mesa condos and other attached homes typically start at $300,000. Most units have at least two bedrooms, two bathrooms, and 1,200 square feet or more. These buildings often offer amenities like recreation rooms, pools, and visitor parking, among other benefits.
Homes for sale in Mira Mesa generally range between $700,000 and up past $1 million. Exteriors are gorgeous, and popular architectural styles in the area include Victorian and Craftsman. Homes offer floor plans up to 3,000 square feet, and features include detached garages and gourmet kitchens.
Mira Mesa Amenities
H Mart San Diego
Target
Hourglass Community Park
Regal Mira Mesa Movie Theater
Trader Joe's
San Diego Ice Arena
Raising Cane's
85°C Bakery Cafe
Sorrento Valley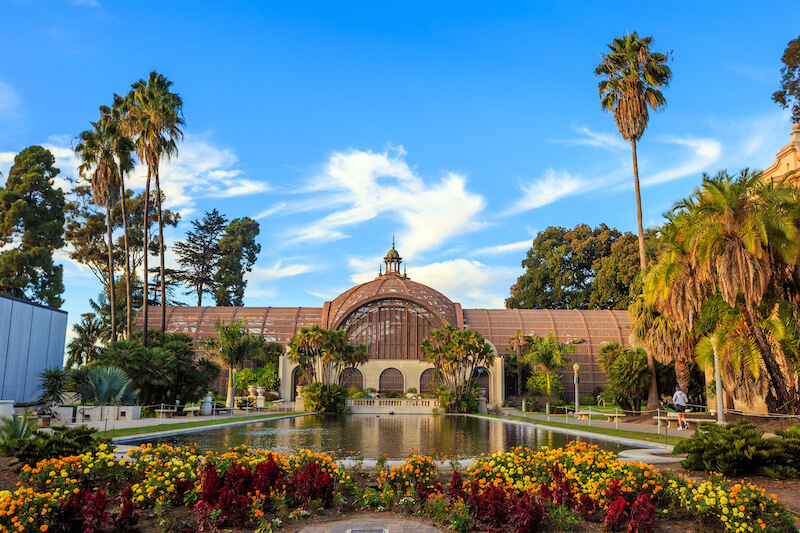 Sorrento Valley is a laidback neighborhood perfect for lovers of San Diego outdoor recreation. It's home to roughly 5,000 residents and is near Interstates 15, 805, and 5. The neighborhood is fifteen minutes from MCAS Miramar and is less than a twenty-minute drive from downtown San Diego.
The economy in Sorrento Valley is excellent. Just 3.3% of residents are unemployed, well below the national average of roughly 4%. The median income, over $100,000 per year, is also above average compared to the rest of the country. The biggest industries in Sorrento Valley are biotechnology and scientific research.
Lovers of the beach will feel right at home in Sorrento Valley. La Jolla Cove is less than twenty minutes away by car, and Torrey Pines State Beach and Black's Beach are fifteen minutes away. Parks in Sorrento Valley include Balboa Park and Lopez Ridge Park.
For a condominium or townhome, prices typically range from $400,000 to $900,000. Single-family Sorrento Valley homes for sale generally start at $1 million and can be as much as $2 million or more. Many home exteriors display the gorgeous stucco siding and Spanish-style roofs that Southern California is known for.
Sorrento Valley Amenities
Karl Strauss Brewing Company
San Diego Divers
Torrey Pines Glidersport
Baja Test Kitchen
Birch Aquarium at Scripps
Planet Fitness
Sorrento Canyon Golf Center
Kearny Mesa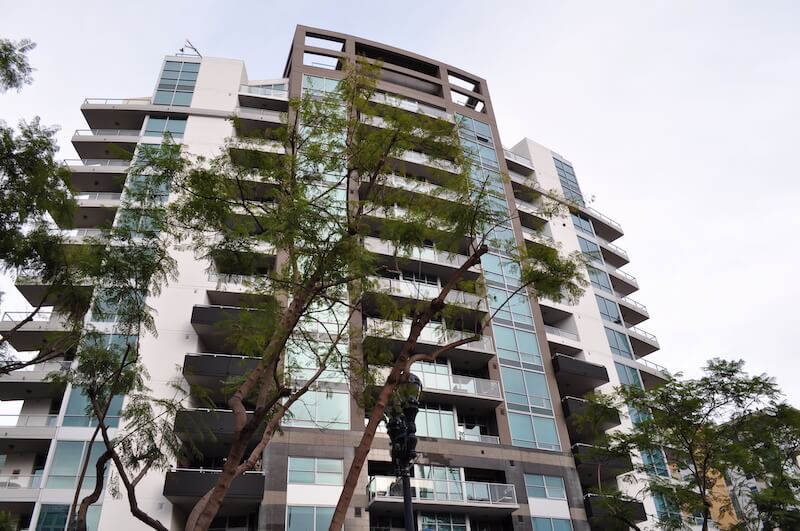 Kearny Mesa is a small neighborhood in San Diego with fewer than 3,000 residents. Despite its modest size, the neighborhood has plenty of amenities and is close to State Route 52 and Interstates 805 and 15.
Its rich history dates back to 1917, when Camp Kearny, the neighborhood's namesake, first began operations. Since 1946, Camp Kearny has been known as MCAS Miramar. The military base is just a 13-minute drive from the residential area.
Kearny Mesa is also a hotspot for industrial development. Major industries that call the neighborhood home include aerospace, electronics, and manufacturing. General Dynamics moved here in 1955 and was quickly followed by other big names, including Cubic and Spectrum.
The neighborhood is also home to the Convoy District, or Convoy Street. Food from a range of cultures can be found here. Some of the tastiest eateries in the Convoy District include Tan-Cha, Kura Revolving Sushi Bar, and Yakyudori.
Prices for Kearny Mesa real estate generally range from $300,000 to $1 million, making the neighborhood one of the most affordable in the area. Townhouses and condominiums are focused at the center of the neighborhood, while single-family homes and typically quaint ranches are focused on the outskirts of the community.
Kearny Mesa Amenities
Common Theory
San Diego Musical Theory
Sonic Drive-In
Food 4 Less
99 Ranch Market
Ajisen Ramen
Rubio's Coastal Grill
Zion Market
Tierrasanta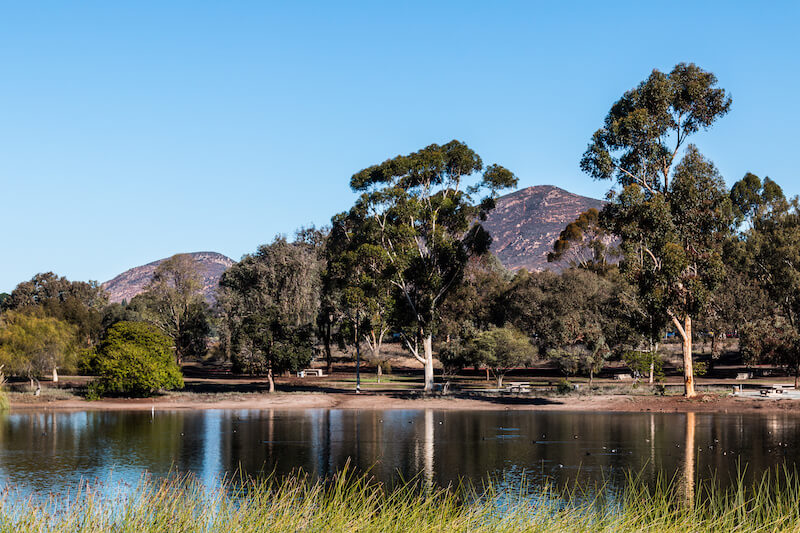 Nicknamed "The Island in the Hills" by residents, Tierrasanta is a beautiful and scenic neighborhood spread across 11 square miles. Despite feeling far-removed from city life, the neighborhood is just thirteen minutes from MCAS Miramar, and a short fifteen-minute drive from downtown San Diego.
There are numerous parks in the neighborhood, including Villa Norte Park and Villa Montserrat Park. Also nearby is the Mission Trails Regional Park, one of the largest in the country at 7,000 acres. Mission Trails offers visitors the opportunity to hike, bike, birdwatch, and more.
The parks and outdoor recreation opportunities are a major draw for many. Still, there is plenty to do in downtown Tierrasanta, including fitness classes at NXPT Fitness and shopping at the nearby commercial center.
Prices for Tierrasanta homes for sale typically range from $475,000 to $2,500,000. There are a variety of homes available in the area, from 1,200-square-foot ranches to spacious, Craftsman-style homes with sprawling frontage and private backyards.
Tierrasanta Amenities
Pinto Thai Bistro
Jack in the Box
Smart & Final Extra!
Shepherd Canyon Trailhead
Homestyle Hawaiian Pub & Eatery
Rite Aid
Carmel Valley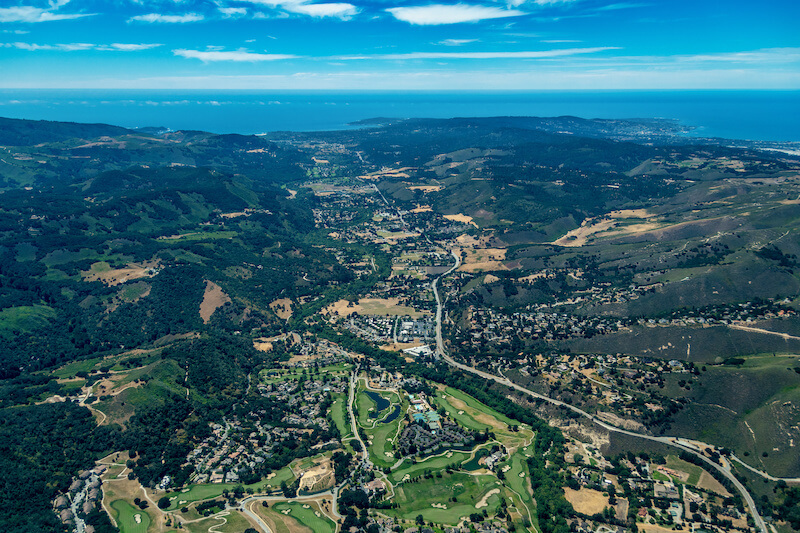 Carmel Valley is one of the most conveniently-located communities in San Diego. The community is west of the city of Del Mar and La Jolla and offers easy access to nearby Interstate 805 and California State Route 56. MCAS Miramar is just under 30 minutes away.
The community is known for its convenient mix of commercial and residential buildings and its proximity to the coast. There are plenty of businesses within Carmel Valley, including One Paseo and Vons. Popular restaurants in Carmel Valley include Sky Deck and Mendocino Farms.
One of the most popular activities in Carmel Valley is to go winery-hopping. There is a vast number of tasting rooms spread across the community's twenty miles. Some of the most popular include Holman Ranch, Heller Estate, and Joyce Vineyards.
The Grapevine Express makes winery hopping a breeze. This system is provided by the Monterey-Salinas Transit System and makes stops at most of the tasting rooms in Carmel Valley. The Monterey Wine Trolley also provides transportation to wineries throughout Carmel Valley and the rest of San Diego.
Homes for sale in Carmel Valley generally range from $600,000 to over $5 million. Both attached and detached options are available.
Carmel Valley Amenities
Ralphs
Carmel Country Plaza
Sidecar Doughnuts & Coffee
Harland Brewing
urbn Pizza
Salt & Straw
North Italia
La Jolla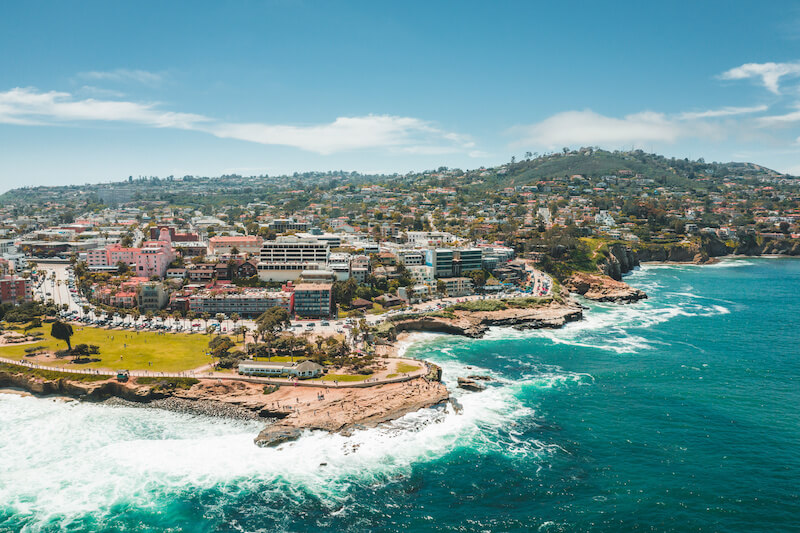 La Jolla is a coastal community north of downtown San Diego. It's immediately west of Carmel Valley and Sorrento Valley and is just a short 30-minute drive from MCAS Miramar. With a population of close to 50,000, the neighborhood's ample beaches, shops, and dining options make it a bustling, walkable hot spot.
Downtown La Jolla is a popular tourist destination. The neighborhood is filled with unique shopping opportunities, including Mila Boutique and SIMPLE LaJolla. Beaches are also a major draw in La Jolla, and there are plenty, including Shell Beach and Boomer Beach.
In addition to shopping, dining, and swimming in the breezy, picturesque neighborhood of La Jolla, there is plenty of entertainment. La Jolla Playhouse is home to three theatres: the Mandell Weiss Theatre, the Mandell Weiss Forum, and the Potiker Theater. The Museum of Contemporary Art San Diego is also local to La Jolla.
La Jolla's idyllic location and atmosphere mean homes can be pricier. While La Jolla real estate prices typically start in the $400,000s, it's not uncommon to see incredible homes sell for $6 million and beyond. However, buyers get what they pay for, and these prices offer breathtaking luxury properties.
La Jolla Amenities
Torrey Pines Golf Course
Windansea Beach
La Jolla Shores
Caroline's Seaside Cafe
Los Penasquitos Lagoon
Farmer & the Seahorse
University City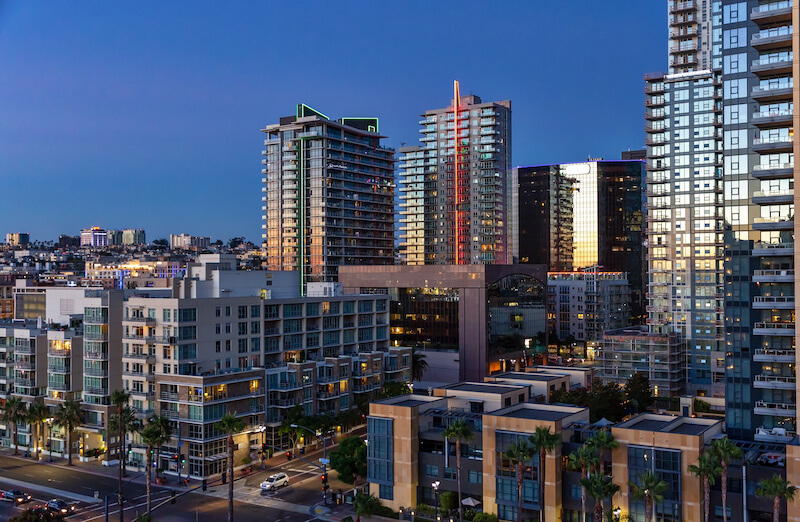 The gorgeous University City neighborhood is home to over 60,000 residents. Bordered by Highway 52 and Interstates 5 and 805, the neighborhood is conveniently located for commuters and a short 20-minute drive from MCAS Miramar.
One of the most notable features of the neighborhood is its booming economy. University City is a pivotal component of the San Diego economy, and several different industries are represented here, including research institutes and technology.
Outside of business, the neighborhood is home to a gorgeous landscape. Rose Canyon and San Clemente Canyon are local to University City and excellent spots for active residents. Hiking, biking, jogging, and birdwatching are all popular activities in the canyons.
The neighborhood is split into two parts, divided horizontally by Rose Canyon. Southern University City—also known as University Square—is older and home to mainly single-family properties. North of Rose Canyon is home to newer constructions and is dominated by condominiums, townhomes, and other attached housing.
Most condominium and townhome units in the neighborhood start around $500,000. Single-family homes for sale in University City typically range between $1 million and $2 million.
University City Amenities
Marcy Park
The Coffee Bean & Tea Leaf
Round Table Pizza
Standley Recreation Center
University Community Branch Library
Marian Bear Memorial Park
Scripps Ranch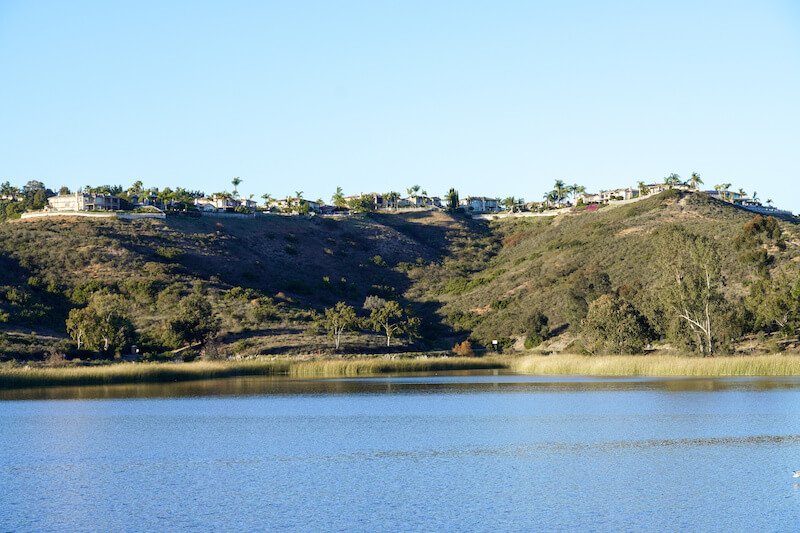 Scripps Ranch is a small neighborhood just 20 minutes north of downtown San Diego. The neighborhood is east of Interstate 15 and just a 15-minute drive to MCAS Miramar. Originally a sprawling estate owned by E.W. Scripps, a newspaper tycoon, Scripps Ranch is now a unique and charming neighborhood home to nearly 35,000 residents.
Many residents will agree that the best feature of the neighborhood is the presence of Miramar Reservoir. The 160-acre lake's clear water offers ample opportunity for fishing, boating, kayaking, canoeing, and tubing. Many residents enjoy sitting on the shoreline and taking in the views.
There is plenty more to do in Scripps Ranch than just outdoor pursuits. There are shops and restaurants in the community, including the French Oven and Juneshine. Kohl's, Lowes, Walmart, and Costco are all just a short drive away.
Scripps Ranch real estate prices range from $500,000 and can be as much as $2 million or more. Architectural styles in Scripps Ranch include Victorian- and Mission-style. Floor plans range from 600 square feet to spacious, 3,000 square foot luxury homes.
Scripps Ranch Amenities
Scripps Ranch Theatre
Ketolicious Treats
SHABU-WORKS
Natalie Park
Lakeview Park
Loving Hut
Find a Home in San Diego Near MCAS Miramar
For prospective homebuyers that are looking for a property close to MCAS Miramar, these communities are among some of the best San Diego neighborhoods. Catering to a wide range of budgets and offering plenty of conveniences, hot spots, and amenities, one of these neighborhoods is certain to be a perfect match for incoming residents.
Looking for the perfect home near MCAS Miramar? Contact Beer Home Team of eXp Realty with San Diego Home Finder at (858) 465-7899 to get in touch with San Diego real estate agents who can help you find a home near MCAS Miramar today.