8 Best Master Planned Communities in San Diego [2023]
Posted by Daniel Beer on Tuesday, December 6, 2022 at 9:18:10 AM
By Daniel Beer / December 6, 2022
Comment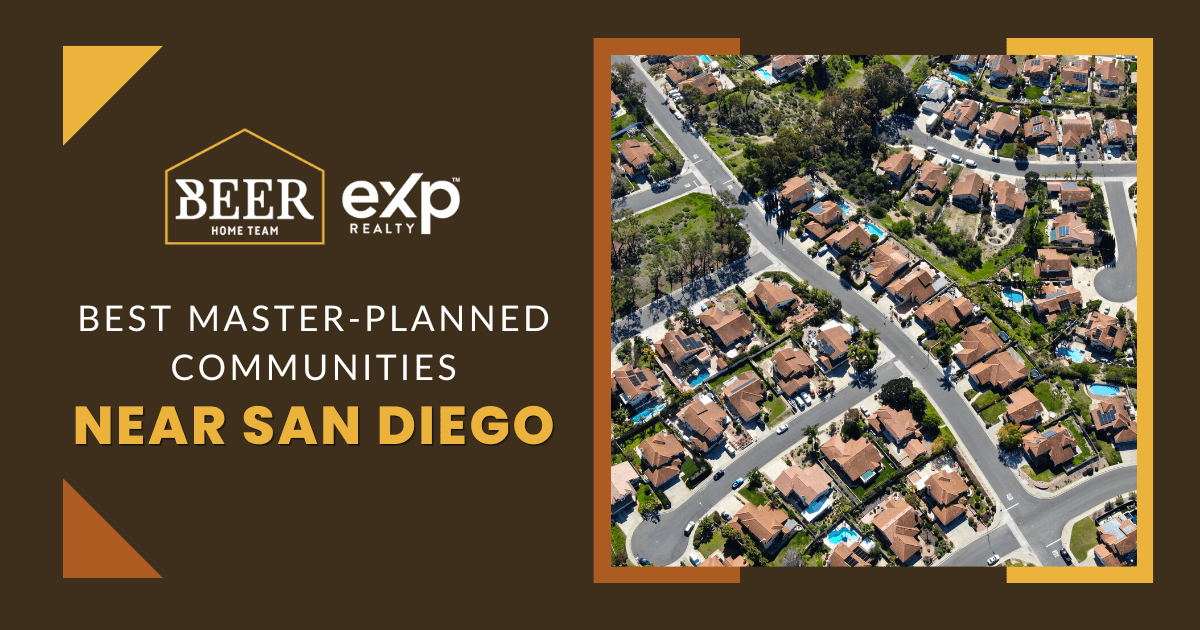 There's nothing quite like the city of San Diego. From the gorgeous Pacific Ocean beaches to a thriving economy, numerous military installations, it provides some of the country's best weather—not to mention some of the best places to live. Many of the top places to put down roots in the San Diego area are master-planned communities, neighborhoods that were developed in one cohesive plan, often including amenities like clubhouses, parks, pools, and more. San Diego's top master-planned communities often include private security and host events to allow residents to get to know one another. Pair all this with some incredible homes, and the reason for their popularity is evident.
Otay Ranch
Otay Ranch is a large community straddling the South Bay Expressway in the nearby city of Chula Vista. It contains more than 10 distinct subdivisions spread over 5,300 acres, each with varying types and sizes of homes.
The community includes the sprawling Otay Ranch Town Center, a walkable, open-air shopping, dining, and retail destination. Residents can easily shop at big box stores and high-end chains, catch a movie, grab dinner, and so much more just minutes from their front doors. Additionally, they can enjoy the Montecito clubhouse, which offers a private resort-style swimming pool, spa, fitness room, and rentable event space. Meanwhile, the heart of San Diego is just a short drive away.
Some homes in Otay Ranch date back to the 1980s, while others were built within the last decade. Attached and detached single-family properties are available, all in a Spanish style or Mediterranean. Condos and townhomes start just north of half a million dollars and reach into the mid-$600,000s. Detached single-family homes of up to 3,000 square feet provide the neighborhood's top-end sales, starting in the mid-$700,000s and reaching around $1 million.
Otay Ranch Amenities
Otay Ranch Town Center
Community swimming pool
Multiuse walking/cycling paths
All Seasons Park
Wolf Canyon Park
San Diego MTS transit accessible
4S Ranch
Once a sheep and cattle grazing site, the 4S Ranch neighborhood has seen a 21st-century transformation into one of the region's top master-planned communities. Nearly 5,000 homes are set throughout 4S Ranch's 2,300 acres.
Residents can enjoy a variety of parks and walking trails, along with a splash park for the young and young at heart to cool off during those hot summer days. Down the road, the 4S Commons shopping center provides everything residents need just minutes away, from grocery stores to popular local restaurants like Capri Blu's Italian cuisine or Mexican favorites at Miguel's Cocina.
Portions of 4S Ranch are set aside as dedicated open space, helping preserve some of the ranchlike character of the community. Additionally, 4S Ranch is an excellent choice for those who frequently travel throughout southern California, thanks to its proximity to Interstate 15.
With a mix of condos, townhomes, and single-family detached houses, there's a style for all would-be buyers in 4S Ranch. Condos and townhomes range from one to three bedrooms and sell from the high $300,000s to the mid-$800,000s. Spacious detached single-family homes can include up to five bedrooms and nearly 4,000 square feet of living space, listing from around $1 million to more than $3 million.
4S Ranch Amenities
4S Commons shopping center
Walking trails
Community parks and gardens
Splash park
Convenient to Interstate 15
Rancho Bernardo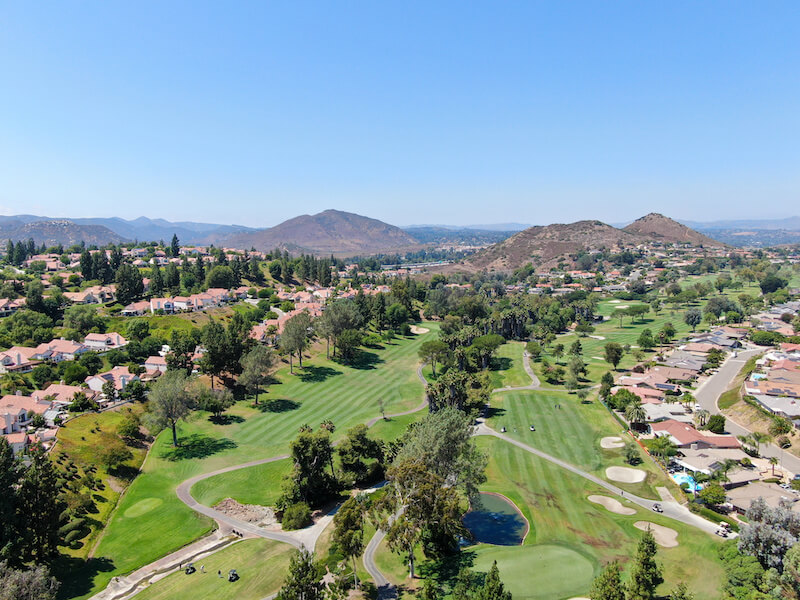 Rancho Bernardo is a sprawling community that's essentially a medium-sized city with more than 130,000 residents. Tucked into the northern part of San Diego, it's known for its rolling hills and many canyons in between various residential areas, parks, shopping centers, office spaces, and other development.
Rancho Bernardo is just under 25 miles north of downtown San Diego, a relatively easy trip south on nearby Interstate 15. However, the area is noteworthy for many employers within the community, including Sony's corporate headquarters and offices for various tech companies like Cisco, Apple, Google, Salesforce, SAP, and more. By some estimates, more than 50,000 jobs are within this popular area. Of course, there are also plenty of spots to grab dinner and drinks for a bit of fun and relaxation, from Urge Gastropub to Phil's BBQ.
Like other large master-planned communities in the area, Rancho Bernardo consists of several subdivisions with different housing types, from modestly sized condos and townhomes to one- or two-story detached single-family homes. Affordable homes for sale in Rancho Bernardo start in the mid-$400,000s, while Rancho Bernardo's top properties routinely reach the $1 million to $1.5 million range.
Rancho Bernardo Amenities
Several employers within the community
Numerous shopping centers
Convenient to Interstate 15
Eastview RB Community Center
Oaks North Golf Course
3Roots
3Roots offers a unique, modern take on a master-planned community. It's about 15 miles north of San Diego in the Sorrento Mesa neighborhood, with easy access to interstates 15 and 805 for quick commuting throughout the region.
3Roots is one of the area's newer large developments, with 1,800 homes expected to hit the market in the upcoming years. The community is eco-conscious and wellness-focused, with a Fit & Rec Center offering an exercise room, nutrition planning, personal training, exercise classes, a swimming pool, and a spa. Additionally, several parks, zen gardens, walking trails, and other outdoor spaces along Carroll Canyon Creek provide dedicated, preserved green areas steps from home. 3Roots also includes commercial space for shops and other businesses, carefully selected to provide the services and experience the development's owners are looking for.
Ten separate subdivisions comprise the broader 3Roots community, offering condos, townhomes, villa homes, bungalows, and other detached single-family properties. Homes are available from around 1,600 square feet of living space to more than 3,600. Most include a unique modern style indoors and out, filled with high-end home technology and marked by elements of steel, stone, and other contemporary design materials. Properties start in the high six figures for condos and townhouses and $1.5 million to $2 million for single-family detached homes.
3Roots Amenities
Numerous parks and green spaces
Fit & Rec Center
Walking/biking trails
Electric vehicle charging stations
Convenient to major interstates
Scripps Ranch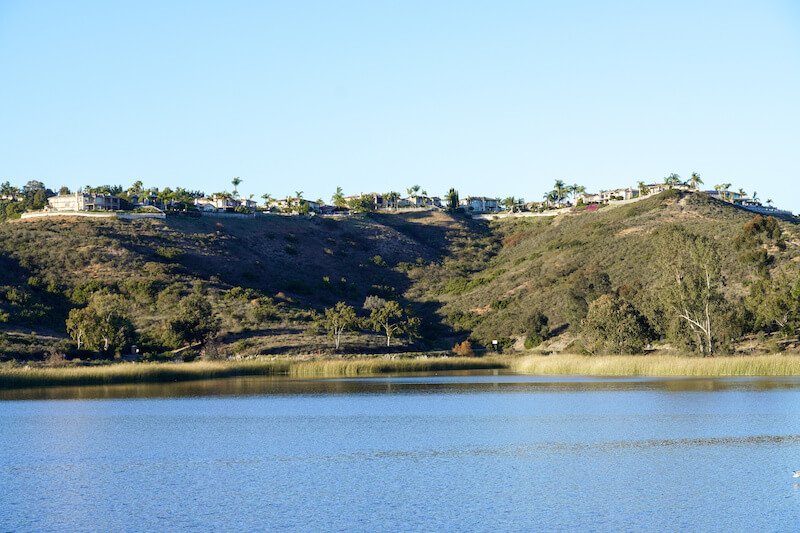 Scripps Ranch takes its name from famous 19th-century newspaper publisher E.W. Scripps, who once owned a sprawling property at the site. Today, it sits just east of Interstate 15, made up of primarily residential communities marked by gorgeous, mature landscaping with a cluster of shops and restaurants at its northwestern edge.
While Scripps Ranch isn't on the ocean, it's nevertheless home to some of the best water activities in San Diego at Miramar Reservoir. The 162-acre body of water is a popular spot for boating, fishing, picnics, and other outdoor activities in San Diego. Major employers like Lockheed Martin and LG are also close by, among many companies with a presence in the commercial areas along Interstate 15.
Homes for sale in Scripps Ranch include condos, townhouses, and single-family luxury homes. One- to three-bedroom condos start just under half a million dollars to the high $800,000s. Single-family homes typically include four or five bedrooms, with styles ranging from Spanish and Mediterranean to ranch and Craftsman. These start around $1 million but sometimes sell for twice as much or more.
Scripps Ranch Amenities
Miramar Reservoir
Convenient to Interstate 15
Scripps Ranch Community Park
Scripps Ranch Theatre
Scripps Ranch Swim & Racquet Club
Alliant International University
Del Sur
Del Sur is located in northern San Diego, tucked into a bend in Camino Del Sur and close to the beautiful, unspoiled Black Mountain Open Space Park. With numerous hiking and biking trails providing amazing city views, it's a longtime local favorite.
Del Sur homeowners can also enjoy the fantastic San Diego weather at more than a dozen small community parks spread throughout the development or cool off at 11 residents-only swimming pools. The area is also known for its many eco-friendly and green living features, including high-efficiency appliances, solar power, and integrated water conservation products and systems. These principles are all on display at the community "Ranch House," which offers residents event space and other amenities. While the community is primarily residential, it's just a quick trip down the road to the shopping, dining, and everyday services in the 4S Ranch area.
Homes in Del Sur are a mix of detached single-family properties and townhouses. Neighborhoods include various styles, including a 55+ community with single-level properties. Overall, Del Sur's three- to five-bedroom homes start around $1 million and can reach $2.5 million or more.
Del Sur Amenities
Green living features
Numerous neighborhood parks
Clubhouse with library and event space
11 community swimming pools
Walking trails
Carmel Valley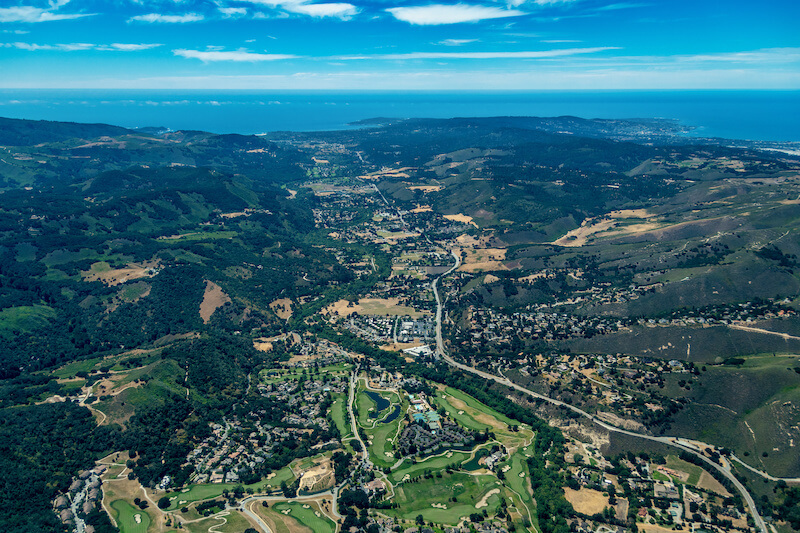 To the east of Interstate 5 and straddling the 56 freeway, the Carmel Valley neighborhood is an ideal mix of suburban charm and convenience to popular areas like Torrey Pines and the La Jolla community, perfect for enjoying the outdoors. Carmel Valley also provides easy access to the unique natural landscapes of Los Peñasquitos Canyon Preserve. Downtown San Diego is also an easy drive of 15-20 miles south. Meanwhile, numerous shopping and dining options are also within Carmel Valley.
The community dates back to the mid-1970s when development began on what was once a dairy farm. However, most homes were built in the past two decades, providing buyers with plenty of new construction properties to consider. The sprawling area offers an array of housing styles, including modern, updated condos, convenient townhomes, and sprawling, luxurious detached single-family properties. Condos begin in the high $500,000s to around $1.25 million, while townhouses push the upper boundary of this range to $1.5 million or more. Carmel Valley's single-family properties can reach 8,000-10,000 square feet of living space with five to seven bedrooms, selling from around $1.25 million to about $10 million or more!
Carmel Valley Amenities
Numerous parks and outdoor spaces
Convenient to Interstate 5, other freeways
One Paseo shopping center
Ocean Air Recreation Center
Carmel Valley Branch Library
Fairbanks Ranch
Just outside the northern border of San Diego proper, Fairbanks Ranch takes its name from legendary early Hollywood actor Douglas Fairbanks, who bought and developed what was once a Spanish land grant. Modern development began in the 1970s, growing to nearly 1,000 homes spread over 1,250 acres. It's home to numerous amenities, with a rentable clubhouse, a library, and ways to get outside and stay fit, from walking trails to sports facilities and even an equestrian center.
Fairbanks Ranch is split into northern and southern gated portions, divided by San Dieguito Road. Homes are typically spacious (over 4,000-5,000 square feet) and are often built on large lots of up to an acre or more. This combination of amenities and luxury features commands a high price tag, with Fairbanks Ranch homes for sale starting around $2.5 million to $3.5 million and reaching more than $7 million in some cases.
Fairbanks Ranch Amenities
24-hour gated security
Community clubhouse
Neighborhood parks and playground
Walking trails
Tennis courts
Equestrian Center
Library
Consider a Master-Planned Community in San Diego
There's certainly no shortage of excellent neighborhoods in "America's Finest City," as San Diego calls itself. But for those looking for the best combination of convenience, amenities, and high-quality homes, buyers can't beat master-planned communities. Whether would-be residents enjoy extensive community features or simply the benefit of smart, deliberate development, these unique neighborhoods offer something for every buyer.
Looking for the perfect home in San Diego? Contact Beer Home Team of eXp Realty with San Diego Home Finder at (858) 465-7899 to get in touch with San Diego real estate agents who can help you find your San Diego dream home today.