San Diego Lakes: 6 Lakes With Easy Drives From San Diego
Posted by Daniel Beer on Monday, September 26, 2022 at 11:12 AM
By Daniel Beer / September 26, 2022
Comment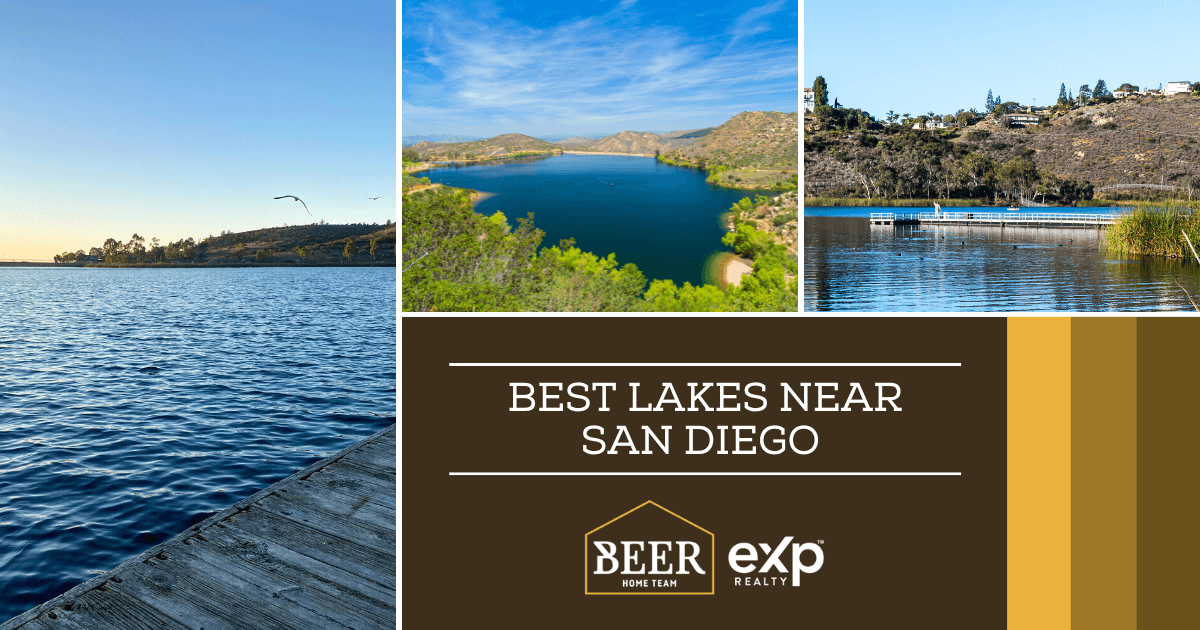 There are many fun things to do in San Diego, and several nearby picturesque lakes contribute to the area's recreational opportunities. The best lakes near the city of San Diego have it all, with facilities supporting activities like camping, hiking, boating, fishing, and other water sports.
Lake Murray
Just 12 miles east of downtown San Diego lies Lake Murray, a reservoir known for big fish and beautiful birds. Located within the Mission Trails Regional Park—adjacent to La Mesa homes for sale—Lake Murray is a popular spot for fishing, birdwatching, boating, running, and cycling.
When the dam was first built in 1894, it was called the La Mesa Reservoir. The Cuyamaca Water Company bought it in 1910 and received its current name from one of its investors, James A. Murray, in 1924. The reservoir became San Diego's primary water source in 1916, but the city did not acquire Lake Murray until 1932.
Fishing is the main attraction at Lake Murray, with largemouth bass, bluegill, channel catfish, black crappie, sunfish, and trout stocked from November to May. The concessions stand provides snacks, bait, and boat rentals from Wednesday to Sunday.
Lake Murray is also home to over 149 bird species, making it a popular birdwatching site. Additionally, a 3.2-mile paved path along the shoreline is perfect for running, cycling, and rollerblading. It has several entry points, including one near the park's softball fields and tennis courts.
Lake Cuyamaca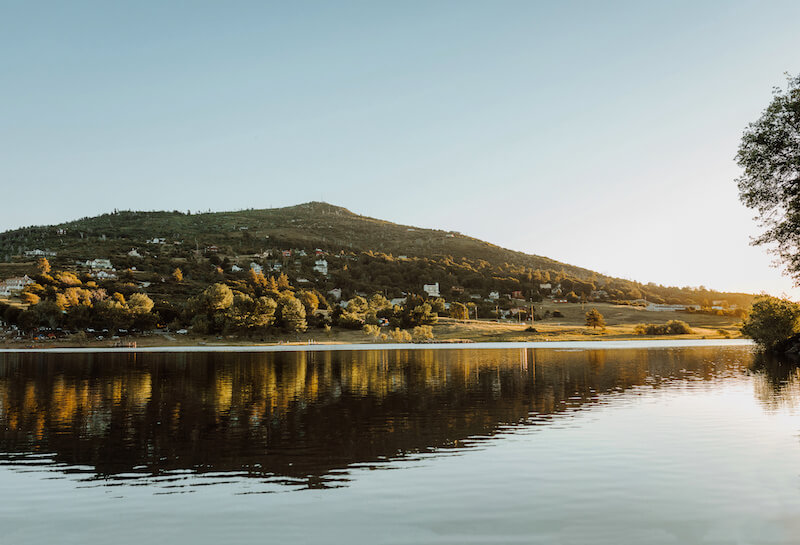 Nestled in the eastern Cuyamaca Mountains, Lake Cuyamaca is a 110-acre reservoir and recreation area ideal for camping, fishing, and boating. Located north of homes for sale in Descanso in Cuyamaca Rancho State Park, the reservoir is just 2 miles north of the Paso Picacho Campground.
Construction of the dam at Lake Cuyamaca concluded in 1888, making it the second-oldest dam still in use in California today. Initially constructed to supply San Diego with water, the lake became a recreation area in the mid-1960s.
Three campgrounds and four types of cabins accommodate overnight stays at Lake Cuyamaca. A lakeside restaurant and a tackle shop provide on-site snacks, supplies, and boat rentals. With approximately 45,000 pounds of rainbow trout stocked annually, the lake is San Diego County's only year-round trout fishery. Lake Cuyamaca's three-mile trail provides gorgeous views of the lake and opportunities to spot birds and other wildlife like deer, bobcats, and coyotes.
San Vicente Reservoir
San Vicente Reservoir is San Diego County's largest reservoir, located 25 miles northeast of San Diego. With over 1,500 surface acres, this massive lake is a popular site for fishing, boating, and water sports, making it a contributor to San Diego's great water recreation.
First built in 1943, the San Vicente Dam underwent a project from 2009—2016 to raise its height. After its completion, the reservoir more than doubled its capacity. It has a new dock and marina featuring a 900-foot launch ramp with six lanes.
Most fishing in San Vicente Reservoir occurs on boats due to the reservoir's steep sides and depth. Several fishing boats and kayaks are available for rent. All boats must pass an inspection for quagga mussels before entering the lake. Largemouth bass fishing is the lake's main attraction, but it is also known for producing record-breaking blue catfish.
Water sports like waterskiing and wakeboarding are also popular, but the reservoir limits water contact to particular days of the week, depending on the season.
Lake Jennings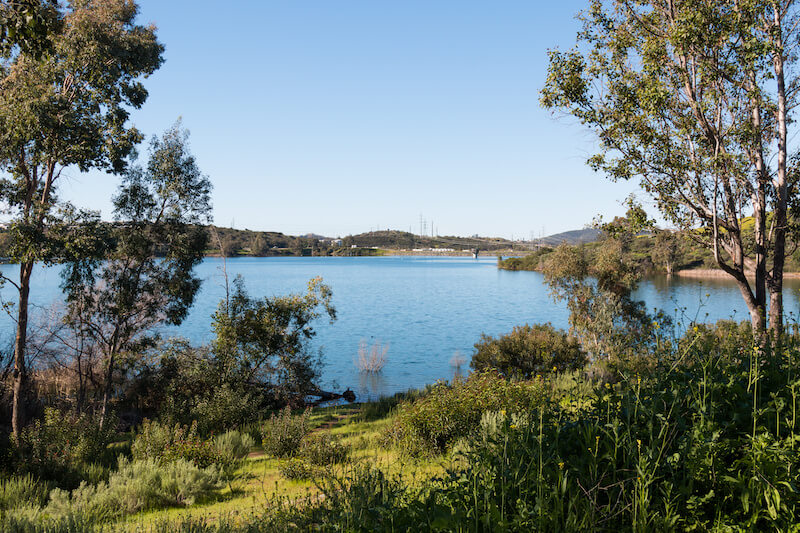 Located just 40 minutes northeast of San Diego in the Lakeside area, Lake Jennings is a beautiful getaway boasting various opportunities for camping, boating, fishing, hiking, and other outdoor recreation activities.
The creation of the Chet Harritt Dam in 1962 led to the formation of Lake Jennings in Quail Canyon. The lake's namesake comes from William H. Jennings, an attorney specializing in Southern California's water development.
Lake Jennings is one of the best places to camp near San Diego, with dozens of campsite options and various amenities for campers, including an outdoor lounge, hot showers, and free Wi-Fi. The lake also features a covered playground and numerous outdoor games, like horseshoes, tetherball, and cornhole.
The lake stocks 30,000 pounds of fish each year, with the trout season lasting from November to early April and the catfish season during the summer. The tackle shop opens for the weekend, but campers may fish throughout the week. The shop offers motorboat, rowboat, paddleboat, and kayak rentals.
Additionally, Lake Jennings has an extensive trail system offering opportunities for sighting over 40 species of birds and other wildlife. A 5.5-mile trail traces the lake's perimeter, while a five-mile trail north of the lake follows the El Monte Valley's ridge. While these longer trails are open on the weekends, campers can access more than a mile of trails surrounding the campground anytime.
Lake Morena
Lake Morena is San Diego County's most remote reservoir, located within Lake Morena County Park in the foothills of the Laguna Mountains. This serene lake, located 13 miles south of homes for sale in Pine Valley, boasts impressive campgrounds, eight miles of multi-use trails, and great fishing opportunities.
The completion of the Morena Reservoir Dam in 1912 allowed Lake Morena to form. At the time of its construction, it was the largest rockfill dam in the world.
Lake Morena has a popular campground, with 86 campsites and 10 cabins on the north shore. Just east of the campground is the Pacific Crest Trail stretch, which connects Mexico to Canada. The park also features eight miles of trails open to hiking, cycling, and horseback riding.
When the lake's water level is high enough, it welcomes personal boats and offers boat rentals. The winter months see numerous trout, while spring and summer are ideal for pursuing record-breaking largemouth bass.
Miramar Reservoir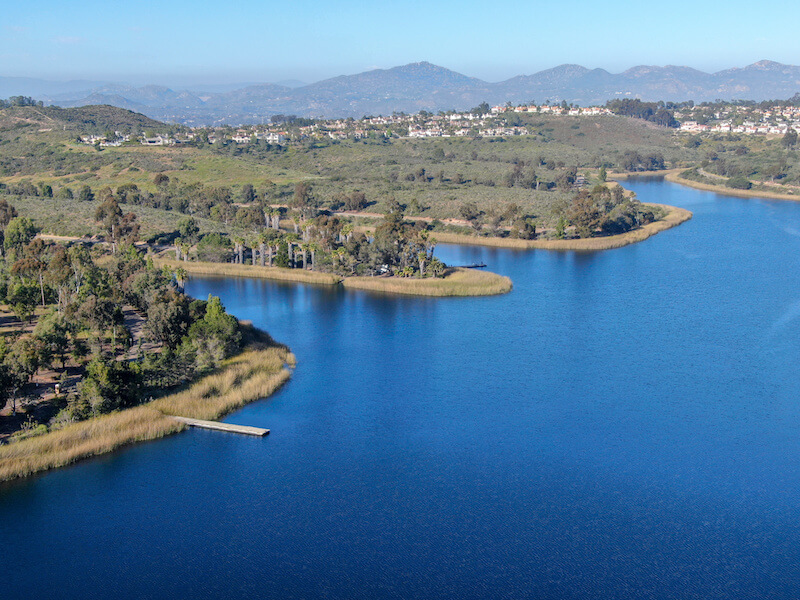 Miramar Reservoir, located in the area of Scripps Ranch luxury homes for sale, offers excellent boating, fishing, picnicking, and hiking opportunities.
The reservoir's construction was part of the second San Diego Aqueduct project. It finished in 1960, and the adjacent Miramar Water Treatment Plant opened two years later.
Private boats, kayaks, and float tubes are welcome daily from 6 a.m. to 6 p.m. Although the lake is small at just 162 surface acres, it has produced record-breaking largemouth bass for area anglers. During winter, Miramar Reservoir is also popular for trout fishing, with many anglers gathering at Mo's Hole east of the boat dock. The lake's north shore also features three fishing docks.
A trail circles the lake, stretching over five miles. It provides access to the lake's various docks and an expansive picnic area boasting 18 barbecues and 48 picnic tables.
Living Near the Best Lakes in San Diego
There are countless reasons why so many people are moving to San Diego, and the area lakes are one of them. Living in San Diego provides quick and easy access to numerous beautiful lakes, where visitors can enjoy various recreational activities, including camping, boating, fishing, hiking, birdwatching, and more.
Looking for the perfect home in San Diego? Contact Beer Home Team of eXp Realty with San Diego Home Finder at (858) 465-7899 to get in touch with San Diego real estate agents who can help you find your San Diego dream home today.