5 Best Beaches in San Diego: Discover Surf, Sand & Fun Near You
Posted by Daniel Beer on Monday, February 21, 2022 at 6:19 AM
By Daniel Beer / February 21, 2022
Comment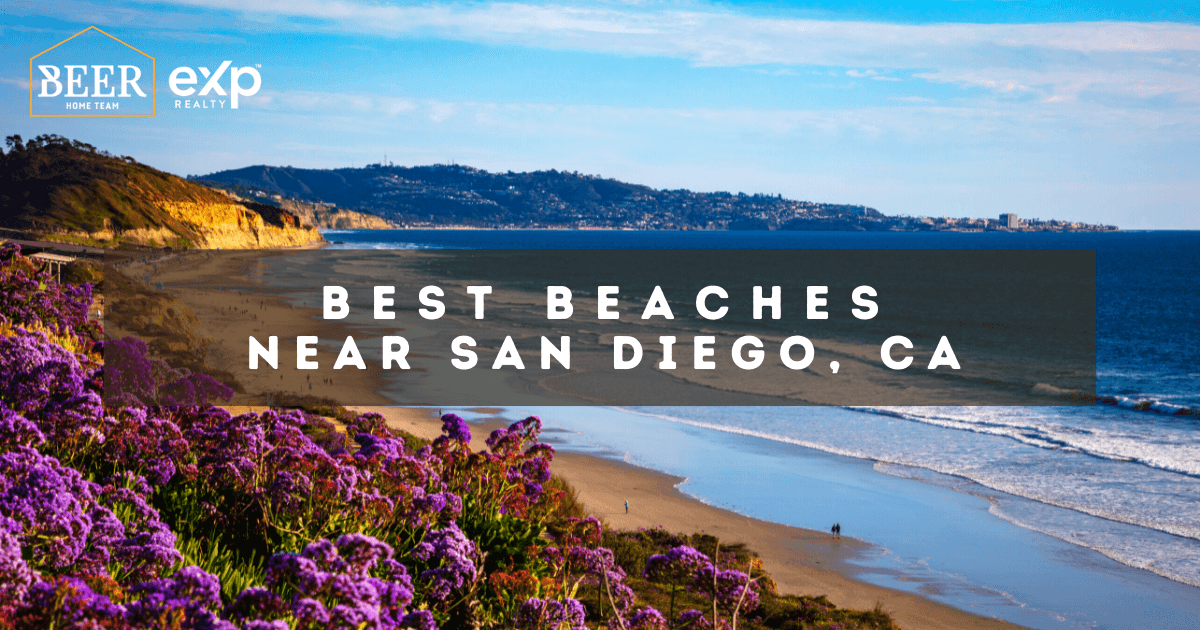 Some of the best beaches are near the city of San Diego, California. Miles of sandy coastline await in various coves and along the Pacific Ocean in San Diego itself and its nearby communities. It's no surprise that homebuyers flock to the waterfront homes in San Diego with beaches just steps from their residences.
While there are dozens of beaches near San Diego, only a few earn rank as the best of the best. We'll discuss the top five that locals and visitors from around the world rave about for the views, amenities, and proximity to local conveniences. Get the scuba gear out, and let's dive into the five best San Diego beaches visitors and new residents won't want to miss!
La Jolla Cove Beach
There are three stunning beaches at Ellen Browning Scripps Park, and the most popular one is La Jolla Cove Beach at the northeastern end of this San Diego park. This La Jolla Village beach is one of the most photographed sites in San Diego due to the amazing scenery and wildlife present year-round.
The beach has a jutted rocky point that blocks the waves, and there are lifeguards on duty. It's not uncommon to spot sea birds and harbor seals playing in the tide pools, lounging along the rocky ledges and bluffs, or peering into the shoreline cave.
There is a scenic park with a grass lawn, barbecues, benches, and picnic tables, and it is the perfect place for whale watching or catching a sunset. Boomer Beach and Shell Beach are fun sandy spots and are a favorite of kayakers, scuba divers, and snorkelers. Lifeguards are on duty during peak times.
La Jolla Cove Beach Additional Information
Address: 1160 Coast Boulevard, La Jolla, CA 92037
Pet Policy: Leashed dogs allowed on the beach during daylight hours
Fees: Free parking
Coronado Beach
Coronado Beach traverses between Sunset Park and the famous Hotel del Coronado in the Coronado community. Also known as Central Beach, this pristine beach typically gets crowded. However, it's large enough that there's room to spread out, and secluded spots are still available most days.
Sunbathing, surfing, swimming, picnicking and fishing are popular at Coronado Beach, along with sunset gazing and evening bonfires under the stars. Snorkeling is excellent here, and many enjoy relaxing in shallow tide pools at high tides. There are also lifeguards on duty during peak hours and restrooms onsite.
Pet lovers can bring leashed pets along and free them within the beach's northernmost designated area known as Dog Run Beach. From this point, visitors can capture the best views of the North Island Navy Base. Near the hotel along the beach, there are often large, elaborate sandcastles and views of Cabrillo National Monument that make for incredible photo ops.
Several public parking lots are close to Coronado Beach along Ocean Boulevard, with a few being conveniently south of the Del. Visitors can also find spots at the beachfront condos, which has a free public parking lot.
Coronado Beach Additional Information
Address: Ocean Blvd and Isabella Avenue, Coronado, CA 92118
Pet Policy: No dogs allowed on the beach
Fees: Free parking
Pacific Beach
Pacific Beach is part of a trio of beaches along what is known as The Strand. North of the pier, sun-seekers can relax at North Pacific Beach, and to the south is the location of Mission Beach. However, centrally located Pacific Beach takes the top spot to chill out with locals and vacationers alike.
This laid-back community is between Pacific Beach Drive and the impressive Crystal Pier. The beach itself is gorgeous, and the path beyond the sandy coastline has quaint shops and restaurants that visitors frequent between dips in the water.
Things to do along this beach and the others on The Strand include surfing, body boarding, biking, running, beach volleyball, and fishing. There is a paved path for hiking, and Crystal Pier is open to the public and offers spectacular city views. Cozy Cape Cod-style cottages known as the Crystal Pier Hotel are available for rent, but bookings fill quickly during peak season.
Pacific Beach Additional Information
Address: Mission Blvd and Grand Avenue, San Diego, CA 92109
Pet Policy: Leashed dogs allowed on the beach before 9 a.m. and after 6 p.m. from April–Oct. (changes to 4 p.m. Nov.–March)
Fees: Paid parking in various lots near the pier
Flat Rock Beach
Flat Rock Beach is in the La Jolla community at Torrey Pines State Beach, and the long walk getting to this secluded beach below the bluffs is well worth the effort. The sweeping cliffs and silky white sand at Flat Rock are part of the beach's breathtaking scenery. Visitors come here to hit the numerous trails for hiking, fishing on the coastline, surfing the big waves, and exploring the stunning sea cave.
There is a huge sandstone fin jutting out facing the ocean, and at the base of the installation, there is a large flat rock that one can climb onto during low tide that gives easy access to the sea caves. Those looking for an alternate route to Flat Rock Beach can take a short hike from Torrey Pines South Beach or the north, starting at Black's Beach. Be forewarned that both of these access routes may be pretty wet at high tide.
Flat Rock Beach Additional Information
Address: Torrey Pines Park Road, La Jolla, CA 92037
Pet Policy: No dogs allowed on the beach
Fees: Free for parking
South Carlsbad State Beach
South Carlsbad State Beach spans three miles along the waterfront of the city of Carlsbad, California. A massive 200-spot campground is highly desirable, making advance booking a requirement for those who want to hang out for a few days to explore this unique environment. Scuba divers often frequent the waters alongside snorkelers to view the colorful schools of fish that gather along the bluffs.
South Carlsbad State Beach is also the Batiquitos Lagoon Nature Preserve location, which is accessible via a short hike to the north end of the campground. There are lifeguards, showers, restrooms, and fire pits adjacent to a camp store to purchase last-minute goods. There are no day-use parking spaces within the campground, but parking is available near the lagoon and North Ponto Beach.
South Carlsbad State Beach Additional Information
Address: Carlsbad Boulevard and Poinsettia Lane, Carlsbad, CA 92011
Pet Policy: No dogs allowed on the beach
Fees: Fee for camping, free day-use parking south of the campground
Surf, Sun & Sand Abound at San Diego's Best Beaches
Whether a day of sunbathing or splashing around in the waters of the Pacific Ocean or nearby coves is on the agenda, there are plenty of places around San Diego to enjoy the surf and soak in the sunshine. All of these top beaches offer free access every day of the week, and there are so many sandy destinations around this lovely community that beckon for a visit. For those looking for fun things to do in San Diego, these locations won't disappoint!
Looking for the perfect home in San Diego? Contact Beer Home Team of eXp Realty with San Diego Home Finder at (858) 465-7899 to get in touch with San Diego real estate agents who can help you find your San Diego dream home today.